BOU AVENUE
Allsmoke Mountain
---
With a weather forecast predicting afternoon thunderstorms on 9 July 2016, Rafal (Raff) Kazmierczak, So Nakagawa and I headed out early to ascend lowly Allsmoke Mountain in Alberta's Kananaskis Country. So had downloaded Bob Spirko's GPS tracks, and we essentially followed Spirko's route up the east ridge. Starting from the Ware Creek trailhead (the bathrooms here are in terrible shape and appear to be long neglected), we followed a double-track west into Gleasons Meadow as named by Gillean Daffern in her Kananaskis Country Trail Guide. At the far end of the meadow, we continued along a reclaimed road before meandering a bit to find a good trail running up Allsmoke Mountain's east ridge. The climb up this ridge was gentle but steady. We lost the trail somewhat when we emerged onto some open hillsides which afforded views to the south. Following Spirko's advice, we stayed low while traversing the hillsides and eventually picked up another trail upon re-entering the forest just below the summit. We hiked on this trail for awhile until we realized that it bypasses the summit of Allsmoke Mountain and continues south along Volcano Ridge. Leaving the trail, we turned northward and endured some light bushwhacking before reaching the partially open summit.

After hanging out for about 50 minutes at the summit, we made a beeline for the bypass trail and essentially retraced our steps back down the east ridge. As was promised, a thunderstorm hit the area hard as we descended the east ridge. A heavy rain thoroughly soaked us, and although we felt fairly safe in the forest, several lightning strikes seemed uncomfortably close as evidenced by the subsequent deafening thunder. Near the end, I was a bit nervous about emerging from the forest to cross Gleasons Meadow, but by then, the bulk of the storm had moved on. After changing into dry clothes back at the trailhead, we headed home and capped the trip off with a nice lunch at Kildares Ale House in south Calgary.

| | |
| --- | --- |
| | Near the start, Raff and So head for a gate at the fence ahead in Gleasons Meadow. |
| | Raff and So follow an overgrown road. |
| | Sonny has a gash in his head after inadvertently running straight into the pointy end of a protruding tree branch. |
| | Raff and So follow a good trail up the east ridge of Allsmoke Mountain. |
| | Raff and So traverse an open hillside en route to the summit of Allsmoke Mountain (visible at far left). |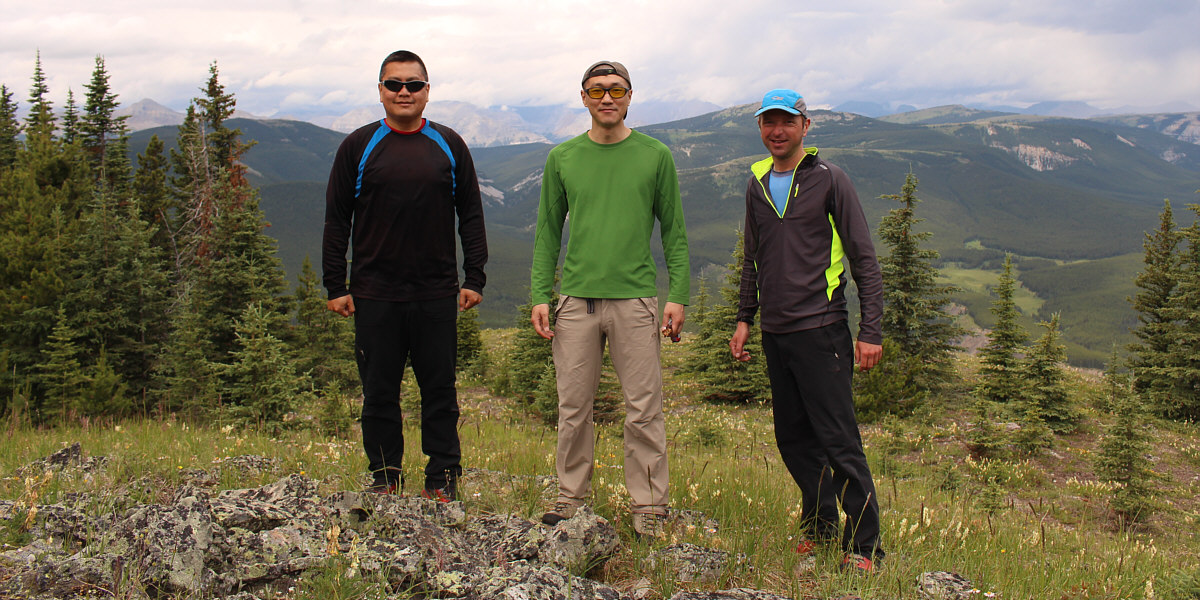 Sonny, So and Raff stand near the summit of Allsmoke Mountain (2108 metres).
Forgetmenot Mountain stands out to the west with clouds shrouding higher peaks in the distance.
Storm clouds gather over Moose Mountain to the northwest.
Raff puts on a jacket in the rain while So listens to rumbling thunder.
Total Distance: 15.2 kilometres
Total Time: 5 hours 32 minutes
Net Elevation Gain: 700 metres