BOU AVENUE
Apikuni Mountain
---
On 2 July 2016, I joined Dinah Kruze and Bob Spirko for an ascent of Apikuni Mountain in Montana's Glacier National Park via the southeast ridge. Starting from Apikuni Falls trailhead, we quickly hiked to the impressive waterfall before following a steep trail which switchbacks up the headwall to climber's right. The alternate ascent route described by J. Gordon Edwards in A Climber's Guide to Glacier National Park is a little vague at this point, and we opted to follow a route that Bob had mapped out using Google Earth. Shortly after clearing the headwall, we left the trail and ascended loose rubble and broken cliff bands aiming for the east ridge of Apikuni Mountain. We tried to follow smatterings of game trails here and there, but the tedious nature of the terrain was inescapable. Even with the angle easing a bit as we transitioned to a smoother red argillite rubble on the upper mountain, I still felt sluggish as I struggled to find enough energy or the will to keep my feet moving forward. The one saving grace was that clouds had rolled into the area which spared us from the sweltering heat of the sun. As usual, I perked up a bit once we put the scree slog behind us and gained the crest of the east ridge. Contrary to initial appearances, the remainder of the ascent is straightforward, and we had no problems hiking to the spacious summit. For our descent, we retraced our steps more or less. I deviated a bit from our original line in a couple of places, but we all regained the trail at the same place at the top of the headwall. Other than having to elbow our way through a crowd that was now congregated below Apikuni Falls, our hike back to the trailhead was uneventful.

Be sure to check out Bob's trip report.

| | |
| --- | --- |
| | Dinah stands proudly beside her brand new Subaru Forrester at the trailhead. Apikuni Mountain is visible through the gap at right. |
| | Gaillardia flowers are in full bloom at the trailhead. |
| | Bear grass can be found along the trail to Apikuni Falls. |
| | Bob approaches Apikuni Falls. |
| | Atop the headwall, the trail levels out as it turns up the valley. The east end of Altyn Peak dominates the background. |
| | Mount Henkel is the striking peak at the head of the upper valley. |
| | Shortly after entering the upper valley, Dinah and Bob leave the trail to scramble up a rubble slope. |
| | Bob and Dinah follow a game trail through the rubble. At centre is Apikuni Mountain. |
| | This is looking south toward Allen Mountain. |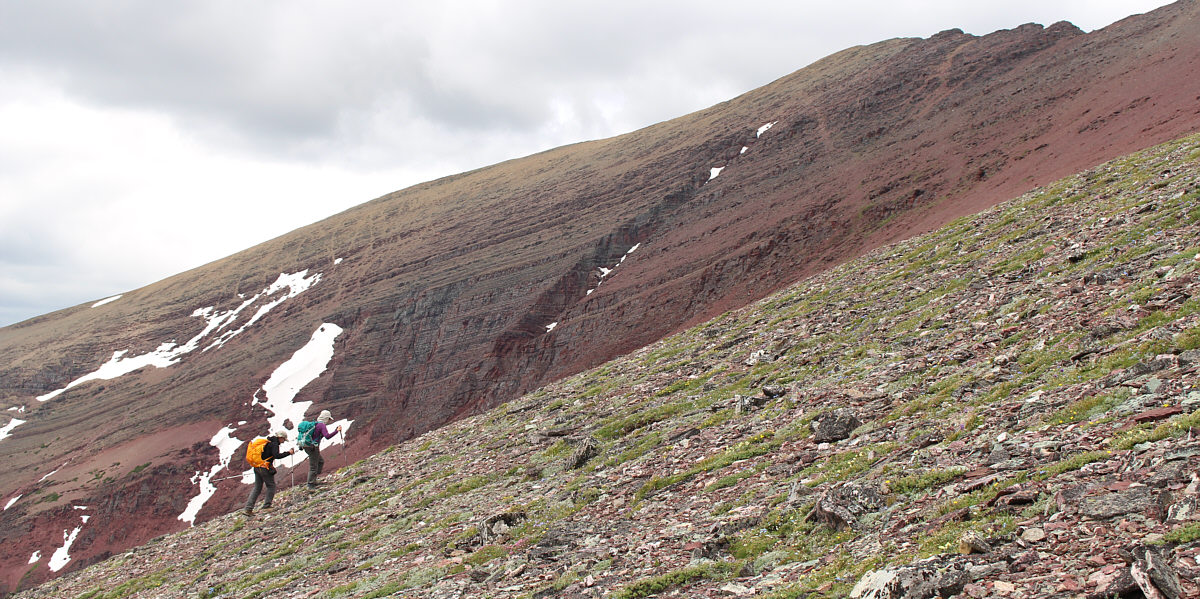 Bob and Dinah hike up easy slopes to reach Apikuni Mountain's east ridge.
Apikuni Mountain appears formidable from its east ridge.
Dinah waits as Bob looks for a route up this buttress.
Dinah and Bob skirt some cliff bands along the east ridge.
Dinah pauses to adjust her gear while Bob approaches the final summit block.
Bob and Dinah stand on the summit of Apikuni Mountain (2761 metres) while Sonny jumps for joy.
Wynn Mountain is on the far side of Lake Sherburne in this view to the southeast.
The view to the southwest includes (L to R) Mount Grinnell, Heavens Peak, Mount Henkel, Swiftcurrent Mountain, Mount Wilbur, and Longfellow Peak.
Beyond the great wall of Crowfeet Mountain is glaciated Mount Merritt (right).
Forget-me-nots are always a welcome sight.
Alpine buttercups are also in abundance on this day.
Natahki Lake sits in the hanging valley below Mount Henkel's east face.
Dinah and Bob descend easy scree.
Dinah awkwardly slithers down a rock band.
Bob and Dinah descend the headwall.
Apikuni Falls continues to impress.
Total Distance: 11.1 kilometres
Total Time: 7 hours 28 minutes
Net Elevation Gain: 1287 metres