BOU AVENUE
Hollyburn Mountain
---
On 31 December 2016, Shaun Luong, Zosia Zgolak and I climbed up Hollyburn Mountain in the North Shore Mountains near Vancouver, British Columbia. We were originally planning on a multi-day ski tour, but with most backcountry huts full during the holiday long weekend, we settled for doing just day trips from the city. Since snow was in the forecast for New Year's Eve, Hollyburn Mountain fit the bill as a straightforward ascent without any route-finding required. I had already hiked up the mountain in 2002, but a return trip on skis would be novel for me.

Our day got off to an inauspicious start when we inadvertently entered the trails of the Cypress Mountain Nordic ski area. While Shaun and Zosia were ahead of me, a staff member stopped me and asked if I had purchased a trail ticket. After learning that I was heading for Hollyburn Mountain, he directed me to the snowshoers' access just outside the ski area boundary. Shaun and Zosia, on the other hand, were stopped by another trail Nazi staff member who insisted that they had to purchase a trail ticket even after they explained to her that they were going into the backcountry to climb Hollyburn Mountain. This staff member was either working on commission or highly confused, but eventually Shaun and Zosia sorted things out with her and were directed, like I was, to the snowshoers' access.

The snowshoers' trail is wanded all the way to the top of Hollyburn Mountain, and it is virtually impossible to get lost here. While most of the trail is easy to climb, some sections near the top are quite steep and challenging to skin up. Although it was the Saturday of a long weekend, I was still startled to see so many people, mostly snowshoers, slithering up and down the trail. When I previously hiked up Hollyburn Mountain on a rainy Wednesday in October of 2002, I did not see a single soul all day. This time, it was impossible to find solitude anywhere along the trail. Many snowshoers appeared ill-equipped for steep, winter hiking, and as a result, there was a circus-like atmosphere to the proceedings. The unpreparedness of people venturing into the North Shore Mountains is well-documented, and it is not surprising that people disappear or die there with regularity. In fact, two snowshoers went missing not far from Hollyburn Mountain only six days earlier. The search for them was halted the day before our ski ascent, and they are now presumed dead.

After tagging the summit of Hollyburn Mountain, Shaun, Zosia and I removed our skins and essentially skied back down the same way we came up. Some of the skiing was quite challenging as we had to contend with chopped-up powder and icy ruts made by snowshoers sliding down on their butts with garbage bags (Shaun reported seeing one use a rice bag!). Dodging the snowshoers themselves was also a bit frustrating as many of them were unwilling to move even one step off the hard-packed trail to allow us to ski through. The concept of walking in untracked powder had obviously never occurred to these "snowshoers". Miraculously, the three of us managed to make it down safely without a major collision.

In retrospect, it may have been safer to cut over to the adjacent cross-country ski trails at least for part of our descent, but I am uncertain what we would have said to a staff member if they had caught us skiing without a trail ticket. Perhaps we could tell them that we got lost--it happens all the time here.

Shaun and Zosia are on the wrong side of the fence at the Cypress Mountain Nordic Ski Area. The snowshoers' trail is visible at left beyond the fence.
Shaun and Zosia start up the snowshoers' trail.
The snowshoers' trail runs parallel to the powerline for about 600 metres.
This buried sign provides a good indication of how much snow is covering the ground.

Photo courtesy of Zosia Zgolak

The trail climbs steeply at this point.
Zosia opts to carry her skis up the steep section below the summit.

Photo courtesy of Shaun Luong

Shaun takes an awkward spill on the steep section.
Zosia arrives at the summit of Hollyburn Mountain (1336 metres).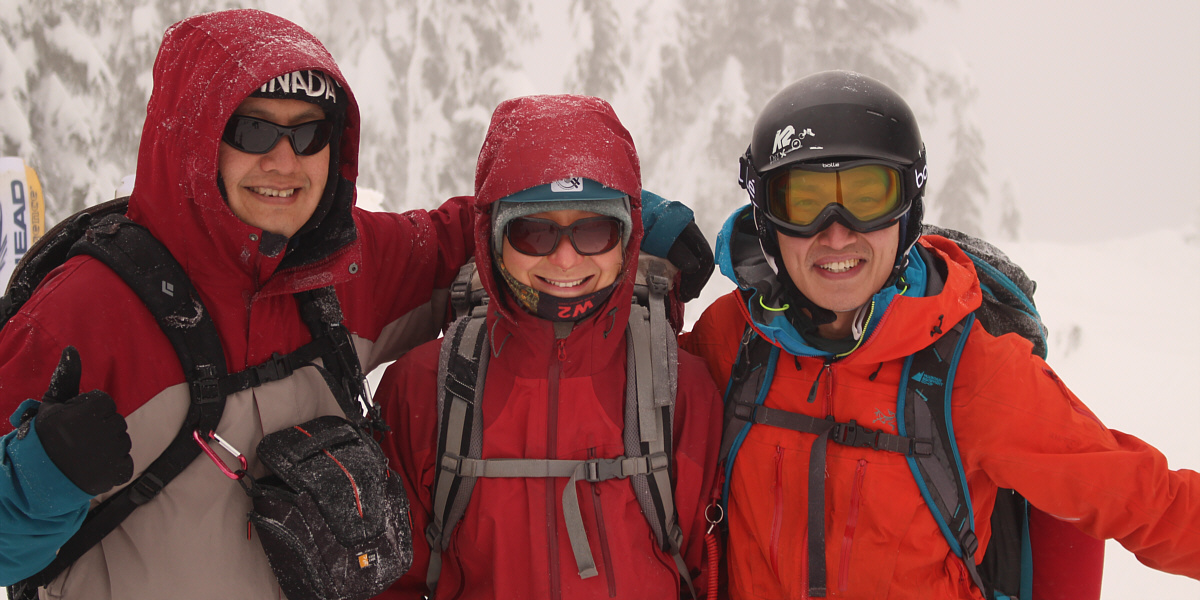 Sonny, Zosia and Shaun pose together on the summit.
Shaun surveys his descent route before plunging into the abyss.
Zosia is not too proud to walk down the steep section below the summit.
Shaun looks eager to fly down the slope.
Zosia looks for untracked powder in the trees.
Sonny gets a few turns slaloming around the marker wands.

Photo courtesy of Shaun Luong

On descent, Sonny picks up his skis for a short uphill section.

Photo courtesy of Zosia Zgolak

Total Distance: 7.0 kilometres
Round-Trip Time: 3 hours 24 minutes
Net Elevation Gain: 435 metres