BOU AVENUE
Mount Proctor
---
On the morning of 24 July 2016, Jason Minski, Simon Rolland, Marta Wojnarowska, Zosia Zgolak and I packed up our camp at Hartley Lake campground and headed to the Information Centre just north of Fernie, British Columbia (BC). Our plan was to climb Mount Proctor via its namesake trail which runs up the mountain's south ridge. We would subsequently complete a loop by returning on the trail along Fairy Creek located southwest of the peak. It is worth noting that the Mount Proctor trailhead information on the Recreation Sites and Trails BC website is out-of-date; the new trailhead starts from the Information Centre's parking lot. Numerous mountain biking trails criss-cross the lower slopes of Mount Proctor which can potentially cause a lot of route-finding confusion, but fortunately, the Fernie Trails Alliance (FTA) has done a good job with signage to keep both hikers and mountain bikers on track.

The Mount Proctor trail is relentlessly steep, and with our relatively late start, I was already sweating buckets as we climbed up the south ridge under very warm temperatures. Lots of ripe thimbleberries, strawberries and huckleberries along the trail were a good excuse to stop and stuff our faces silly. After breaking out of the forest, we climbed over a couple of bumps before circumventing a larger bump along the south ridge. From a saddle just past this larger bump, the route continues up the crest of a curving ridge that leads right to the summit.

Because of the beautiful weather, we lingered at the summit for an extended period of time. When we were finally ready to leave, there was some disagreement about our descent route. The official trail sanctioned by the FTA continues over the summit of Mount Proctor and drops into a large basin to the northwest before winding its way down to Fairy Creek. This entails some added distance, but there would be a good trail to follow the whole way back. Zosia had a printed copy of Bob Spirko's trip report from 2002, and for his descent, Spirko had partially retraced his steps back along the curving ridge before dropping down into a drainage southwest of Mount Proctor to intersect Fairy Creek trail. Spirko did not provide any specific details about this descent route, but given his sterling reputation for route-finding, it seemed like a reasonable short cut to take. Most of the group favoured taking Spirko's route mainly to save some distance, but I was reluctant to eschew using a perfectly good trail that was at our disposal. Despite my attempts to convince the others to reconsider choosing Spirko's route, the argument was settled with a vote, and I lost.

Leaving the summit, we retraced our steps to the aforementioned saddle, and from there, we descended open southwest-facing slopes to reach the same drainage that Spirko had descended. Initially, travel was very easy, and we lost a lot of elevation rapidly. As we got lower though, my worst fears were confirmed as the vegetation in the drainage became thicker and bushier. The bushwhacking was bad enough at one point to force us out of the drainage, but this only put us on dangerously steep slopes with little relief from the thick undergrowth. With some difficulty, I led us back into the drainage to resume following Spirko's route which at this point was our best option for reaching Fairy Creek trail. More misery and stumbling ensued. The intense heat of the afternoon sun did not help either, and Jason actually ran out of water somewhere in the lower parts of the drainage. This was supposed to be an "easy" day trip, and he may not have anticipated the need to carry extra water. Fortunately, I was able to spare him some of my water, but I too was also starting to run low.

The sense of relief was palpable when we eventually intersected Fairy Creek trail. The 900-metre descent over a distance of 2.4 kilometres from the saddle to the trail via the drainage took us nearly 2.5 hours. In contrast, it took less than an hour to hike the remaining four kilometres back to the parking lot on a good trail. Just sayin'...

In retrospect, it is quite conceivable that, when Spirko descended the drainage in 2002, the existing vegetation may not have been as thick or overgrown. There may have also been less deadfall in the drainage back then. Furthermore, Spirko's trip took place in October, and he may have had better lines of sight with the foliage likely gone from many of the bushes. That would have helped in avoiding nasty surprises like hidden drop-offs. Regardless, I am unsure if the longer descent via the officially-sanctioned trail would have been any faster, but I am 100% certain that it would have been a whole lot more pleasant.

| | |
| --- | --- |
| | Simon, Marta and Zosia are ready to start the trip from the new trailhead beside Fernie's Information Centre. |
| | The group hikes briefly along the power line right-of-way. |
| | A Variegated Fritillary reposes on some leafy asters. |
| | This is one of many wild strawberries found along the trail up Mount Proctor. |
| | Huckleberries are surprisingly already ripe along some parts of the trail. |
| | While Marta continues to forage for huckleberries, Zosia almost looks like she has had her fill. |
| | The Mount Proctor Trail is relentlessly steep for the first few kilometres. |
| | Here is an aerial view of Fernie from the south ridge of Mount Proctor. |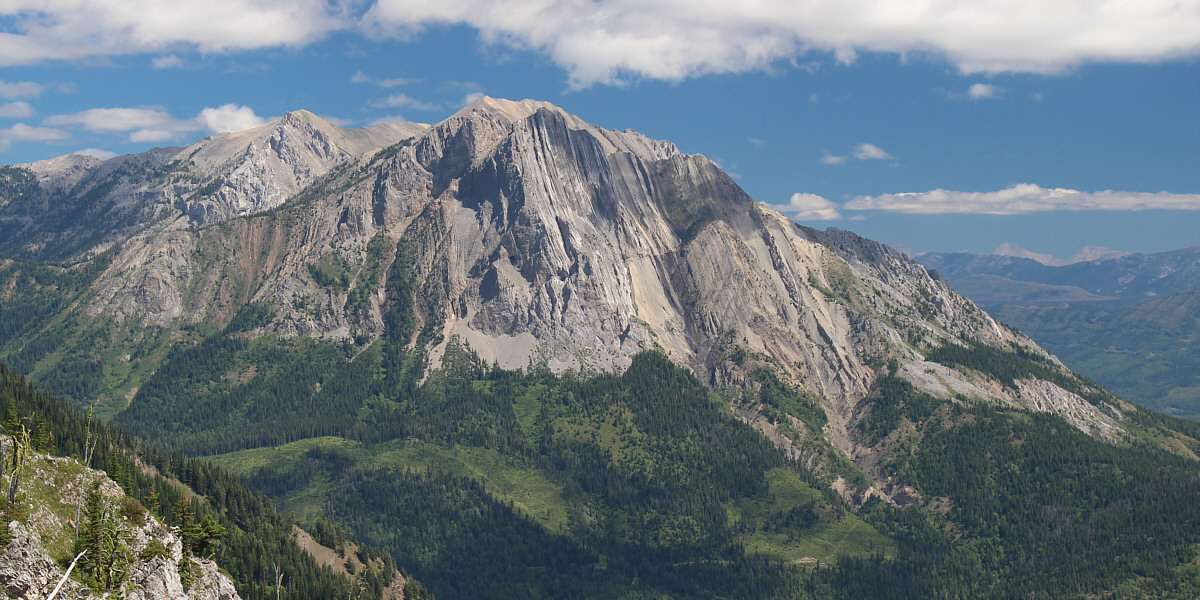 Ghost Rider Peak and Mount Hosmer deserve some attention to the northeast.
Simon prepares to continue along the south ridge of Mount Proctor.
Marta hikes up a trail that bypasses one of the high points along Mount Proctor's south ridge.
The remainder of the route up Mount Proctor is visible here. Note the cairn at bottom left.
Marta and Zosia approach a dead tree on the ridge.
The highest summit of the Three Sisters towers over the intervening landscape.
The group hikes up the final ridge before the summit.
Zosia and Simon surge ahead on the final summit block.
Sonny, Marta, Jason, Zosia and Simon gather on the summit of Mount Proctor (2389 metres).
In this view to the southwest, the high peak at centre is officially unnamed but often referred to as "True Fernie". The actual officially-named Mount Fernie is a lower peak a little to the left along the same ridge.
Here is a close up of the highest summit of Three Sisters.
Mount Hosmer and Ghost Rider Peak are visible at distant right in this view to the northeast. The peak at far left is unnamed.
Some of the peaks near the Crowsnest Pass region are visible on the eastern horizon. The highest of them is Mount Ptolemy just right of centre.
Marta and Zosia drop down the main southwest drainage (Spirko's descent route).
The vegetation gets thick in the drainage further down the mountain.
This wasp nest is located in the drainage not far from the trail.
Total Distance: 16.1 kilometres
Total Time: 9 hours 18 minutes
Net Elevation Gain: 1399 metres