BOU AVENUE
White Queen
---
While staying in Nelson, British Columbia over the Christmas long weekend, Zosia Zgolak and I hooked up with Philip Walters on 25 December 2016 and visited nearby Whitewater Ski Resort to do some AT skiing. Although the resort is renowned for its backcountry skiing opportunities, it is surprisingly restrictive in allowing uphill skinning within the resort boundaries. According to Whitewater's website, a single cat track on the northern margins of the ski resort has been designated for uphill travel, and this was where we chose to climb up even though we had no specific objectives in mind when we started the day. After an easy and somewhat mundane climb to the top of Silver King chairlift, we continued up a signed backcountry access trail which eventually turns west and makes a long rising traverse to a broad saddle. From this saddle, we climbed the ridge to the west and eventually topped out on a spacious summit which, I would later learn, is known as White Queen. Although there were some discussions about continuing westward and descending to the nearby Nordic ski trails, I was not in favour of this option since it would entail having to skin uphill at the end of the day to return to our starting point. Instead, I convinced everyone to ski back down the ridge we came up and then continue eastward past the broad saddle and over another minor high point. From looking at the resort's trail map, I was convinced that there was another backcountry access trail just east of the minor high point leading back to the top of Silver King chairlift. When we dropped down the east side of the minor high point, we spotted a few ski tracks descending into thick forest but nothing resembling an obvious access trail. After some fruitless searching, we eventually decided to try and drop down through the trees in order to get back to the ski resort. The terrain here is both steep and challenging with hidden cliff bands and narrow breaks between trees. While this was not an issue for Philip who is an expert skier, Zosia and I had a lot of problems descending here. At one point, I lost one of my skis in deep powder after a small wipeout, and I had to dig quite extensively to find my missing ski. To his credit, Philip exhibited a lot of patience in waiting for Zosia and me to muddle our way down the slope, and we all felt relief in one form or another upon regaining our original up-track. Returning to the resort area, we enjoyed an uneventful ski back to the parking lot. Despite all the grief Zosia and I endured on descent, this was still an enjoyable outing and a great way to spend Christmas Day.

| | |
| --- | --- |
| | The cat track designated for uphill travel begins just beyond the orange fence and heads out of the photo to the left. |
| | Philip stops for a drink on the cat track while another skier and Zosia come up behind him. |
| | Philip and Zosia arrive at the signed backcountry access trail near the top of Silver King chairlift. |
| | The backcountry access trail is easy to skin up. |
| | The backcountry access trail turns west here and makes a long rising traverse. |
| | Philip climbs up to a broad saddle. |
| | Philip follows Zosia westward from the broad saddle. |
| | It truly is a winter wonderland up here. |
| | Zosia and Philip continue to climb westward up a ridge. |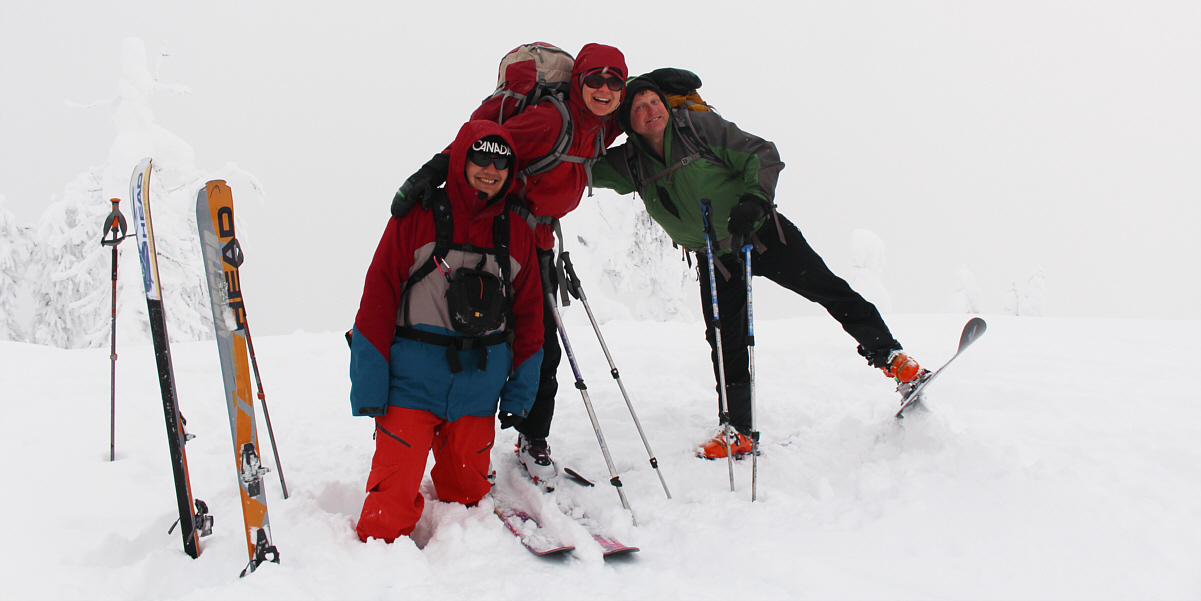 Sonny, Zosia and Philip stand on the summit of White Queen (2179 metres).
| | |
| --- | --- |
| | Zosia and Philip prepare to ski back down the ridge they came up. |
| | After returning to the broad saddle, Philip and Zosia climb up the other side to a minor high point. |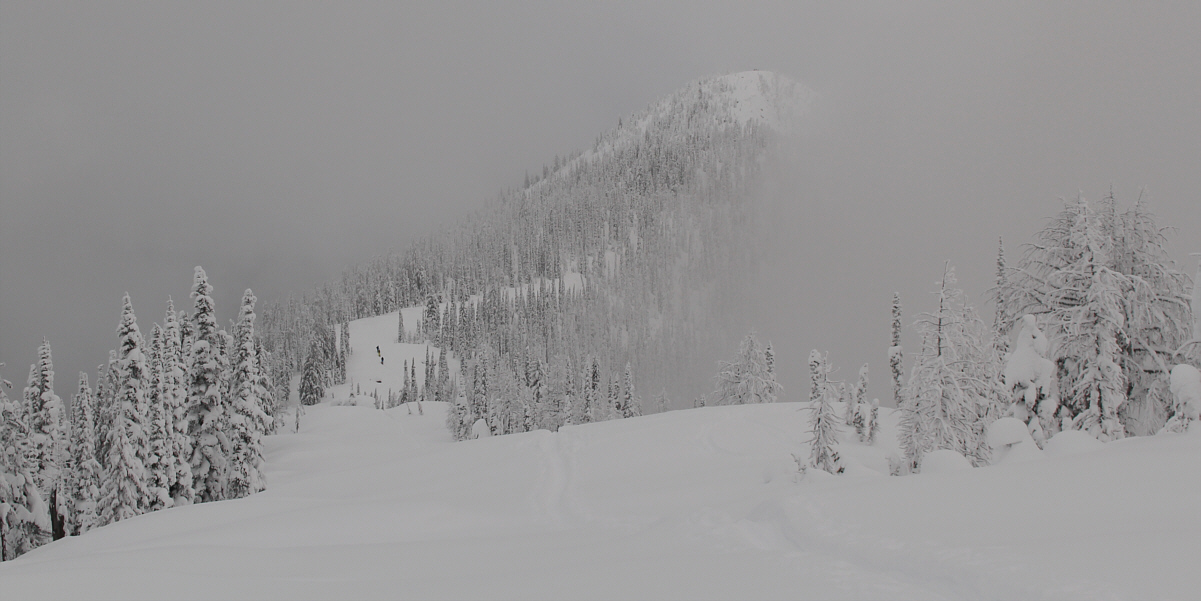 The mist clears briefly to allow this partial view of White Queen from the minor high point. Note the skiers at the broad saddle (left) and on the summit.
No access trail is immediately obvious on the east side of the minor high point.
Zosia resorts to sliding down one of the steeper sections in the challenging terrain below the ridge.
Total Distance: 9.7 kilometres
Total Time: 5 hours 46 minutes
Net Elevation Gain: 554 metres