BOU AVENUE
Mount Whitney
---
When Zosia Zgolak asked if we could go climb California's Mount Whitney after I pointed it out to her from the summit of Telescope Peak in Death Valley National Park, I initially dismissed the notion thinking that it would be near-impossible to obtain a permit (a quota is in place every year from 1 May to 1 November). The thought of doing a 35-kilometre (round-trip) day hike with over 2300 metres of cumulative elevation gain was also somewhat unappealing, but after we finished our trip to Telescope Peak, the allure of climbing the highest peak in the contiguous United States (the "Lower 48") was hard to ignore. Since we were so close and the weather forecast looked favourable, Zosia and I agreed to at least see if we could obtain a walk-in permit at the Eastern Sierra Interagency Visitor Center in Lone Pine.

Getting up well before sunrise at Death Valley's Emigrant campground on 20 October 2016, we drove to Lone Pine and arrived just before the visitor centre opened at 8:00 AM. An employee told Zosia to come back at 11:00 AM when the lottery for walk-in permits would officially begin. To kill some time, we visited the Alabama Hills just west of town and wandered for a bit among the piles of fascinating boulders. This area is actually a popular location for Hollywood filmmakers, and many movies have been entirely or partially filmed there.

When we returned to the visitor centre at around 10:45 AM, the employee who talked to Zosia earlier surprisingly started to process our walk-in permit for Mount Whitney. As it turned out, there were more than plenty of day hiking spots available for the following day, and Zosia and I obtained a permit after filling out a seemingly excessive amount of paperwork. After leaving the visitor centre, we spent the rest of the day puttering about in and around Lone Pine. We eventually ended up back at the Alabama Hills where we found ourselves a nice camping spot and made preparations for the next day's marathon. With plans for a very early alpine start, we went to sleep just after sunset at about 6:00 PM.

In this view from the visitor centre parking lot, the morning sun lights up the east faces of Lone Pine Peak (left) and Mount Whitney (right).
According to the Bureau of Land Management brochure for Alabama Hills, over 400 movies have been filmed here since 1920. Some recent notable films include Tremors, Star Trek Generations, Gladiator, Iron Man and Django Unchained.
Sunlight streams through a small hole in the rock.
Sonny points out Mount Whitney on the horizon.

Photo courtesy of Zosia Zgolak

Zosia balances on top of Mobius Arch.
Mount Whitney is visible behind Sonny and Zosia in this view through Mobius Arch.
The crux of Mount Whitney might be getting through the bureaucracy of obtaining a permit. Clockwise from top left are a purchased map, waste alleviation & gelling (WAG) bags, a hiking permit, a trailhead parking pass, a trail information sheet, and backpack tags.

Photo courtesy of Zosia Zgolak

Sonny looks forward to visiting Lone Pine's film museum.

Photo courtesy of Zosia Zgolak

There are some fierce-looking cowboys in the museum.

Photo courtesy of Zosia Zgolak

This is Zosia's and Sonny's campsite in Alabama Hills.

Photo courtesy of Zosia Zgolak
Zosia and I got up at around midnight on 21 October 2016 and ate a hasty breakfast in the dark before driving up to Whitney Portal (trailhead). Although road construction had been ongoing here all season long, it appeared that most of it was already completed, and we experienced no delays on our drive in (not that we were expecting any at that ungodly hour!). As instructed by the visitor centre employee who issued our permit, we removed from our car all food, toiletries and anything else that might give off a scent and placed them in one of the bear-proof lockers located at the trailhead. Apparently, bears in the area have been known to tear apart vehicles to get at food. It was about 1:30 AM by the time we started up the trail.

For the next several hours, we hiked the well-graded Mount Whitney Trail in the dark, but the prevailing moonlight was bright enough that we seldom had to use our headlamps. We lost the trail briefly among the rocks near Trail Camp but quickly picked it up again before climbing the endless switchbacks leading up to Trail Crest. Although the sun had risen by this point and warmed us up a bit, we remained in shadow for much of the undulating traverse from Trail Crest to the summit block. This section took much longer than expected as I was moving slower perhaps because of fatigue or the altitude. Although Zosia appeared unaffected, I felt just a slight twinge of a headache. The final plod up to the summit seemed interminable, but we eventually made it to the Smithsonian Institution Shelter which, ironically, is not open to the public.

After spending nearly an hour at the top, we wistfully began our long hike back to Trail Crest and then down to Whitney Portal. Although we retraced our steps all the way, it was nice to see some of the spectacular scenery we had missed when we were climbing in the dark. One disturbing trend we noticed though were the numerous waste alleviation & gelling (WAG) bags that were left behind by inconsiderate hikers. These bags are issued to permit holders so that they may pack out their solid waste and keep the Mount Whitney Trail clean. Both Zosia and I agreed that it would have been better to not issue the WAG bags at all and risk having used toilet paper flying about than having so many plastic bags of "goodies" littering the trail.

Upon returning to Whitney Portal, we retrieved our food and toiletries from the bear-proof locker and drove back down to Lone Pine. Again, we experienced no construction delays on our drive out. Appropriately, we stopped for dinner at Mt Whitney Restaurant in Lone Pine to celebrate our accomplishment. We then capped off a very long day by driving north and checking into a comfortable motel in the town of Bishop.

Climbing Mount Whitney marked the culmination of an extraordinary two-week road trip for Zosia and me which saw us visit 7 US States (including 7 national parks), climb 9 peaks, and explore 7 canyons. We visited the lowest point in North America (Badwater Basin) and the highest point in the contiguous United States (Mount Whitney). We drove over 6300 kilometres and had 1 flat tire. We slept 4 nights in hotels, 2 nights in Zosia's tent, and 10 nights in the back of my Honda CR-V. Best of all, I discovered in Zosia a most reliable and understanding travel companion who shares with me a similar appetite for adventure, fun and suffering. I can hardly wait for our next road trip together!

Sonny starts hiking at 1:30 AM.

Photo courtesy of Zosia Zgolak

Zosia gets her tongue stuck on some ice beside the trail.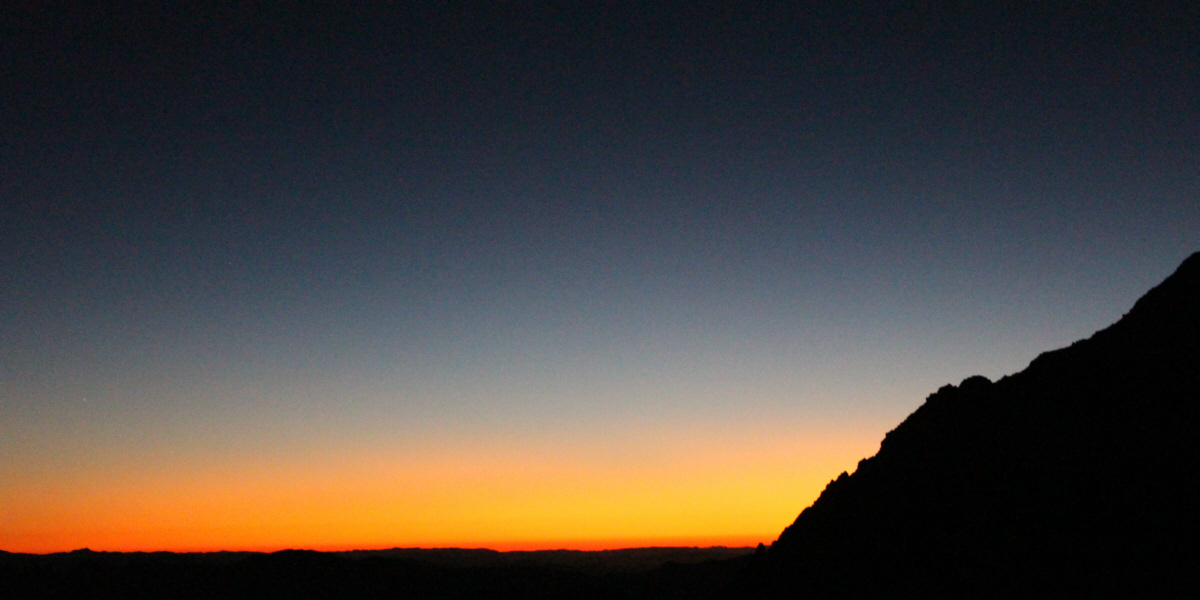 Dawn approaches from the east.
Sunlight illuminates the tops of Mount Muir and Mount Whitney as Sonny climbs up endless switchbacks.

Photo courtesy of Zosia Zgolak

The sun rises above Mount Irvine to the east. At bottom left is Consultation Lake.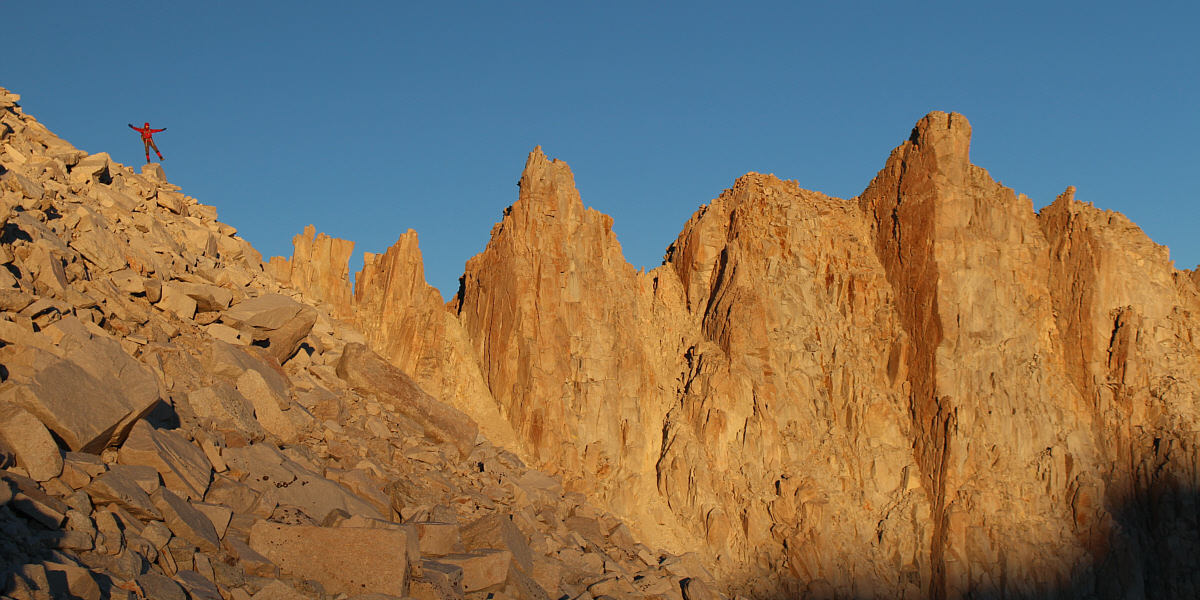 Zosia dances among the pinnacles near the crest of the Sierra Nevada range.
Zosia reaches Trail Crest, the highest trail pass in the United States.
The Smithsonian Institution Shelter is barely visible at the top of Mount Whitney (left).
Sonny trudges along the easy but somewhat monotonous trail.

Photo courtesy of Zosia Zgolak

Zosia approaches the Smithsonian Institution Shelter.
Sonny checks out Mount Whitney's summit register.

Photo courtesy of Zosia Zgolak

Zosia and Sonny stand on the summit of Mount Whitney (4422 metres).
To the west is the wild expanse of Sequoia National Park.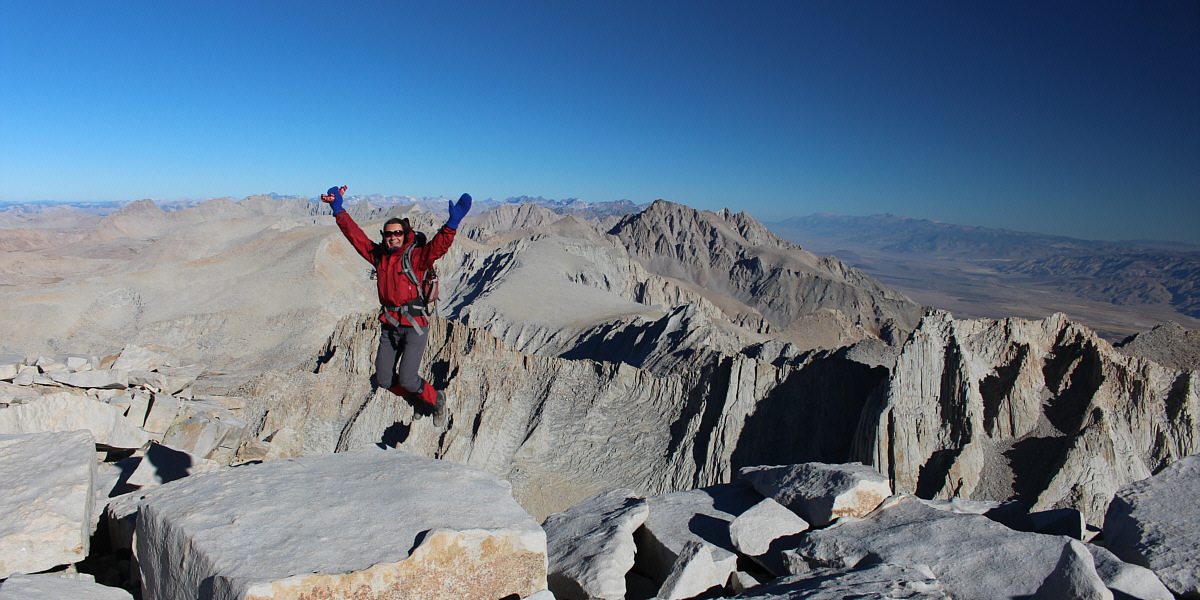 The Sierra Nevada range stretches away to the north behind Zosia.
Sonny teeters on the edge of a big rock near the summit.
Almost directly below the summit is Iceberg Lake. Whitney Portal, Alabama Hills and Lone Pine are all visible to the east.
This sign is fixed to a rock at the summit and gives an elevation which is slightly lower than the currently accepted figure of 14, 505 feet.
On her return journey, Zosia passes an impressive pinnacle along the crest of the Sierra Nevada range.
Mount Hitchcock and Hitchcock Lakes sit to the southwest of Mount Whitney. Also partially visible at far right is Guitar Lake.
Some of the switchbacks are visible at right above Consultation Lake.
Handrails provide some security along this mildly exposed section which can be icy.
This is looking back up at Mount Muir (right) from near the bottom of the switchbacks.
The trail passes under some impressive cliffs.
Sonny pauses high above Mirror Lake.

Photo courtesy of Zosia Zgolak

It is a long hike back to Whitney Portal.

Photo courtesy of Zosia Zgolak

Smoke from a fire somewhere obscures the sun above the Mt Whitney Restaurant in Lone Pine.

Photo courtesy of Zosia Zgolak

Total Distance: 33.9 kilometres
Round-Trip Time: 13 hours 45 minutes
Net Elevation Gain: 1866 metres