BOU AVENUE
Round The Mountain
---
While staying in Cranbrook, British Columbia for the last weekend of our three-week road trip, Zosia Zgolak and I visited nearby Kimberley on 14 January 2017 to ski Round The Mountain loop. This marked trail circumnavigates North Star Hill and passes through sections of Kimberley Alpine Resort (KAR), Horse Barn Valley Interpretive Forest (HBVIF), Kimberley Nature Park (KNP), and Kimberley Nordic Club (KNC). Using light touring gear, we chose to ski the loop in a counter-clockwise direction beginning at KAR and ending at KNC. Route-finding was generally easy as we had a broken trail to follow, but the skiing proved to be surprisingly challenging in several locations around the loop. The trail also undulates quite a bit resulting in a respectable amount of cumulative elevation gain. Admittedly, I was a bit disappointed with the general lack of interesting scenery throughout this trip, but having said that, Round The Mountain still warrants some consideration for those looking for solitude on a lengthy and moderately difficult ski tour near Kimberley.

From the base of KAR, Round The Mountain route starts beyond the ski patrol cabin and goes up the wide road at left in the distance.
A fair bit of herringboning is required at the north end of the loop.
The route becomes more challenging as it enters thick forest.
Sonny ducks under a fallen tree along the trail.

Photo courtesy of Zosia Zgolak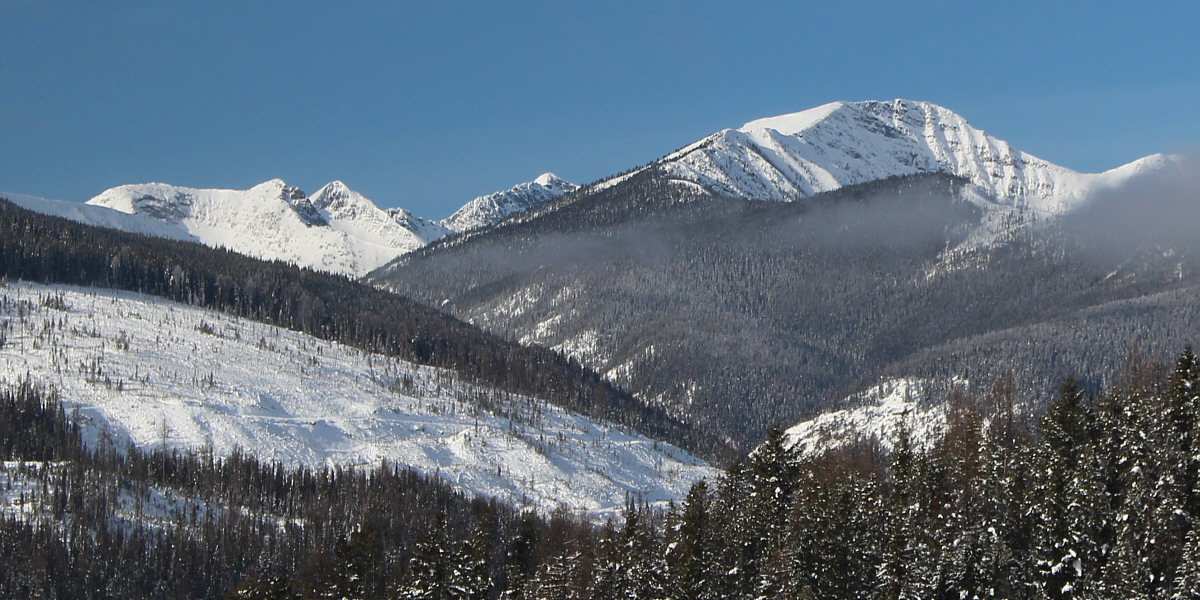 At a break in the trees on the west side of the loop, a few peaks can be seen to the west. Left of centre is Higgins Peak while the rest are unnamed.
Snow falls even as the sun tries to break through the cloud cover behind the silhouetted trees.
Sonny skis along the southwest leg of the loop.

Photo courtesy of Zosia Zgolak

A well-maintained cabin is located in HBVIF on the south side of the loop.
A thermometer on a tree shows roughly the high temperature of the day.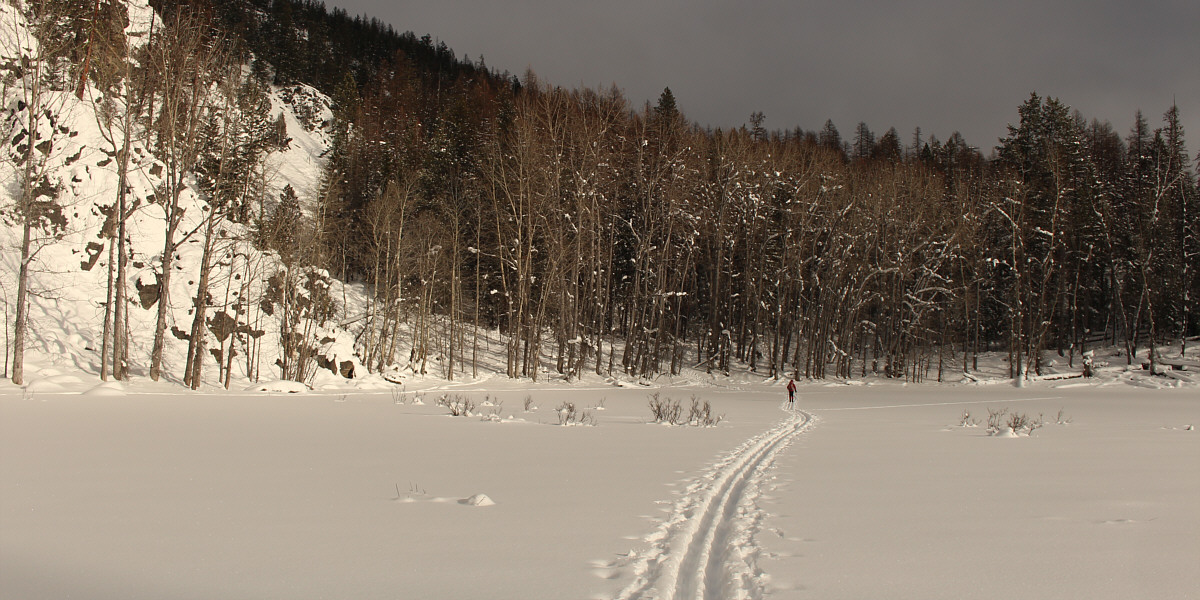 Zosia crosses Dipper Lake which is on the boundary between HBVIF and KNP.
The route traverses across some steep terrain within KNP.
At KNC, Sonny begins his biathlon training for the next winter Olympics.

Photo courtesy of Zosia Zgolak

Total Distance: 18.7 kilometres
Round-Trip Time: 4 hours 55 minutes
Total Elevation Gain: 508 metres