BOU AVENUE
Chamberlain Ridge (Goatslide Peak)
---
Zosia Zgolak and I ventured into the Cecil D. Andrus-White Clouds Wilderness of central Idaho on 1 July 2019 in an attempt to climb Castle Peak, but instead, we ended up bagging a nearby unnamed ridge which I dub Chamberlain Ridge or, as Zosia prefers, Goatslide Peak (more on this later). Castle Peak is remote enough to warrant setting up an overnight camp at the foot of the mountain usually in what is known as Chamberlain Basin, a beautiful hanging valley with multiple lakes and the odd herd of wapiti. I was reluctant about driving the supposedly rough roads on the usual approach via Pole and Germania Creeks, and instead, we opted for an easier drive to Fourth of July trailhead further north. This meant a longer and more strenuous approach on foot, but we figured that, with an early start (we camped at the trailhead the night before), we would have ample time to reach Chamberlain Basin to set up camp and perhaps even make an attempt for Castle Peak's summit.

With a pre-dawn start, we hiked the well-defined trail which passes Fourth of July Lake and climbs over a low pass before dropping down to Washington Lake. Some parties take a short cut to Chamberlain Basin by scrambling over the ridge to the east of Washington Lake, but the very steep and loose slopes there looked utterly unappealing to us. Continuing along the trail, we eventually passed a couple of signed junctions before climbing through a burnt section of forest to reach a ridge crest known as Chamberlain Divide. Here, we got our first clear look at Castle Peak's south face and the Class 3 gully ascent route. Unfortunately, the gully was still choked with snow. Summer was late coming to the mountains this year--a recurring comment we would hear throughout our road trip in the United States. Without crampons and unsure about avalanche conditions, we decided to pull the plug on our attempt of Castle Peak.
Sonny is still half asleep as he starts hiking from Fourth of July trailhead before dawn.

Photo courtesy of Zosia Zgolak

Zosia takes photos of Fourth of July Lake.
Some parties take a short cut to Chamberlain Basin by scrambling over the ridge behind Washington Lake.
From this junction, the trail to Chamberlain Basin crosses Washington Lake Creek and heads into the trees at far left. The trail on the right leads to Washington Creek trailhead which is the more usual starting point for parties interested in climbing Castle Peak.

Photo courtesy of Zosia Zgolak

Zosia passes through a recent burn in the forest.
Zosia hikes past more burnt timber en route to Chamberlain Divide. Glimpses of Castle Peak can be seen through the trees at right.
Zosia arrives at Chamberlain Divide and has her first unobstructed view of Castle Peak and its south face. Unfortunately, snow in the diagonal gully rising from right to left means that a summit attempt is out of the question.
With Castle Peak off the table, we saw no point in descending into Chamberlain Basin to camp for the night, but before turning around for the long walk back to Fourth of July trailhead, we dropped our heavy camping gear and hiked up an unnamed ridge northwest of Chamberlain Divide. On our way up, we spotted a herd of goats crossing a lingering snow patch, and a few of them had trouble keeping their balance on the steep and slippery snow. As such, we jokingly named the ridge "Goatslide Peak" although "Chamberlain Ridge" is probably more geographically informative. The hike up Chamberlain Ridge turned out to be quite easy, and we were rewarded at the top with superlative views in every direction.
After ditching her heavy camping gear, Zosia hikes up Chamberlain Ridge.
Five goats can be seen crossing a lingering snow patch on Chamberlain Ridge.

Photo courtesy of Zosia Zgolak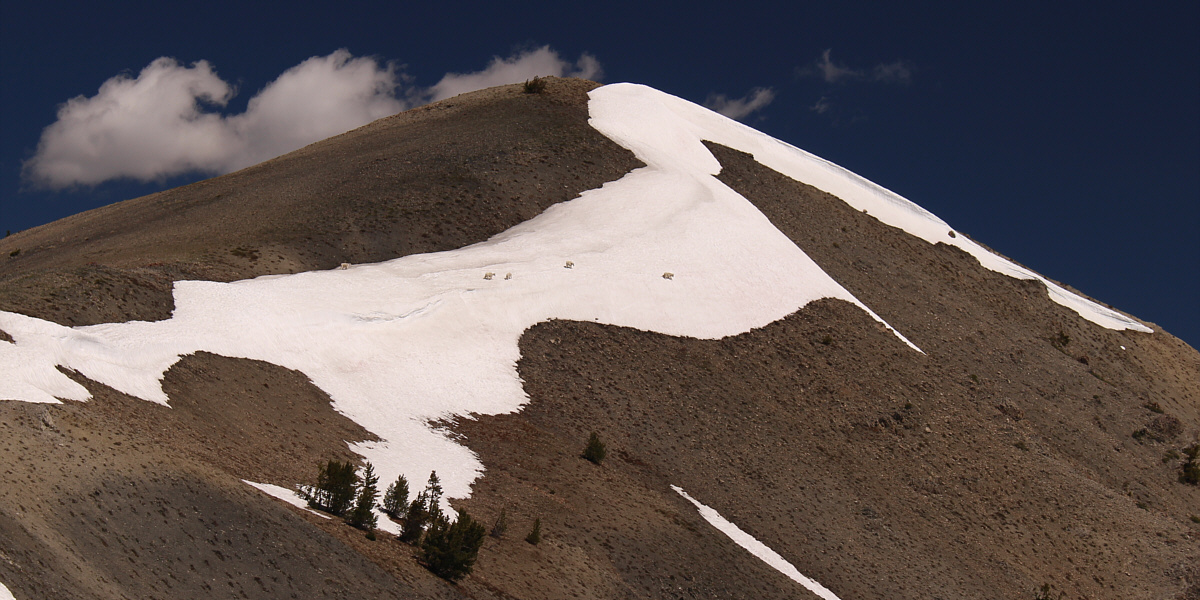 Despite being excellent climbers, some of the goats have trouble keeping their balance on the slippery snow.
| | |
| --- | --- |
| | The Boulder Mountains stretch across the southern horizon as Zosia climbs up the final slope before the top of Chamberlain Ridge. |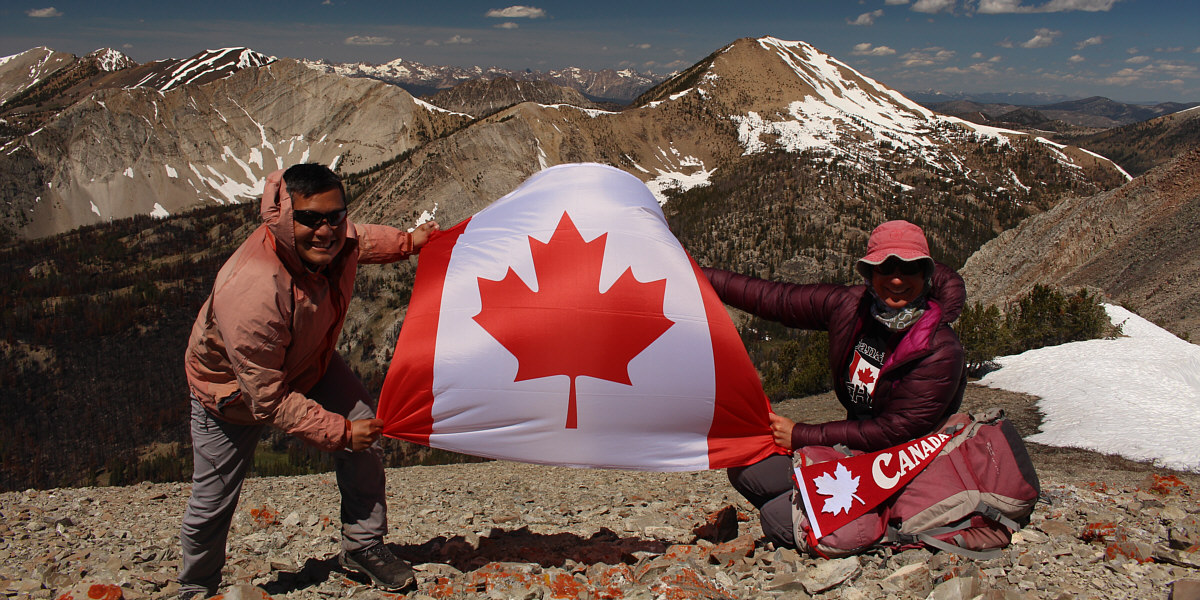 Sonny and Zosia celebrate Canada Day at the top of Chamberlain Ridge (3171 metres).
| | |
| --- | --- |
| | The view to the west includes Bible Back Mountain (left), Croesus Peak (left of centre), and Washington Peak (right of centre). |
| | To the northwest, the big mountain at left is unofficially named Fourth of July Peak. |
| | Here is another view of Castle Peak towering over Chamberlain Basin. |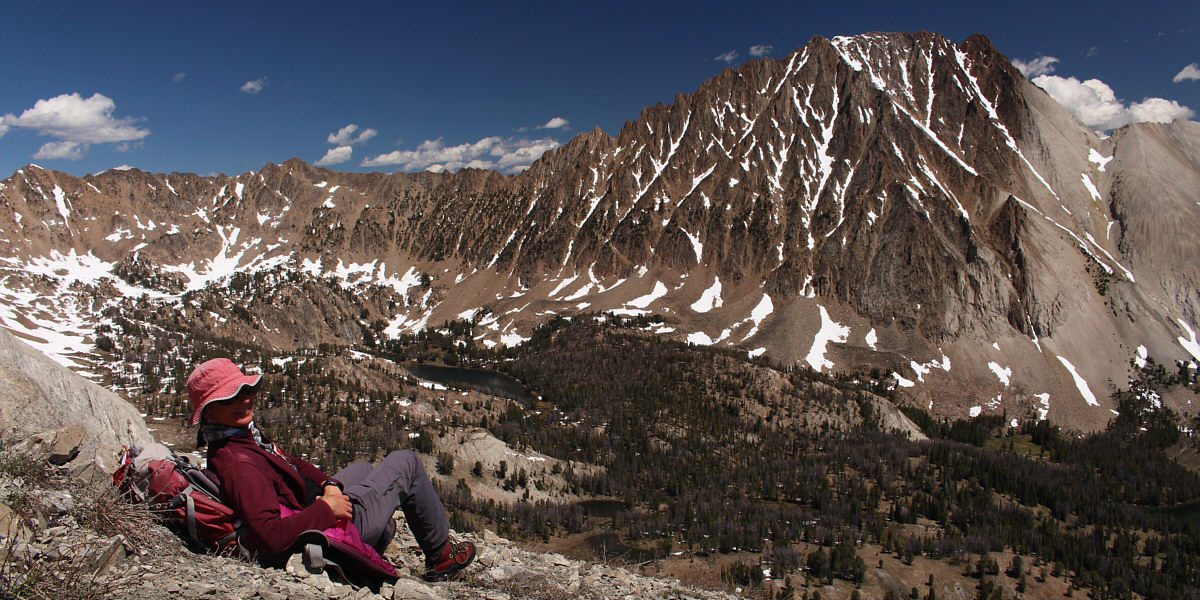 Zosia enjoys the views of Castle Peak and Chamberlain Basin from just below the top of Chamberlain Ridge.
| | |
| --- | --- |
| | Here is closer look at the snow-choked ascent gully on the south face of Castle Peak. |
After taking our requisite Canada Day celebratory photos on the summit, we backtracked to Chamberlain Divide and retrieved our camping gear. The ensuing hike back to Fourth of July trailhead felt very long even with a few short cuts thrown in. Our heavy packs and the warm weather certainly contributed to our fatigue. Upon our return to Fourth of July Lake, we took an extended break there to recharge a bit before finishing the remainder of our hike back to the trailhead (we would spend another night camping here).

Although it was disappointing to skip out on Castle Peak, Chamberlain Ridge turned out to be a really nice consolation prize for us. Hauling heavy camping gear over 20+ kilometres for nothing definitely sucked, and if we ever return for another attempt at Castle Peak, I may consider going light and just make it a super long day trip.
Sonny leaps across Washington Lake Creek during the long hike back to Fourth of July trailhead.

Photo courtesy of Zosia Zgolak

Here is another look at Fourth of July Lake.
On her way back to the trailhead, Zosia makes a tricky crossing of Fourth of July Creek.
Total Distance: 24.7 kilometres
Round-Trip Time: 13 hours 49 minutes
Cumulative Elevation Gain: 1115 metres