BOU AVENUE
Salsberry Peak
---
On 30 December 2019, Zosia Zgolak and I climbed Salsberry Peak located near the south end of California's Death Valley National Park. We drew our inspiration from a trip report by Bob Spirko, and after camping the previous night just outside the park boundary along Highway 178 (Jubilee Pass Road), we were well-positioned for an attempt on this rather obscure peak. Unfortunately, I had neglected to grab Spirko's GPS track before our trip, and since there is no actual trailhead per se, we had to make an educated guess about where to start. In the end, we simply parked my car on the shoulder of Highway 178 roughly due east of Salsberry Peak.

As Zosia and I started hiking westward across the desert flats, we were still unsure which peak on the horizon we were aiming for. I had a bearing for Salsberry Peak in my GPS unit, but from a distance, it was difficult to differentiate between the actual peak and numerous sub-peaks. Progressing further west, we were finally able to pinpoint our objective, but by then, we were already well off Spirko's described route. Fortunately, the terrain here is not too difficult to navigate, and with some careful route-finding, we were able to work our way up a series of ridges and ultimately connect with Salsberry Peak's summit ridge. The traverse along the summit ridge entails a bit of easy scrambling amongst some colourful rocks, but there are no serious difficulties.

After a short break on the summit, Zosia and I retraced our steps along the summit ridge. Instead of returning the way we came, we opted to exit using Spirko's described route by dropping steeply to a saddle north of the peak. From there, we turned eastward and descended a drainage which led us past Montgomery Spring (no running water on this day) and into an interesting canyon. We followed the winding canyon until an impassable dry fall forced us to detour onto slopes above it. We subsequently dropped back into the wash below the obstacle, but eventually, we left the wash for good to make a beeline for my car across the easy desert flats.

When Zosia and I returned to my car, we drove east to Pahrump, Nevada where I ended up purchasing a whole new set of tires. My old tires had taken a good beating during our visit to Racetrack Playa a couple of days earlier, and one of them had developed a slow leak that could not be repaired. They were all probably due to be replaced soon anyway.

Once my new tires were installed, Zosia and I checked into a pleasant casino hotel within the town. After spending the last five days hiking and camping in and around Death Valley National Park, we were overdue for a hot shower and a comfortable bed!
Sonny tries to get a bearing on Salsberry Peak from the side of the highway. The actual peak is the second bump from the left on the horizon.

Photo courtesy of Zosia Zgolak

Zosia crosses the desert flats. Salsberry Peak is right of centre here.
A cluster of small barrel cacti sit quietly on the ground awaiting inattentive hikers.
Route-finding is a bit challenging here since the summit is not visible. Trying to find the path of least resistance, Zosia heads for the ridge on the right.
The summit of Salsberry Peak (behind and to the left of Zosia) finally comes into view once again.
Sonny hopes to connect with the summit ridge of Salsberry Peak by traversing below the rugged cliffs at left.

Photo courtesy of Zosia Zgolak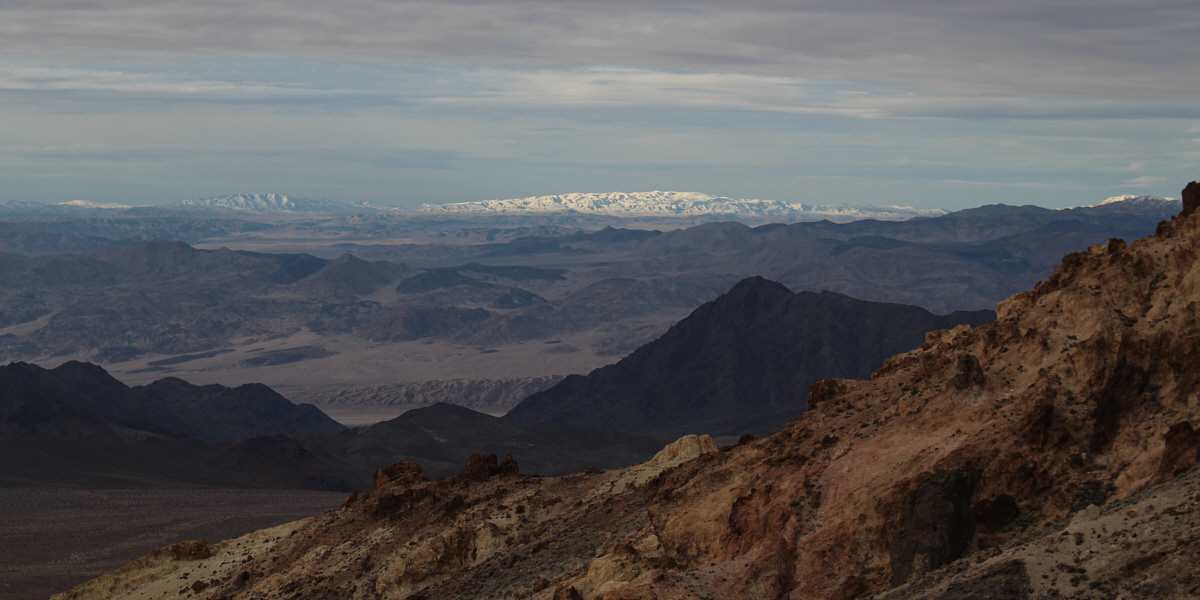 Snow makes the Quail Mountains stand out in the distance to the southwest. These mountains actually lie within a restricted area belonging to Naval Air Weapons Station China Lake.
Zosia hikes the last part of the traverse connecting to Salsberry Peak's summit ridge. The summit is at upper left.
Zosia gains the summit ridge.
Some colourful rock bands guard the summit ridge.

Photo courtesy of Zosia Zgolak

Some familiar names are in the summit register.
Zosia and Sonny stand on the summit of Salsberry Peak (1287 metres).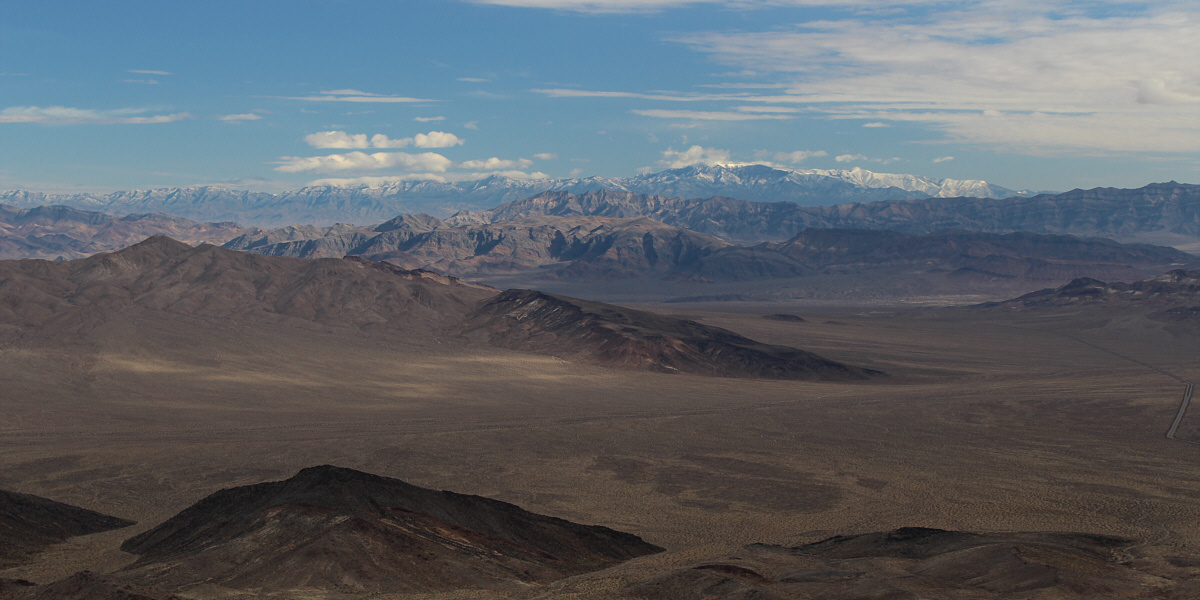 In this view to the northeast, Charleston Peak stands out on the right horizon.
Sheephead Mountain (right) is the prominent peak to the southeast. Also visible in the distance on the centre horizon is Kingston Peak.
Ibex Peak sits directly to the south.
To the northwest is Epaulet Peak. Snowy Telescope Peak is also visible on the distant horizon at centre.
Starting her descent, Zosia again scrambles over the colourful rocks guarding the summit ridge.
Zosia descends to the saddle in front of her and will head down the drainage at lower right.
Despite some big bushes here and there, the drainage is generally easy to walk through.
The drainage turns into a canyon further down.
After climbing out of the wash, Zosia heads across the easy desert flats to return to the highway.
Total Distance: 9.3 kilometres
Round-Trip Time: 5 hours 8 minutes
Net Elevation Gain: 444 metres