BOU AVENUE
Sanson Peak Again!
---
On 20 October 2019, Zosia Zgolak and I took her mother, Teresa Kosmala, for a hike up Sulphur Mountain trail in Alberta's Banff National Park. We were initially accompanied by some friends including Jonathan Chiu, Daniel Dufresne, Dinah Kruze and Bob Spirko, and although a few turned around early due to unforeseen circumstances, most of us made it to the upper gondola terminal and subsequently to the top of Sanson Peak without any trouble. Snow partially covered the trail on this day, and while some people donned ice cleats, I had no traction issues wearing just my winter hiking boots. While everyone else had to depart after returning from Sanson Peak, Teresa, Zosia and I hung out at the upper gondola terminal to await the arrival of some other friends--Chester Fitchett and Marta Wojnarowska--who were about an hour behind us. After stopping to take a break and chat at length with us, Chester and Marta continued on to Sanson Peak while Teresa, Zosia and I rode the gondola back down to the bottom. Chester and Marta would later join us for a late lunch at Tommy's Neighbourhood Pub in downtown Banff.

Parting ways with Chester and Marta after lunch, Teresa, Zosia and I headed to Canmore to burn off some extra energy with a second short walk. We started off in downtown but eventually ended up on a paved pathway along Bow River. At one point, we were startled to see a black bear dart out of some bushes and then cross the river before disappearing into more bushes on the other side. I guess this is perhaps the norm for a mountain town! Anyway, seeing the black bear capped off an utterly enjoyable day in the mountains with good weather, good food and good friends.
The group gathers at the Banff Gondola parking lot before the start of the hike.

Photo courtesy of Zosia Zgolak

Daniel, Sonny and Teresa take a break against a fence on the way up Sulphur Mountain trail.

Photo courtesy of Zosia Zgolak

Mount Rundle provides a spectacular backdrop for the Banff Gondola.

Photo courtesy of Zosia Zgolak

Zosia and Teresa head for Sanson Peak along the connecting boardwalk.
Zosia and Teresa bask in some warm sunshine at the top of Cosmic Ray Road which zigzags up the west side of Sulphur Mountain.

Photo courtesy of Zosia Zgolak

Sonny and Teresa walk up the last section of boardwalk before the top of Sanson Peak.

Photo courtesy of Zosia Zgolak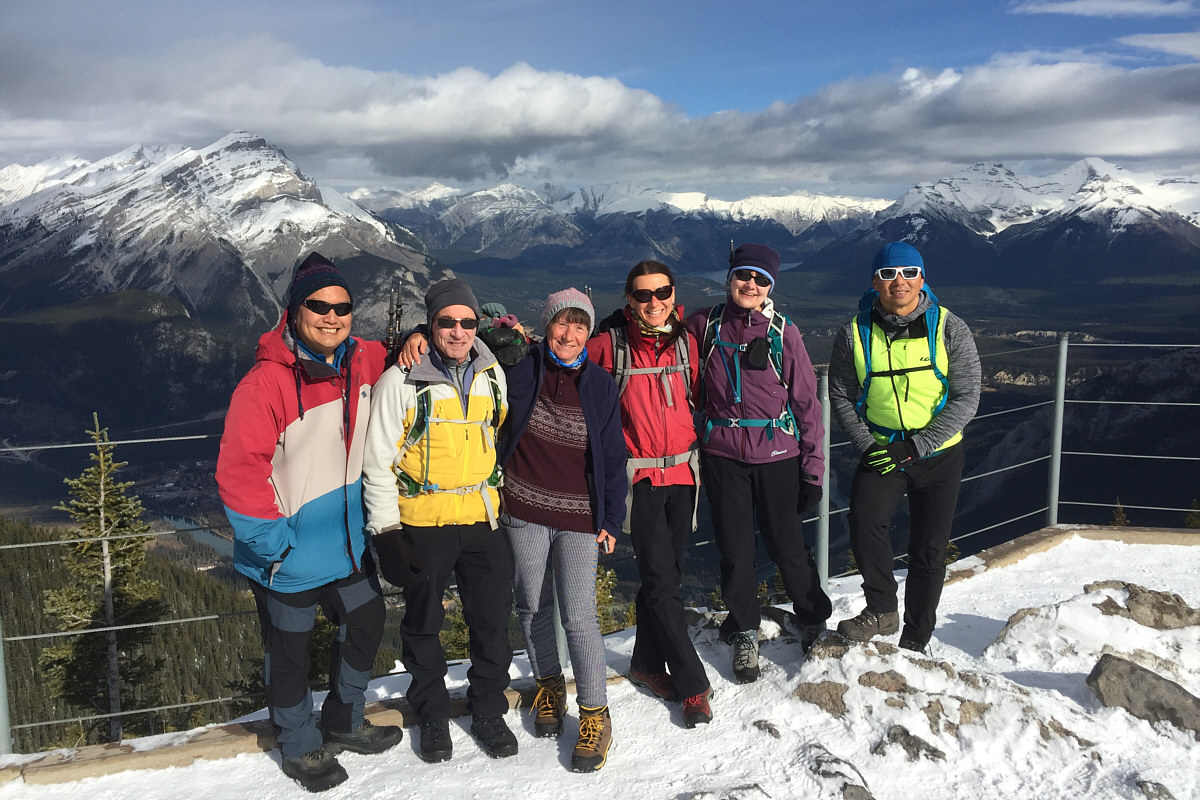 Sonny, Bob, Teresa, Zosia, Dinah and Jonathan enjoy the nice views from near the top of Sanson Peak.
Zosia, Dinah and Teresa crowd a wooden throne on the fourth floor of the upper terminal building.
Teresa, Dinah and Sonny warm up beside a fire table on the observation deck.

Photo courtesy of Zosia Zgolak

The true summit of Sulphur Mountain can be seen behind Dinah in this view to the south from the observation deck.
A crystalline bear dances with Zosia and Teresa on the observation deck.
Bob and Dinah enjoy lunch under a heater near the entrance to the observation deck.
Teresa and Zosia meet up with Marta and Chester at the upper gondola terminal's interpretive centre.
Zosia, Marta, Chester and Teresa stand in front of the Canadian flag just outside the upper gondola terminal.
Zosia and Teresa prepare to board a gondola car for the ride down.
Teresa and Zosia express how they feel about riding the gondola down for free.
Teresa and Zosia enjoy some perogies at Tommy's Neighbourhood Pub in downtown Banff.
In Canmore, Sonny observes a black bear which is about to cross Bow River.

Photo courtesy of Zosia Zgolak