BOU AVENUE
Mount Taynton And Castle Rock
---
Castle Rock is a prominent geological feature on the eastern slopes of Mount Taynton just southwest of Invermere, British Columbia. A hiking route for both is described in Hikes Around Invermere & the Columbia River Valley by Aaron Cameron and Matt Gunn. It should be noted that the trailhead access road as described in the guidebook crosses private land, and while the land owner (Zehnder Farms Ltd.) is willing to allow public passage, permission should ideally be requested in advance.

From the intersection of 13th Street and 13th Avenue in Invermere (near J.A. Laird Elementary School), drive south on 13th Avenue (which eventually turns into Westside Road) for 2 kilometres before turning west onto Johnston Road (gravel). Follow Johnston Road for about 4 kilometres (passing Invermere's water reservoir, Paddy Ryan Lakes) to a T-intersection. Further progress along Johnston Road from this T-intersection requires permission from Zehnder Farms Ltd. Go straight at the T-intersection. Johnston Road soon swings southward but eventually turns west again near some farm houses. Continue heading west straight through a 4-way intersection before making a hard left (south). Johnston Road dips a bit to cross Sunlight Creek before veering slightly westward into a grove of trees. The road ends at a locked gate just before a power line right-of-way about 3.7 kilometres from the T-intersection. Park here. Johnston Road can be a bit rough in some spots but should be drivable for most 2WD vehicles in dry conditions.

With a less-than-stellar weather forecast on 8 June 2019, Zosia Zgolak and I figured that the strenuous but technically easy hike up Castle Rock would make for a problem-free outing. If the weather cooperated, we would also have the option to extend the trip to include the summit of Mount Taynton. About a year earlier, Zosia and I had tried this same hike, but swarms of unrelenting mosquitoes forced us to abandon our attempt after we had walked only a few hundred metres. This time around, we saw maybe two or three mosquitoes for the entire day.

Starting from the locked gate, we crossed the power line right-of-way and followed the continuation of Johnston Road into the forest on the other side. A sign marks the actual trailhead a short distance further, and we began a long and steady climb up a well-maintained trail. As promised in the guidebook, we passed above a shallow mine shaft early in the proceedings, but beyond that, there is not much to see on the way up to Castle Rock. A little over 4.6 kilometres from the locked gate (and after about 800 metres of elevation gain), we inadvertently passed the obvious turnoff to Castle Rock due to a lack of signage. By the time we realized our mistake, we were already well past the turnoff, but we simply vowed to visit Castle Rock on our way back. The trail levels off a bit after the turnoff and essentially follows the contours of Mount Taynton's upper eastern slopes. Occasional breaks in the forest allow views of Windermere Lake and some peaks to the east.

After a somewhat lengthy traverse and just before reaching a high pass south of Mount Taynton, we left the trail and climbed up easy, semi-open slopes to the broad and partly treed summit. The top of Mount Taynton is more like a plateau, and although we had glimpses of some nearby mountains, the summit views in general are disappointing due to an abundance of trees in the vicinity. With little reason to linger, we took a quick summit photo before commencing our descent.

Instead of retracing our steps, we traversed over a marginally lower bump to the northeast before carrying on down the ridge beyond. Other than some lingering snow patches, we had no problems descending this ridge as far as a draw where we simply dropped down easy slopes to regain our access trail.

On our hike out, we took the short but worthwhile diversion to Castle Rock which definitely boasts better views than the summit of Mount Taynton. The rest of our descent through viewless forest was mind-numbing but trouble-free.
Zosia starts hiking past a locked gate at the end of Johnston Road.
Zosia arrives at the actual trailhead for Castle Rock.
The well-maintained trail to Castle Rock climbs steadily but never too steeply.
Zosia crouches in front of the entrance to a shallow mine shaft just off the trail near the beginning of the hike.
Zosia continues the long trudge up the monotonous trail.
Ominous clouds roll in over the mountains while it remains sunny over Windermere Lake in the distance.
Zosia puts on her rain jacket while being pelted by graupel.
Zosia leaves the trail to head up to the summit of Mount Taynton.
Sonny climbs up the semi-open southeast slopes of Mount Taynton. Behind him is the connecting ridge to Mount Goldie which is partly obscured by clouds at distant far right.

Photo courtesy of Zosia Zgolak

Zosia and Sonny stand on the summit of Mount Taynton (2383 metres).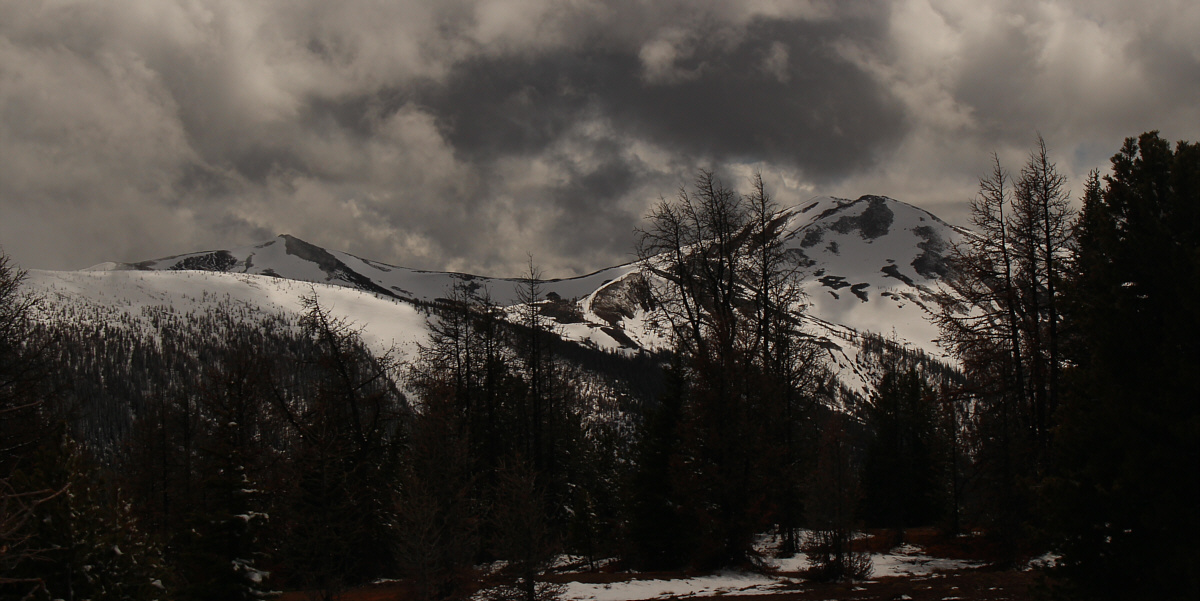 The clouds lift a bit to reveal the top of Mount Goldie (right) in this view to the south from the summit of Mount Taynton.
Zosia wanders through a forest of larch trees on the summit plateau of Mount Taynton.
Back on the main access trail, Zosia gets a better look at the Windermere valley in the distance after some clearing of the persistent cloud cover.
The forest seemingly swallows up Zosia after she took the turnoff trail to Castle Rock.
Castle Rock grants unobstructed views of the town of Invermere and Windermere Lake.
Sonny stands atop one of Castle Rock's impressive precipices.

Photo courtesy of Zosia Zgolak

After a mind-numbing descent from Castle Rock, Zosia finishes the hike on an enjoyable section of road near the trailhead.
Castle Rock appears as a bump (left of centre) on the eastern end of Mount Taynton in this view from the access road.
Here is a closer look at Castle Rock from the access road.

Photo courtesy of Zosia Zgolak

Total Distance: 18.9 kilometres
Round-Trip Time: 8 hours 7 minutes
Net Elevation Gain: 1352 metres