BOU AVENUE
Whiteway
---
Whiteway is an ice skating trail located on British Columbia's Windermere Lake. Each winter, the Toby Creek Nordic Ski Club prepares and maintains Whiteway which, when fully open, is touted as the world's longest skating trail boasting a length of over 30 kilometres. After a couple of missed opportunities in previous years, Zosia Zgolak and I finally had our chance to skate Whiteway on 10 February 2019. Spending the previous night at a nearby Airbnb, we were well-positioned to start skating from Windermere Beach which is one of Whiteway's access points. The temperature was quite frosty on this day, but we benefited greatly from a bright and warm sun and, most importantly, a lack of any wind. When we began skating from Windermere Beach, we quickly realized that not all of Whiteway was cleared yet for skating. In fact, the only section open was a 5-kilometre stretch between Windermere Beach and Kinsmen Beach in Invermere. There were many rough patches along the way, and I nearly went for a tumble a few times when I was not paying full attention to the ice. While we were expecting to spend a full day on the lake, Zosia and I only skated out to Kinsmen Beach and back once which was enough given the marginal ice conditions. Still, this outing provided a good gauge of what to expect whenever we return in the future to skate the fully opened Whiteway.
Sonny stands beside a map board near Windermere Beach.

Photo courtesy of Zosia Zgolak

Zosia "warms up" on a short plowed loop near Windermere Beach.

Perched high in a tree not far from Windermere Beach, this bald eagle seems unfazed by the cold weather.

Near Windermere Beach, this large section of the ice may have been cleared of snow for the purpose of playing shinny.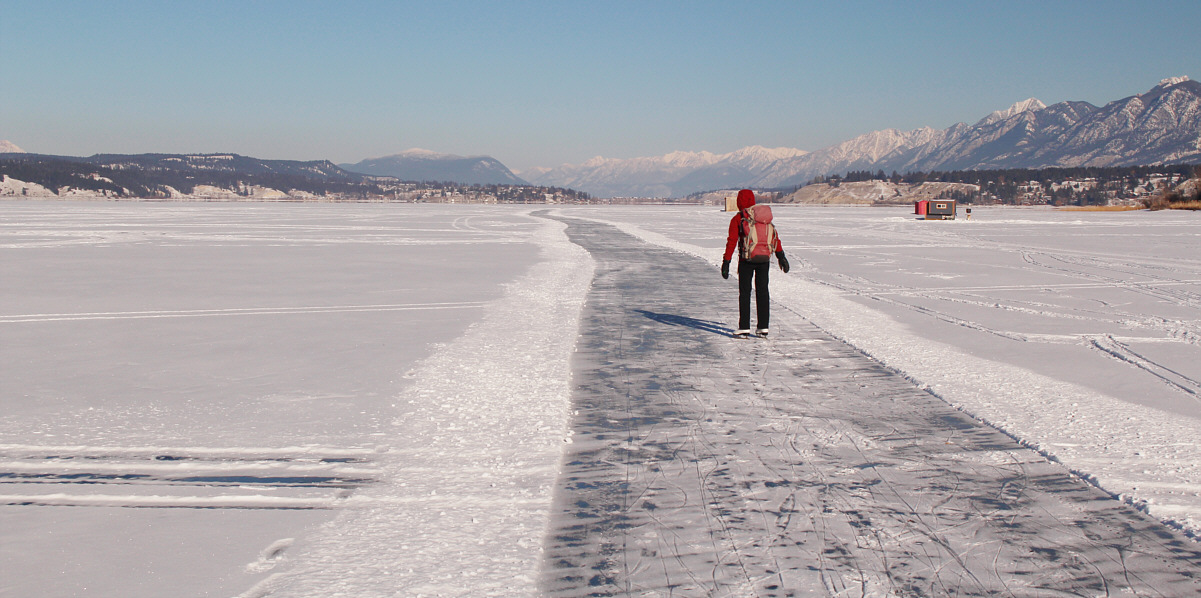 Zosia skates toward the town of Invermere in the distance. Note the ice fishing huts at right.
Sunshine and a lack of wind make the cold temperatures quite bearable on this day.

Photo courtesy of Zosia Zgolak

Zosia arrives at Kinsmen Beach in Invermere.
On this day, there are numerous rough sections like this one on the Whiteway.
Motor vehicles commonly bomb down the middle of the frozen lake and set off loud shockwaves across the ice.
Sonny swings his arms to try and pick up some speed on the rough ice.

Photo courtesy of Zosia Zgolak

Zosia returns to Windermere Beach about 45 minutes after leaving Kinsmen Beach.
Total Distance: 11.8 kilometres
Round-Trip Time: 2 hours 14 minutes