BOU AVENUE
Star Creek Hill And Lookout Butte
---
On 22 November 2020, Zosia Zgolak and I hiked up unofficially-named Star Creek Hill located on the outskirts of Coleman, Alberta. Originally, we had a loftier objective in mind, but excessive snow at higher elevations prompted us to go with our Plan B which was inspired by Dave McMurray's excellent 2014 trip report. Incidentally, McMurray acknowledges that the hill is known locally as "The Saddle" while "Big Bear/Saddle Mountain" appears to be the name in use by the Crowsnest Outdoors Society. I personally prefer McMurray's Star Creek Hill which I think is more unique and also helps identify the hill's location. Oddly enough, I had the name "Starkiller Hill" running through my head during this trip, and I can only imagine how popular this hike would be if this name were ever adopted given its association with Star Wars lore!

From the intersection with 70 Street in Coleman, head west on 17 Avenue which soon turns south and crosses train tracks. Past the train tracks, veer right onto 16 Avenue and drive west for 1.7 kilometres before turning left (south) onto gravel 54 Street. Drive about 200 metres and park in a small pullout just before a steep hill. High-clearance vehicles can make it up the hill to save a bit of distance and elevation gain, but in winter conditions, a 4x4 vehicle would likely be required to do so.

From the pullout, Zosia and I hiked up the steep hill to the end of 54 Street before turning left and descending to Star Creek. Before crossing the creek, we veered right to follow a trail (there is a sign with a hiker symbol) heading into the forest. Our initial plan was to check out nearby Star Creek Falls up close, but without thinking, we soon crossed a foot bridge and began climbing steadily up the east bank of Star Creek. Once we realized that we had made a wrong turn, we were too lazy to turn back and simply kept climbing up the trail, but we still managed to get a glimpse of the falls from some viewpoints higher up. Where the trail begins to descend and loop back to the west bank of Star Creek, we left it to grind uphill to a prominent bump which McMurray refers to as "the northern tip of the saddle". The bushwhacking here was generally light, and on this day, we were fortunate to have little to no snow cover. From the top of the prominent bump, we went to skier's left to circumvent some cliffs and drop down into a dip. In doing so, we fortuitously stumbled onto a mountain biking trail known as Big Bear Down. We easily followed this trail across the dip and all the way up to the top of Star Creek Hill. The actual high point of Star Creek Hill is not well-defined, and we ventured far enough south to make sure that we had tagged all potential high point candidates before returning to one of the more scenic ones for a short lunch break.

For our descent, Zosia and I opted to take advantage of Big Bear Down trail and backtrack to the dip. A few steeper sections were icy on this day, but we managed to descend them all without a slip. At the dip, we left the trail and headed down open grassy slopes to the west. We eventually re-entered forest lower down and simply traversed back to where we originally left the Star Creek Falls loop trail. As before, travel through the bush was easy here, and we also found lots of convenient game trails to follow. Upon regaining the loop trail, we hiked directly back to our starting point on 54 Street, and the only challenge we had was getting across Star Creek without detouring to the foot bridge.

Zosia and I both thoroughly enjoyed this gem of a hike which has it all--good trails, a nice waterfall, easy bushwhacking/route-finding, and great views throughout (on a clear day). Muchas gracias, Dave!
Zosia starts hiking along the continuation of 54 Street up a hill.
As seen from a viewpoint along the loop trail, Star Creek Falls is only partially frozen on this day.
After leaving the loop trail, Zosia climbs up a forested slope near the north end of Star Creek Hill.
Some trees on the upper slopes are a living testament to the strong winds that frequently blow through the Crowsnest Pass area.
Zosia pauses at the top of a prominent bump on the northern half of Star Creek Hill. The higher southern half can be seen at left.
Dropping into a dip from the prominent bump, Sonny picks up a mountain biking trail known as Big Bear Down.

Photo courtesy of Zosia Zgolak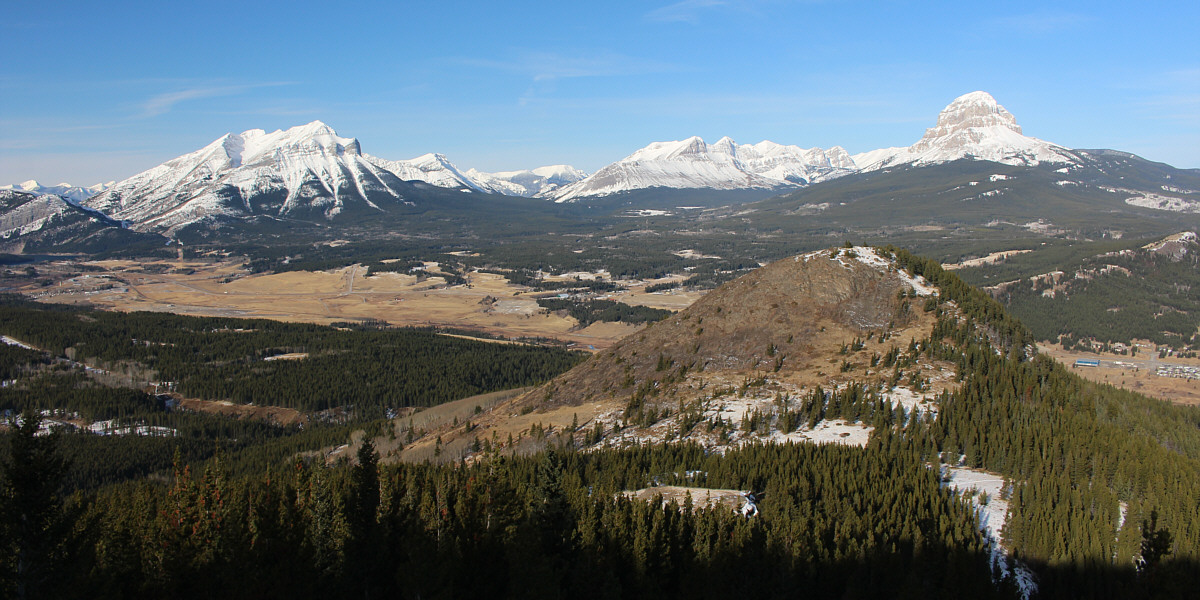 A clearing along Big Bear Down trail grants this view of Mount Tecumseh (left), Crowsnest Mountain (right), and the northern prominent bump of Star Creek Hill (foreground).
| | |
| --- | --- |
| | Turtle Mountain is visible at distant left as Zosia works her way toward the highest point of Star Creek Hill somewhere to the right. |
| | Zosia and Sonny huddle on the presumed high point of Star Creek Hill (1819 metres). |
| | The view to the southwest includes Mount Coulthard (far left), Andy Good Peak (left of centre), Mount McLaren (centre), Mount Parrish (directly behind Mount McLaren), and Chinook Peak (right). |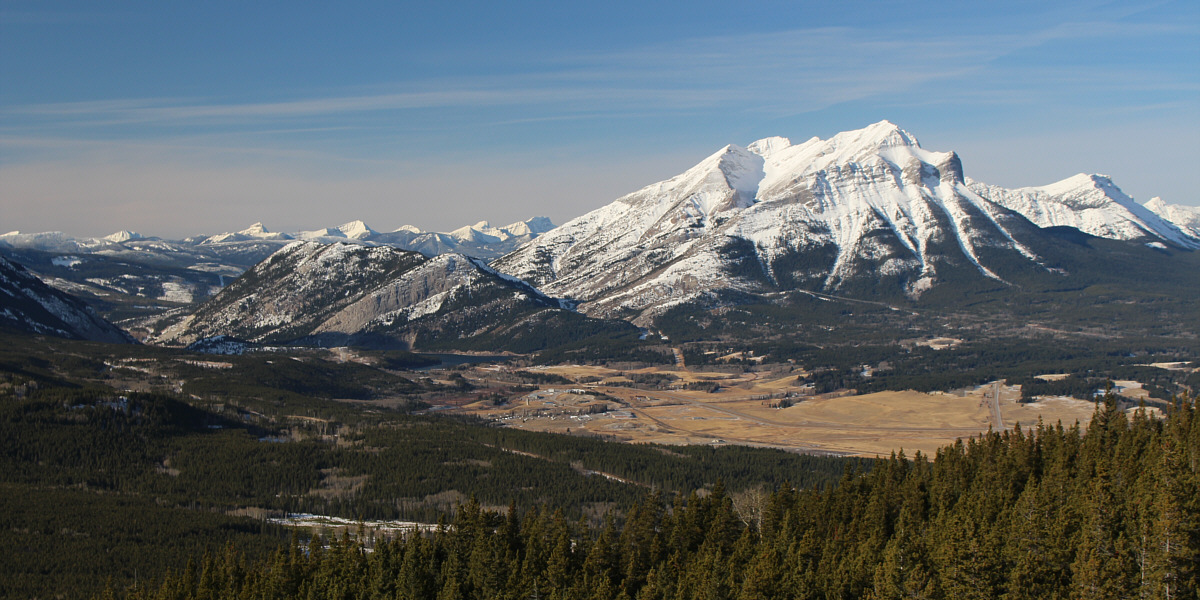 Mount Tecumseh captures all the attention to the west.
| | |
| --- | --- |
| | Zosia retraces her steps along the crest of Star Creek Hill. |
| | A sign along Big Bear Down trail warns hikers to be vigilant of mountain bikers. |
| | Zosia descends grassy slopes on the west side of Star Creek Hill. |
| | Zosia carefully tests her weight on a sheet of ice while crossing Star Creek. |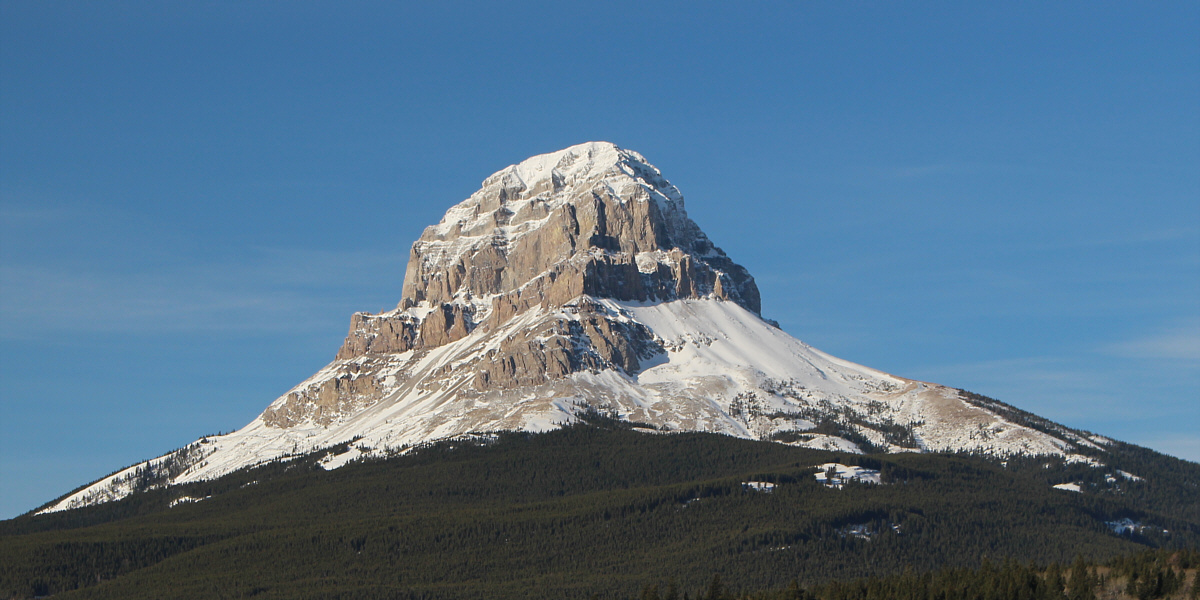 Here is a final look at Crowsnest Mountain from 54 Street.
Total Distance: 8.8 kilometres
Round-Trip Time: 5 hours 5 minutes
Cumulative Elevation Gain: 699 metres
On our drive home, I decided to surprise Zosia with a second hike--albeit a short one--near Fort Macleod, Alberta. Lookout Butte is the official name of a grassy hillock just south of Highway 785 about 7 kilometres west of the junction with Highway 2. The hillock is located on public agricultural land, but as of this writing, there is no requirement to contact the agricultural leaseholder for permission to set foot in the area. The crux of this hike was crawling under the barbed wire fence along the side of the highway. From there, we enjoyed an easy and gentle climb up to the high point which is marked by a small ring of rocks. Despite Lookout Butte's low elevation, the views from its high point are surprisingly sublime. Once we had our fill of farmland scenery, we walked back to my car and resumed our drive home to conclude yet another wonderful weekend of adventure.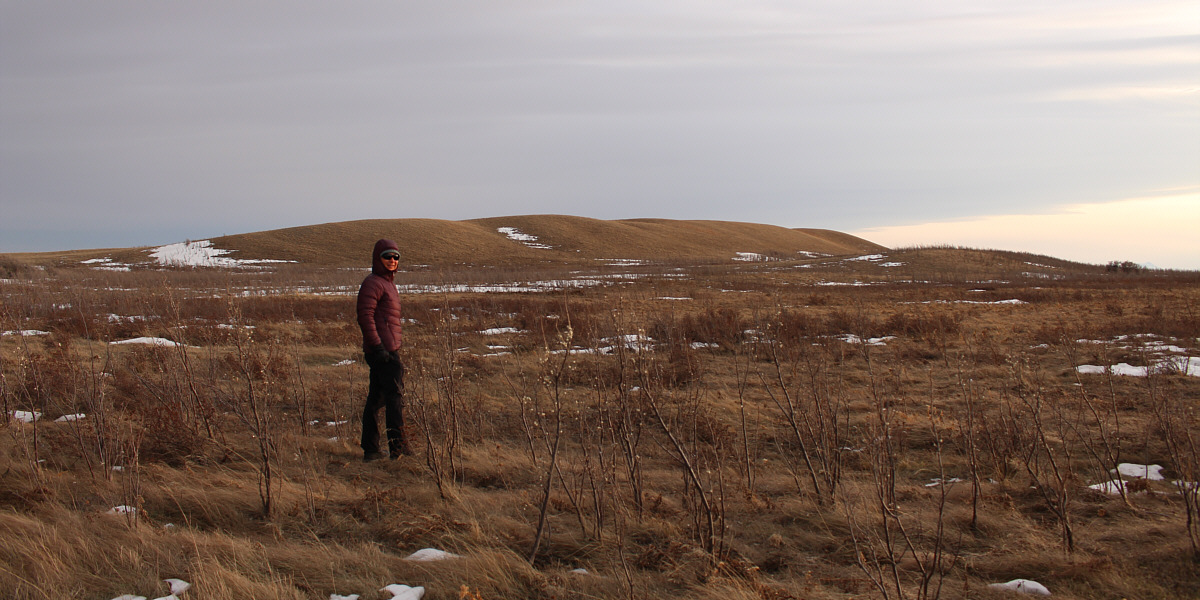 Lookout Butte is situated on public agricultural land, but this is a rare instance where permission is not required from the agricultural leaseholder for recreational access.
Zosia approaches the final gentle rise before the top of Lookout Butte.
Sonny and Zosia proudly stand on the high point of Lookout Butte (1002 metres).
Visible to the northeast is Mud Lake.
From the high point of Lookout Butte, Zosia watches the sun disappear behind the clouds on the southwest horizon.
Total Distance: 1.4 kilometres
Round-Trip Time: 32 minutes
Net Elevation Gain: 28 metres