BOU AVENUE
Cape Fife-Rose Spit Loop
---
When I was researching for suitable hikes to do in British Columbia's Haida Gwaii, the East Beach Trail in Naikoon Provincial Park naturally caught my eye. This is a challenging multi-day hike of well over 80 kilometres along the east and north coasts of Graham Island. While completing this one-way hike would have undoubtedly been a rewarding experience, I felt that the minimum four days required would be too much of a commitment to just one part of the Haida Gwaii. As a compromise, Zosia Zgolak and I hiked the initial southern section to the Pesuta Shipwreck as a day trip, and we would follow that up with a shorter loop at the north end encompassing Cape Fife, Rose Spit, and North Beach. The most challenging aspect of backpacking in this area is finding good sources of fresh water. Many of the rivers near the beaches are influenced by ocean tides and can be brackish or salty, and water found further inland tends to look unappealing to drink or can be difficult to access. Unfortunately, the visitor information centres in Port Clements and Masset were of little help in pointing out reliable water sources for us, and in the end, we decided to make the loop an overnight trip to limit the amount of water we would need for camping.

Early on the morning of 6 August 2021, Zosia Zgolak and I started our trip from the Tow Hill trailhead parking area which is located 25 kilometres east of Masset along Tow Hill Road. Crossing the bridge over Hiellen River, we easily found the signed Cape Fife trailhead on the other side (parking is limited here). The 10-kilometre trail to Cape Fife is well-marked and mostly forested with little in the way of views. There are also many boggy sections, and waterproof boots are essential to keep feet dry. Otherwise, we had no issues and arrived at the deserted Cape Fife shelter about four hours after starting out. Contrary to the information given at the trailhead, the first-come-first-served user-maintained shelter has room to accommodate up to eight people and possibly even a couple more in a pinch. I had carried Zosia's two-person tent just in case the shelter was full or uninhabitable, but as it turned out, this was unnecessary. Inside the shelter are three bunk beds, a picnic table, a wood stove, some limited kitchenware, a drying rack suspended from the ceiling, and ample hooks for hanging gear. There is also a reasonably clean outhouse nearby. While we certainly could have pushed on for a few more hours, we opted to stay put and relax at Cape Fife for the rest of the day. Moreover, we had the whole place to ourselves and would not see another soul until the next day.

Zosia and I still had ample water that we hauled in with us, but we spent some time collecting additional water from both the shelter's rain barrel and nearby Kumara Lake. The water from the lake was expectedly brownish from tannin, but Zosia reported that it was odourless. The rain barrel water looked clear, but when we used it later for making soup and tea, we found that it had a slight funny taste. Fortunately, neither of us had any ill effects from ingesting the rain barrel water (it was boiled anyway), and although Zosia carried the collected lake water for much of the following day, we ultimately never had a need to drink it. While it was not absolutely necessary, I fired up the wood stove which made the shelter nice and warm for our evening dinner. The only other noteworthy event was when a scurrying mouse woke me up during the night. I heard the pitter-patter of its feet, and when I turned on my headlamp and groggily opened my eyes, I caught a glimpse of the mouse dashing across the head of my bunk. Thankfully, the mouse disappeared and did not disturb us the rest of the night.
The trail to Cape Fife travels mostly through lush forest.

Moisture clings to some orange fungi on a decaying log.

Despite a lack of views, the forest is enchanting in itself.

A deer tries to remain inconspicuous in the forest.
This boreal toad was not inconspicuous enough to escape the clutches of Sonny.

Photo courtesy of Zosia Zgolak

The forest begins to open up a bit not far from Cape Fife.
Zosia arrives at the Cape Fife shelter.
Zosia collects some suspect water from the shelter's rain barrel.
Although the area surrounding Kumara Lake looks marshy, the tall grasses actually sit on top of mostly dry sand.

Zosia has to wade into a deeper part of Kumara Lake to collect water.

Zosia and Sonny enjoy having the Cape Fife shelter all to themselves for the night.
Zosia and I were up before dawn on 7 August 2021, and after a quick breakfast, we tidied the shelter a bit and packed up before hitting the beach for the long walk to Rose Spit, the northeastern tip of Graham Island. Despite being technically easy, hiking along the beach still has challenges. Footing on the beach can vary between firm flat sand to unconsolidated rubble, and route-finding is important in order to minimize fatigue. We found it was best to walk below the tide line, but we also had to be careful not to wander out onto exposed sandbars which have the potential to trap unwary hikers when the tide rises. The novelty of walking along the beach also wears thin pretty quickly, and the hike can become monotonous when the scenery does not change for kilometre after kilometre. Consequently, we would perk up at virtually any unusual object we would come across on the beach including, sadly, a lot of man-made garbage. Temperatures were fairly cool throughout the day due to the clouds and the ocean breeze, but I think that actually made for ideal hiking conditions. We felt quite comfortable hiking in our jackets, and as I had already mentioned, we did not have to consume extra water to keep ourselves from overheating. Upon reaching Rose Point which is roughly where Graham Island's vegetation ends, we dropped our heavy packs and walked an additional two kilometres out to the very last vestige of land on Rose Spit. We actually spotted a sea lion in the water here, but it was too elusive for us to get a good photograph.

After returning to Rose Point and collecting our packs, Zosia and I settled into a lengthy trek along North Beach back to Tow Hill. The high tide was now in, and we had difficulty avoiding the more tiresome rubble on the beach. Although Tow Hill, our endpoint, stood out like a beacon of hope on the horizon, it never seemed to get any closer. We eventually started to see more people, mostly in vehicles, on the beach, and at one point, we even stopped to chat at length with a crab fisherman who also showed us how to dig for clams using a tool similar to a core sampler. I was actually more interested in his e-bike; it would have been heavenly to ride it the rest of the way out! Fortunately, the final few kilometres of North Beach are easy to walk, and slowly but surely, we arrived at Tow Hill to complete our loop and conclude our trip.
| | |
| --- | --- |
| | Zosia leaves Cape Fife shelter in the dark before sunrise. |
| | The tide is low as Zosia begins walking along the beach. |
| | The sun finally rises on the horizon as Zosia proceeds north along the beach. |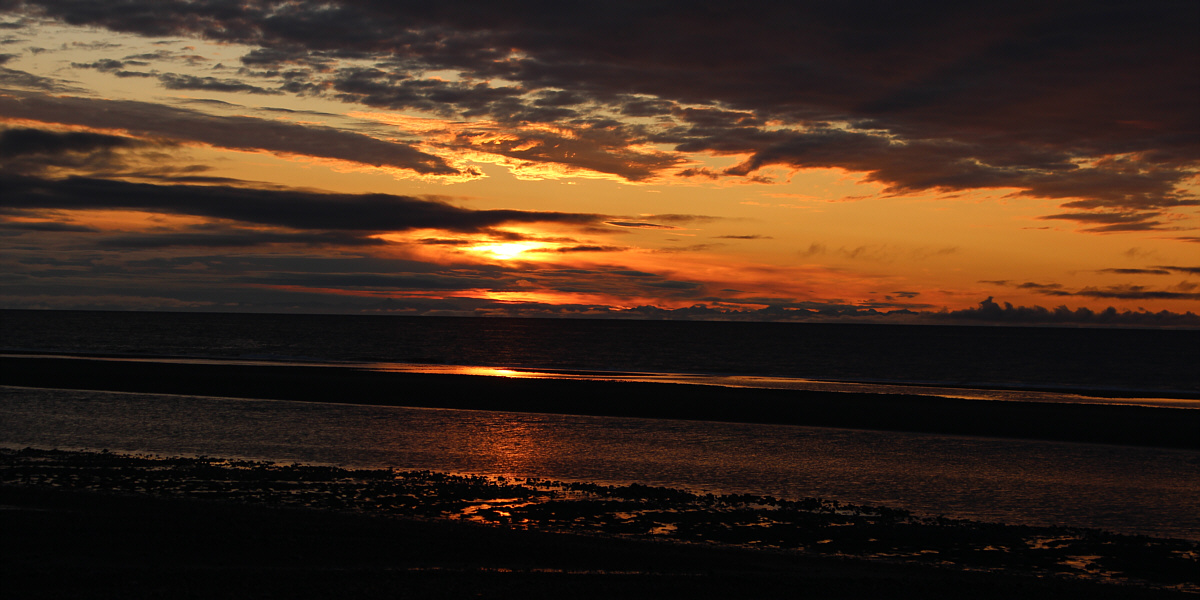 The sunrise is a heart-warming sight.
Zosia fools around with a large shell fragment.

Photo courtesy of Zosia Zgolak

Zosia approaches Rose Point which is somewhere at the end of the long grassy mound.
Zosia finds the stinky remains of a beached whale--possibly a minke whale.
The beached whale almost appears to be smiling.

On the way to Rose Spit, Zosia spots the remains of a second beached whale.

This part of Rose Spit likely gets inundated during high tide.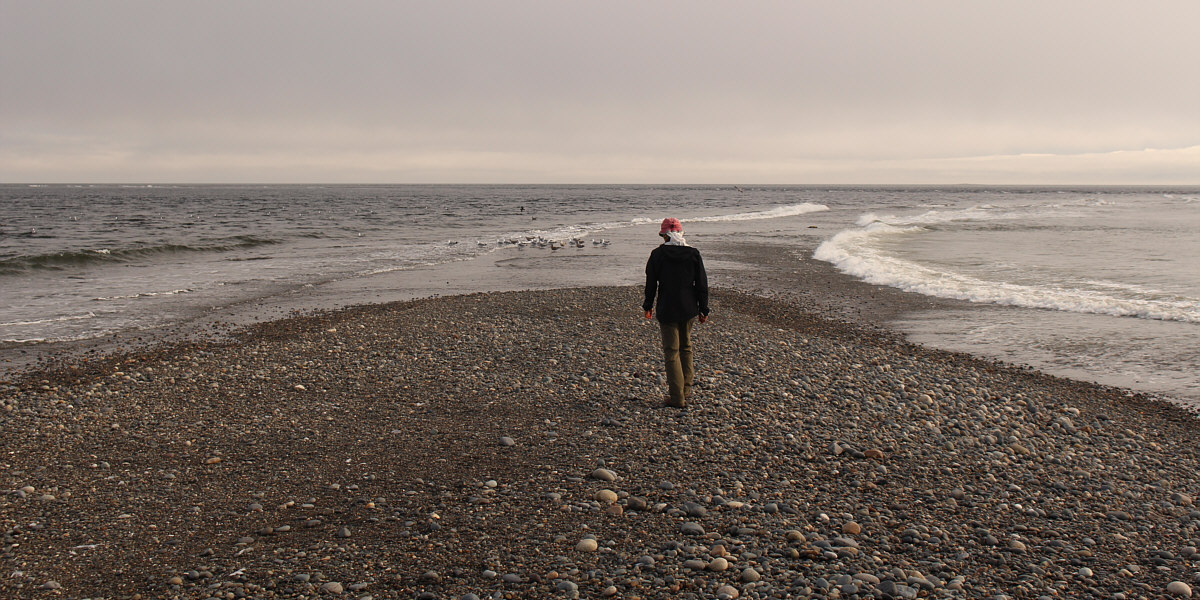 Zosia walks out as far as she can on Rose Spit.
Sonny and Zosia stand on Rose Spit with opposing waves crashing against each other in the background.

After visiting Rose Spit, Zosia turns southward for the long hike along North Beach to Tow Hill which is partly obscured by clouds at distant right.

North Beach is seemingly littered with thousands of dead crabs, but most of these are likely the discarded shells of molting crabs.

Tow Hill becomes more distinct as Zosia progresses further south along North Beach.

Zosia pokes at the remains of a giant squid which is surprisingly odourless.

Oddly, the squid's arms and tentacles are missing and even appear to have been severed.

The Kelly Ruth ran aground on North Beach in 1994. The shipwreck is a bit difficult to explore at high tide.

Photo courtesy of Zosia Zgolak

For some reason, a lot of foam accumulates on this part of North Beach. A crab fisherman can be seen in the water.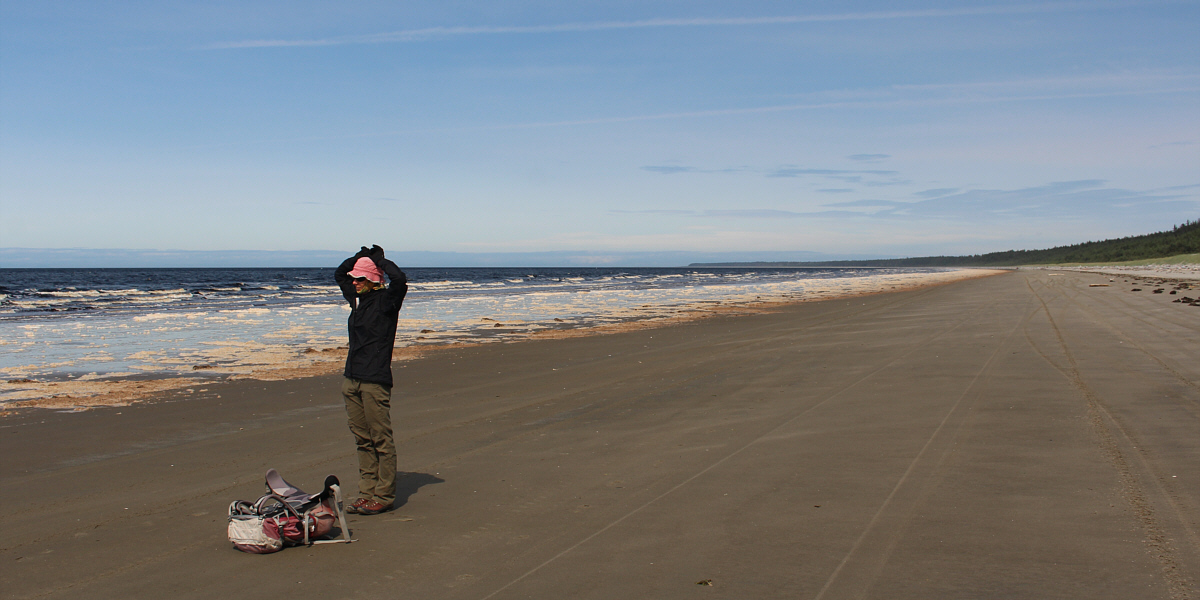 Almost at the end of the hike, Zosia stretches out her aching back.
Total Distance: ~39.7 kilometres*
Round-Trip Time: 32 hours 5 minutes

*My GPS battery died partway along North Beach, and the red line shows the approximate route for the remainder of the loop.