BOU AVENUE
Centre Mountain
---
Kicking off a Labour Day long weekend camping trip, Andrea Battistel, Shaun Luong, Zosia Zgolak and I ascended Centre Mountain in the Flathead region of southeast British Columbia on 4 September 2021. A non-technical route up the west ridge is described by the late Rick Collier in bivouac.com. Joining us only for the day were Brad Duska, Rafal (Raff) Kazmierczak, Dave McMurray and Andrew Nugara. They would use a different access by riding bicycles over Flathead Pass, but since it was too difficult to coordinate timings, we agreed to simply rendezvous somewhere up on the mountain.

From Highway 3, turn east onto Morrissey Road about 8.8 kilometres south of the turnoff to Fernie Ski Resort or 17 kilometres east and north of the junction with Highway 93. Cross both the bridge over Elk River and the train tracks before turning right at a T-intersection. Stay on Morrissey Road and keep right at a split about 3 kilometres south of the T-intersection (there is a cut-off road 560 metres further along the left fork if you miss this split). From the split, drive 9.1 kilometres along Lodgepole Forest Service Road (FSR) to a junction with Wigwam FSR. Stay left and drive 17 kilometres to a junction with McLatchie FSR. For the most direct route, turn left onto McLatchie FSR and drive 15 kilometres to a junction with Flathead FSR (I did not drive this way and cannot comment on the viability of McLatchie FSR). Alternatively, stay on Lodgepole Road and drive 15 kilometres to a more southerly junction with Flathead FSR (a big sign here reads "Sasquatch Junction"). Turn left and drive north for 19 kilometres to reach the aforementioned junction with McLatchie FSR (there are a couple of free rustic campgrounds along this stretch of road). From the junction with McLatchie FSR, drive north on Flathead FSR for about 4.7 kilometres and park before a damaged bridge (49.412930, -114.640780) which crosses a creek emanating from the basin north of Centre Mountain. The condition of Flathead FSR deteriorates considerably past the junction with McLatchie FSR, and a high-clearance vehicle is strongly recommended.

From where we parked, Andrea, Shaun, Zosia and I crossed the damaged bridge and walked along the road for about two hundred metres looking for any signs of human passage. Finding none, we returned to the bridge and followed the creek upstream for about half a kilometre before finally biting the bullet and bushwhacking uphill. The vegetation is moderately thick on the lower slopes but not terribly bad. On our way up, we passed through a couple of large glades strewn with rubble presumably from ancient landslides. When we reached tree line a little over ninety minutes after starting out, we were faced with a huge slope of treadmill scree. Initially, we tried traversing to climber's left in hopes of finding more stable terrain to climb up, but ultimately, we were forced to grovel up the loose rocks until we reached a prominent rock outcrop where the footing was more reliable. From there, the west ridge becomes more well-defined and easier to climb, and we had no significant problems scrambling up to a false summit.

Beyond the false summit, there are a couple of drop-offs which add significant challenge to the route. The first one is more difficult and entails an exposed down-climb of about twenty metres; this is the crux. Andrea, Shaun, Zosia and I slithered down a series of ledges to skier's right, and although the rocks here are loose, the exposure is not as bad as on the ridge crest. Brad, Raff, Dave and Andrew caught up to us here, and while most of them opted to follow the same line down, Dave stuck to the ridge crest and successfully down-climbed it. Further along the ridge is a second drop-off which is shorter but also tricky to descend. Fortunately, we all made it through without incident and finished the ascent with an easy walk up to the summit. It is interesting to note that in his trip report, Collier describes these drop-offs as "minor scrambly spots...but nothing serious". We were blessed with great weather on this day and hung out on the summit for well over an hour.

Based on Collier's report of "serious bushwhacking for 2.5 km" when he chose an alternate descent route directly south of the summit, all eight of us agreed that it would be better to simply retrace our steps back down the mountain. Returning along the west ridge, we had a much easier time climbing up the challenging drop-offs, and we had few difficulties going over the false summit and descending to the prominent rock outcrop. At this point, we followed the more direct route that Brad, Raff, Dave and Andrew had taken on their ascent (they had stashed their bikes near my car and started bushwhacking directly uphill from there). From the rock outcrop, we veered a bit to skier's left to descend a long rubble slope, and with such a big group, we had to be extra careful to avoid raining loose rocks down on each other. Some of the loose rubble were ideal for surfing, and we were able to lose a lot of elevation quickly. Inevitably, we had to re-enter forest and suffer some more bushwhacking, but both Shaun and Dave did a great job of leading us through this section with minimal grief. We eventually popped out of the forest almost right beside my car. After Brad, Raff, Dave and Andrew retrieved their bikes, they took leave of the rest of us and rode north to return to their respective vehicles. Andrea, Shaun, Zosia and I piled into my car for the bumpy drive south back to our campsite where we would have dinner before retiring for the night.

Be sure to check out Dave's trip report.
It is a long and bumpy drive from the south along Flathead Forest Service Road to reach the starting point for the ascent.

Andrea, Zosia and Shaun follow a flowing creek upstream at the beginning of the trip.
Abandoning the creek, Zosia and Andrea follow Shaun into some unpleasant bush.
A big rubble field breaks up some of the monotony of climbing up the forested slope.
At tree line, Andrea, Zosia and Shaun face a huge treadmill scree slope.
After traversing a little to climber's left looking for more solid terrain, Shaun, Zosia and Andrea simply bite the bullet and head straight up the loose scree slope.
Better footing can be found near this rock outcrop.
Gaining the crest of the west ridge, the group makes better progress up the mountain.
This part of the west ridge is easy to walk up.
The summit is visible for the first time in the distance.
Sonny and Zosia down-climb the biggest and most difficult drop-off along the west ridge. This is the crux.

Photo courtesy of Shaun Luong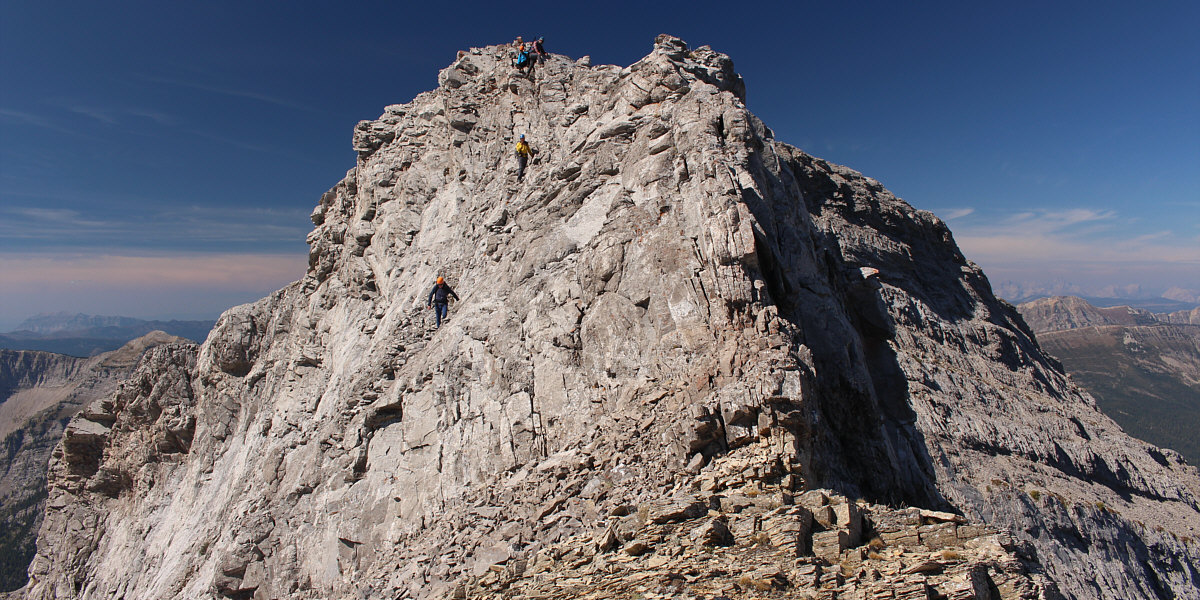 This is a more comprehensive view of the crux with Brad, Andrew, Raff and Dave descending.
| | |
| --- | --- |
| | Past the crux, there is at least one more shorter but tricky down-climb along the west ridge before the summit. |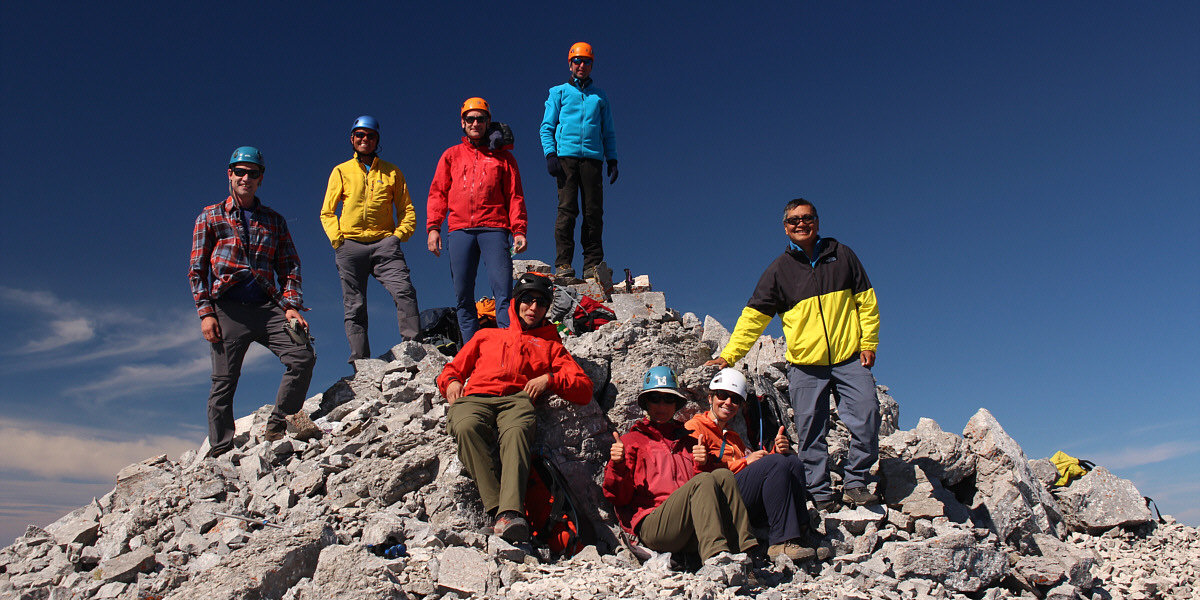 Gathered on the summit of Centre Mountain (2595 metres) are (top L to R) Dave, Andrew, Brad, Raff, (bottom L to R) Shaun, Zosia, Andrea and Sonny.
| | |
| --- | --- |
| | To the northwest is Limestone Ridge, the highest point of which is at left and is known unofficially as Barnes Peak. |
| | Many of the peaks to the north along the Continental Divide are officially unnamed. |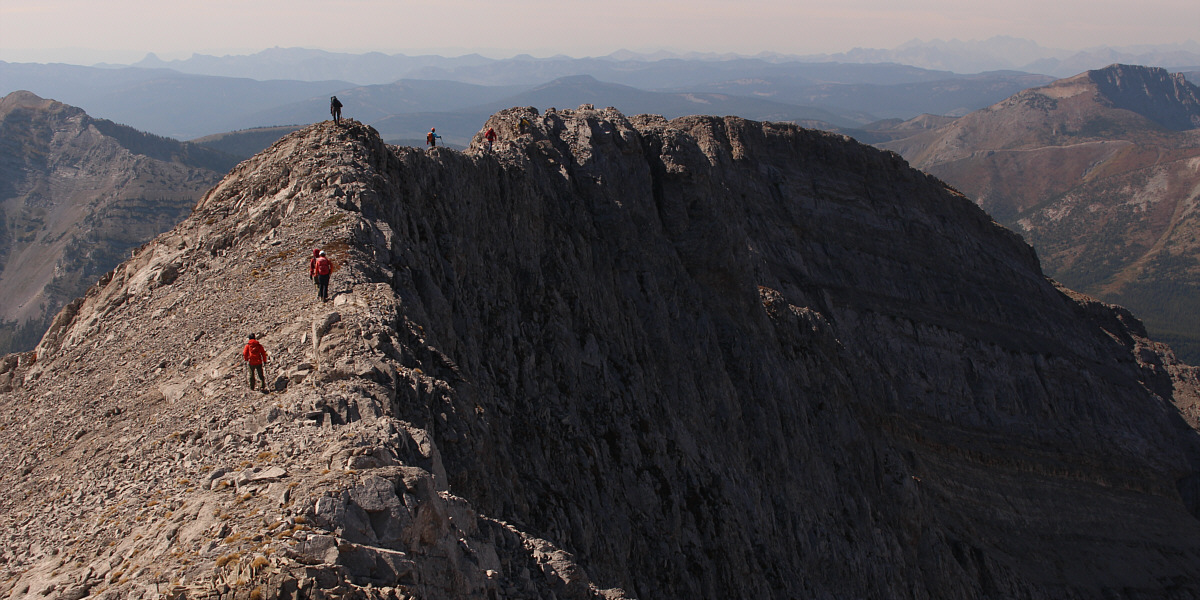 The big group heads back along the west ridge.
| | |
| --- | --- |
| | Shaun, Andrea and Raff wait on the false summit as Zosia carefully negotiates an exposed section along the ridge. |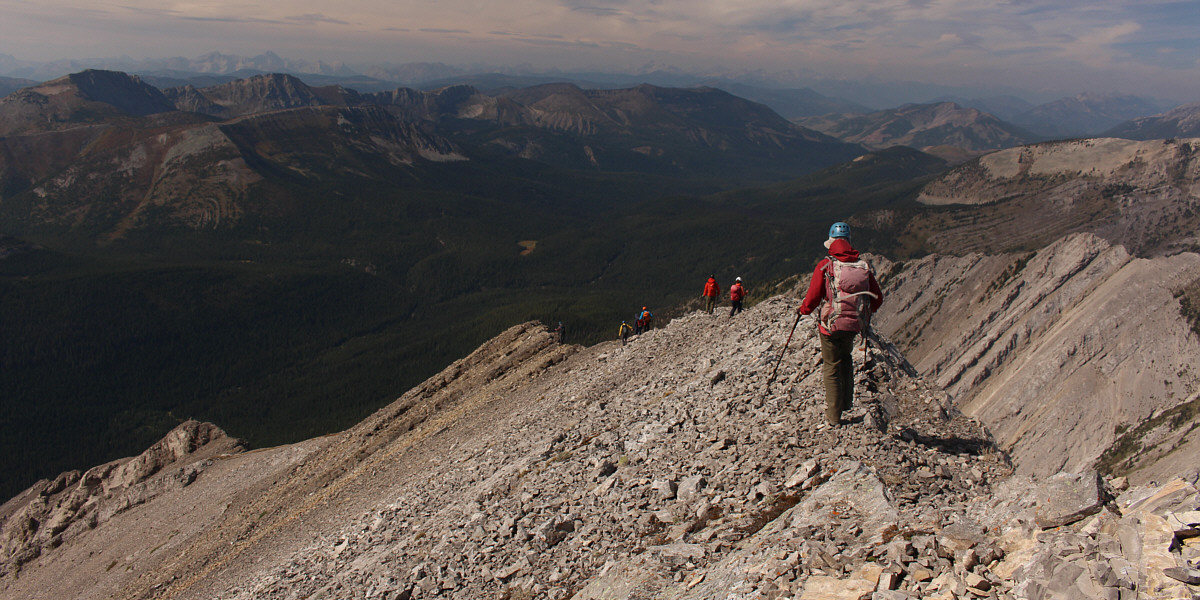 After climbing back over the false summit, the big group carries on down the ridge.
The big group climbs over a knob lower down the ridge.
Descending this rubble slope is tricky with such a big group. In the background is Mount Corrigan.
Sonny, Andrew and Brad find good scree to surf lower down.

Photo courtesy of Dave McMurray

There is a little bit of bushwhacking left near the end.
Hoping to absorb some extra energy after a strenuous scramble, Brad, Shaun, Sonny, Zosia, Raff and Andrea all gather around Andrew and his powerful e-bike.

Photo courtesy of Dave McMurray

Total Distance: 7.5 kilometres
Round-Trip Time: 8 hours 21 minutes
Net Elevation Gain: 981 metres