BOU AVENUE
McGillivray Ridge And Ma Butte
---
On 18 July 2021, Zosia Zgolak and I hiked McGillivray Ridge and Ma Butte located north of Crowsnest Pass in Alberta's Livingstone Public Land Use Zone. There is already a wealth of route information available online, but we got most of our inspiration for this trip from an excellent 2010 report by Bob Spirko. In turn, he utilized a route description for McGillivray Ridge from the guidebook, Hiking the Historic Crowsnest Pass, by Jane Ross and William Tracy.

Starting from an unsigned trailhead at a bend in the Forestry Trunk Road (Highway 40) about ten kilometres north of Coleman, Zosia and I walked along an obvious double-track for about 200 metres before turning west to follow a power line right-of-way running up a steep slope. The right-of-way is initially a bit marshy and nebulous, but the route strengthens into a good trail with increasing elevation. Toward the top of the slope, the trail briefly leaves the right-of-way and traverses southward before intersecting what appears to be a dirt bike trail. Turning north, we hiked the dirt bike trail only for a short distance before regaining the right-of-way where we turned west again. The trail in this part of the right-of-way is more overgrown, but just when it seemed like a miserable bushwhack was imminent, we stumbled onto a good dirt road running alongside the right-of-way. This road leads to some sort of telecommunications installation located at tree line at the south end of McGillivray Ridge. Before reaching the installation, we veered off onto a rougher road which heads north and traverses the east side of the ridge. This rougher road eventually peters out, and at that point, we simply scrambled up onto the ridge crest. The remaining long hike to the high point of McGillivray Ridge is technically easy, but it entails walking a long stretch of uneven limestone rubble which can be tedious at times. Upon reaching the high point, we took a lengthy break before turning our attention to Ma Butte about 1.5 kilometres to the west.
| | |
| --- | --- |
| | Zosia starts off on a double-track branching off the Forestry Trunk Road. |
| | A power line right-of-way grants easy access onto McGillivray Ridge. Note the deer watching from a distance at left. |
| | Zosia stumbles onto a good dirt road further up the power line right-of-way. |
| | The dirt road makes some sweeping switchbacks on the ridge, but the steep track at right is useful as a short cut especially on descent. |
| | It is difficult to see here, but there is a rougher road rising up the ridge in the background. Zosia will eventually follow this road almost up to the ridge crest. |
| | False dandelions look just like the real thing. |
| | Low clouds and haze from forest fire smoke nearly obscure several peaks in the vicinity of Crowsnest Pass. |
| | Zosia gains the crest of McGillivray Ridge. Ma Butte is visible at far left. |
| | Uneven limestone boulders on the crest make the traverse of McGillivray Ridge tedious. |
| | The final approach to the high point of McGillivray Ridge is easy. |
| | Sonny and Zosia celebrate on the high point of McGillivray Ridge (2356 metres). |
From the high point of McGillivray Ridge, Zosia and I descended westward toward Ma Butte. There is a significant intervening bump before the low point of the connecting ridge, and we aimed a little further north and scrambled through a rock band to avoid some extra elevation gain. On the far side of the same bump, we traversed southward until we could circumvent thick stands of krummholz before descending to the low point. From there, we grinded up steep slopes below Ma Butte's summit block. Some difficult rock bands here are easily circumvented to climber's right. At the base of the summit block, we worked our way up and around the north side to reach easier terrain before topping out shortly after. We took another lengthy break on the summit of Ma Butte before commencing our return trip.

While some parties in the past have taken alternate descent routes after tagging Ma Butte, Zosia and I elected to keep things simple and return the way we came. We carefully retraced our steps down the summit block and descended to the low point of the connecting ridge without any problems. Although climbing back over McGillivray Ridge and traversing the tedious limestone rubble a second time might seem disheartening, it turned out to be less painful than expected. A brisk wind kept bugs at bay and prevented us from getting baked by the hot sun which made the long traverse across the ridge much more pleasant and comfortable. Other than taking a short cut on the installation road and circumventing the marshy section near the bottom, we did not deviate much from our up-track. As a result, the remainder of our hike out was easy and stress-free.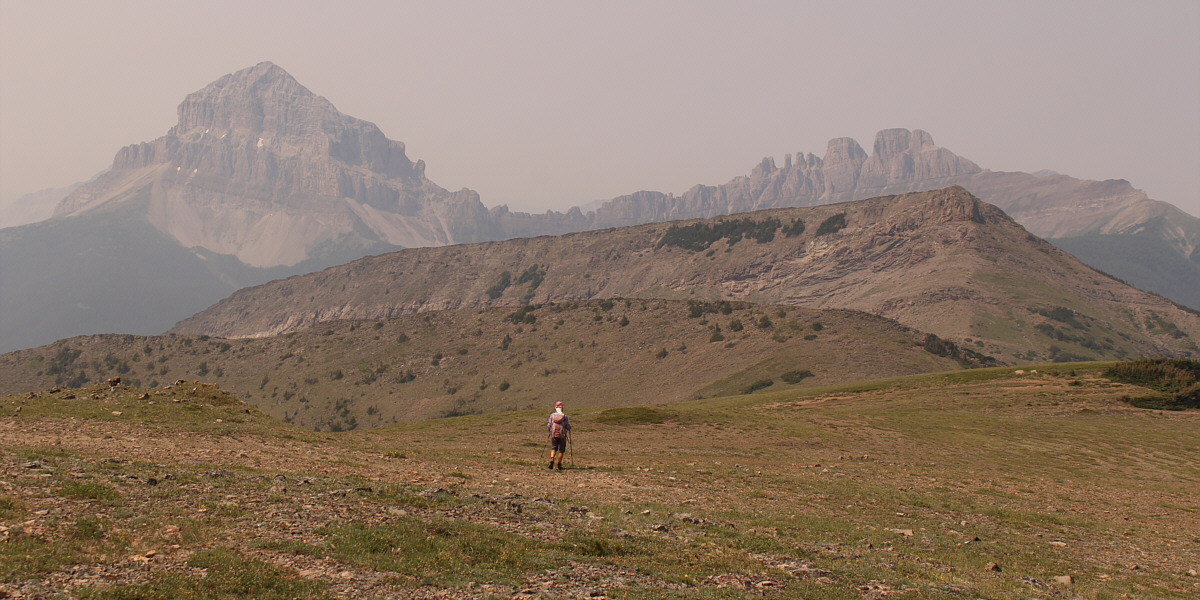 Zosia heads toward Ma Butte (right) with Crowsnest Mountain and Seven Sisters Mountain in behind.
Zosia aims to traverse right to avoid climbing over the intervening bump ahead.

From the low point of the connecting ridge, Zosia begins climbing up Ma Butte.

The summit block of Ma Butte appears daunting.

Zosia hikes up a weakness on the north side of Ma Butte's summit block.

Zosia and Sonny sit on their butts on top of Ma Butte (2364 metres).

Zosia carefully descends the north side of Ma Butte's summit block. The high point of McGillivray Ridge is visible in the distance.

It is best to avoid the thick stands of krummholz on the connecting ridge.
Zosia prepares to traverse McGillivray Ridge for a second time.

Zosia takes a short cut down to the dirt road on the way out.

Total Distance: 13.5 kilometres
Round-Trip Time: 8 hours 37 minutes
Cumulative Elevation Gain: 1140 metres