BOU AVENUE
Mount Ascension
---
For our spring break road trip finale, Zosia Zgolak and I ascended Mount Ascension in Helena, Montana on 24 April 2022. We had originally planned to hike this diminutive but officially-named summit at the start of our trip, but at the time, we balked because of frigid temperatures. Nine days later, the weather was much more pleasant. Similar to nearby Mount Helena, numerous trails crisscross Mount Ascension and make it popular with joggers, dog walkers, and mountain bikers. Furthermore, there are multiple access points, and being the lazy sort, I chose one that made the ascent ridiculously short. Given that we still had a lot of driving ahead of us to get home, Zosia did not object to my choice.

From Helena city centre, drive all the way south on Saunders Street which eventually bends eastward and becomes Virginia Dale Street. Turn right onto Lime Kiln Road and drive 1.0 kilometre before making another right turn. The road passes a couple of private driveways before the pavement ends, but the gravel road beyond should still be suitable for 2WD vehicles. From the last right turn, drive 2.0 kilometres to a 3-way junction. Park here without blocking any of the roads. The road heading west is gated a short distance from the junction and is the start of "2006 Trail".

From the 3-way junction, Zosia and I ignored a signed trail immediately branching off to the left and continued along "2006 Trail" past the gate. After an easy walk for a little over a kilometre, we reached a 5-way trail junction marked by a sign post stuck in a large cairn. Continuing straight ahead, we climbed the remaining short distance to the summit of Mount Ascension. I did mention that our chosen route was ridiculously short.

After congratulating ourselves for such an epic achievement, Zosia and I returned to the 5-way trail junction, but instead of backtracking along "2006 Trail", we took "Entertainment Trail". This led us to a higher unnamed bump to the southwest with slightly better views than Mount Ascension. From this bump, we continued southward along "Entertainment Trail" until we reached a junction with a trail branching to the left. This is the same trail which we ignored at the start of our hike, and it led us efficiently back to our parking spot without fuss.

Leaving Helena, Zosia and I drove to Great Falls and stopped to play a round of disc golf there before heading back to Canada. The border crossing was a bit of a nightmare. Although our interview with the border agent only took a few minutes, we had to wait in line on the road for an hour and forty minutes just to get to him. We could have ascended and descended Mount Ascension twice during that time!
This alternate trailhead for Mount Ascension (right) is almost as high as the mountain itself.

Zosia hikes along the easy "2006 Trail" through light forest.

Zosia hikes up the last section of trail before the summit.

Zosia and Sonny stand on the summit of Mount Ascension (1608 metres).

Some hills to the south are clearly higher but likely on private land.
A break in the trees reveals Mount Helena to the northwest.
Zosia heads for a higher unnamed bump to the southwest.

Sonny passes a crossroad marker en route to the higher unnamed bump.

Photo courtesy of Zosia Zgolak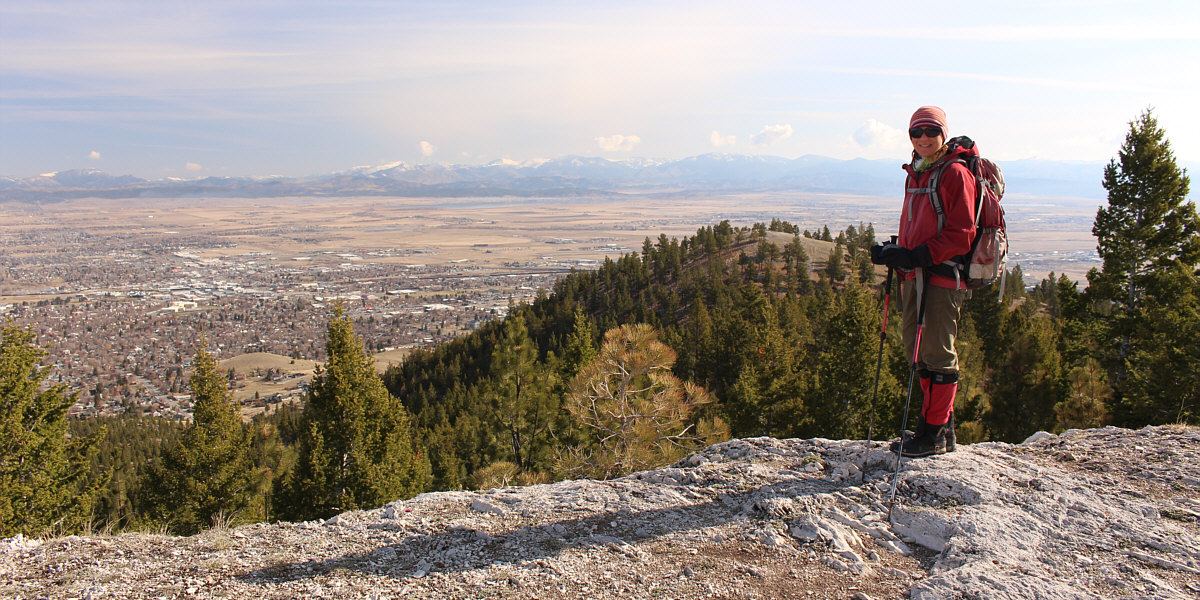 From the high point of the unnamed bump (1632 metres), Zosia enjoys nice views of the city of Helena, Montana with Mount Ascension behind her.
Here is a more comprehensive view of the city.
Zosia descends the backside of the unnamed bump and will eventually take a connector trail back to the trailhead.
Total Distance: 2.9 kilometres
Round-Trip Time: 1 hour 23 minutes
Cumulative Elevation Gain: 116 metres

Sonny attempts a long putt at the Warden Park Disc Golf Course in Great Falls, Montana.

Photo courtesy of Zosia Zgolak

Zosia flings a disc past the star-spangled banner while a T-Rex chases her from behind.

Photo courtesy of Zosia Zgolak