BOU AVENUE
Clark Mountain
---
On 18 April 2022, Zosia Zgolak and I scrambled up Clark Mountain in California's Mojave Wilderness. A major landmark along the I-15 near the state boundary, Clark Mountain has been on my mind for quite some time, and an attempt to climb it has been long overdue for me. There are apparently a couple of different ascent routes for Clark Mountain, but probably the best-documented one is via the east ridge. Bob Spirko's 2011 trip report is an excellent reference, and we would use his GPS tracks to help guide us both for the ascent as well as the tricky approach drive.

From I-15, take Exit 281 (7.6 kilometres west of junction with Nipton Road or 14.0 kilometres east of junction with Cima Road) and head north on Bailey Road. Almost immediately after leaving the freeway, turn left onto Clark Mountain Road and drive 1.5 kilometres to a cattle guard where the pavement ends. Continue past the cattle guard for 1.3 kilometres and keep left to avoid entering a mining site. Drive another 700 metres to reach an unlocked gate on the right with signs indicating public access. Drive through the gate (remember to close it) and continue on the undulating road for about 600 metres to a Y-junction. Make a hairpin left turn and drive northward along a wash for 1.9 kilometres before veering left at a 3-way junction. Drive west for 750 metres to a second 3-way junction with some sort of electrical relay station (and a porta-potty) visible nearby to the south. Spirko and others went right here with an immediate left to descend to a wash followed by a couple of rising switchbacks, and on our drive in, we went this way as well albeit after taking a wrong turn and backtracking a couple of times. However, I would instead recommend turning left and driving south past the relay station since this alternative road seems to be in better condition. This road drops down to cross the same wash further to the south before turning westward to reach another 3-way junction. Turn right and drive north for 180 metres to another Y-junction. Keep right and drive 860 metres to a 4-way junction with the road coming in on the right from the rising switchbacks. Keep straight here and then keep left at all subsequent forks for another 2.0 kilometres to reach road's end at a so-called picnic area replete with tables and some strange infrastructure. A high-clearance vehicle is strongly recommended especially for the last couple of kilometres. A GPS track for our approach drive can be found here, but I would not be surprised if the access changes again in the future.

From the picnic area, Zosia and I headed north into a drainage for a short distance but soon left it to ascend a ridge to climber's right. Once we gained the ridge, travel was generally easy, and we even had some trails to follow from time to time. We followed this ridge all the way up to a high point on the main spine of Clark Mountain's east ridge. Turning westward, we dropped down below the ridge crest in order to avoid technical terrain, but we eventually had to climb back up to tackle the crux--a 15-metre high weakness in a cliff band guarding the upper mountain. Although handholds are plentiful here, the exposure can be a bit daunting. I brought along a length of nylon cord to aid us with ascending the crux. We did two pitches where I first scrambled up and then hauled up Zosia's backpack followed by her climbing up behind me with the cord tied around her waist for added security. We both scrambled up a third pitch higher up without the aid of the cord. Past the crux, we had no more serious difficulties in following the remainder of the east ridge up to the summit.

For our descent, Zosia and I mostly retraced our steps down the mountain. At the crux, we again used my nylon cord to aid our descent of the bottom two pitches. For each pitch, Zosia, again secured by the cord, down-climbed first, and then I lowered both our backpacks to her before descending myself. In this way, we both cleared the crux without any mishaps. Instead of climbing back up to the high point where we first gained the east ridge, we sidehill-bashed across the south-facing slope until we intersected our up-track on our ascent ridge. This necessitated some route-finding but was otherwise not too problematic. The remainder of our descent to the picnic area went without a hitch. The drive out was not without some confusion on my part, but fortuitously, I discovered a slightly better route as detailed already in the driving directions.
A couple of feral donkeys stand on a section of road that switchbacks above a wash.

Photo courtesy of Zosia Zgolak

BLM markers help point the way toward Clark Mountain.

Photo courtesy of Zosia Zgolak

Zosia checks out a strange contraption at the picnic area (trailhead).

This is one of many cactus flowers blooming throughout the area.

Zosia makes good progress up the ridge.
Here is a good look at a cliff band guarding the upper mountain. The slight notch at centre marks the location of a weakness in the cliff band.
Sonny gains the crest of the east ridge..

Photo courtesy of Zosia Zgolak

Zosia traverses below the crest of the east ridge to avoid technical terrain.

Zosia looks up at the crux--a weakness in the cliff band guarding the upper mountain.

Sonny scrambles up the crux.

Photo courtesy of Zosia Zgolak

Zosia scrutinizes the next rock band she has to scramble up.

Past all serious difficulties, Zosia continues along the east ridge toward the summit.
Sonny and Zosia stand on the summit of Clark Mountain (2408 metres).
Kingston Peak is visible to the northwest.
Here is a comprehensive view of Clark Mountain's east ridge.
The summit register has some familiar names.

Photo courtesy of Zosia Zgolak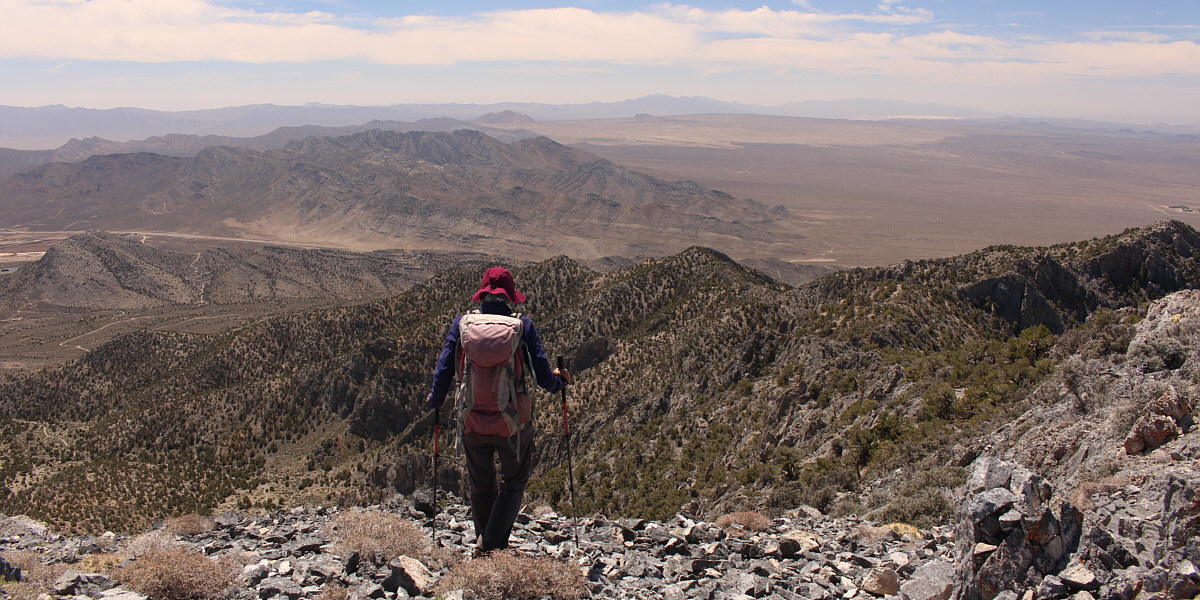 In this view to the south, Cima Dome is the light tan-coloured broad mound right of centre in the distance. The two protrusions to its left are Kessler Peak and Teutonia Peak.
Sonny down-climbs the crux.

Photo courtesy of Zosia Zgolak

Zosia is very happy to have descended the crux safely.
Here is an overview of the area to the southeast of Clark Mountain including the approach roads (distant left), Mohawk Hill (centre), and the ascent ridge (lower left).
Total Distance: 5.5 kilometres
Round-Trip Time: 6 hours 47 minutes
Net Elevation Gain: 546 metres