BOU AVENUE
Fording Mountain
---
Wrapping up a weekend visit to Elkford, British Columbia, Zosia Zgolak and I skied up nearby Fording Mountain on 20 March 2022. Located just southeast of town, Fording Mountain is more like a big gentle ridge which, though heavily logged, has been spared the ravages of mining evident in many of the surrounding areas. I could find no online trip reports for Fording Mountain, but I suspect that mountain bikers, OHV enthusiasts and snowmobilers frequent the many logging roads crisscrossing the whole mountain. Using satellite imagery from Google Maps, I mapped out two different ascent routes--one from the south and one from the north--utilizing logging roads and cut blocks. When we tried to scout out my southern approach a couple of days earlier, we were stymied from reaching my proposed starting point by poor road conditions. Fortunately, the northern approach starts right from a paved and plowed highway, and although this approach is longer, it also starts higher which promises, at least on paper, better ski conditions.

Starting from a large pullout along Fording Highway (3.8 kilometres east of the junction with Highway 43), Zosia and I followed an obvious snowmobile-packed road which winds more or less southward over a subsidiary ridge north of Fording Mountain. A small but fresh dump of snow the previous night really improved ski conditions, and we made very good progress along the road. About 4.4 kilometres from the trailhead, we made a brief detour to visit Lost Lake before resuming our ski along the road. Less than a kilometre beyond the turnoff to Lost Lake, we reached a staggered four-way junction and made a left turn here. We then skied about 180 metres before making a hairpin right turn to continue southward. About 430 metres past the hairpin turn, we kept straight (right) to take a seemingly less-traveled road. The maze of roads here can make route-finding challenging, and more than once, I checked the satellite imagery in Google Maps on my phone to ensure we were still on the right track.

Zosia and I eventually reached a large clear-cut, and after a brief steep climb, we found ourselves on the broad north ridge of Fording Mounting. After skiing through several more clear-cuts, we picked up an obvious road which led us within sight of an antenna installation. We made a hard right turn here to climb up to a lightly-forested knoll where the true summit is located. With all the snow cover and no cairns or markers visible, the actual summit was a bit hard to pinpoint, but we simply eyeballed a spot and stopped there for a snack break.

For our return trip, Zosia and I skied northward from the summit through short, second-growth forest before eventually rejoining our up-track in a clear-cut. This was the best skiing of the day as we enjoyed plowing through a little bit of fresh, untracked powder at a slope angle that was just perfect for our light touring gear. Unfortunately, once we skied out of the clear-cuts and back to the logging roads, the skiing became more problematic mainly because the crusty base was collapsing underneath our skis. This made for a few hairy moments on some of the steeper sections of road, but we managed to get down safely without any serious grief. Returning to the four-way junction, we settled into a long but easy grind back to the trailhead, and the only issue we had was trying to keep snow from accumulating on the bottoms of our skis due to the warm temperatures.
| | |
| --- | --- |
| | Zosia follows a snowmobile-packed road to start the trip. |
| | An enticing unnamed ridge sits to the east on the other side of Fording River (hidden under the forest). |
| | Zosia continues to ski southward toward Fording Mountain visible in the distance. |
| | Zosia makes a brief stop at Lost Lake. |
| | After dropping into a dip and passing a four-way junction, Zosia begins to climb up the main body of Fording Mountain. |
| | Due to the general flatness of the terrain, navigating the maze of roads and junctions on Fording Mountain can be confusing. |
| | The town of Elkford is visible at far left as Zosia skies up the north end of Fording Mountain. |
| | The terrain begins to open up at a clear-cut higher up the mountain. |
| | The broadness of Fording Mountain's north ridge allows for a lot of variations in route-finding. |
| | An antenna is situated near the top of Fording Mountain but is not the true summit. |
| | Zosia skis the last few metres before the true summit. |
| | Sonny and Zosia stand in a clearing not far from the summit of Fording Mountain (1786 metres). |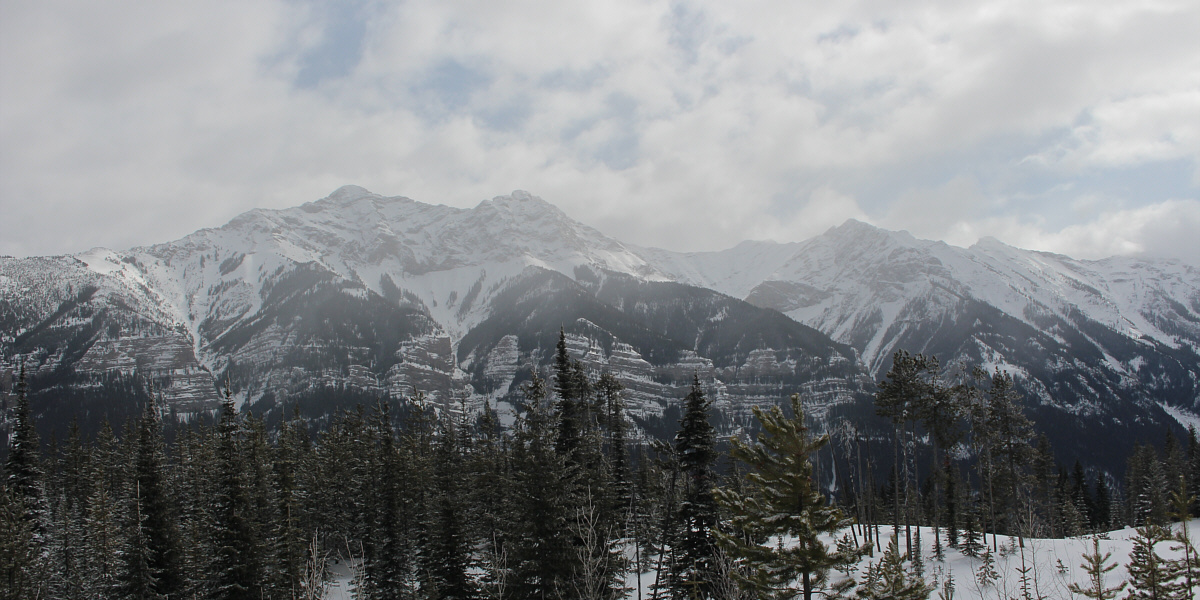 Impressive Mount Lyne dominates the view to the east.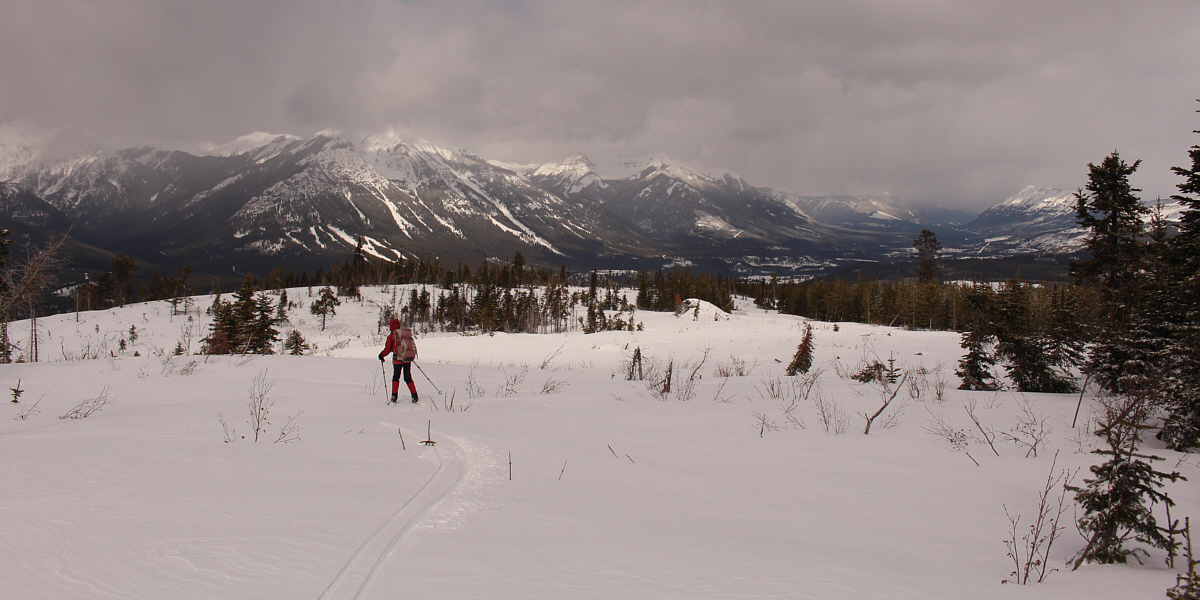 Zosia descends Fording Mountain's broad north ridge.
Sonny rips through some actual powder with his light touring skis.

Photo courtesy of Zosia Zgolak

Zosia cruises down one of the steeper slopes on the upper mountain.
The Greenhills Range stretches from the mine site at far right to the distant ridge at centre.
Zosia descends the last of the downhill sections with decent snow.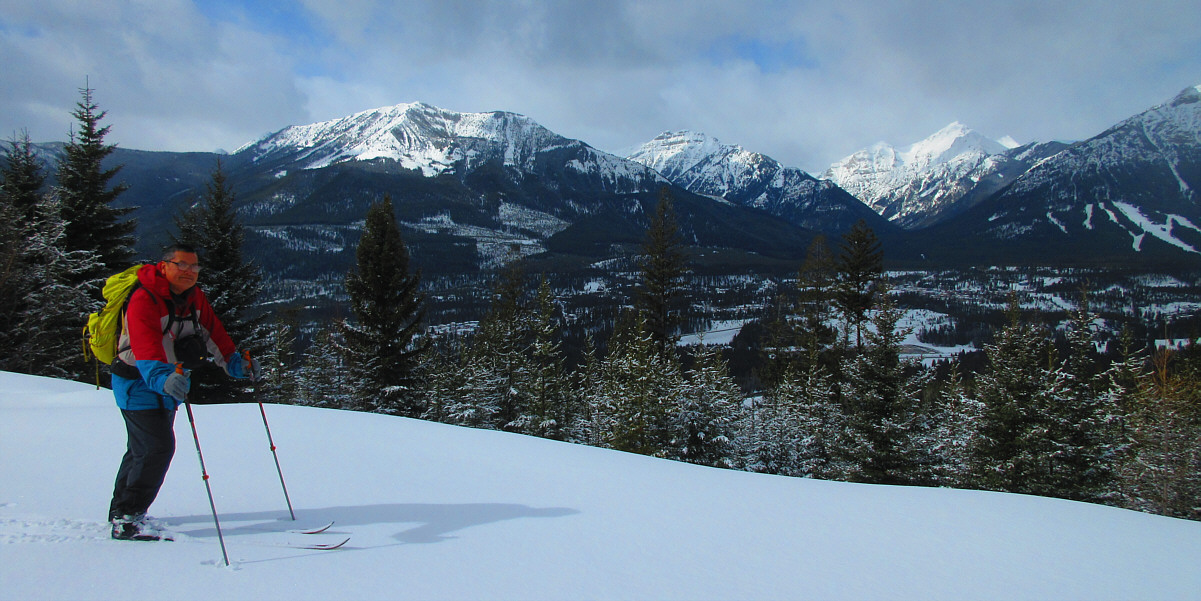 From this viewpoint along the approach road, the Wapiti Ski Resort can be seen at far right. The snowy mountain through the gap at right is Mount Hadiken.
Photo courtesy of Zosia Zgolak
The mine site to the north resembles ancient infrastructure.
Zosia gets a final splash of panoramic scenery before arriving at the trailhead.
Total Distance: 20.2 kilometres
Round-Trip Time: 6 hours 22 minutes
Cumulative Elevation Gain: 632 metres