BOU AVENUE
Link Hill
---
On 27 March 2022, Bob Spirko, Zosia Zgolak and I hiked up unofficially-named Link Hill located in Alberta's Kananaskis Country Public Land Use Zone. This mostly forested knob likely would not garner much attention were it not for the semi-open views from the high point and the geocache located there. For reference, we were aided by useful trip reports from Cornelius Rott and Matthew Clay. Although we were certain that there was still snow in the area, we were hoping that it would not be too deep, and as such, we opted to just hike without snowshoes.

Starting from the winter gate along Highway 66 (19 kilometres west of the junction with Highway 22), Bob, Zosia and I walked along the pavement for about 500 metres before turning off at the Powderface Creek trailhead. Powderface Creek trail is immensely popular with winter hikers, and despite an abundance of snow, we had a well-beaten path to follow for three kilometres to the signed junction with Prairie Link trail which was also thoroughly packed. Turning right (north), we hiked uphill for another 800 metres to a saddle of sorts before abandoning Prairie Link trail to climb the east ridge of our objective. This off-trail route climbs over 200 metres for the next kilometre through ever thickening forest, and the angle of ascent is surprisingly steep. There are a couple of minor but annoying dips along the way, and although deadfall is largely absent, the trees in some parts of the forest are sufficiently close together to perhaps make claustrophobes uncomfortable. Bob and Zosia both did a wonderful job of breaking trail through the relatively shallow snow pack here, and while there were occasional deep pockets of snow or slippery sections, we made good progress overall. As mentioned by Rott, the high point of Link Hill may have been artificially cleared to provide some far-reaching views, but none of us were about to complain. A geocache is also located here and was apparently placed in 2018.

Upon reaching the high point of Link Hill, Bob, Zosia and I stopped for a lengthy break to enjoy the warm, sunny weather before retracing our steps. Other than minding the slippery footing on the steep slopes of the east ridge, we had no problems retracing our steps back to Prairie Link trail. The hike back down to the junction with Powderface Creek trail and the subsequent walk out to the highway was long but uneventful.

Be sure to check out Bob's trip report.
| | |
| --- | --- |
| | Zosia starts hiking from the winter gate along Highway 66. |
| | Zosia and Bob walk past the information kiosk at Powderface Creek trailhead. |
| | There are some enticing views of Powderface Ridge from Powderface Creek trail. |
| | Zosia and Bob turn off Powderface Creek trail and begin hiking up Prairie Link trail. |
| | Zosia and Bob steadily gain elevation along Prairie Link trail. |
| | Zosia and Bob leave Prairie Link trail at this spot and begin climbing off-trail through the forest. |
| | The climb up the east ridge of Link Hill is generally sustained and quite steep. |
| | Some parts of the forest on Link Hill are very thick with trees. |
| | Sonny, Zosia and Bob stand on the high point of Link Hill (1990 metres). |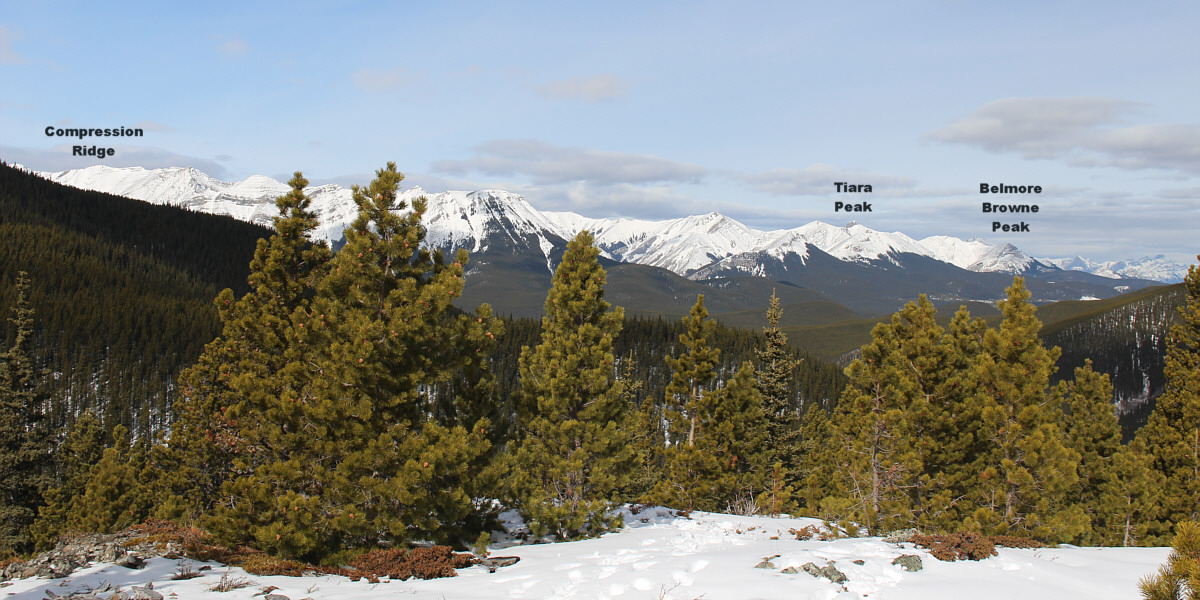 From the high point, there are far-reaching views to the northwest.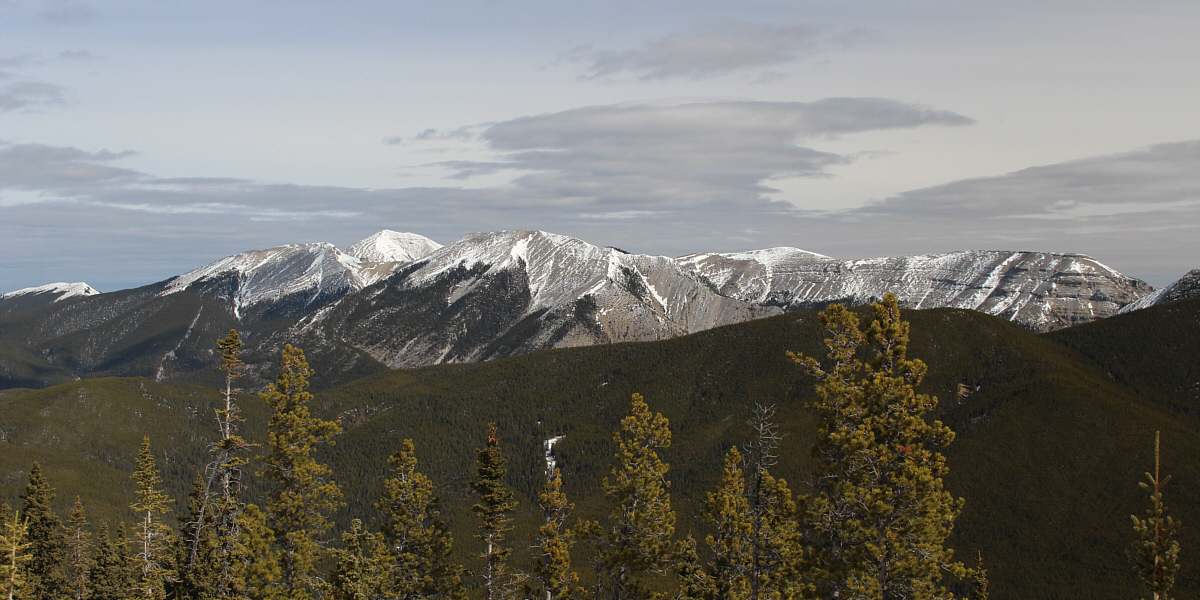 Moose Mountain and its many outliers dominate the view to the north.
To the northeast is an unfamiliar perspective of Prairie Mountain.
Bob and Zosia regain Powderface Creek trail on the long hike out.
Total Distance: 11.4 kilometres
Round-Trip Time: 5 hours 2 minutes
Cumulative Elevation Gain: 589 metres