BOU AVENUE
Agua Caliente Hill
---
Wrapping up our winter vacation, Zosia Zgolak and I hiked up Agua Caliente Hill located in Coronado National Forest just east of Tucson, Arizona on 7 January 2023. I had originally planned on a more ambitious trip up Tanque Verde Peak further to the south, but after some discussions with Zosia and some further research, we decided to scale back our hike and settle for Agua Caliente Hill which is shorter but with probably similar views. A maintained trail runs all the way up the hill from an easily accessible trailhead located in a fairly affluent neighbourhood. Consequently, the trail is very popular with hikers, dog-walkers, horseback riders and even a few hardcore mountain bikers. Incidentally, agua caliente means "hot water".

From the intersection of Soldier Trail and Fort Lowell Road in the Tucson suburb of Tanque Verde, drive east for 1.6 kilometres to where Fort Lowell Road becomes Camino Ancho at the intersection with Wentworth Road. Continue straight for 500 metres and turn left onto Camino Remuda. Drive 600 metres and turn left again onto Camino Cantil. Drive another 350 metres and turn right into a parking loop for the trailhead. Public parking is only permitted from dawn until dusk.

From the trailhead, Zosia and I followed the signed trail and promptly climbed up what is ultimately the terminus of Agua Caliente Hill's long west ridge. Instead of following the crest of this ridge though, the trail dips into a basin known as Cat Track Tank and then climbs over a low rise into another drainage. From there, the trail climbs again to a junction on the crest of Agua Caliente Hill's northwest ridge. Despite all the ups and downs, the trail is easy to follow, and the surrounding views of saguaro cacti are splendid. Turning eastward at the junction, we easily followed the trail along the crest of the northwest ridge and finished the ascent with a final steep pull up the north side of Agua Caliente Hill. A survey benchmark is located on the hill's high point, and we stopped here for a lunch break.

For our descent, Zosia and I simply retraced our steps along the same trail and had no trouble returning to the trailhead. In retrospect, I think we still could have tackled the long slog up Tanque Verde Peak, but Agua Caliente Hill turned out to be a more than adequate alternative. We still got to see saguaro cacti and comprehensive views of Tucson, and the overall trip felt very pleasant and relaxed. It was an excellent way to wind down our whirlwind road trip which included visiting three US states and five US National Parks, driving over 3800 kilometres, and tagging thirteen new summits.
| | |
| --- | --- |
| | Saguaro cacti are in abundance as Zosia hikes along the trail to Agua Caliente Hill. |
| | From here, the high point of Agua Caliente Hill is somewhere behind the dark ridges at far right. |
| | The trail eventually climbs up the ridge at upper right. |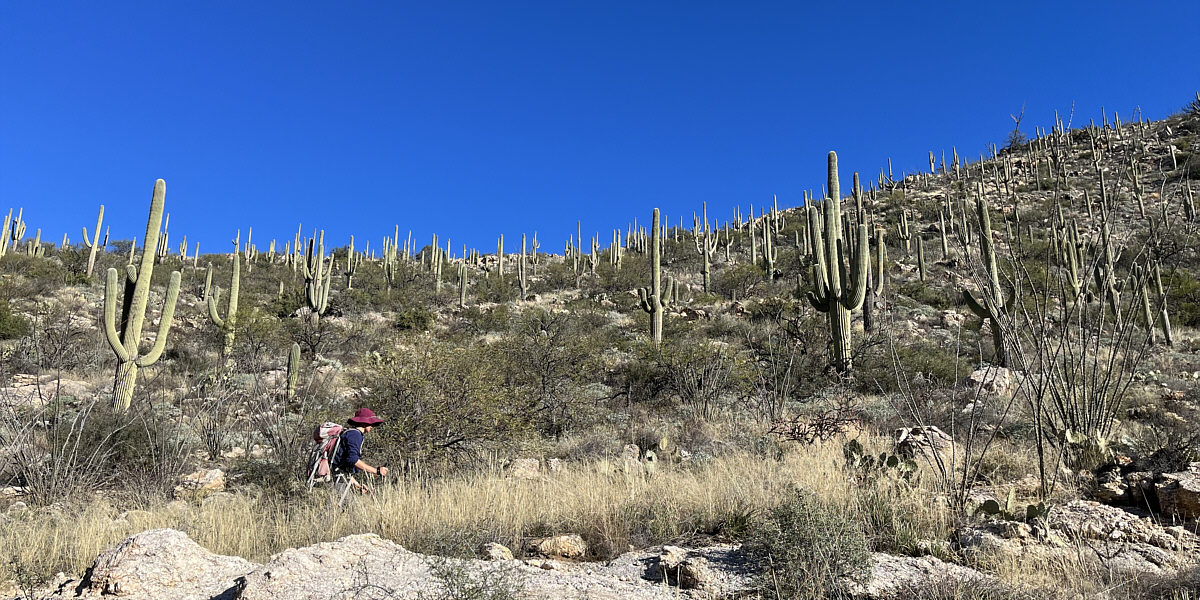 Zosia passes more saguaro cacti along the trail.
| | |
| --- | --- |
| | This common desert centipede is only about 8 centimetres long. |
| | As Zosia gains elevation on the ridge, the saguaro cacti begin to thin out. |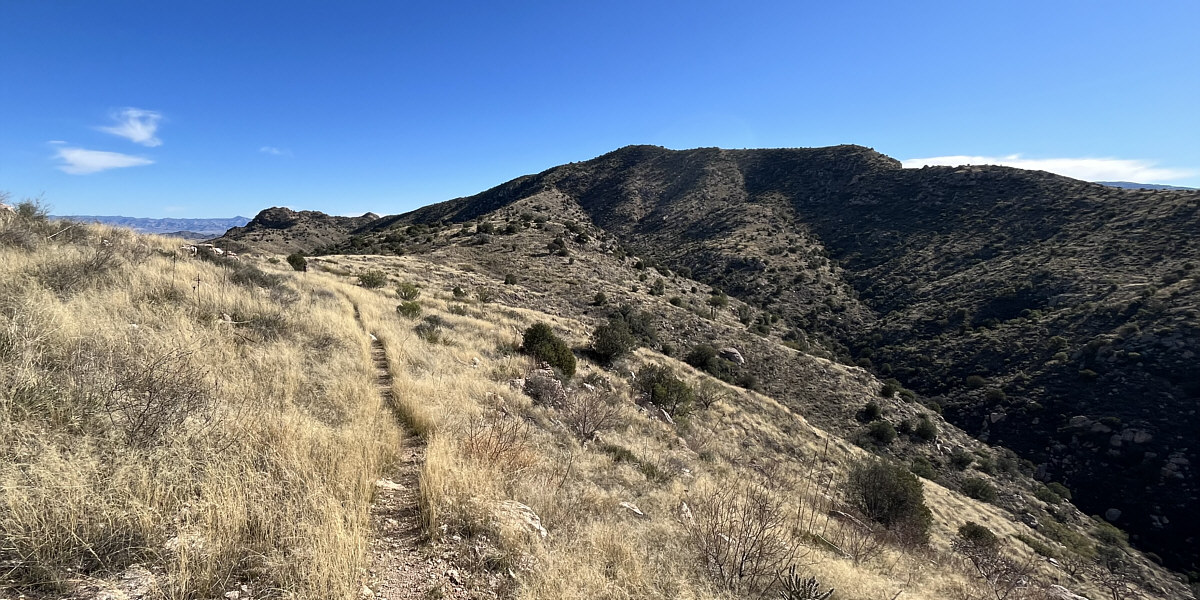 The high point of Agua Caliente Hill is within sight.
Zosia climbs up the final stretch of trail before the top. The plant in the foreground is a sotol.

Zosia and Sonny stand over a benchmark on the high point of Agua Caliente Hill (1631 metres).

The view to the south includes Tanque Verde Peak (left) and Mount Wrightson (right horizon).

As Zosia returns along the ridge, the city of Tucson seemingly fills the entire valley to the west.
Saguaro cacti reappear at lower elevations.
These barrel cactus fruits resemble little pineapples.
Total Distance: 14.8 kilometres
Round-Trip Time: 6 hours 54 minutes
Cumulative Elevation Gain: ~825 metres