BOU AVENUE
Brown-Lowery Provincial Park
---
With rain in the weather forecast for 6 May 2023, Zosia Zgolak and I opted to re-visit Alberta's Brown-Lowery Provincial Park for a short, non-committing hike. Joining us were Asieh Ghodratabadi, Ali Shariat and Wil Tabak. The park offers a number of different trails which can be combined to make loops of varying lengths. On my first visit with Zosia and my mother in 2019, we simply hiked the most direct route to the two viewpoints in the southwest corner of the park, but this time, we opted to hike the perimeter trails just as Bob Spirko did in 2020.

If coming from Calgary, drive west along Highway 22X and turn south onto Highway 22 about 12.0 kilometres west of the interchange with Stoney Trail (ring road). Drive 6.5 kilometres and turn west onto Plummers Road. Drive 3.3 kilometres to a T-intersection and turn left. Drive 8.3 kilometres to the trailhead parking area with vault toilet on the left. If coming from Bragg Creek, drive south on Highway 22 and turn left (east) at the T-intersection with Highway 66. Drive 320 metres and turn right (south) onto Highway 762. Drive 17.0 kilometres and turn left onto Plummers Road. Drive 3.0 kilometres to the trailhead parking area on the right.

From the trailhead, Asieh, Ali, Wil, Zosia and I walked southward and basically kept left at every trail junction (all are signed). In this way, we essentially did a big clockwise loop of the park's perimeter. Early in the proceedings near a dilapidated cabin, we ran into a couple of volunteer workers doing some trail maintenance with Weedwackers. We had a nice chat with them, and the most surprising thing I learned was that the park was completely funded by public donations even though it falls under the administration of Alberta Parks. The volunteers even have to pay a substantial insurance fee out of their own pocket for the privilege of doing trail maintenance. That is dedication! Other than a brief sprinkling of rain, the rest of our hike was very pleasant as we stuck to the perimeter trails and climbed up to the aforementioned viewpoints before easily descending to the trailhead to complete the loop.
Zosia, Asieh, Wil and Ali are ready to hike at the trailhead.

Sonny, Ali, Asieh and Wil try to get comfortable in this dilapidated cabin.

Photo courtesy of Zosia Zgolak

Most of the trails in the park are forested but well-maintained.

The group climbs up one of the steepest trails in the park.

The group hikes along an aspen-covered ridge crest.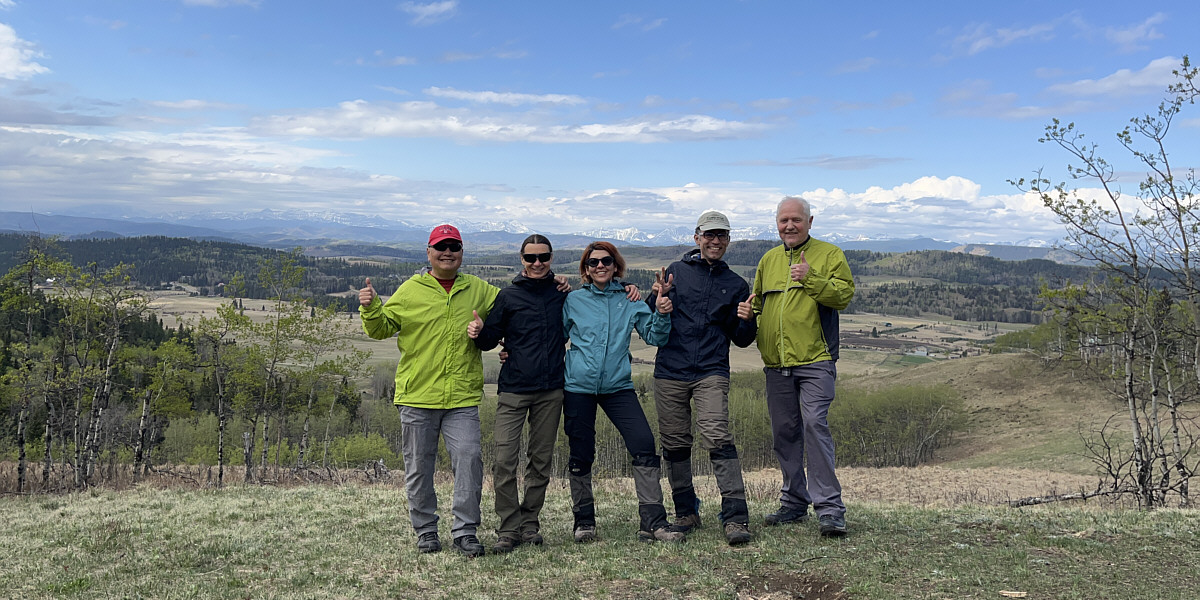 Sonny, Zosia, Asieh, Ali and Wil give thumbs up to the park's best viewpoint known as "Eagle View".
Pasque flowers are a sign that spring has arrived.
Total Distance: 7.3 kilometres
Round-Trip Time: 2 hours 40 minutes
Cumulative Elevation Gain: 185 metres