BOU AVENUE
Hall Of Mosses/Spruce Nature Trail And Hole-In-The-Wall
---
On 11 April 2023, Zosia Zgolak and I started our day with a nerve-racking drive up Hoh Valley Road to the Hoh Rain Forest Visitor Center in Washington's Olympic National Park. Newly fallen wet snow made the road treacherously slippery, and we were both relieved to make it to the Visitor Center in our car without mishap. Given the morning's inclement weather, we settled for doing a couple of short and easy loop hikes here--Hall of Mosses (1.2 kilometres) and Spruce Nature Trail (1.9 kilometres). These forested trails are apparently quite popular year-round, but on this wet and snowy morning, we had them mostly to ourselves with the exception of a few other early birds. As we completed our walk and carefully drove back out the access road, the weather slowly improved, and we began seeing a steady stream of cars going the other way.
Zosia walks along the trail to Hall of Mosses on a snowy morning.

The Hall of Mosses lives up to its name.

This mossy tree is bent over forming a natural arch.

Photo courtesy of Zosia Zgolak

Zosia tries to weave between some branches without knocking snow onto herself.

Zosia walks by several more mossy trees.
Part of the Spruce Nature Trail passes along the shore of Hoh River.
Zosia and I next drove to Rialto Beach near the outlet of Quillayute River on the coastal section of Olympic National Park. The weather was much better here, and we hiked along the beach to a rock feature known appropriately as "Hole-in-the-Wall". This is generally an easy walk, but about halfway along the beach, the outlet of Ellen Creek necessitates either a ford or a somewhat tricky crossing on slippery driftwood. Hole-in-the-Wall is certainly worthy of attention, but I found the nearby tidal pools with their assortment of marine life to be far more fascinating. When we had our fill of poking anemones, crabs and snails, we retraced our steps back to the trailhead without fanfare.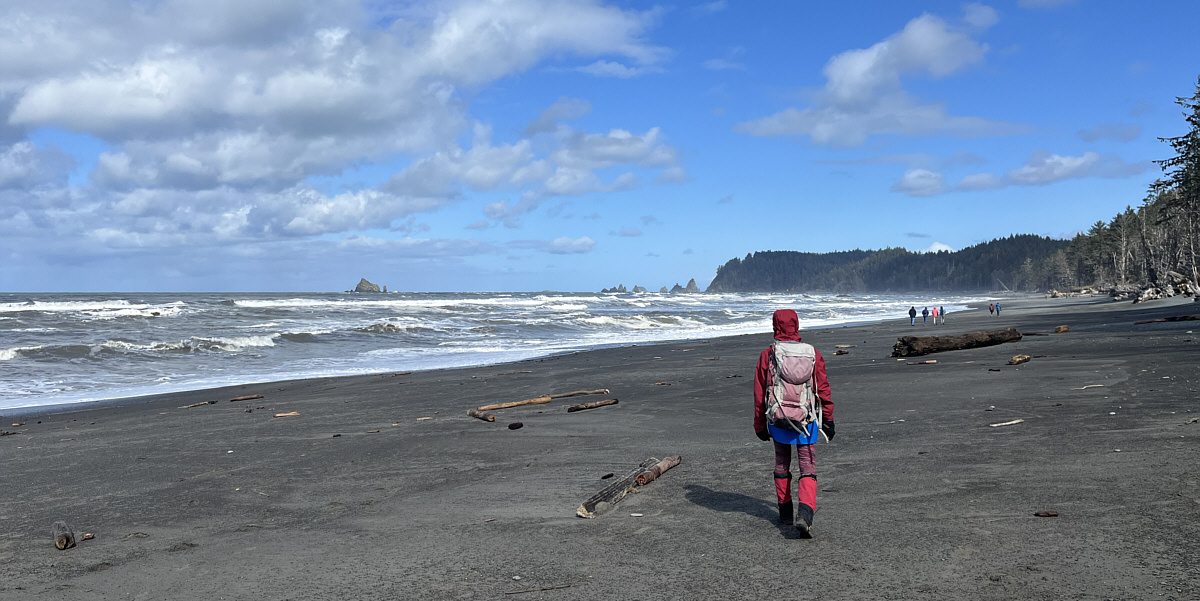 Zosia walks along Rialto Beach on her way to Hole-in-the-Wall.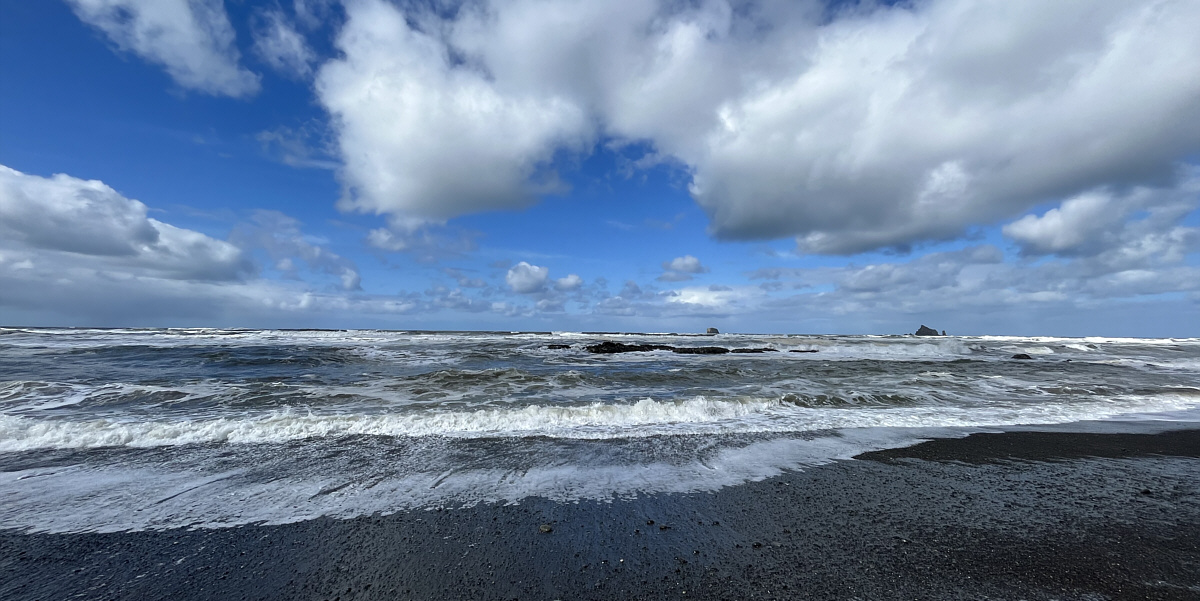 Waves roll in continuously from the Pacific Ocean.
Zosia carefully crosses Ellen Creek on a slippery driftwood log.
Zosia checks out an impressive pinnacle of rock not far from Hole-in-the-Wall.
Low tide reveals many barnacles of different sizes on this rock.

Photo courtesy of Zosia Zgolak

Sonny and Zosia stand in front of Hole-in-the-Wall.

Here is another perspective of Hole-in-the-Wall.

A couple of sea anemones occupy a small tidal pool inside Hole-in-the-Wall.

Zosia finds an easier way to re-cross Ellen Creek on the way back to the trailhead.

Total Distance: 6.3 kilometres
Round-Trip Time: 3 hours 5 minutes