BOU AVENUE
Mount Rose
---
Wrapping up our spring tour of Washington's Olympic Peninsula on 14 April 2023, Zosia Zgolak and I hiked up Mount Rose located near Lake Cushman in Mount Skokomish Wilderness. Easy access and its relatively modest height make Mount Rose one of the more popular year-round hiking objectives in the Olympic Mountains. For many locals, the ascent is the equivalent of Vancouver's Grouse Grind. A well-maintained trail runs all the way to the summit, but snowy conditions are likely to be encountered during winter and spring. As such, Zosia and I brought along our ice cleats for this trip.

Turn onto SR 119 off Highway 101 at the village of Hoodsport. Drive 15.0 kilometres to a T-intersection and turn left. Drive another 4.5 kilometres to the turnoff for the Mount Rose trailhead. The parking lot with a portable toilet is about 120 metres further.

Starting from the signed trailhead, Zosia and I headed westward crossing a bridge over a boisterous side creek before commencing a steady ascent up the well-maintained forested trail. There was nothing complicated about this initial part of the ascent, but the viewless trail is also not particularly inspiring. As we climbed higher, we began encountering more and more snow, and by the time we reached a horse camp at an elevation of about 900 metres, most of the terrain was pretty much snow-covered. The horse camp is also a junction where the trail splits, and while it is possible to combine the two separate trails into a loop, it appeared that most previous hikers had simply opted to go out-and-back on the more direct left branch. We donned our ice cleats here and followed suit feeling very thankful for the broken trail which led us unwaveringly up to the summit. The summit is partially treed, but there is a small rock outcrop nearby that grants some far-reaching views when the weather is clear.

A few minutes after Zosia and I arrived at the summit, we were a little surprised to see another hiker come up behind us. This hiker's name was Andrzej, and we quickly learned that he was originally from Poland but was now living in nearby Tumwater. We had a long and engaging conversation with Andrzej who has climbed Mount Rose several times. Before departing the summit, Andrzej invited us to contact him if we ever return to the area to do more hiking. Zosia and I saw several more hikers on this day, but Andrzej would be the only one that we would connect with.

For our descent, Zosia and I simply retraced our steps down the mountain with very few difficulties. While the ascent had taken us a little more than 3 hours, we managed to get back down to the trailhead in about half that time.
| | |
| --- | --- |
| | The trail starts off fairly flat near the trailhead. Lake Cushman can be seen through the trees at left. |
| | Zosia climbs steadily up the forested trail. |
| | Zosia enters Mount Skokomish Wilderness. |
| | Here is a wide-angle view of the trees along the trail. |
| | A lot of snow remains higher up, but thankfully, the trail is already broken. |
| | Many of the trees on the upper mountain were scorched by a wildfire in 2006. |
| | Andrzej, Sonny and Zosia stand on a snow-covered rock outcrop near the summit of Mount Rose (1309 metres). |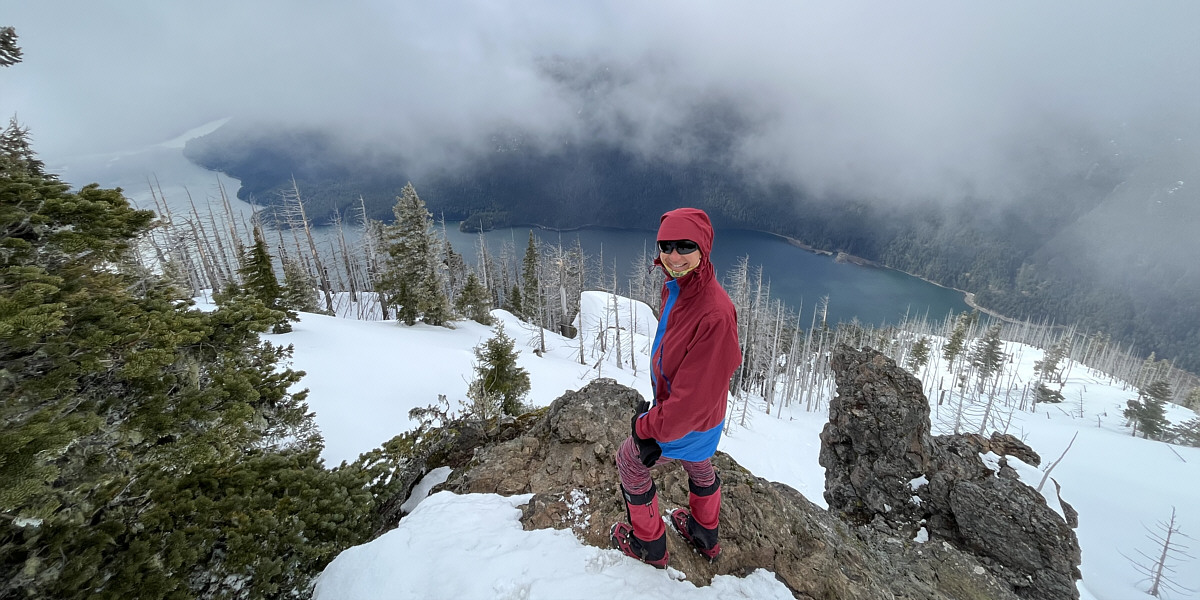 The clouds begin to clear a bit revealing Lake Cushman.
A whiskeyjack waits patiently for inadvertently-dropped crumbs of food.
Just below the summit, Zosia is granted another partial view of Lake Cushman. Also visible in the distance is Hood Canal which is a fjord that is ultimately connected to the Pacific Ocean via Puget Sound and the Strait of Juan de Fuca.
Total Distance: 13.5 kilometres
Round-Trip Time: 5 hours 52 minutes
Net Elevation Gain: 1061 metres