BOU AVENUE
Grays Peak
---
Among the Pioneer Mountains of central Idaho, Grays Peak is relatively obscure and probably largely ignored by serious mountaineers. However, I first spotted this mountain a few years ago from the summit of Hyndman Peak and thought it would make for an easy objective from one of the nearby campgrounds in the East Fork Wood River valley. A short route description can be found in Tom Lopez's excellent guidebook, Idaho: A Climbing Guide. After spending a night camping at Federal Gulch campground, I hiked up Grays Peak via its west ridge on 30 August 2015. An alternate route approaches the peak along a well-maintained Forestry Service trail (FST-169) which starts at the east end of the campground, but opting to save this route for my descent, I left the trail and hopped over to the north side of the creek along Federal Gulch. After an initial steep grind up the end of Grays Peak's west ridge, I settled into a moderately steep hike most of the way to the summit. One knife-edged section about a third of the way up presents an opportunity for some hands-on scrambling, but it is easy enough to bypass any difficulties that prove too challenging. I spent about half an hour on the summit before retreating a short distance along the west ridge. I then dropped down a steep, south-facing grassy slope to pick up FST-169 before hiking easily back to the campground. Although it was tempting to stick around and climb other easy peaks in the area, I decided to move on and save those peaks for a return trip in the future.

| | |
| --- | --- |
| | Sonny's campsite at Federal Gulch campground is rather spartan. |
| | Here is a view of Federal Gulch from the west ridge of Grays Peak. |
| | Most of the west ridge of Grays Peak can be seen here. FST-169 climbs over the saddle at far right. |
| | Sonny easily skirts around some trees along the ridge. |
| | The trees start to thin out higher up the ridge. |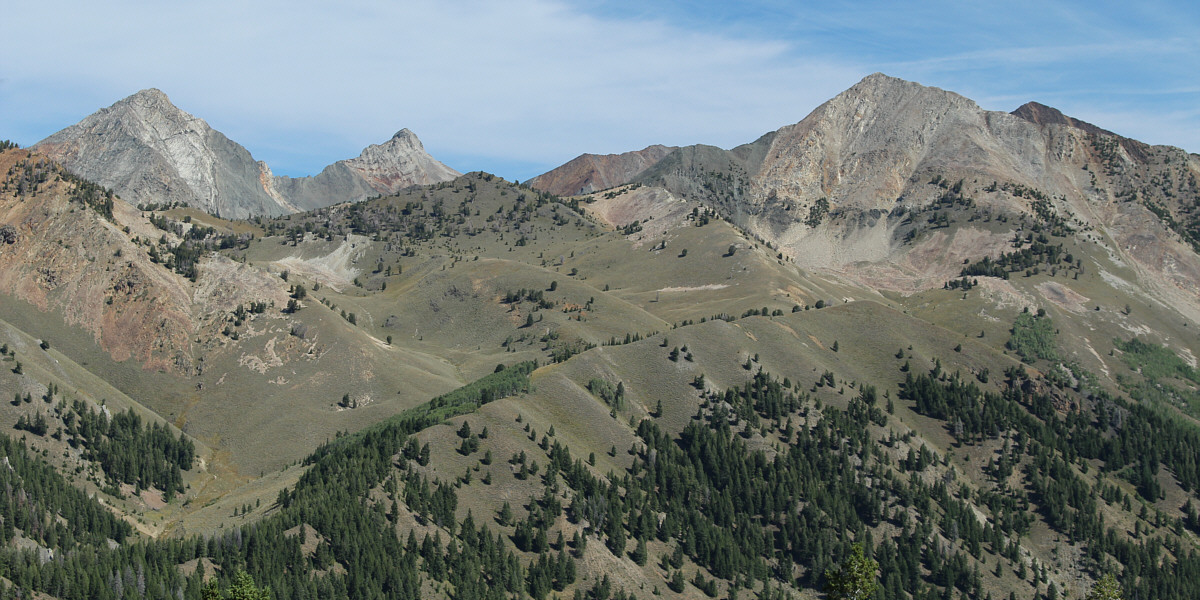 Some of the bigger peaks of the Pioneer Mountains can be seen to the north including Cobb Peak (far left), Old Hyndman Peak (left), Jacqueline Peak (right), and McIntyre Peak (peeking over the right shoulder of Jacqueline Peak).
| | |
| --- | --- |
| | The west ridge continues along the right skyline. |
| | The final rise to the summit presents no serious challenges. |
| | Sonny stands on the summit of Grays Peak (3220 metres). |
| | The views to the north command the most attention. |
| | The area immediately to the east is predominantly made up of ridges and rolling foothills. |
| | This is looking back down the west ridge (bottom right) of Grays Peak. |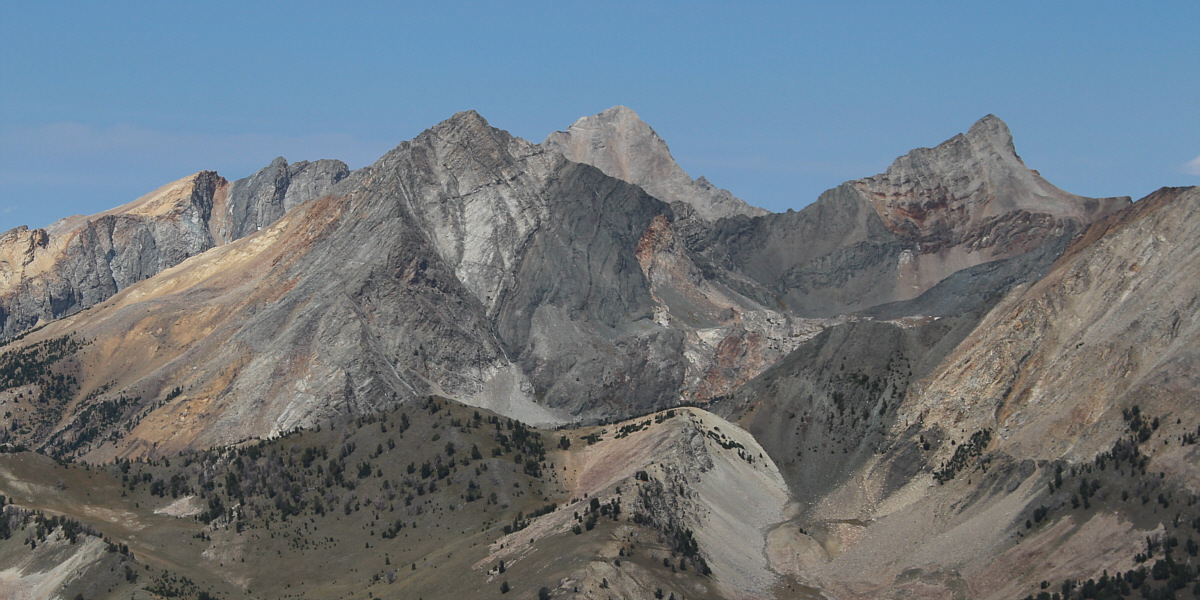 Here is a closer look at the heart of the Pioneer Mountains: Cobb Peak, Hyndman Peak, and Old Hyndman Peak.
Lupins can be found on the grassy slopes of Grays Peak.
A couple of horses are tied up near the trail.
The summit of Grays Peak is just right of centre. Sonny descended the slope at left to gain the trail (FST-169).
A bee keeps busy on one of the flowers of a thistle.
Here is one last look at Grays Peak and its west ridge from the access road.
Total Distance: 12.4 kilometres
Round-Trip Time: 7 hours 24 minutes
Net Elevation Gain: 1151 metres