BOU AVENUE
Pinto Valley Castle
---
On 17 October 2016, Zosia Zgolak and I hooked up with Dinah Kruze and Bob Spirko to climb up Pinto Valley Castle in Lake Mead National Recreation Area east of Las Vegas, Nevada. Zosia and I met Dinah and Bob at their condo that morning, and Bob drove us all out to the trailhead on the Northshore Road. Following the same approach for Hamblin Mountain, we followed the trail into the main wash heading south and scrambled up a short pour-over at Cottonwood Spring. From there, route-finding was a bit tricky as the maze of washes in the area can be confusing to follow. At one point, we had to backtrack after turning up a wrong wash. We eventually ended up on the northwest side of Pinto Valley Castle, but the summit is guarded there by some short cliff bands. After some discussion, we decided to retreat a bit to the southwest where we found a much easier way up onto the ridge leading to the summit. While Dinah was content to linger on the high point of this ridge, the rest of us continued further to tag the top of Pinto Valley Castle. When we returned to rejoin Dinah, we all visited a lower bump to the south in order to get a better view of Pinto Valley Castle's interesting southern cliffs. For our return, we descended the main ridge to the southwest and picked up a track which led us back to our original approach route. Our GPS units proved to be invaluable here as it would have been easy to get lost again in the washes. The hike back to the trailhead was uneventful.

Be sure to check out Bob's trip report.

Zosia, Dinah and Bob gear up beside Bob's and Dinah's rental car at the trailhead.
Zosia and Dinah scramble up the pour-over at Cottonwood Spring.
The group hikes through a small canyon.
Zosia and Dinah stand against a colourful background.

Photo courtesy of Zosia Zgolak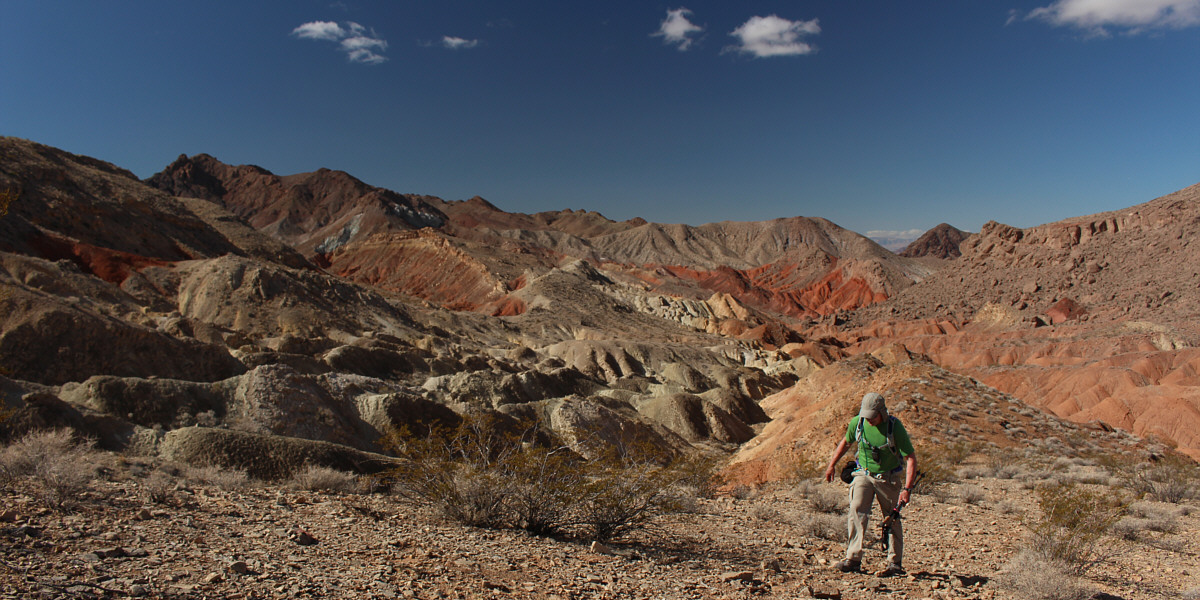 Some more of the colourful terrain is revealed as Bob gains elevation. At far left is Hamblin Mountain.
Cliffs guard the northwest side of Pinto Valley Castle.
The group finds an easier spot to gain the ridge.
Zosia and Dinah follow Bob to the high point of the ridge.
Pinto Valley Castle gets its name from the wall-like cliffs on its southeast side.
The ridge begins to narrow as Zosia approaches the summit of Pinto Valley Castle.
Zosia scrambles up a mildly exposed cliff band near the summit.
Here is a look back along the ridge from the summit. Hamblin Mountain is visible on the horizon.
Pinto Valley is the flat expanse to the east. A little bit of Lake Mead is visible in the distance at left.
Bob surmounts the cliff band near the summit.
Sonny, Bob and Zosia stand on the summit of Pinto Valley Castle (808 metres).
Dinah, Bob and Zosia head to a lower bump south of Pinto Valley Castle.
Dinah, Bob, Sonny and Zosia gather for a "family" photo near the top of the lower bump with Pinto Valley Castle behind them to the right.
A collared lizard looks up to see who is disturbing its afternoon siesta.
Total Distance: 13.2 kilometres
Total Time: 5 hours 8 minutes
Net Elevation Gain: 220 metres