BOU AVENUE
Zgolak Loop
---
"It was the best of times, it was the worst of times". Those famous words from A Tale of Two Cities by Charles Dickens aptly describe the 4-day epic backpack trip that I undertook with Kevin Starozik and Zosia Zgolak on 17-20 July 2016. Zosia's ambitious plan entailed starting from the townsite in Alberta's Waterton National Park, hiking south into Montana's Glacier National Park along the Lakeshore Trail, hiking west over Boulder Pass via its namesake trail, hiking north into British Columbia's Akamina-Kishenina Provincial park via North Kintla Creek and Bennett Pass, and finishing back in Waterton National Park at the Akamina Pass trailhead. With the Akamina Parkway closed to public vehicles for the season due to construction, we would also take advantage of a free shuttle bus to get back to the townsite and complete what I coin the Zgolak Loop. Zosia did all the research for this trip. There were some logistical issues to sort out concerning the acquisition of camping permits for Glacier National Park, and she also had to find out the regulations for crossing the Canada-USA border outside of the usual ports of entry. There was also some concern that Boulder Pass was snow-bound and might be impassable. Most worrisome though was the proposed stretch of travel along North Kintla Creek as there are no marked trails here on any maps. I had also heard second-hand rumours that the bushwhacking in this valley is quite nasty, but there was no way of verifying this before our trip. It is worth noting that older versions of the Gem Trek Waterton Lakes map show an unmaintained trail that heads southwest from Bennett Pass to the western headwaters of North Kintla Creek. Oddly, this trail is missing in newer versions of the same map such as the one that Kevin would carry on this trip. Regardless, I made a mental note of this trail which gave some hope that there might be a beaten path of some sort along North Kintla Creek.

Early on the morning of 17 July 2016, Kevin, Zosia and I drove to Waterton townsite and arrived at the Parks Canada Information Centre just before they opened at 8:00 AM. Speaking to staff from Glacier National Park over the phone, Zosia managed with some difficulty to secure camping permits for us, and after we all watched a mandatory backcountry safety video, we were finally set to go. Zosia and I first dropped Kevin off with all the packs at the Bertha Lake trailhead before driving back into town to leave my car near one of the shuttle bus pick-up/drop-off points. Zosia and I then walked back to join Kevin at the trailhead and begin our trek in earnest.

Surprisingly, the Lakeshore Trail is not as easy a stroll as I was expecting. The trail annoyingly undulates far more than it should, and views are actually limited to a few bays and campsites along the way. As we approached the south end of Upper Waterton Lake, I was somewhat confused by the signage of the various trails criss-crossing the area, and I inadvertently led the others to take a short cut which entailed fording the thigh-deep Waterton River. After the refreshing splash through the water, we checked in with our passports at Goat Haunt ranger station before taking a lunch break on the shores of Upper Waterton Lake.

When we resumed hiking, we went to visit nearby Rainbow Falls. I had forgotten that I had visited these same falls when I climbed Mount Cleveland in 2005, and after seeing them again, I instantly remembered why they are so forgettable. After this short detour, we crossed the Waterton River again--this time on a good suspension bridge--and climbed steadily up the Boulder Pass Trail. The initial sections of this trail are somewhat mundane offering little to see besides tree trunks. Furthermore, the abundance of trail mud, the encroachment of undergrowth, and the heat of the afternoon all conspired to make our hike unpleasant and wearisome. When we arrived at Lake Janet backcountry campground, our designated stop for the first night, we still had several hours of daylight left, and Zosia suggested that we should push on to the next campground at Lake Frances in anticipation of a longer climb the next day. Despite some mild protests, we all finally agreed to keep going after stopping for an extended break. The hike to Lake Frances campground was shorter than expected, but what we failed to anticipate was the possibility that it might be fully booked for the night. As it turned out, all tent pads in the campground were occupied, but luckily, we were able to find some flat ground right on the shores of Lake Frances. After setting up our tents, we had a relaxing dinner before turning in for the evening. For this first night, Kevin and I shared Zosia's 2-person tent while Zosia slept in my hooped bivy sack.

Kevin and Zosia are ready to begin the journey at the trailhead.
Waterton townsite is a sanctuary for many deer such as this one as they are protected from natural predators.
Mount Cleveland is visible in the distance in this view from Bertha Bay along the shores of Upper Waterton Lake.
Kevin, Zosia and Sonny arrive at the Canada-USA border. Note the boundary cut line which runs up the slopes of Mount Boswell across Upper Waterton Lake.

Photo courtesy of Kevin Starozik

Kevin and Zosia pause on the bridge over Boundary Creek.
The vegetation along the Lakeshore Trail threatens to swallow up Zosia.
After taking Sonny's shortcut, Kevin fords Waterton River.
Kevin and Zosia check in at Goat Haunt ranger station.
Mount Crandell is the most recognizable peak in this view north from Goat Haunt.
Zosia stands above the rather underwhelming Rainbow Falls.
Sonny crosses Waterton River on a good bridge.

Photo courtesy of Kevin Starozik

Citadel Peaks and Porcupine Ridge provide a nice backdrop to Lake Janet.
A break in the forest grants this view of the eastern outlier of The Sentinel.
Zosia arrives at Lake Frances.
Kevin and Zosia relax at the Lake Frances campground kitchen.
Kevin, Zosia and I woke up to an overcast sky on the morning of 18 July 2016, but even before we packed up camp, the sun was showing encouraging signs of trying to break through the cloud cover. Leaving Lake Frances campground, we passed a large group of hikers eating breakfast at Hawksbill campground and continued to Thunderbird Pond where we began a moderately steep climb up to Brown Pass. By now, the skies had cleared up nicely just in time for the most scenic parts of Boulder Pass Trail. From Brown Pass, we enjoyed a glorious high level traverse into the large cirque known as Hole-in-the-Wall. Perhaps expecting to see an actual hole somewhere, Zosia led us down to the cirque's namesake backcountry campsite where we took an extended break. While we never did see a hole of any sort, the countless waterfalls emanating from all directions within the cirque provided ample beautiful scenery to behold.

After our extended break at the campsite, we climbed back up to Boulder Pass Trail and followed it around to the west side of the cirque. Some lingering snow patches still covered portions of the trail on this side of the cirque, and although we did not bring any crampons or ice axes, we managed to cross or circumvent these snow patches without too much trouble. Near the entrance to Boulder Pass, we met a large group of backpackers going in the opposite direction which allayed any doubts about hiking through the pass. All the snow patches that we encountered were still very supportive, and we had no problems hiking over Boulder Pass to its namesake campground on the other side. As we set up our camp, a late day thunderstorm was brewing over the area, and it eventually hit us as we sat down to dinner. Thankfully, Kevin's tarp kept us dry in the kitchen, and the storm rolled out almost as quickly as it rolled in.

While previously studying a map of the region, I had facetiously pointed out to Zosia that we could scramble up Boulder Peak from the Boulder Pass campground without knowing if it could actually be done. The west ridge of Boulder Peak looked feasible enough when we arrived at the campground, but after a long day of humping a heavy pack, I was not sure that I had any energy left. The thunderstorm seemingly made climbing Boulder Peak out of the question, but when the storm cleared, I realized that Zosia had taken my suggestion to heart when she asked us to join her for an evening ascent. With only about two hours of daylight left, Kevin flatly declined. I was already comfortable in my camp "pajamas", but the lure of an easy summit was too hard to resist. I quickly changed back into my hiking gear, and Zosia and I promptly left camp to tackle the west ridge of Boulder Peak. The ascent turned out to be remarkably easy (1.5 kilometres one-way and 390 metres elevation gain from the campground) and we made it up to the summit in about 50 minutes. The views in all directions were extraordinary on this evening, and even though a chilly breeze curtailed our stay at the summit, we took our sweet time descending the west ridge trying to absorb as much of the remarkable scenery before the sun disappeared over the western horizon. Even after sunset, Zosia and I still managed to return to camp without having to turn on our headlamps.

The previous night, Zosia's sleeping bag became damp due to condensation while sleeping inside my bivy sack. While she managed to dry out her sleeping bag earlier in the day (inexplicably by leaving it on the side of Boulder Pass Trail when we descended to Hole-in-the-Wall campground), I easily convinced her to switch places with me for the remainder of the trip since my sleeping bag has a water-resistant outer shell. After Zosia retired for the night and joined Kevin in her own tent, I stayed up for awhile in the warm night air to watch the moonrise and reflect on one of the best days I have ever enjoyed in the mountains.

Morning mist begins to clear over Lake Frances.
These cascades above Lake Frances originate from Dixon Glacier (not visible).
Zosia smells the fragrance of bear grass.
Bear grasses are abundant here.
Thunderbird Falls is reflected in Thunderbird Pond.
Zosia studies the sign at Brown Pass.
Visible in the distance from Boulder Pass Trail are Numa Peak, Mount Peabody, Boulder Peak and Boulder Pass.
Bowman Lake is briefly visible through the gap at left.
Boulder Pass looks a little intimidating from the other side of the valley.
Hole-in-the-Wall Falls drains from a spectacular hanging valley full of smaller waterfalls.
This pesky marmot is eager to steal any unattended gear at Hole-in-the-Wall campground.

Photo courtesy of Zosia Zgolak

Kevin and Zosia hike below the impressive cliffs of Mount Custer.
Kevin watches as Zosia carefully crosses a snowfield covering the trail.
Zosia and Kevin continue across another snow patch.
Kevin and Zosia resume hiking along the trail after circumventing the snow patch behind them.
This is looking eastward from the top of the headwall guarding Boulder Pass. At left is Chapman Peak while Mount Cleveland can be seen beyond Brown Pass at centre.
Boulder Peak dominates the landscape near Boulder Pass.
This beautiful tarn sits at the entrance to Boulder Pass.
Zosia follows Kevin to Boulder Pass.
Zosia and Kevin hike over Boulder Pass (approximately 2280 metres)
A gap to the north of Boulder Pass grants this view of Akamina Ridge.
Boulder Pass campground is located over the next rise at the foot of this unnamed peak. Visible in the distance is Long Knife Peak.
Zosia and Kevin enjoy dinner under Kevin's tarp during a thunderstorm.
Boulder Peak beckons after the thunderstorm has passed.
Pocket Lake is revealed on the upper slopes of Boulder Peak. At centre are Numa Peak and Mount Peabody.
Mount Carter and Rainbow Peak look enormous to the south.
A large snowfield is draped over much of the southern outlier of Boulder Peak.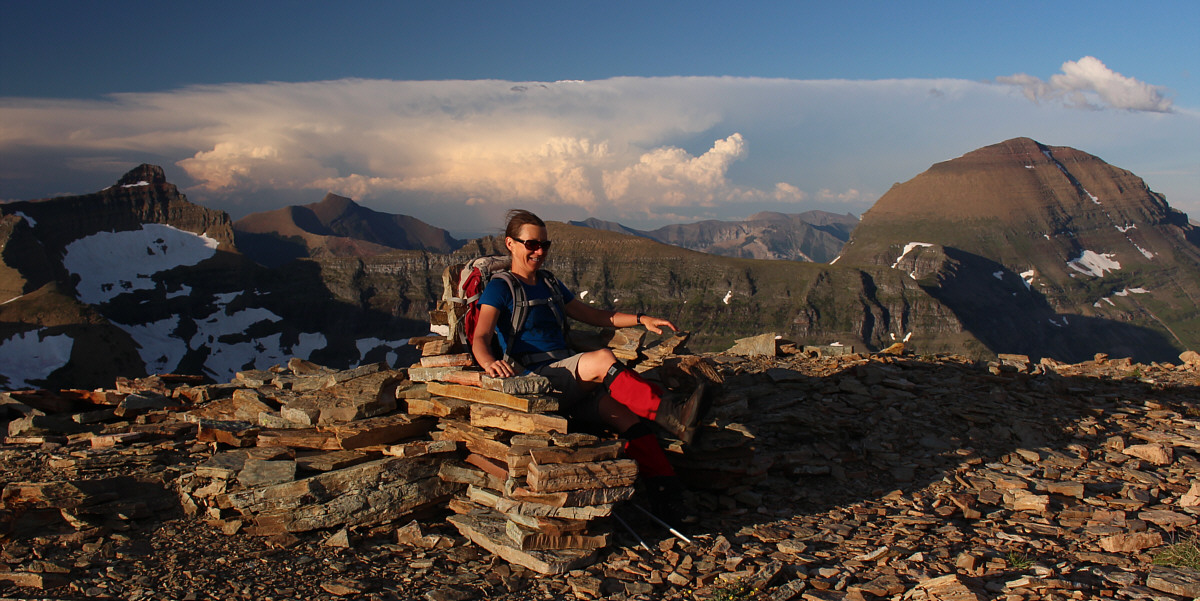 Queen Zosia sits on her stony throne on the summit of Boulder Peak (2594 metres) flanked by her subjects, Mount Custer and Mount Alderson to the left and Chapman Peak to the right.
| | |
| --- | --- |
| | Sonny joins Zosia on the summit of Boulder Peak. |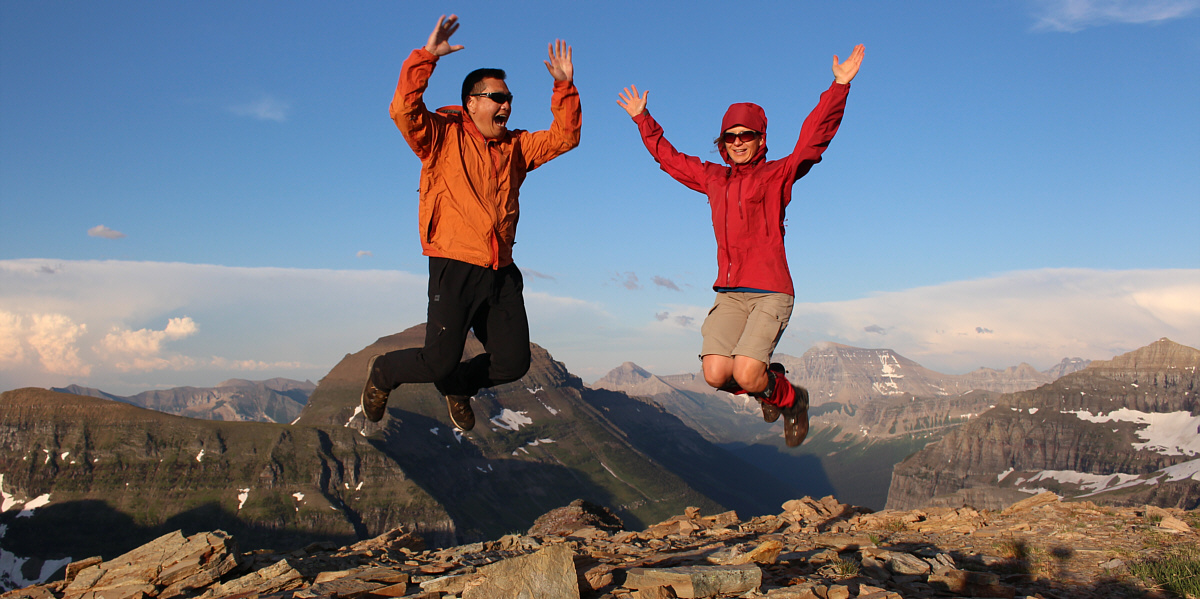 Sonny and Zosia jump for joy on the high point of the trip.
| | |
| --- | --- |
| | The view to the north includes Akamina Ridge (left) and Mount Blakiston (right horizon). |
| | Mount Custer and Mount Alderson are the most noteworthy peaks to the northeast. |
| | To the east is Chapman Peak. |
| | Further to the east, clouds finally lift to reveal the full glory of Mount Cleveland. Citadel Peaks are also visible below Mount Cleveland. |
| | Peaks to the southeast include Thunderbird Mountain (centre) and The Guardhouse (right of centre). |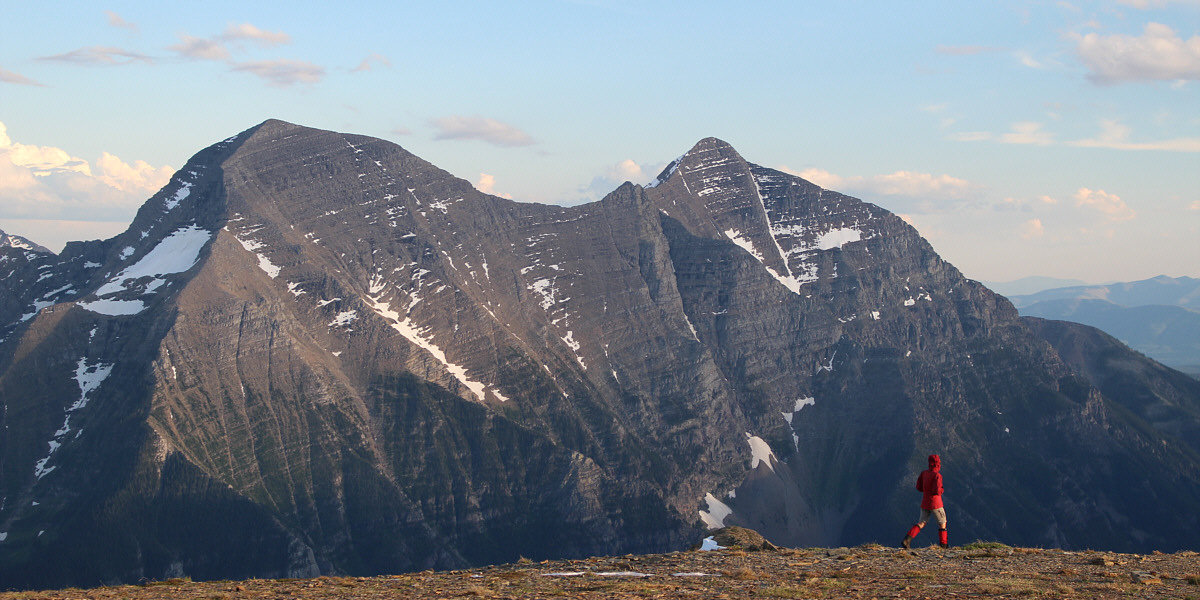 Mount Carter and Rainbow Peak dominate the southern horizon.
| | |
| --- | --- |
| | Here is a more comprehensive view of Pocket Lake. Across the horizon are Numa Peak, Mount Peabody, Reuter Peak, Kintla Peak and Kinnerly Peak. |
| | The sun sets behind Long Knife Peak to the west. |
| | The moon rises over Boulder Peak. |
On the morning of 19 July 2016, Kevin, Zosia and I packed up camp and descended the trail leading to Upper Kintla Lake. Before reaching the lake, we stopped at the bridge over Kintla Creek, our point of departure from the trail to head north back into Canada. Much to our dismay, we could not discern any signs of human passage on either side of the creek. Despite some not entirely unwarranted protests from Kevin, we finally agreed, in the spirit of adventure, to plunge into the forest along the west bank of Kintla Creek.

The agony of thrashing through probably hundreds of years' worth of undergrowth and deadfall alongside Kintla Creek and later North Kintla Creek will be well-etched into my psyche. If this was not the worst bushwhacking I have ever done, it was certainly the lengthiest and most sustained. We spent the bulk of the next nine to ten hours climbing over and under logs, squeezing through narrow openings between trees, climbing steep embankments, and generally stumbling about in the forest and along the creek. Our progress slowed to a crawl, quite literally in places. It took us over five hours to travel about 2.7 kilometres from the bridge over Kintla Creek to the cut line on the Canada-USA border. At one point, we were astonished to see flagging tape on a tree on the opposite side of North Kintla Creek, and we spent a fair bit of time and effort crossing the creek to see if there was a trail or beaten path nearby. Unfortunately, no trail or path was to be found, and the flagging tape remains a mystery. Later on, we came across what appeared to be an old campsite with a primitive bench and more flagging tape, but again, there were no obvious points of access. We speculated that the previous campers perhaps were flown in by helicopter or rode horses through the creek. In any case, we stopped here for about an hour to have dinner, and although this would have made a good bivy site, Zosia was eager to push onward while we still had daylight to spare.

Zosia had reserved us a spot on the last shuttle bus leaving Akamina Pass trailhead a little after 6:00 PM the next day, but given our excruciatingly slow pace and where we were, doubts about making that last shuttle bus began to creep in. Originally, we had hoped to reach the western headwaters of North Kintla Creek in order to pick up the trail I had seen in the older Gem Trek map, but we were still about three kilometres short when growing darkness and fatigue forced us to bivouac at the confluence of a side creek emanating from Bennett Pass. Since reaching the border cut line nearly 3.5 hours earlier, we had proceeded less than 900 metres further along North Kintla Creek. Even taking into account our hour-long dinner break, it was a dismal pace, and we began considering a more direct line up to Bennett Pass via the side creek. This would entail a bushwhacking ascent of nearly 700 metres over a distance of 2.8 kilometres which was in itself a daunting endeavour, but what really worried us was the possibility of encountering hidden cliff bands which might force us into a long detour or, worse, block our upward progress completely. With these uncertainties in mind, we retired for the night with intentions of rising early the next morning for a pre-dawn start.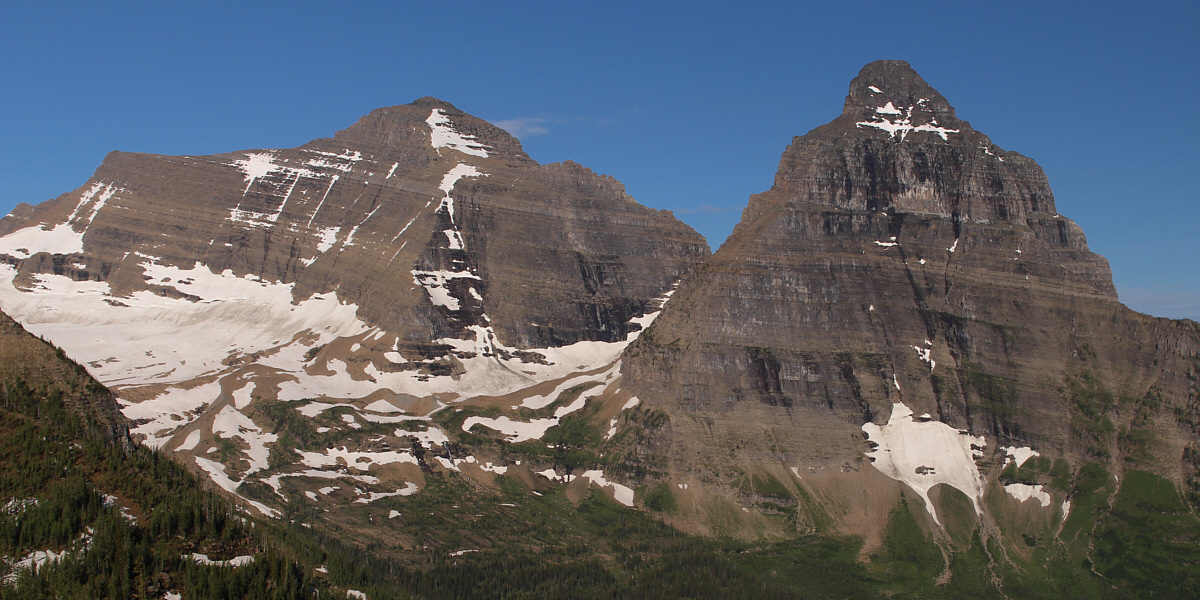 Kintla Peak and Kinnerly Peak dominate the view on the descent from Boulder Pass.
A break in the forest allows this glimpse of Upper Kintla Lake below Long Knife Peak (left).
Sonny waits as Zosia crosses Kintla Creek.

Photo courtesy of Kevin Starozik

Zosia smiles as she points the way back to Canada.
Sonny and Kevin are right in the thick of bushwhacking.

Photo courtesy of Zosia Zgolak

Zosia and Kevin take a break beside Kintla Creek.
Kevin and Zosia take advantage of a fallen log to hike upstream.
This is the boundary cut line across North Kintla Creek.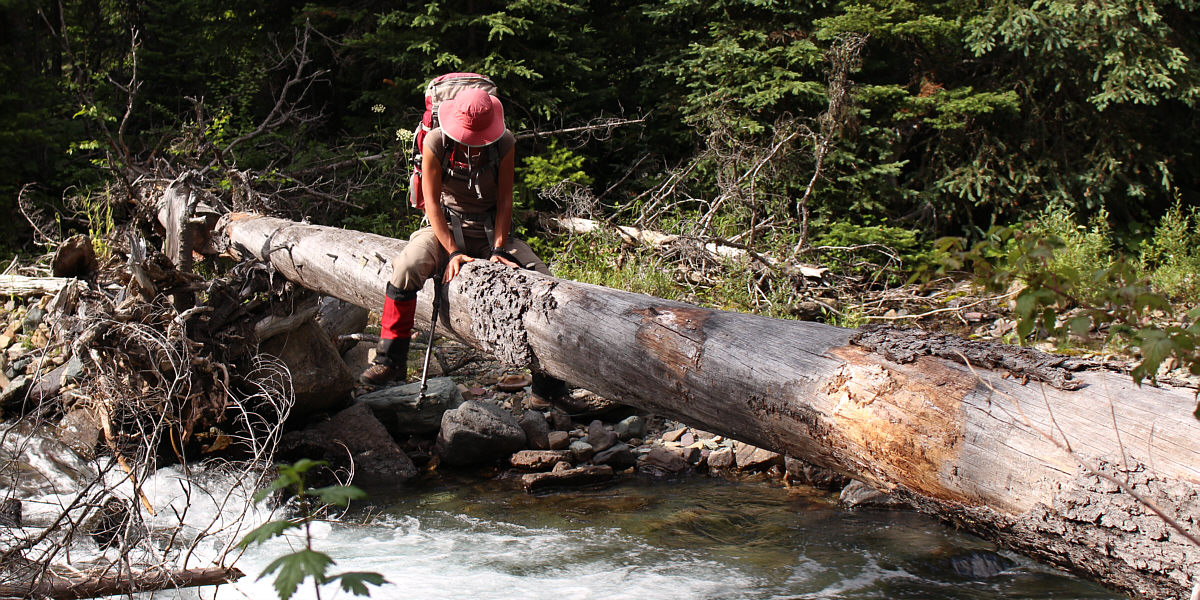 Zosia crosses the creek on a log au cheval.
Walking in the creek is almost preferable to all the bushwhacking!

Photo courtesy of Kevin Starozik

The group stops for dinner at a mysterious old campsite (flagging and bench nearby but no obvious access).

Photo courtesy of Kevin Starozik

After dinner, Sonny gets back to more bushwhacking.

Photo courtesy of Zosia Zgolak

After setting up their bivouac site, Zosia and Sonny hope that they will be able to make it up to the gap in the ridge (Bennett Pass) the next day.

Photo courtesy of Kevin Starozik
Getting up in the wee hours of the morning of 20 July 2016, Kevin, Zosia and I ate a somber breakfast in the dark before quietly packing up our camp. At 5:49 AM, we began our ascent of the side creek emanating from Bennett Pass. The lower reaches of the side creek were surprisingly dry, and this helped us get off to the good start we needed. Further up, increasing amounts of water forced us to leave the creek for good, but we continued grinding our way up the adjacent slopes. Some of the bushwhacking here was just as bad if not worse than what we endured the previous day, but little by little, we could sense that there was light at the end of the proverbial tunnel. At one point, we encountered a large cliff band running across the slope, but we all managed to surmount it with some difficulty. Climbing higher, we entered more moderate terrain until we eventually intersected the trail from Bennett Pass. After spending nearly 23 hours in some of the worst bush in the Rocky Mountains, we all felt immense relief at finding this excellent trail. As a bonus, we came across a natural spring shortly thereafter and were able to replenish our water bottles.

Upon reaching Bennett Pass, we all ditched some of our gear and hiked up the high point immediately to the west. Zosia refers to this high point as Bennett Peak (0.7 kilometres one-way and 218 metres elevation gain from the pass). After this short detour, we climbed a short way up the east side of Bennett Pass to reach the Wall Lake trail junction. From there, we descended to Wall Lake and subsequently hiked over Akamina Pass to its namesake trailhead. We arrived early enough to catch the 4:00 PM shuttle bus back to Waterton townsite where we were dropped off just across the street from my car. After changing into fresh clothes and phoning Canada Border Services Agency to report that we were all back in Canada, we walked to the main drag in the townsite to get some food and refreshments before heading home.

Kevin and Sonny eat breakfast quietly in the dark.

Photo courtesy of Zosia Zgolak

Zosia and Kevin follow the side creek up the slope.
Kevin's face says it all.

Photo courtesy of Zosia Zgolak

Kevin has some difficulty squeezing under a log.
Sonny and Zosia arrive at Bennett Pass.

Photo courtesy of Kevin Starozik

Kevin and Zosia start up the ridge to Bennett Peak.
The ascent of Bennett Peak is very easy hiking.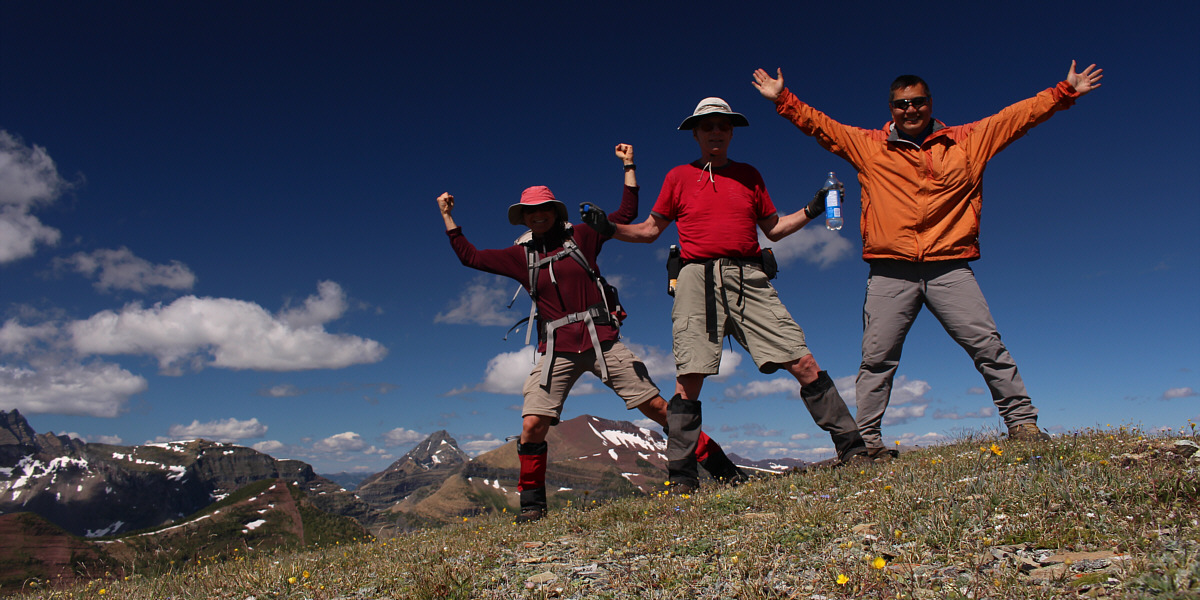 Zosia, Kevin and Sonny celebrate their escape from North Kintla Creek on the summit of Bennett Peak (2430 metres).
The view south includes Mount Carter, Rainbow Peak, Mount Peabody, Agassiz Glacier and Kinnerly Peak.
Long Knife Peak garners all the attention to the southwest.
Mount Blakiston and Mount Lineham are visible to the northeast.
To the east are Buchanan Ridge, Mount Carthew and Mount Alderson.
Akamina Ridge stretches away to the southeast.
This hidden tarn below Bennett Pass is only visible from Bennett Peak's east ridge.
Zosia and Kevin snooze in the warm sun at Bennett Pass.
Here is a more comprehensive view of Bennett Peak from the trail junction between Akamina Ridge and Wall Lake.
Zosia and Kevin stop to sample some wild chives on their descent to Wall Lake (centre).
Akamina Ridge towers over Wall Lake.
Kevin and Zosia enjoy some well-deserved comfort food in Waterton townsite.

Photo courtesy of Zosia Zgolak
It is highly unlikely that anyone will ever hike the Zgolak Loop like we did, and in truth, nobody really should. If I were to do this again, I would pay for a boat ride to Goat Haunt and then hike and stay the first night at Hole-in-the-Wall campground. I would then either do a day hike over Boulder Pass or move to its namesake campground for the second night. A hike to the top of Boulder Peak should not be missed either way. Finally, I would return to Goat Haunt the same way and take the boat back to Waterton townsite. Bennett Peak can easily be visited on a separate day trip via Wall Lake and Bennett Pass.

Having said all that, I am still proud to have shared this zany odyssey with two hardened hiking veterans in Kevin and Zosia. Though it is taken slightly out of context here, the final line from Dickens's A Tale of Two Cities still sums up how I felt after completing the Zgolak Loop: "It is a far, far better thing that I do, than I have ever done; it is a far, far better rest that I go to than I have ever known."

Total Distance: 77.2 kilometres
Total Time: 77 hours 51 minutes
Total Elevation Gain: 2300+ metres