BOU AVENUE
Kettle Valley Railway
---
Zosia Zgolak and I cycled parts of the famed Kettle Valley Railway (KVR) while staying in Penticton, British Columbia over an extended long weekend. On the morning of 11 June 2017, we started cycling right from our hotel on Main Street and headed for Skaha Beach at the south end of the city. At the west end of the beach, we muddled our way through a private campground before finding a good trail running along the west shore of Skaha Lake. I had previously ridden this trail from Penticton to Okanagan Falls, and just as before, the ride was both easy and very scenic. My recollections of the route were a bit hazy as we navigated through the private residences near Okanagan Falls, but good signage throughout prevented us from getting lost. After stopping for a break at Lions Gardens, we made our way to the east side of Skaha Lake and headed back to Penticton along Lakeside Road. This road was fairly busy on this day especially with a lot of motorcycles mostly going the other way, but all the motorists were courteous enough to give Zosia and me enough space to cycle safely. Back in Penticton, we cycled north on Main Street through downtown and stopped for lunch on the south shore of Okanagan Lake.

Although it was tempting to just lounge by the lake for the rest of the day, we eventually got moving again and cycled north on the KVR through the vineyards northeast of Penticton. The trail climbs steadily from the city, but the grade is so gentle as to be almost imperceptible. The constant peddling to maintain momentum did wear on us though, and we considered turning around at Arawana Station near Naramata. Fortunately, we found a second wind after a short break and pushed on further to the feature known as Little Tunnel before calling it a day. The downhill ride back to Penticton was very enjoyable. Although Zosia claimed that she still had to peddle in a few places, I was able to just let my bicycle roll on its own to pick up speed, and yet, I never went fast enough to warrant applying my brakes except at the occasional road crossing. We made a lengthy stop at Hillside Winery and Bistro where Zosia generously treated me to a fine dinner, and when we resumed riding, we avoided downtown Penticton by following the KVR all the way to where it crosses Main Street just north of Nelson Avenue. Back on Main Street, we made one more detour to the grocery store at Cherry Lane Shopping Centre before returning to our hotel to end our ride for the day.

Zosia is all set to ride out from her hotel in Penticton.
Sonny rides past an empty Skaha Beach.

Photo courtesy of Zosia Zgolak

After winding through a private campground, Zosia finally gets on the KVR.
Some geese float by on Skaha Lake.
Sonny is enjoying the ride along the west side of Skaha Lake.

Photo courtesy of Zosia Zgolak

Zosia is shocked by this sign near the bathroom building at Banbury Green RV and Camping Resort.
Sonny arrives at the remnants of historic Kaleden Hotel.

Photo courtesy of Zosia Zgolak

Zosia rides on a trestle across the outflow of Skaha Lake.
Sonny and Zosia stand on the south shore of Skaha Lake in Okanagan Falls.
On her way back to Penticton, Zosia holds up traffic on Lakeside Road.
Sonny would have missed seeing this deer had Zosia not pointed it out to him.

Photo courtesy of Zosia Zgolak

The south shore of Okanagan Lake is apparently popular with Canada geese.
Sonny rolls along the KVR through vineyards northeast of Penticton.

Photo courtesy of Zosia Zgolak

Zosia rides across McCulloch Trestle which was built in 2002.
Fatigued, Sonny contemplates turning around at Arawana Station.

Photo courtesy of Zosia Zgolak

Zosia continues to grind her way up the KVR.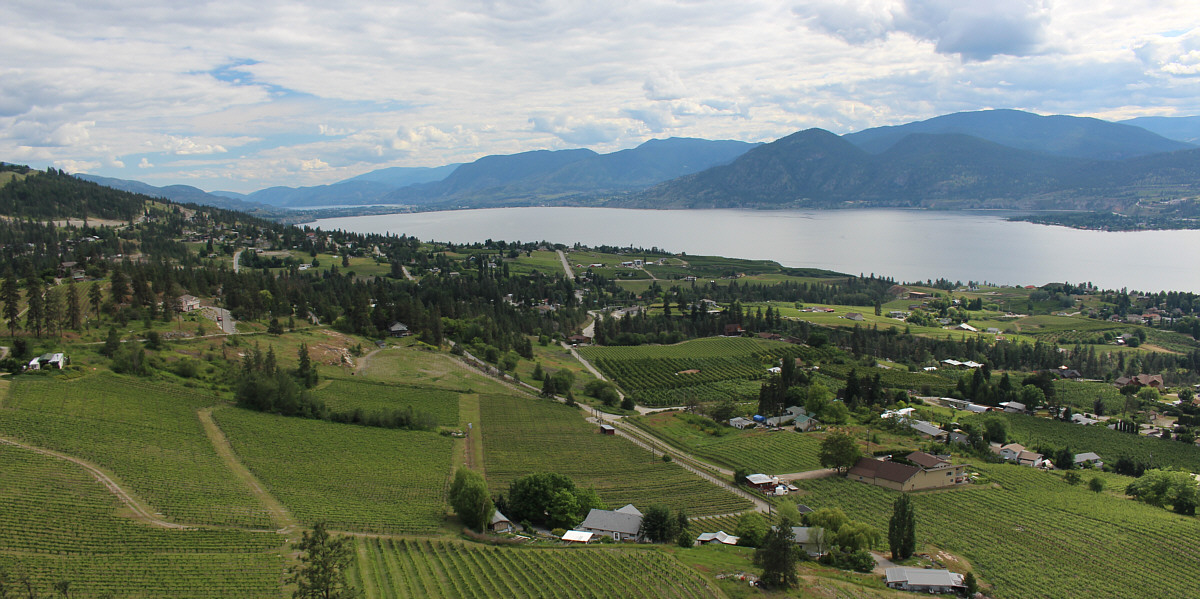 Vineyards and orchards dominate the landscape near Naramata. At right across Okanagan Lake is Mount Nkwala, and Skaha Lake is visible at distant left.
| | |
| --- | --- |
| | Zosia rides into the Little Tunnel (681 metres). |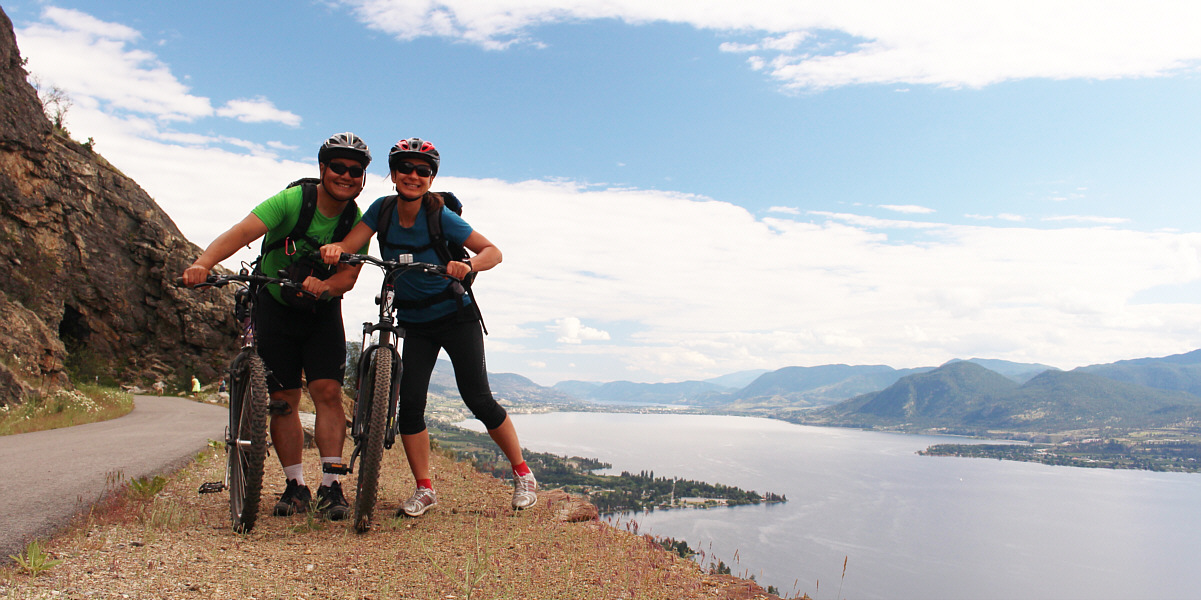 Sonny and Zosia make the Little Tunnel their turnaround point for the day.
There is a parking lot a little further north of here, and it is likely that this part of the KVR is paved to accommodate wheelchair access.
Zosia and Sonny commence their glorious downhill ride back to Penticton.
Hillside Winery and Bistro is a popular spot for dinner on this day.
Total Distance: 78.8 kilometres
Round-Trip Time: 11 hours 11 minutes
Net Elevation Gain to Little Tunnel: 364 metres
Myra Canyon, just southeast of Kelowna, British Columbia, is the high point, both literally and figuratively, of the KVR. The canyon is famous for its 18 trestle bridges which are popular with hikers and cyclists. Zosia and I had intended to cycle through Myra Canyon on 12 June 2017, but I felt that starting from Ruth Station or Myra Station, the trailheads at opposite ends of this section of the KVR, would make for too short of an outing (about 11 kilometres and 50 minutes to cycle one-way according to Google Maps). Instead, we started cycling from Chute Lake Resort which is about 26 kilometres west of Ruth Station (about a 1.5-hour ride one-way). Furthermore, the KVR is almost flat for this entire stretch, and despite the added length, Zosia and I both anticipated a fairly easy ride. The drive from Penticton to Chute Lake Resort takes about 50 minutes, and although I could have driven further along the KVR, I decided to park at the resort ($5.25 fee including tax) for the added security and also for the privilege to use their bathroom.

When Zosia and I finally left the resort and started cycling along the KVR, we were dismayed to find the gravel surface to be sandier in comparison to what we had experienced the day before riding near Naramata. It often felt like we were riding through molasses, and although

the grade was utterly flat, we found it difficult to maintain our forward momentum. Our easy ride soon turned into a long, slow grind, and the only things that kept us motivated were the occasional far-reaching views of Okanagan Lake and the promise of much more enjoyable riding in Myra Canyon. The long trestle bridge at Bellevue Creek provided a nice preview of what was to follow in Myra Canyon, but there would be another long uninspiring stretch before we reached Ruth Station. Just before reaching the parking lot for Ruth Station, I witnessed a fairly big black bear run across the KVR. It disappeared into the forest before I had a chance to take a photograph, but this was a good reminder for us to remain vigilant while cycling the KVR.

The ride from Chute Lake Resort had taken us a whopping three hours, and we were already quite weary by the time we stopped for a much-needed lunch break at trestle bridge #1. Myra Canyon was truly the highlight of the day, and much of our fatigue was forgotten once we started riding across the numerous trestle bridges. Upon arriving at Myra Station, we were disappointed that there was no ice cream stand and promptly turned around to begin our long ride back to Chute Lake Resort. Numbingly monotonous would be an apt description of our return journey once we exited Myra Canyon, and because we had underestimated how long this trip would take, we also began to run low on water and food. Fortunately, we seemed to make better progress on our way back perhaps because we were getting more adept at riding on the rough surface of the KVR. We eventually rolled into Chute Lake Resort late in the day, and the elder lady who sold us our parking permit came out to express her relief since she was getting a bit worried about us. We subsequently loaded our bicycles into my car and then drove back to our hotel in Penticton where we enjoyed a hot shower before devouring a delicious dinner prepared by Zosia.

Sonny cradles the resident cat at Chute Lake Resort.

Photo courtesy of Zosia Zgolak

Zosia scrambles onto a big rock beside Chute Lake.
Zosia gets past the first mud hole of the day on the KVR.
Zosia rides over a Texas gate along the KVR.
Sonny pauses beside Lebanon Lake.

Photo courtesy of Zosia Zgolak

Sonny stays dry by skirting along the edge of this big puddle.

Photo courtesy of Zosia Zgolak

This part of the KVR is shared with motorized vehicles.
A clearing along the KVR grants this unobstructed view of Okanagan Lake and Kelowna.
Zosia rides across the trestle bridge over Bellevue Creek.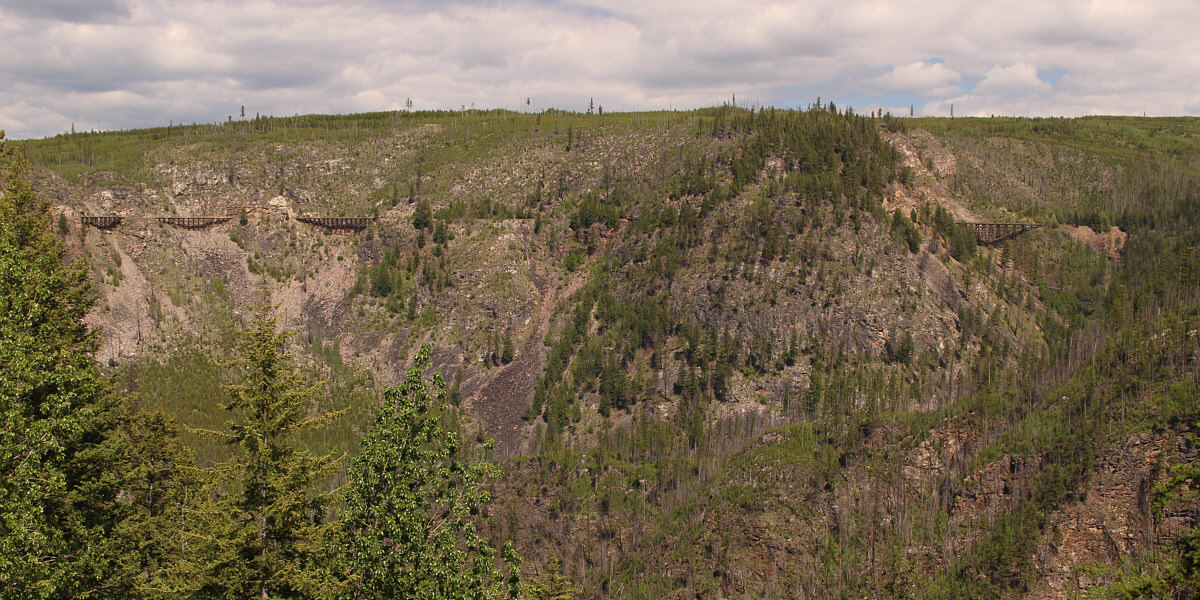 Four trestle bridges can be seen in this view across Myra Canyon.
In Myra Canyon, there are a couple of huts like this one which provide shelter from the elements as well as tools for bicycle repair.
Zosia rides across trestle bridge #4.
At 220 metres long and 55 metres high, this is the largest trestle (#6) in Myra Canyon. It spans across Pooley Creek (formerly known as West Fork Canyon Creek).

Photo courtesy of Zosia Zgolak

Zosia enters the first of two tunnels along the KVR in Myra Canyon.
The high point (1273 metres) of the entire KVR is at the other end of this trestle bridge (#11).
Sonny emerges from the second tunnel.

Photo courtesy of Zosia Zgolak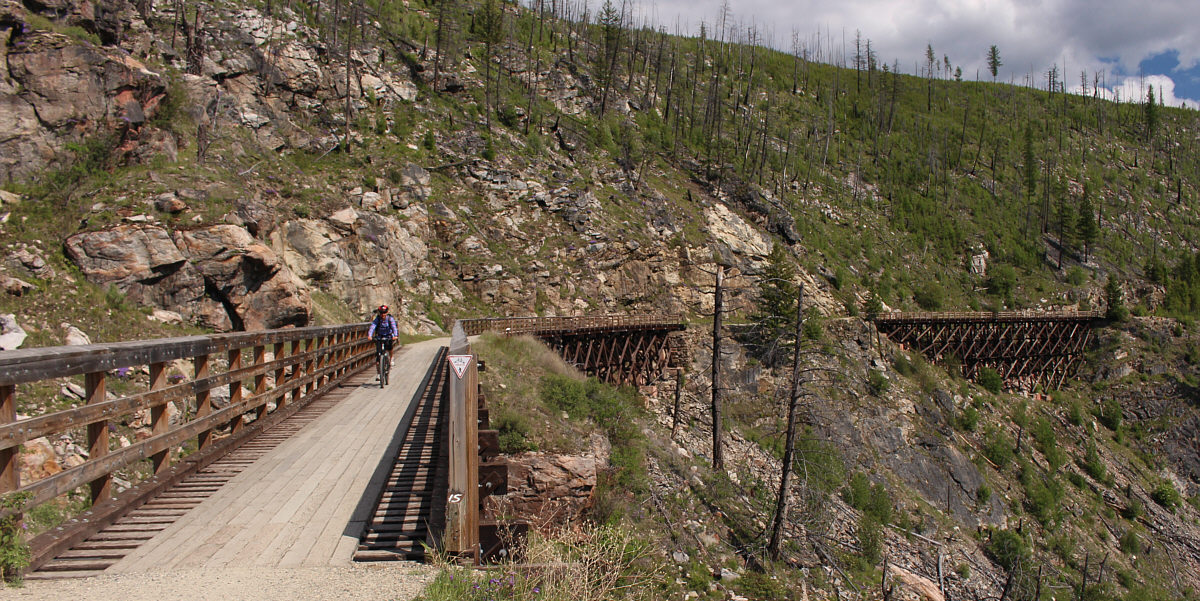 Zosia crosses trestle bridge #15.
Sonny and Zosia reach their turnaround point at Myra Station (1263 metres).
Zosia crosses trestle bridge #18 on the return ride.
Some rabbits venture onto the KVR in the early evening.
Here is a close-up of one of the rabbits on the KVR.

Photo courtesy of Zosia Zgolak

These columbines grow alongside the KVR not far from Chute Lake.
Total Distance: 74.0 kilometres
Round-Trip Time: 8 hours 48 minutes
Net Elevation Gain to Myra Station: 63 metres