BOU AVENUE
Iron Ridge
---
On 22 April 2018, Rafal (Raff) Kazmierczak, Marta Wojnarowska, Zosia Zgolak and I headed to the Crowsnest Pass area of southwest Alberta in hopes of hiking up some low hills near Hillcrest Mountain. Unfortunately, the access road was still snow-bound, and we had to abandon our attempt well before reaching the trailhead. Instead, we went with our backup plan to hike up lowly Iron Ridge just west of the town of Coleman. We parked my car on a patch of grass at the northwest corner of the intersection between 61 Street and 22 Avenue.

We initially started walking westward along 22 Avenue which abruptly ends at some private residences. I initially felt a little uneasy about walking up what appeared to be someone's driveway, but a resident that was outside gave us a friendly wave as we walked past their house and into the forest beyond. After an initial steep grunt, we gained the crest of the ridge and enjoyed a fairly easy hike northward to the high point. Snow patches on the ridge were either easy to avoid or easy to walk on without much post-holing. While Marta, Zosia and I continued down the north end of the ridge with intentions of carrying on to Wedge Mountain, Raff had already previously hiked there and was not interested in repeating the ascent. He offered to return the way we came and then drive my car up the road (63 Street) which parallels Iron Ridge on its east side to pick us up.

Descending the north end of Iron Ridge, Marta, Zosia and I encountered increasing amounts of snow in the trees, and we endured more bushwhacking and post-holing than we would have liked before reaching the aforementioned road. Upon reaching the road, it suddenly dawned on both Marta and Zosia that they too had already hiked up Wedge Mountain before. Although they offered to repeat the ascent with me, I was feeling rather lazy and opted to simply return along the road until we met up with Raff in my car. As it turned out, we hiked almost all the way back along the road before reuniting with Raff.

We subsequently stopped for lunch at the Rum Runner Restaurant & Pub in Coleman, and we stopped again for ice cream at Grillo's Pizzeria in Black Diamond. Returning to Calgary, we still had lots of energy and finished the day by playing some foursome ping-pong in the basement of Raff's house.
| | |
| --- | --- |
| | Marta, Raff, and Zosia hike along 22 Avenue which appears to be a private driveway. |
| | Marta and Zosia gain the top of the ridge after a short but steep climb. The low bump at left is Saskatoon Mountain. |
| | Raff, Zosia and Marta hike along the crest of the ridge. |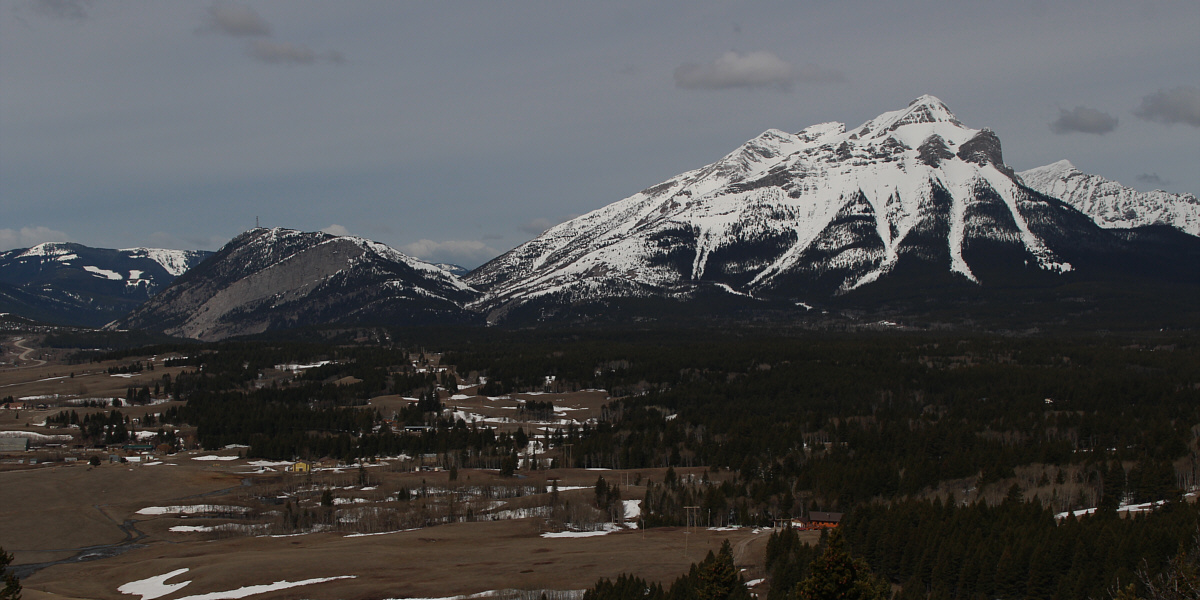 Already, there are good views of Crowsnest Ridge and Mount Tecumseh to the west.
| | |
| --- | --- |
| | Zosia, Marta and Raff hike on the snow which is still supportive. |
| | Marta, Zosia and Raff approach the high point of Iron Ridge. The forested bump on the right is Wedge Mountain while at distant left is Crowsnest Mountain. |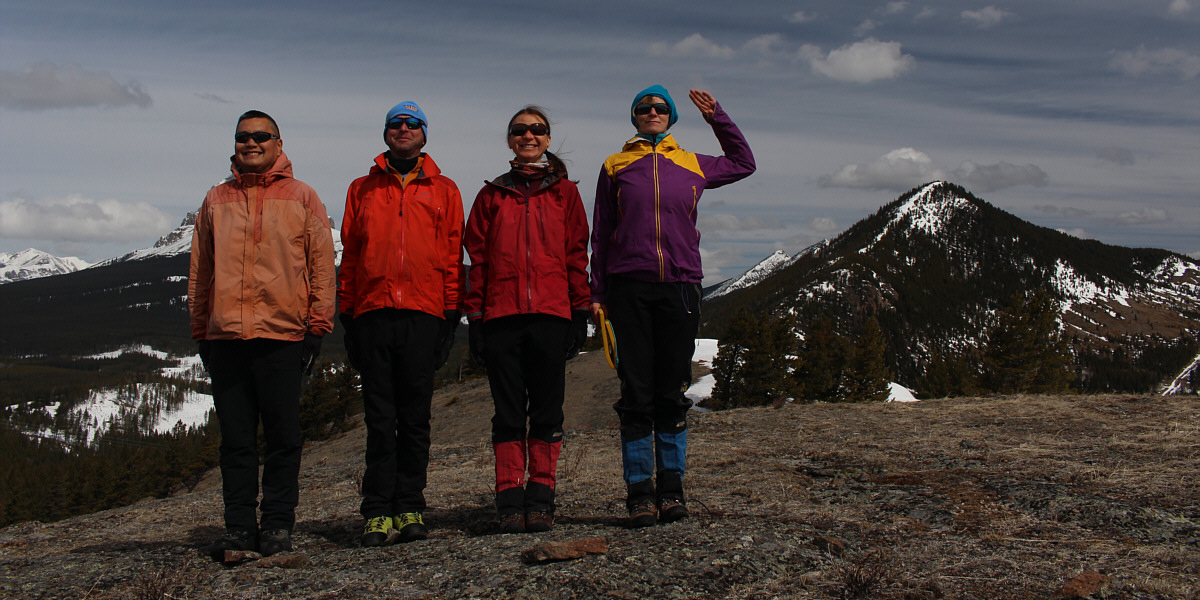 Standing at attention on the high point of Iron Ridge (1605 metres) are Sonny, Raff, Zosia and Marta.
| | |
| --- | --- |
| | Raff has perfected his head stand! |
| | Turtle Mountain and Hillcrest Mountain span the southeast horizon. |
| | The peaks that are visible to the southwest include Mount Coulthard, Mount McLaren, Andy Good Peak, Mount Parrish, Chinook Peak and the two peaks of Sentry Mountain. |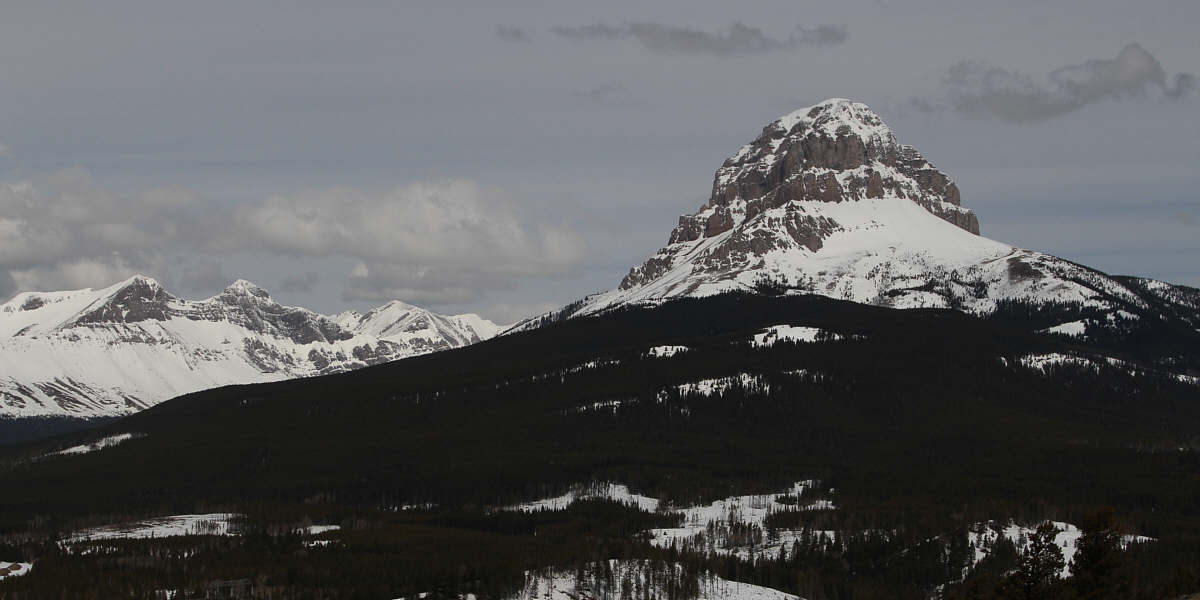 Here is another look at Crowsnest Mountain to the northwest.
Wedge Mountain seems like a logical extension for the hike up Iron Ridge.
Marta and Zosia do some post-holing at the north end of Iron Ridge.
Marta and Zosia head back to Coleman along 63 Street.
Zosia and Marta are greeted by two very friendly donkeys along 63 Street.
Sonny tries to convince one of the donkeys to give him a ride back to his car!

Photo courtesy of Zosia Zgolak

The group has lunch at the Rum Runner Restaurant & Pub.
Total Distance: 5.8 kilometres
Round-Trip Time: 2 hours 55 minutes
Net Elevation Gain: 241 metres