BOU AVENUE
Parker Ridge
---
Mike Lisenko, Zosia Zgolak and I skied up Parker Ridge in Alberta's Banff National Park on 24 December 2018. Despite the "Considerable" avalanche danger forecast, we felt confident enough about the safety of our chosen route to venture onto the popular ridge which has claimed a few lives in the past. The route we chose is described in Chic Scott's Ski Trails in the Canadian Rockies and starts behind Hilda Creek Hostel where we all stayed the previous night. Following an already broken trail, we quickly climbed out of the trees and onto the open slopes above the hostel. Wind had already scoured these slopes, and we could see rocks protruding in some spots. The snow pack was also crusty but felt really stable. We trended eastward as we climbed higher and eventually crossed a shallow gully before climbing up to a high point marked by two snow-covered wind breaks. Although this is not the true summit of Parker Ridge, we were quite content to enjoy the spectacular views from this high point before turning around and skiing back the same way we came. While the skiing above tree line was marginal at best, things improved once we got back into the trees above the hostel. We probably could have done some yo-yoing here, but given the frigid temperatures and the fact that it was Christmas Eve, we simply skied back to the hostel to pack up before returning home.
| | |
| --- | --- |
| | The morning sun lights up Mount Athabaska through the trees as Mike and Zosia climb up Parker Ridge. |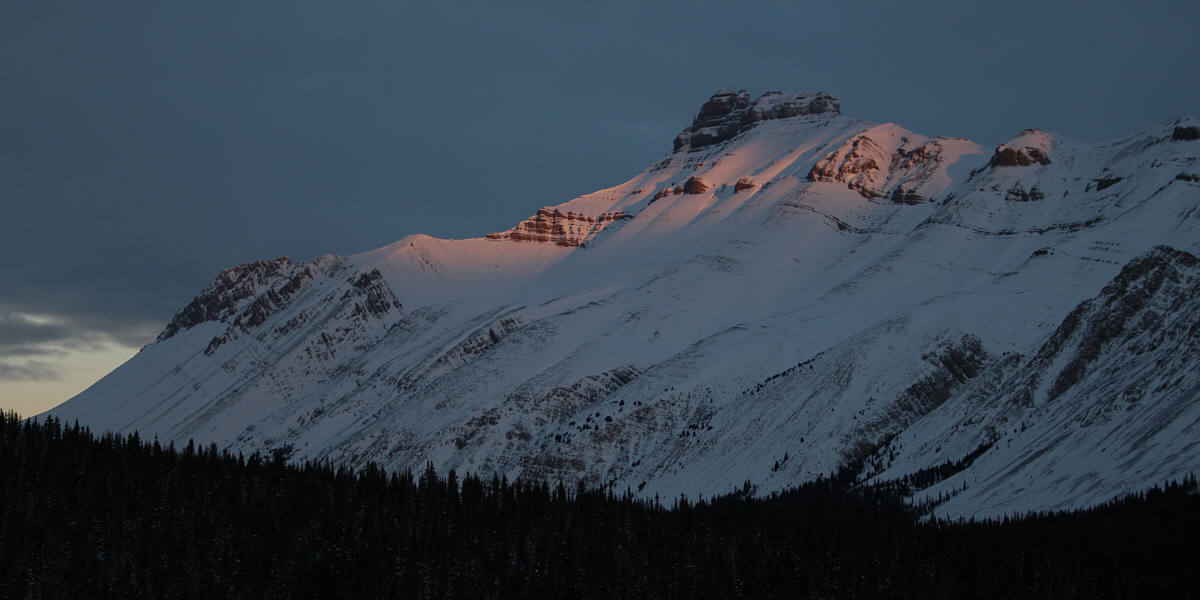 Parts of Nigel Peak glow in the light of dawn.
| | |
| --- | --- |
| | The trees begin to thin out as Zosia and Mike climb higher up the ridge. |
| | Sunlight dances on the tops of Mount Athabaska (left) and Hilda Peak. |
| | Parts of the slope are windswept as Zosia and Mike continue to climb higher. At centre in the distance is Mount Wilcox. |
| | Zosia and Mike make their way toward one of Parker Ridge's high points at left. |
| | Getting to the high point (right) entails crossing a shallow gully. |
| | Zosia clears the shallow gully and resumes climbing. |
| | Zosia follows Mike up the ridge below the high point. |
| | Zosia carefully negotiates the windswept ridge crest. Cirrus Mountain is visible at far left while Mount Coleman is the diminutive peak at centre. |
| | Zosia, Mike and Sonny rejoice on the high point (2338 metres). |
| | Parker Ridge is essentially the extended east ridge of Mount Athabaska (right of centre). |
| | Mount Wilcox and Nigel Peak stand prominently to the northwest. |
| | This is looking east toward another high point along Parker Ridge. |
| | Mount Bryce and Castleguard Mountain are visible in the distance through the gap to the southwest. |
| | Zosia follows Sonny's tracks down the ridge. |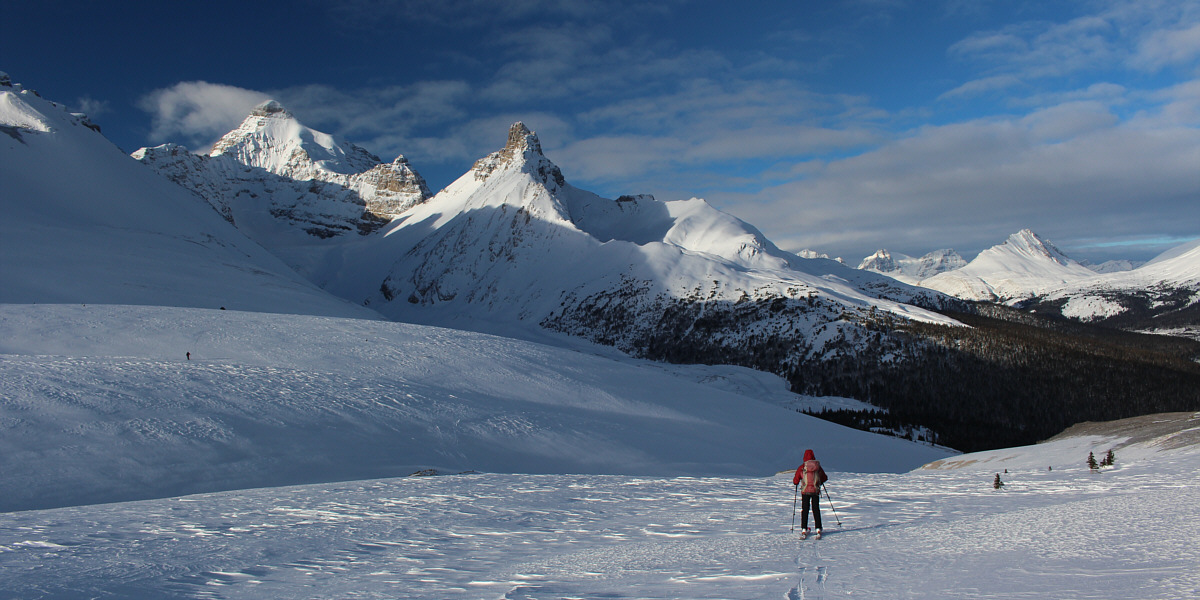 Zosia makes her way back down the ridge. Mike is visible at left on the other side of the shallow gully.
Mike and Zosia ski down a crusty slope en route to Hilda Creek Hostel.
Total Distance: 4.9 kilometres
Round-Trip Time: 3 hours 8 minutes
Net Elevation Gain: 306 metres