BOU AVENUE
St. Eloi Mountain
---
Hoping to avoid rainy weather forecasted for much of the Canadian Rockies on 9 June 2018, Asieh Ghodratabadi, Ali Shariat, Zosia Zgolak and I headed to Alberta's Castle Wildland Provincial Park to scramble up St. Eloi Mountain. As per the route described in Andrew Nugara's More Scrambles in the Canadian Rockies, we started from a grassy pullout along Highway 774 about 23 kilometres west of Beaver Mines General Store. After about 2.5 kilometres of easy walking on a good trail, we turned right and headed up a very obvious rocky drainage. Initially, this drainage was delightful to hike up, but as we climbed higher, steep embankments and lingering snow patches made it increasingly more difficult to progress upwards. As it turned out, we climbed much higher up the drainage than we probably should have before realizing that we were veering off Nugara's route. We promptly left the drainage to climber's left and bushwhacked up some very steep and loose terrain before reaching more moderately angled slopes. Some easy hiking finally led us to the crest of the connecting ridge between Syncline Mountain and St. Eloi Mountain.

Brisk winds buffeted us as we followed the undulating ridge over an unnamed hump and then up the east ridge of St. Eloi Mountain. Travel was nevertheless easy, and the wind was surprisingly light at the summit.

For our return trip, we retraced our steps back down the east ridge to the col separating St. Eloi Mountain and the aforementioned hump.
St. Eloi Mountain (right) is visible from a clearing near the trailhead.
Asieh, Ali and Zosia head up a rocky drainage which is the access point for St. Eloi Mountain.
The group bypasses a cascade in the drainage.
Another cascade further up the drainage is a little more challenging to get by.
The group encounters steep embankments and lingering snow patches further up the drainage.
Travel up the drainage becomes more unpleasant as the group encounters avalanche debris and suspect snow bridges.
Asieh and Ali climb up steep slopes after leaving the drainage. Behind them is the first peak of Syncline Mountain.
Asieh, Ali and Zosia gain the crest of the connecting ridge between Syncline Mountain and St. Eloi Mountain.
The group hikes toward an intervening high point (right) along the connecting ridge. At distant far left is Tombstone Mountain.
The group loses some elevation from the intervening high point as they approach the main bulk of St. Eloi Mountain. The slope at bottom left would be the group's eventual route of descent.
The group climbs up the northeast ridge of St. Eloi Mountain.
This is looking back at the intervening high point along the connecting ridge.

Photo courtesy of Zosia Zgolak

Ali watches as Asieh and Sonny take the last few steps before the summit.

Photo courtesy of Zosia Zgolak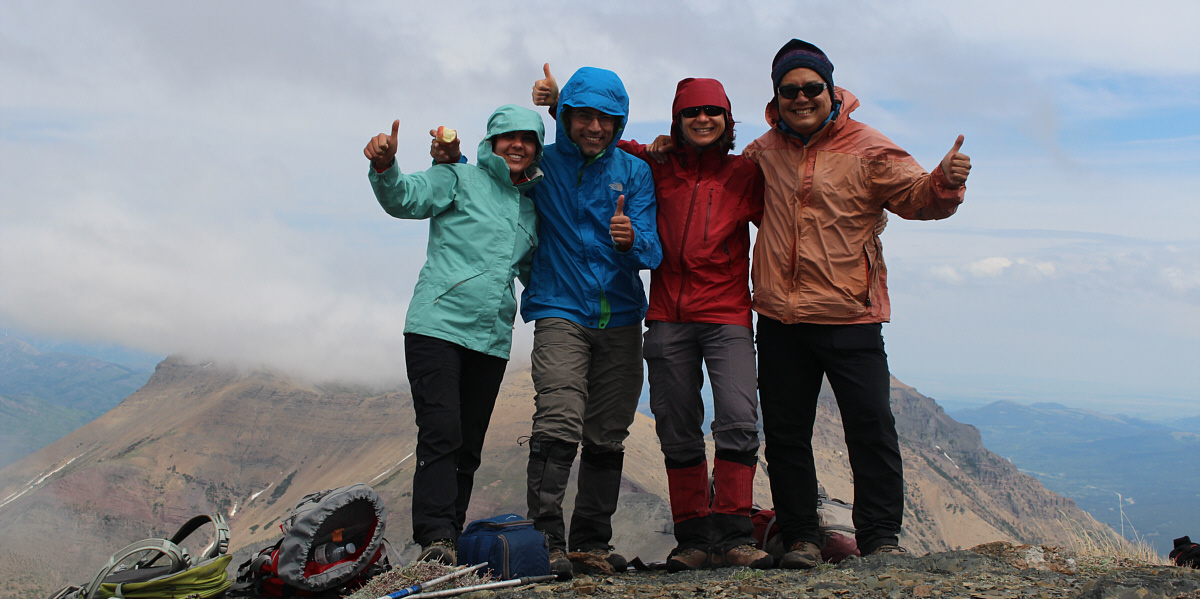 Asieh, Ali, Zosia and Sonny stand on the summit of St. Eloi Mountain (2497 metres).

When Nugara climbed St. Eloi Mountain in 2006 with Linda Breton, they went back along the connecting ridge because he wanted to check out an alternate route to Syncline Mountain's second peak. They ended up descending the same way they came up, and as a result, Nugara makes no mention in his guidebook of the enticing drainage south of the col between St. Eloi Mountain and the unnamed hump. Other scramblers such as Vern Dewit, So Nakagawa and Bob Spirko have since taken this drainage, and all have reported route-finding challenges and bushwhacking to varying degrees of nastiness.

Despite having some idea of what was in store for us lower down in the drainage, Asieh, Ali, Zosia and I were decidedly less enthusiastic about climbing back over the unnamed hump, and we promptly began our descent from the col. The initial drop from the col is very steep and loose, and we spread out a bit to avoid raining rocks down on each other. The angle of the slope eventually eased off a bit, and we were able to plunge-step for awhile down some loose scree and lingering snow patches. Where the vegetation began encroaching on the drainage, we veered to skier's left and started a long descending traverse across the slopes high above Syncline Brook. We followed numerous game trails which would randomly appear and disappear, and occasionally, we had to thrash through patches of nasty alders. Scraping between the branches at least helped to keep persistent mosquitoes at bay! With some perseverance and some good route-finding, we eventually made it back to our ascent drainage and subsequently enjoyed an easy hike back to the trailhead.

Overall, I do not think that the bushwhacking descent was all that bad--I have experienced much worse--but it does add a level of complexity to the trip which might not be fully appreciated by those who go in thinking that St. Eloi Mountain is an "easy" objective.
Zosia retraces her steps down the northeast ridge.
Table Mountain, Southfork Mountain, Mount Gladstone, Castle Peak, Windsor Mountain and Barnaby Ridge are all visible to the east.
An unnamed tarn sits below the connecting ridge to Syncline Mountain at the head of Gardiner Creek.
Ali and Zosia descend into the basin just east of St. Eloi Mountain. Gravenstafel Ridge and Mount Haig are once again visible in the background.
Sonny surfs down some loose scree.

Photo courtesy of Ali Shariat

Zosia takes advantage of some snow patches to descend further down the basin.
Asieh follows Ali down a large snow patch. The connecting ridge is visible above them.
As expected, the bushwhacking is moderate along the group's chosen descent route.
Beargrass is already blooming in the area.
Asieh, Ali and Zosia follow a game trail across a side creek. Unfortunately, there are many such trails above Syncline Brook which look promising for a short distance but ultimately peter out in more thick bush.
Total Distance: 14.3 kilometres
Round-Trip Time: 8 hours 54 minutes
Net Elevation Gain: 1097 metres