BOU AVENUE
Chancellor Peak
---
Grant Myers is an avid peak-bagger who recently contacted me about joining him for the last few peaks he has left to do from Alan Kane's 3rd edition of Scrambles in the Canadian Rockies. I felt some trepidation when Grant suggested that we attempt Chancellor Peak in British Columbia's Yoho National Park on 20 August 2019 mostly because I had not done any strenuous hiking for a month and felt a bit out of shape. However, the favourable weather forecast and the fact that I had a weekday off from work made it hard to turn down Grant's invitation. That day, we rendezvoused in the wee hours of the morning and drove to the starting point near Hoodoo Creek Campground located along Trans-Canada Highway about 22 kilometres west of Field or 33 kilometres east of Golden.

First off, I cannot overstate how crucial Kane's route description is for the approach to Chancellor Peak. The forested slopes surrounding the base of the mountain are utterly choked with toothpick deadfall, and neglecting the details of Kane's approach can have serious consequences. Admittedly, I had only given Kane's route description a cursory glance when Grant and I set off along the continuation of the campground access road past a vehicle barricade. It is worth noting that Hoodoo Creek Campground used to be much larger, but the majority of the sites were decommissioned some time ago by Parks Canada possibly to allow for a wider wildlife corridor in the area. Soon after passing an old RV dump station, we left the road (which turns eastward) and headed south across a large, scrubby clearing. At the far side of this clearing, we entered forest and quickly got our first taste of some of the heinous bushwhacking that would dog us much later. Kane mentions to "continue SSE past a lesser drainage until you intercept debris from the next drainage--the big one." I believe we found the lesser drainage but did not go far enough to reach the "big one". It is very likely that we began climbing a bit prematurely, and as such, we ran into some more unpleasant bushwhacking. Although we eventually merged with Kane's route going up a timbered ridge, the extra bushwhacking definitely slowed us down, but even more importantly, our more arduous approach may have influenced our decision-making later on with respect to route choices. Had our approach been less problematic, we may have been less inclined to abandon the same route on descent (more on this later).
| | |
| --- | --- |
| | Grant sets off across a "clearing" littered with deadfall after leaving the old campground road. |
| | Here is Chancellor Peak (left) as seen from the clearing. Alan Kane's ascent route initially follows the timbered ridge at right. |
| | Grant carefully walks on a downed log in the forest. |
Grant and I made better progress higher up the timbered ridge, and we even found a bush-free gully which led us without hassle to the base of some cliffs near tree line. Here, we veered to climber's left until we spotted a reasonable weakness in the cliffs to climb up. Although not technically difficult, the terrain here is a complicated mix of rocky ribs and loose gullies, and route-finding can be a bit tricky. The general idea is to ascend and traverse to climber's right where feasible. Route beta from the notable Red Deerian, Doug Lutz, indicated that Kane's key traverse into the main ascent gully was at an elevation of approximately 2400 metres, and we found it just as promised. The traverse actually begins with a 50-metre drop down a very loose chute, and we descended one at a time to avoid raining rocks onto each other. Before reaching the bottom of the chute, we escaped to skier's left on a mildly exposed beaten path which enters the obvious main ascent gully. Some standard scree bashing ensued as we climbed up to a snow bridge at the base of a waterfall. On this day, this waterfall was the only reliable spot for replenishing our water bottles along the entire route. The headwall beside the waterfall is very steep, but the rock is generally reliable. Above the waterfall, we resumed slogging up more treadmill scree in the upper reaches of the main ascent gully. There was still a large snow patch here, but we avoided it for the time being.
| | |
| --- | --- |
| | Grant pauses for a moment while ascending the timbered ridge. |
| | Here is a view of the upper mountain from the timbered ridge. |
| | Grant continues to climb the timbered ridge on bits of rudimentary trail. |
| | This convenient gully on the timbered ridge is largely free of deadfall. |
| | Near tree line, Grant wanders to climber's left to find an access route to the upper mountain. |
| | Grant scrambles up the access route to the upper mountain. |
| | Grant traverses over to another gully (not the main ascent gully) en route to the upper mountain. |
| | The loose rocks in this gully are very tedious to ascend. |
| | Grant descends a very loose and steep chute in order to traverse to the main ascent gully. |
| | Grant enters the main ascent gully. |
| | Grant is about to pass under a snow bridge at the foot of a waterfall. |
| | In this view from under the snow bridge, Grant climbs up a very steep section next to the waterfall. |
| | Grant follows the snow patches in the upper part of the main ascent gully. The route eventually heads to the left and ascends steep slabs. |
By now, both Grant and I were feeling quite fatigued, and he eventually stopped to have something to eat before dropping his pack and continuing with only his trekking poles and a water bottle. Due to my poor conditioning, I was climbing much slower, and given the lateness of the day, I was having serious doubts about reaching the summit. Worried that I was slowing him down, I convinced Grant to keep going and not wait for me. I also handed him my GPS unit in order for him to take a summit waypoint in case I did not make it. While I continued to climb up slowly, Grant quickly disappeared above me at the base of some steep slabs guarding the final section before the summit. As tempting as it was to simply sit down and take a nap while waiting for Grant to come back, the thought of going away empty-handed--after all the suffering I had endured and would still have to endure on descent--proved to be too difficult of a pill to swallow. Following Grant's strategy, I shed practically all my gear except for my helmet and cell phone. I did not even bother to carry water, not that I had very much left anyway. In the back of my mind, I figured that I would keep going as best as I could, and if Grant had made the summit and was already descending, I would turn around then.

If the first 2000+ metres of this mountain had not already done so, the final section before the summit definitely earns Chancellor Peak its Kane rating as a difficult climbers' scramble. After dropping my gear, I scrambled up the path of least resistance and was quite pleased to discover a ledge system which gained height from climber's right to left. I eventually emerged onto a vast airy face of down-sloping slabs and loose rocks. Considering how slow I was ascending, I was a little shocked when I spotted Grant still climbing directly above me. He had wandered a little too far to climber's right and was floundering in some very steep terrain. At some point, he even tossed his poles away for good--at least in his mind--in order to make better use of his hands! Somehow, the fact that I was catching up to him a bit reinvigorated me, and I held out hope that I could still make the summit. Instead of following Grant, I tried to steer more to climber's left aiming for what appeared to be a gully just below the summit. Grant had acknowledged my presence by now and was apologetic about sending a few rocks bouncing past me. Knowing that he already had his hands full with where he was scrambling, I told Grant not to worry and reassured him that I would remain vigilant for more rocks coming down. Of course, I had my own challenges with the terrain I was climbing and was not always alert as I had promised. In particular, I was busy working my way up a crack when I heard a rock whiz by me much too late. Before I even had a chance to react, another rock hit me squarely on top of my helmet. Fortunately, the rock that hit me was not big enough to knock me off balance, but I shudder to think what might have happened had it struck me in the face.

I eventually lost sight of Grant again and presumed that he had made it to the summit. As it turned out, I was only about 15 minutes behind him, and as I reached the gully below the summit, Grant popped back into sight above me and gave me an encouraging cheer as I grovelled up the remaining few metres to the top.
| | |
| --- | --- |
| | This is a foreshortened view of down-sloping slabs below the summit (left). The best route heads left of the outlier that Grant (blue jacket) is currently muddling under. |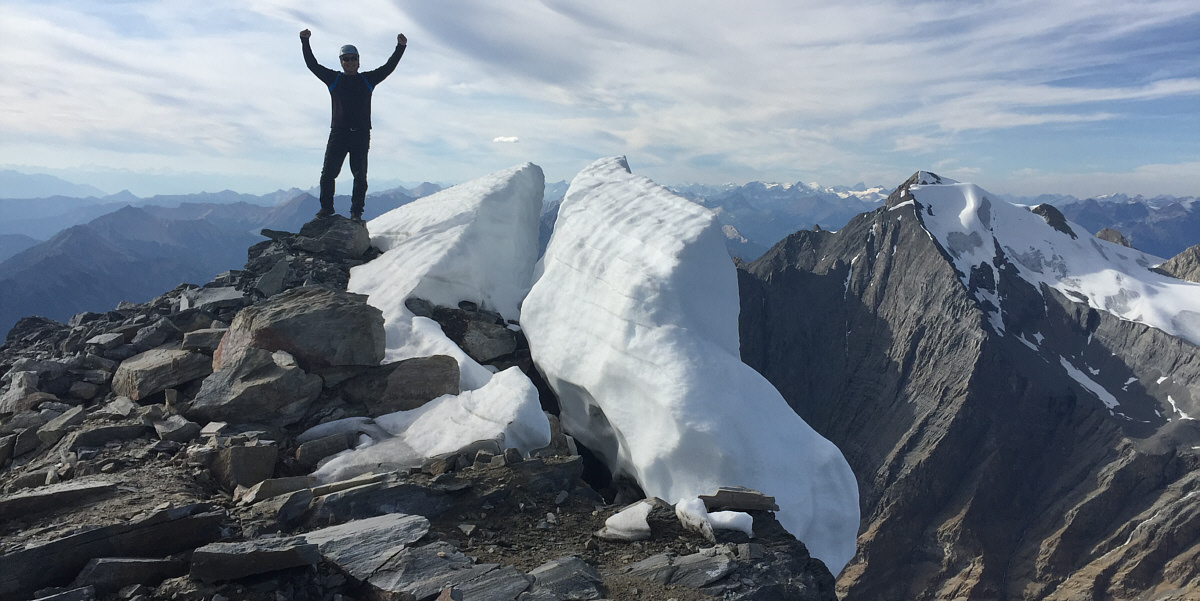 Sonny stands on the summit of Chancellor Peak (3266 metres).
| | |
| --- | --- |
| | Mount Vaux and Hanbury Glacier dominate the view to the north. Note the high tarn under Hanbury Glacier. |
| | The view to the northeast includes many of the big mountains in the Lake Louise area. |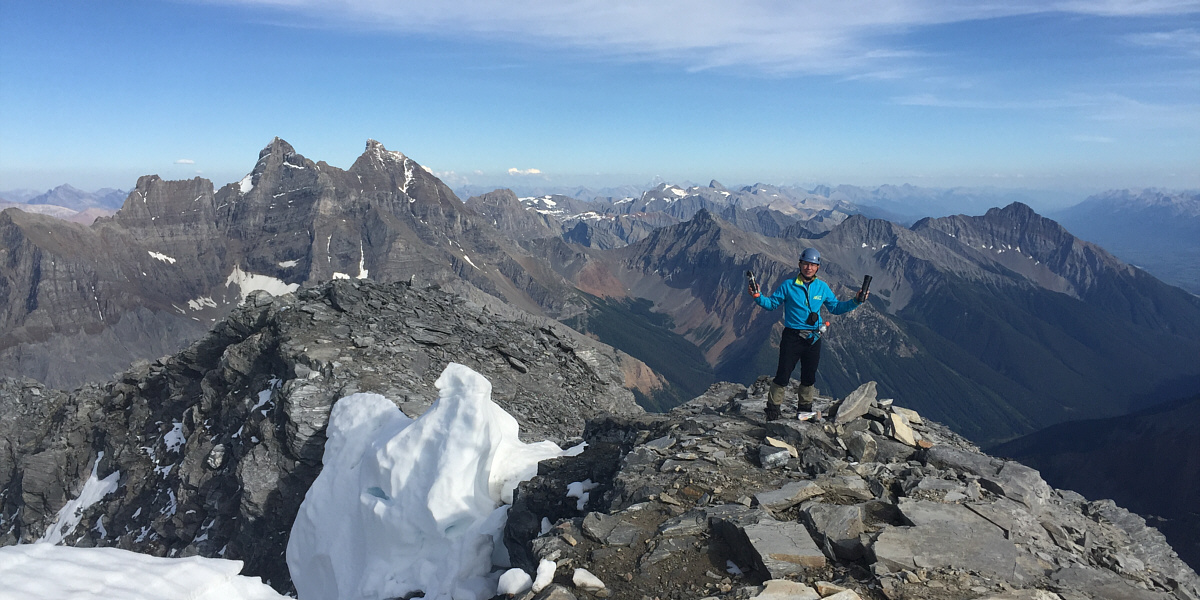 Grant holds up two summit register containers. At left are The Goodsirs.
| | |
| --- | --- |
| | Sonny and Grant take a selfie on the summit of Chancellor Peak. |
It had taken us nearly 12 hours to reach the top of Chancellor Peak, and as joyful as we were to knock this summit off our proverbial peak-bagging to-do lists, the enormity of the long and difficult descent ahead of us was already weighing heavily on our minds. We snapped a few quick photos and signed the summit registers (there are two up there in separate canisters) before promptly dropping down the gully to the difficult slabs below. In several places, we had to descend one at a time again to mitigate rock fall on each other, and relying on friction holds to down-climb some of the slabs was unnerving to say the least. Partway down, I spotted Grant's poles a short distance away, and I managed to retrieve them after traversing across a somewhat sketchy section. Slowly but surely, we slithered down to the aforementioned ledge system and made our way down to the base of the steep slabs without further problems. Back on easier terrain, we both retrieved our packs and then glissaded the large snow patch which we had avoided on the way up. This got us down fairly quickly to the top of the waterfall where we refilled our water bottles before down-climbing the adjacent difficult headwall.
| | |
| --- | --- |
| | Grant begins the long descent. |
| | Grant takes advantage of a lingering snow patch to glissade and rapidly lose elevation. |
| | Grant prepares to down-climb the dauntingly steep section above the snow bridge and next to the waterfall. Note the increased flow in the waterfall. |
Darkness was starting to settle in when Grant and I reached the traverse to get out of the main gully. We donned our headlamps after a rather unpleasant climb up the chute full of treadmill rubble. Route-finding through the next section with the rocky ribs and loose gullies was challenging in the dark even with my GPS, but miraculously, we managed to retrace our steps back to the timbered ridge. Initially, we made good progress down the timbered ridge by descending the bush-free gully, but as we ran into more and more deadfall, trying to stick to the GPS up-track became increasingly difficult. Part of the problem was the limited field of vision provided by our headlamps in the dark. We just could not see far enough ahead to avoid problematic areas before entering them. As such, we expended a great deal of time and energy thrashing through thick bush that I think we otherwise could have avoided from afar. With the knowledge that we still had more nasty bushwhacking ahead of us if we retraced our footsteps, we made the grave mistake of abandoning the GPS up-track and making a beeline for my car. Our rationale in our tired state was that, if we were going to bushwhack one way or another, we might as well take the shortest route back. As I had already stated, had we followed Kane's route description more closely, I think we would have had a much less bushy approach, and consequently, we might have been more keen to stick with the up-track with the promise of easier hiking lower down.

Where we began deviating from the GPS up-track, we only had about 1.4 kilometres to go to reach the edge of the decommissioned section of Hoodoo Creek Campground, but we still had some 600 metres of elevation to lose. Losing these 600 metres would prove to be painfully slow because the bushwhacking through this stretch would be the worst of the entire trip. Toothpick deadfall covered nearly every square metre of ground here, and there was simply no respite from the incredibly tedious maneuvering through endless tangles of logs. More than once, I slipped while walking on a log and fell awkwardly into a mess of nasty undergrowth. After one of these slips, Grant noticed that I had a lot of blood on my right pant leg. I was certain that it was just a minor scratch, but when I inspected the hole in my pants, I noticed a big flap of skin hanging loose with a huge divot in my right leg just below the kneecap. Oddly enough, I did not feel too much pain, but I was also likely in shock. Grant immediately performed first aid by wrapping a couple of shirts around my leg to stop the bleeding. Fortunately, I had not broken any bones and was still mobile, and once I was patched up, we continued grinding through the thick bush.

Grant took the lead after my injury, and he made every effort to ease my suffering by holding back or breaking branches, pointing out potential hazards, or giving me words of encouragement. A recurring mantra for us was that going down or losing elevation was good, but we just seemed to be doing it so slowly. The hours passed by, and it was disheartening to look up every once in awhile and see the headlights on the Trans-Canada Highway still well below us. Dehydrated and exhausted, I felt like lying down and sleeping countless times, but Grant kept us moving steadily through the bush. Somewhere along the way, my ice axe slipped from my pack, and Grant would have lost his too if I had not been following behind him. At one point, we entered what seemed like a promising drainage, but it too proved to be a bushwhacking nightmare. Admittedly, despair began to creep into my tired mind.

The forest seemed like it would never end, but ultimately it did. In the wee hours of the morning, we emerged into the scrubby clearing we had crossed the previous day. Although there was still some difficult ground to cover, we were finally free of the nasty toothpick deadfall. We eventually stumbled onto the same road we had started the trip on, and our suffering was finally at an end. Twenty minutes later, we were back at my car guzzling refreshments from our coolers. When we were sufficiently re-hydrated, Grant drove me to Mineral Springs Hospital in Banff, Alberta where I spent about four hours having my laceration repaired (24 stitches).

I want to thank the emergency medical staff at Mineral Springs Hospital in Banff for their excellent work and professionalism. I owe a huge debt of gratitude to Grant Myers for his patience, understanding and mental toughness. I would probably still be in that hell-hole of a forest if it was not for him. Thank you, Grant!
At the Banff Mineral Springs Hospital, Sonny's severe laceration from a slip while bushwhacking in the dark is revealed in all its glory.
Sonny leaves the hospital after getting 24 stitches and a splint to immobilize his leg.
Total Distance: 20.5 kilometres
Round-Trip Time: 23 hours 43 minutes
Net Elevation Gain: 2234 metres