BOU AVENUE
Sanson Peak
---
With a day off work on 26 February 2019, I invited Dinah Kruze to join me for a little exercise in hiking up Sulphur Mountain trail in Alberta's Banff National Park. I had already hiked this trail on several occasions in the past, but astonishingly, Dinah had never been up on Sulphur Mountain before. Temperatures were very cold when we started hiking from the lower gondola station in the morning, but the bright sun and lack of wind made it feel warmer than it really was. The snowy trail was in great shape for hiking on this day, and there was no need for cleats or even trekking poles. It took us about 2 hours to reach the upper gondola station (elevation gain of over 600 metres) where we took a lengthy break to visit the summit building and warm up. After our break, we expended a little extra effort to hike the connecting boardwalk to the top of Sanson Peak before returning to catch a free gondola ride down the mountain. For all our effort, we rewarded ourselves by driving into the town of Banff and eating a late lunch at Barpa Bill's. Dinah even paid for lunch--thank you, Dinah!
| | |
| --- | --- |
| | Dinah is ready to go at the Banff Gondola parking lot. |
| | Dinah hikes up Sulphur Mountain trail. |
| | Dinah arrives at the upper gondola station about 2 hours after starting out. |
| | Dinah tries to guess what kind of scat she is touching at one of the interpretive exhibits in the summit building. |
| | Sonny relaxes in a Canadian throne on the top floor of the summit building. |
| | Dinah mimics a crystal bear on the observation deck. |
| | Sonny prefers to shake a paw with the crystal bear. |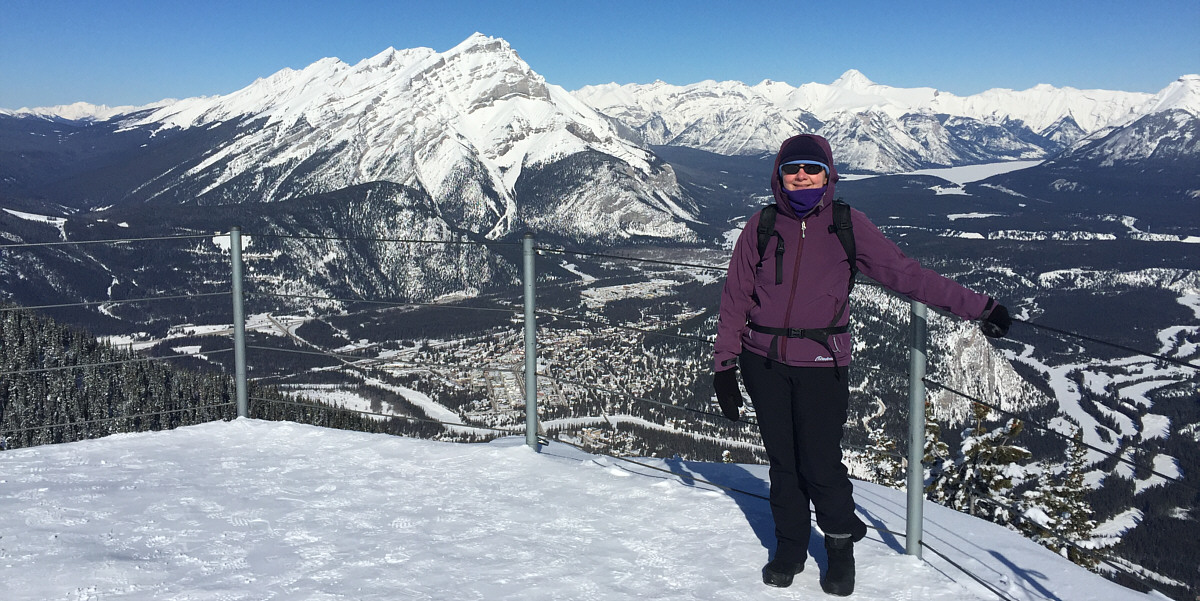 Dinah stands near the top of Sanson Peak with an aerial view of the town of Banff.
| | |
| --- | --- |
| | Sonny never gets tired of this view when the weather is clear. |
| | Dinah seems pleased about riding the gondola down for free (only during winter months). |
| | Dinah holds up her reward for climbing up Sanson Peak--a chicken souvlaki at Barpa Bill's in Banff. |
| | Sonny holds up his reward for accompanying Dinah up Sanson Peak--the famous Barpa Burger. |