BOU AVENUE
Standish Hump
---
Hoping to take advantage of some recent fresh snowfall in the mountains, Zosia Zgolak and I returned to ski at Sunshine Village Ski Resort in Alberta's Banff National Park on 4 May 2019. The weather forecast on this day was a bit unsettled, and consequently, we decided to stay in-bounds and climb up what is officially named as Standish Hump but is more commonly known as Standish Mountain (the name, Standish Ridge, also appears on some older maps). With the snow pack quickly disappearing at lower elevations, we had to boot-pack a short distance from the lower gondola terminal before we could strap on our skis and start skinning up the resort's ski-out. A fairly uneventful climb ensued. We reached Sunshine Village without any issues, and from there, we followed the easy ski runs, Prune Pickers Pass and Creek Run, all the way to the top of Standish Hump which also happens to be the top of the Standish Express Quad chairlift. We encountered a lot of downhill skier traffic while ascending the easy ski runs, but with good visibility and lots of room to manoeuvre, we easily avoided any collisions.
The bottom of the resort's ski-out is in poor condition on this day.

Photo courtesy of Zosia Zgolak

Snow conditions improve further up the ski-out.
Zosia climbs up beside Standish Express Quad chairlift.
Zosia follows the trail markers for Creek Run to the left. Partially visible at right is Twin Cairns.
Zosia appears to enter the clouds near the top of Standish Hump.
The upper terminal of Standish Express Quad chairlift occupies most of the top of Standish Hump.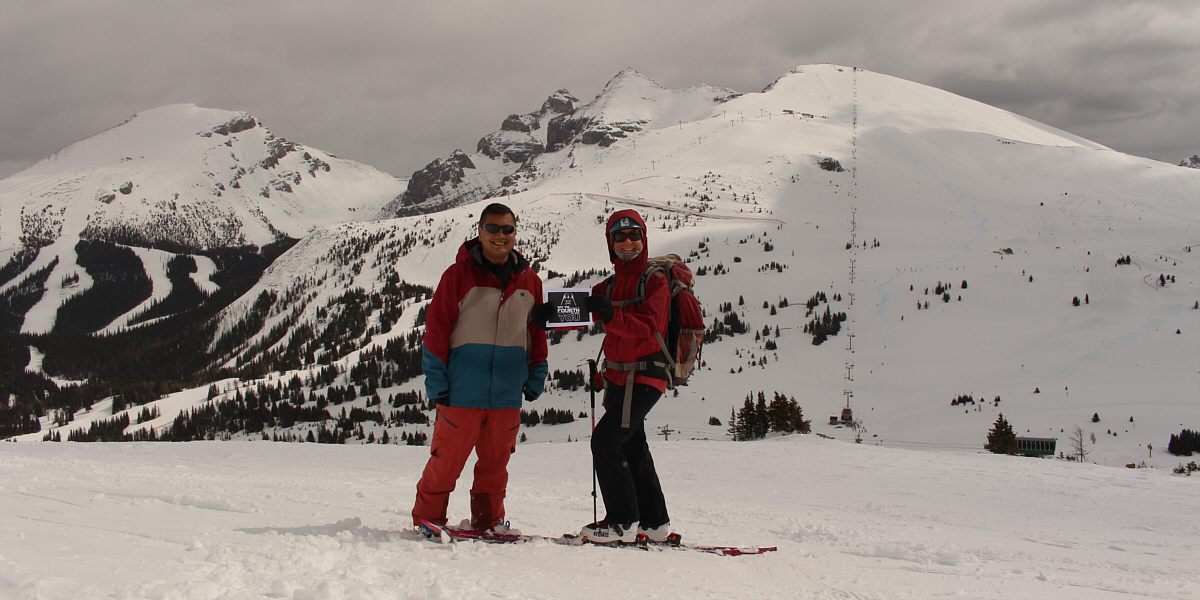 Sonny and Zosia pose near the high point of Standish Hump (2389 metres).
After stripping off our climbing skins at the top of Standish Hump, Zosia and I skied back down to Sunshine Village and had lunch at Mad Trapper's Saloon in the Old Sunshine Lodge. Once we finished eating, we squeezed in some extra downhill skiing by riding some of the resort's chairlifts before working our way down the ski-out to as far as Goat's Eye gondola station. Although we probably could have skied all the way back to the parking lot, we were not enthused about the marginal snow conditions near the bottom, and instead, we simply rode the gondola down from Goat's Eye station.
Zosia skis back down Creek Run.
Sonny heads to Mad Trapper's Saloon at Old Sunshine Lodge for lunch.

Photo courtesy of Zosia Zgolak

Zosia looks for some extra skiing after riding up Angel Express Quad chairlift.

Sonny skis down Green Run with Sunshine Landing in the middle background.

Photo courtesy of Zosia Zgolak

Quartz Hill and Quartz Ridge stand out in the background across the expanse of Sunshine Meadows.
Zosia zips down an easy run just above Sunshine Village.
Total Distance (Standish Hump only): ~13.2 kilometres
Round-Trip Time (including extra ski runs): 5 hours 2 minutes
Net Elevation Gain (Standish Hump only): 718 metres