BOU AVENUE
Mount Abbott And Mount Afton
---
Kicking off a three-week road trip in British Columbia, Zosia Zgolak and I made an attempt to climb Mount Abbott and Mount Afton near Rogers Pass in Glacier National Park on 1 August 2020. Both peaks have long been on my peak-bagging radar, and a number of useful trip reports are available online. Starting from the trailhead near Illecillewaet Campground (closed due to the COVID-19 pandemic), we followed signs for Abbott Ridge Trail and were soon climbing up steadily through lush old-growth forest. Despite a lot of elevation gain, the trail is well-maintained and never feels too steep. After hiking for about 2.5 hours, we broke out of the trees and followed the trail past a hut and onto the north end of Abbott Ridge. The official trail eventually ends at a wooden marker, but it is easy enough to continue southward along the scenic ridge. Beyond a short dip, the ridge becomes more rocky as it makes its final rise to the summit block of Mount Abbott. We initially followed a mildly exposed ledge to climber's right for a short distance but ultimately scrambled back onto the ridge crest before an easy finish to the top of Mount Abbott.
Zosia climbs up the long but moderately-steep Abbott Ridge Trail.
Abbott Ridge comes into view as Zosia climbs above tree line.
As Abbott Ridge Trail winds past some lingering snow patches, some notable peaks appear on the northern horizon. From L to R are Cheops Mountain, Ursus Minor Mountain, Grizzly Mountain, Mount Sifton, Mount Rogers, and Hermit Mountain.
As Zosia gains the north end of Abbott Ridge, Mount Afton (left) comes into view. At right is Mount Bonney and its namesake glacier.
Abbott Ridge is in itself an outstanding ridge walk. At right is Mount Afton.
As Zosia continues along Abbott Ridge, the top of Mount Abbott (right) finally comes into view.
After dropping into a dip along the ridge, Zosia begins the final climb up Mount Abbott. At right is Mount Afton.
Sonny passes a tarn on his way up Mount Abbott.

Photo courtesy of Zosia Zgolak

The ascent of Mount Abbott requires some mildly-exposed scrambling.
Zosia climbs up the final summit block of Mount Abbott.
Zosia and Sonny stand on the summit of Mount Abbott (2458 metres). Behind them is Mount Afton.
After taking a short break on the summit of Mount Abbott, Zosia and I dropped down the steep and slippery west slope to the Abbott-Afton col. Getting across the col to the start of Mount Afton's east buttress is a bit tricky and requires some careful route-finding. A couple of other hikers who had followed us up Mount Abbott quickly gave up on the complicated traverse across the col, and Zosia also decided to forego the ascent of Mount Afton at this point. While she waited for me at the low point of the col, I worked my way along a scrubby route to the base of the east buttress and began climbing upward. The rocks here are wonderfully solid, and I thoroughly enjoyed the climb which is mostly Class 3 with perhaps a few bits of Class 4 depending on the chosen route.

From the col, it took me about 35 minutes to reach the top of Mount Afton, and after performing my usual summit chores, I proceeded to down-climb the east buttress in order to rejoin Zosia. With the exception of one tricky spot which possibly could have been avoided with better route-finding, the down-climb was surprisingly straightforward, and I made it back to the col unscathed. While waiting for me at the col, Zosia had found a cool and shady spot between a rock wall and a lingering snow patch, and I joined her there for a short break from the hot afternoon sun before commencing our descent. From the col, we climbed back up the west slope of Mount Abbott only high enough to avoid some steep cliffs before traversing northward across easy terrain to regain the ridge crest. The return hike along Abbott Ridge and back to the trailhead was long but uneventful.
Zosia drops down to the col leading to the east buttress of Mount Afton.
This is looking up the east buttress of Mount Afton from the col.
Sonny begins scrambling up the east buttress of Mount Afton.

Photo courtesy of Zosia Zgolak

Sonny holds up a half-empty bottle of rum and a tin of lemon drops on the summit of Mount Afton (2549 metres).
Mount Swanzy (left) and Mount Bonney dominate the view to the southwest.
Visible to the northeast are (L to R) Mount MacDonald, Avalanche Mountain, Eagle Peak, Uto Peak, and Mount Sir Donald.
Stretching away to the south are The Rampart (shadowy peak), The Dome (behind The Rampart), and Mount Jupiter (comprised of Pollux Peak and Castor Peak). At far left is Youngs Peak, and visible through Asulkan Pass (left) are Mount Fox and Mount Dawson.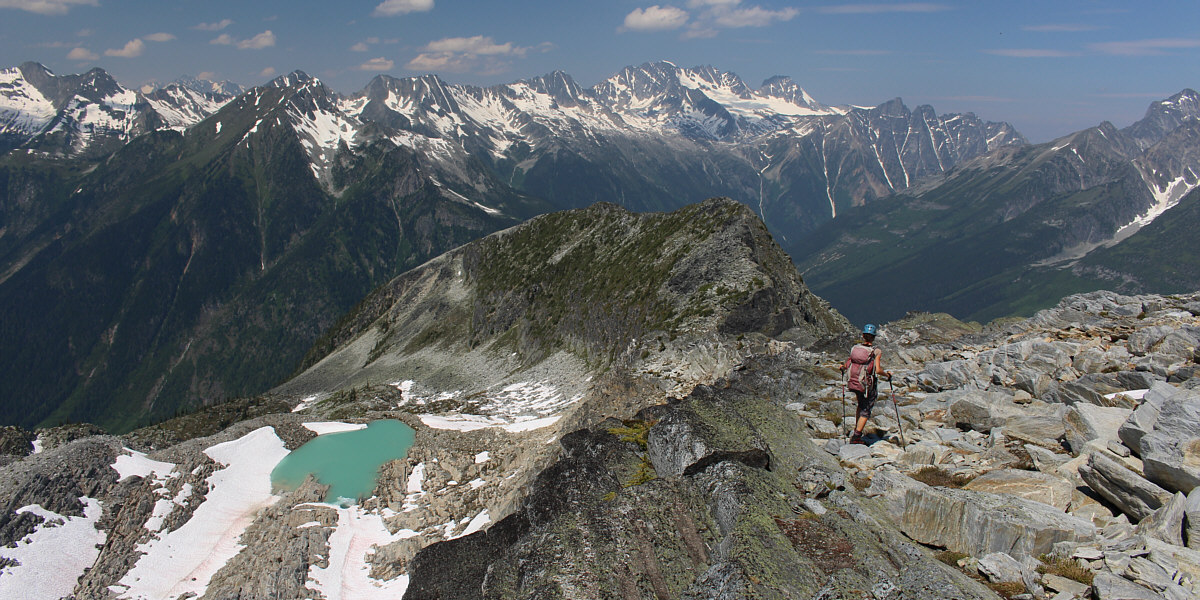 On descent, Zosia works her way back to Abbott Ridge (centre).
Back on Abbott Ridge Trail, Zosia enjoys mind-blowing views of Mount Sir Donald and Illecillewaet Glacier.
Total Distance: 17.9 kilometres
Round-Trip Time: 12 hours 2 minutes
Cumulative Elevation Gain: 1476 metres