BOU AVENUE
Cypress Hills
---
Kicking off our Christmas holidays, Zosia Zgolak and I paid a visit to Cypress Hills Provincial Park in southeast Alberta on 19 December 2020. Initially, we were unsure about what we would be doing there given the uncertainties we had regarding the weather and snow conditions. At one point, we thought about skinning up Hidden Valley Ski Resort just outside the town of Elkwater and possibly doing a couple of laps with our AT ski gear, but upon learning that we still had to purchase a lift ticket to do so, we elected to move on. Our Plan B was to visit the highest point of Cypress Hills located somewhere near the west end of the park. During summer, it is possible to drive nearly all the way to the high point via Murray Hill Road, but in winter, this road is closed to vehicular traffic which then necessitates a lengthy albeit flat approach on foot or skis.

From Trans-Canada Highway, turn south onto Highway 41 (Buffalo Trail) 25 kilometres east of Medicine Hat or 25 kilometres west of the Saskatchewan border. Drive for 36 kilometres to reach Hidden Valley Ski Resort, and continue for another 2.8 kilometres to reach a 4-way junction. Turn right (west) onto Murray Hill Road and drive another 750 metres to reach Spring Creek trailhead (pit toilets and warming hut). In winter, the road is plowed as far as this trailhead.

Seeing that there was enough snow covering the continuation of Murray Hill Road, Zosia and I opted to use our light touring ski gear for this trip. From the trailhead, we skied past a seasonal gate and continued westward along the road which is virtually flat for its entire length and is very easy to follow. Occasionally, we skied into the teeth of some strong wind gusts, but overall, the wind was not as much of a factor as I initially feared possibly because the forests alongside the road provide ample shelter. Most surprising for me was how well my glide worked on the hard-packed snow covering the road, and I do not recall the last time I skied so effortlessly in my light touring gear. About 4.5 kilometres from the trailhead, we ventured into the forest to briefly follow a designated cross-country ski trail (Plateau Trail) which runs parallel to the road. The skiing was not as fluid here since we had to break trail but also because the snow seemed stickier in the trees for some strange reason. A few hundred metres along Plateau Trail, we surprisingly stumbled onto a bunch of buildings and some antiquated forestry equipment on display. This is the site of Tom Trott Memorial Forestry Museum which was named in honour of Thomas Neil Trott, a former Park Forest Officer. Besides the museum displays, there are a couple of tidy backcountry huts here as well as some convenient pit toilets. We spent about twenty minutes poking around here before carrying on to visit Horseshoe Canyon viewpoint a few hundred metres further to the northwest.

From Horseshoe Canyon viewpoint, Zosia and I regained Murray Hill Road and continued westward for about another kilometre. Here, we left the road again and headed south through some forest toward what I thought might be the true high point of Cypress Hills. Although a viewpoint known as "Head of the Mountain" near the west end of Murray Hill Road is officially designated as the high point of Cypress Hills, topographical maps of the area clearly show a higher contour line about 800 metres north of this viewpoint. Furthermore, an online elevation map suggests that there may be an even higher point located in some thick forest about 1.7 kilometres east of the viewpoint. This would be the first high point candidate that we would investigate, but after reaching the spot (with some difficulty) I had previously marked in my GPS device, I concluded that the online elevation map's datum is flawed and incorrect. Moving on, we then made a beeline for the second high point candidate located north of Head of the Mountain viewpoint. Although the actual spot is rather nebulous owing to the flatness of the terrain, this turned out to be the de facto high point of Cypress Hills which reinforces the validity of the topographical maps' higher contour line. For good measure, we also visited Head of the Mountain viewpoint and confirmed that it is indeed lower than the true high point by about six metres.

After taking a short break at Head of the Mountain, Zosia and I turned around and headed back east along Murray Hill Road. With the wind at our backs and no more detours, we made short work of the eight-kilometre return ski and reached the trailhead in less than a hundred minutes.

Despite the seemingly mundane terrain, this ski trip turned out to be anything but boring. Highlights included discovering the interesting forestry museum, seeing a coyote dash away from us at quite a distance, and getting a surprising glimpse of Montana's Sweet Grass Hills at Head of the Mountain viewpoint. The skiing was also heavenly on this day, and best of all, I had the privilege of sharing this fun adventure with my intrepid girlfriend.
Zosia heads west past the seasonal gate along Murray Hill Road.

The ski along the road is virtually flat for most of the trip.

For a slight change of scenery, Zosia temporarily leaves the road to follow Plateau Trail.

About five kilometres west of the trailhead is this quaint forestry museum.

Looking for something that can handle rough back roads, Sonny takes this tractor for a test drive.

Photo courtesy of Zosia Zgolak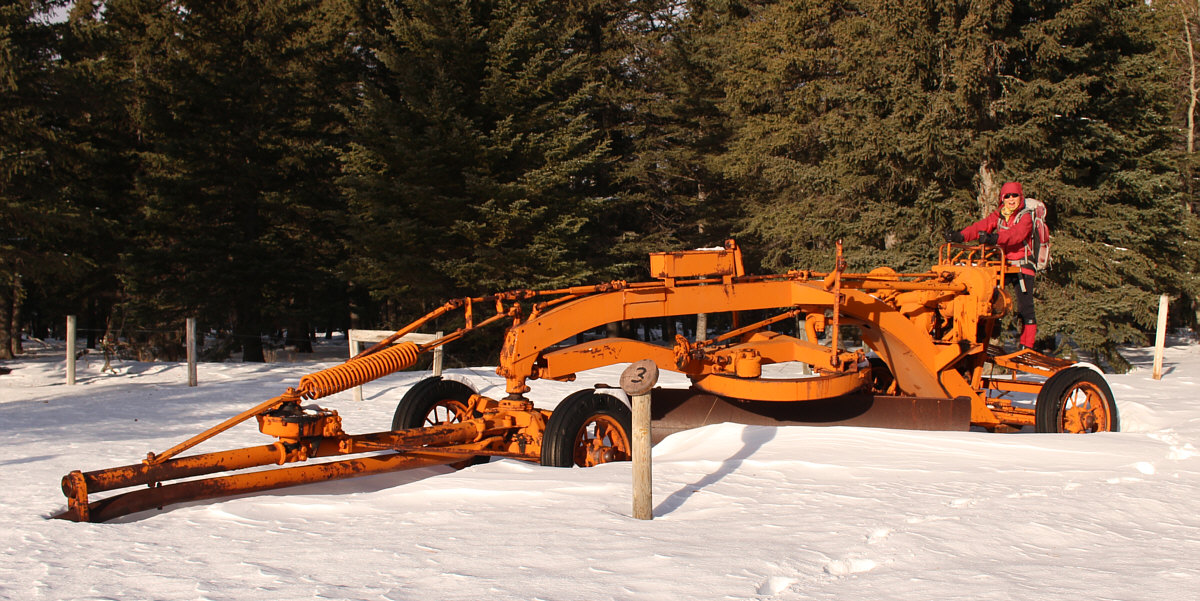 This snow plow probably could be put to good use right now.
Zosia raises her skis near the Horseshoe Canyon viewpoint.

Sonny wanders into a forested area in a misguided attempt to find the true high point of Cypress Hills.

Photo courtesy of Zosia Zgolak

Zosia passes a discarded tire en route to the highest point of Cypress Hills somewhere on the horizon at left.

Sonny inspects the footprints of a coyote which he spotted running away just moments earlier.

Photo courtesy of Zosia Zgolak

The true high point (1463 metres) of Cypress Hills is somewhere around this spot.

The interpretive sign at this viewpoint claims that this spot--named "Head of the Mountain"--is the highest point of the Cypress Hills with an elevation of 1466 metres. However, Sonny's GPS device gives an elevation of only 1457 metres for this spot.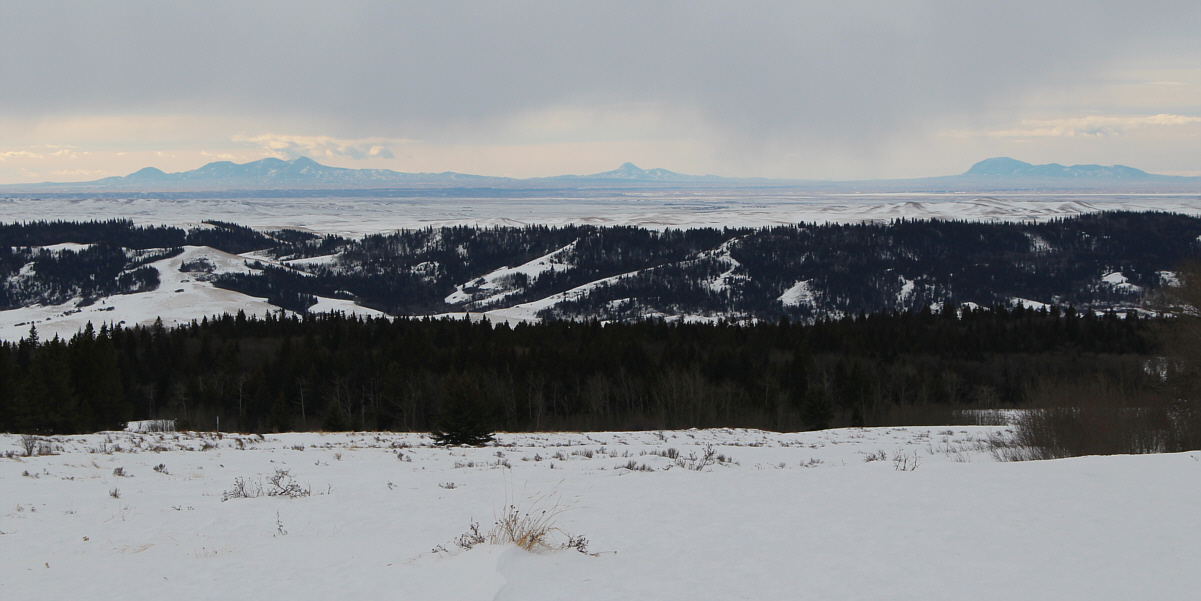 Montana's Sweet Grass Hills are visible on the southwest horizon more than a hundred kilometres away.
Sonny and Zosia celebrate on Head of the Mountain even though it is not the true high point of Cypress Hills.
Zosia begins the long but easy ski back to the trailhead.
Sonny tries to keep his speed down while cruising by this sign. Note the metal spikes protecting the sign's wooden shaft.

Photo courtesy of Zosia Zgolak

Zosia arrives back at the trailhead which includes pit toilets and a warming hut.
Total Distance: 19.2 kilometres
Round-Trip Time: 5 hours 36 minutes
Net Elevation Gain: 33 metres