BOU AVENUE
Haystack Mountain
---
Wrapping up our three-week road trip on 22 August 2020, Zosia Zgolak and I ascended Haystack Mountain located on the northwestern border of British Columbia's Kianuko Provincial Park. An easy ascent route is described in Kathy & Craig Copeland's guidebook, Where Locals Hike in the West Kootenay.

From Highway 3A, turn east onto Sanca Creek Forest Service Road 35 kilometres north of the junction with Highway 3 (Creston) or 37 kilometres south of Crawford Bay. Drive east for 9.3 kilometres to a junction and keep left. Ignore all side roads and drive for another 8.2 kilometres to a small parking area in front of the signed trailhead (no toilet). This is a long and bumpy drive with lots of eroded sections of road; a high-clearance vehicle is strongly recommended.

From the trailhead, Zosia and I followed a well-maintained trail which climbs moderately alongside Sanca Creek for about three kilometres to a set of ponds sitting in a basin southwest of Haystack Mountain. The ponds would be a good place to camp for those interested in exploring the area more thoroughly. There is even a green throne toilet here, but curiously, its close proximity to the trail does not grant much privacy. Beyond the toilet, the trail winds its way further north into the basin and eventually peters out in a large meadow just before a boulder field. We scrambled through the boulder field and then worked our way to climber's left up grassy slopes at the back of the basin. The grassy slopes lead to a steep gully which grants relatively easy access to the broad west ridge of Haystack Mountain. From there, we easily hiked to the base of the summit block before scrambling up the final couple of hundred metres over mostly large boulders.

Thankfully, the far-reaching summit views were not marred by wildfire smoke on this day, and Zosia and I spent fifty minutes on top before retracing our steps down the mountain. Down-climbing the boulders on the summit block was a bit tedious, and the steep gully also required some care to descend due to slippery footing. Otherwise, we had few difficulties for the rest of our descent. Upon returning to the trailhead, we packed up and endured another long and bumpy drive out to the highway before cruising home to conclude yet another physically-demanding but rewarding vacation (3400 kilometres driven--many on rough backroads and 24+ summits tagged). Boy, do I ever look forward to sleeping in again when I go back to work!
After a long and bumpy drive, Sonny gets ready to hike at the trailhead.

Photo courtesy of Zosia Zgolak

Zosia crosses a creek on a downed tree.
This is the first good view of Haystack Mountain from a grassy pond near trail's end.
Zosia follows a beaten path aiming for the ridge at left.
The route skirts the right edge of the trees at centre and then goes up a hidden gully at left.
Zosia grinds her way up a steep gully.
Above the gully, Haystack Mountain's summit block comes into view.
Sonny passes Haystack Mountain's western outlier.

Photo courtesy of Zosia Zgolak

Zosia scrambles up big boulders on the west side of Haystack Mountain's summit block.
Sonny and Zosia pose on the summit of Haystack Mountain (2678 metres).
This is looking south at the approach valley and some of the ponds in the basin.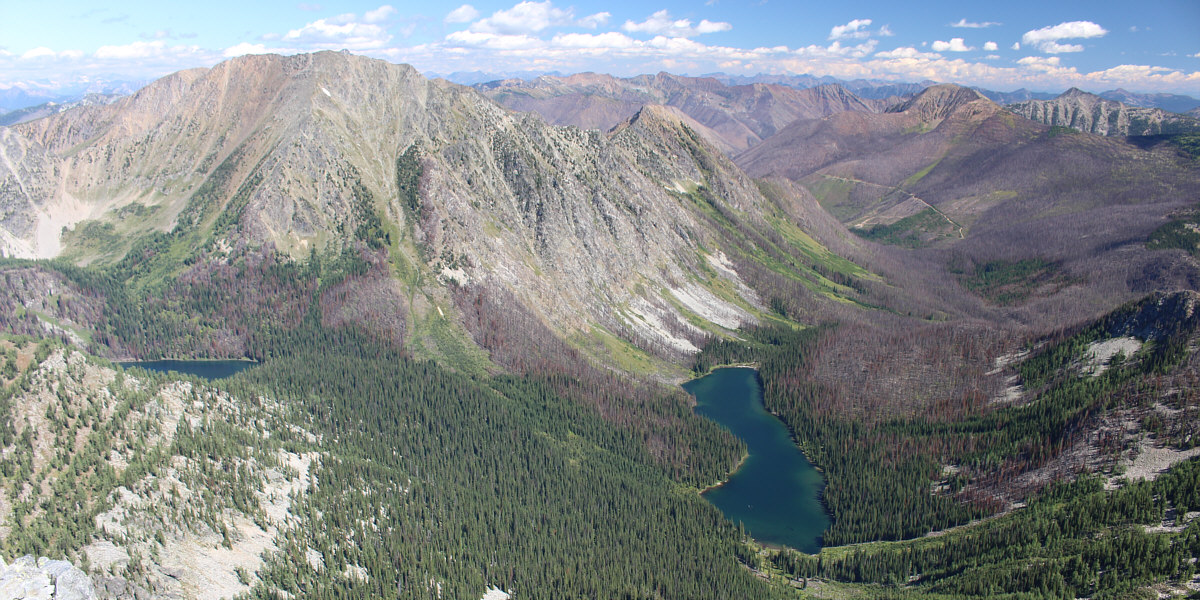 Oddly enough, both the mountain and the lakes to the immediate north are officially unnamed.
The view to the east includes Gillis Peak (forested hump at right), Mount McKay (double summit on left horizon), and Mount Evans (left of Mount McKay on horizon).
Zosia descends big boulders below the summit. Left of centre in the distance is Akokli Mountain.
Total Distance: 12.1 kilometres
Round-Trip Time: 8 hours 1 minute
Net Elevation Gain: 1011 metres