BOU AVENUE
Richardson Ridge
---
Andrea Battistel, Peter Henostroza, Zosia Zgolak and I skied up to the high point of Richardson Ridge in Alberta's Banff National Park on 21 March 2020. Zosia and I had skied into Hidden Bowl behind Lake Louise Ski Resort the previous year, but because of poor weather, we stopped short of continuing to the high point of Richardson Ridge. Starting from the Fish Creek trailhead, the four of us skinned up the resort's ski-out and reached the start of the trail to Skoki Lodge in a little more than an hour. Due to a coronavirus pandemic, the ski resort was shut down and eerily quiet as we passed the Larch chairlift and Temple Lodge. When we reached the open meadows near the historic Halfway Hut, we left the main trail and followed some old tracks across a bridge over Corral Creek. The old tracks petered out shortly after, but we had no difficulties breaking trail and finding our way into Hidden Bowl. There, Peter expertly led us up gently rolling open terrain onto the crest of Richardson Ridge just north of its high point. At that moment, we were unsure about whether or not we would traverse the length of the ridge to descend a different route than the one we came up. As such, we humped our skis and boot-packed the remaining short but steep section before the top. The mix of wind crusts and unconsolidated powder here made for some challenging footing, but we all ultimately reached the high point none the worse for wear.

After surveying the mostly wind-blown ridge to the south, we decided that it was not worth boot-packing the length of the ridge just to ski down elsewhere, and we retreated back the way we came. The most disappointing aspect of the trip was the ski descent from the ridge into Hidden Bowl. All the snow above tree line was wind- or sun-affected and proved to be tricky and very tiresome to ski through. Conditions improved once we entered the forest below the bowl, and we managed to enjoy a few good, albeit short-lived, turns in the trees before regaining our up-track. The remainder of our ski back to the trailhead was uneventful.
| | |
| --- | --- |
| | The group skis under the motionless Larch chairlift at Lake Louise Ski Resort which is closed because of a coronavirus pandemic. |
| | The group reaches the start of the trail to Skoki Lodge with deserted Temple Lodge just down the hill. Richardson Ridge is visible in the distance at left. |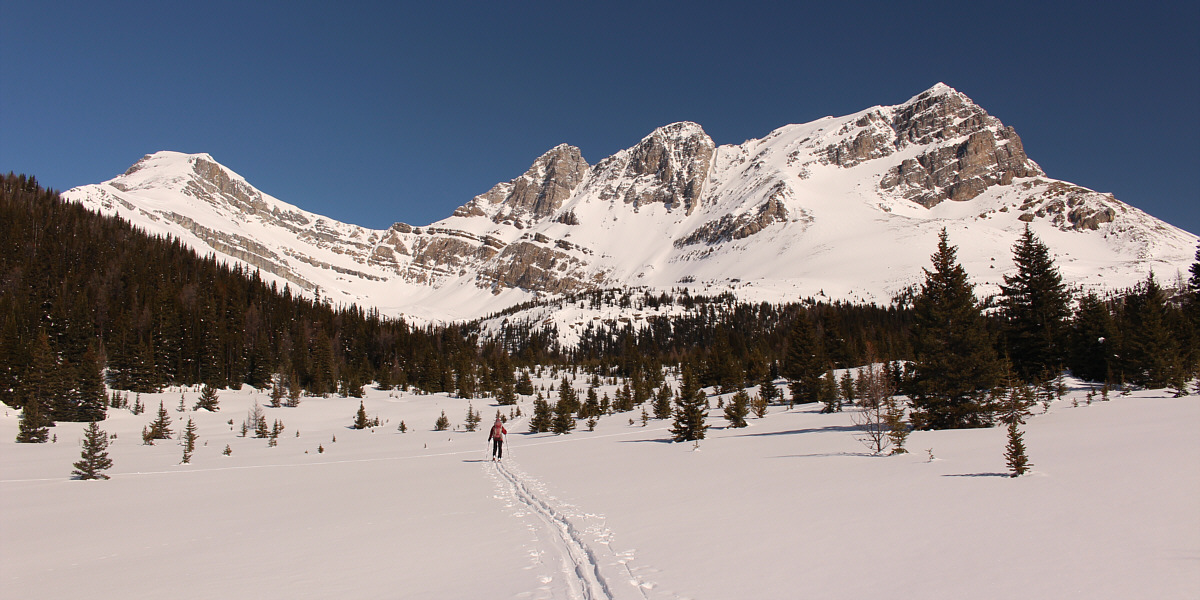 After leaving the trail to Skoki Lodge, Zosia skis toward (L to R) Mount Richardson, Pika Peak, unnamed, and Ptarmigan Peak.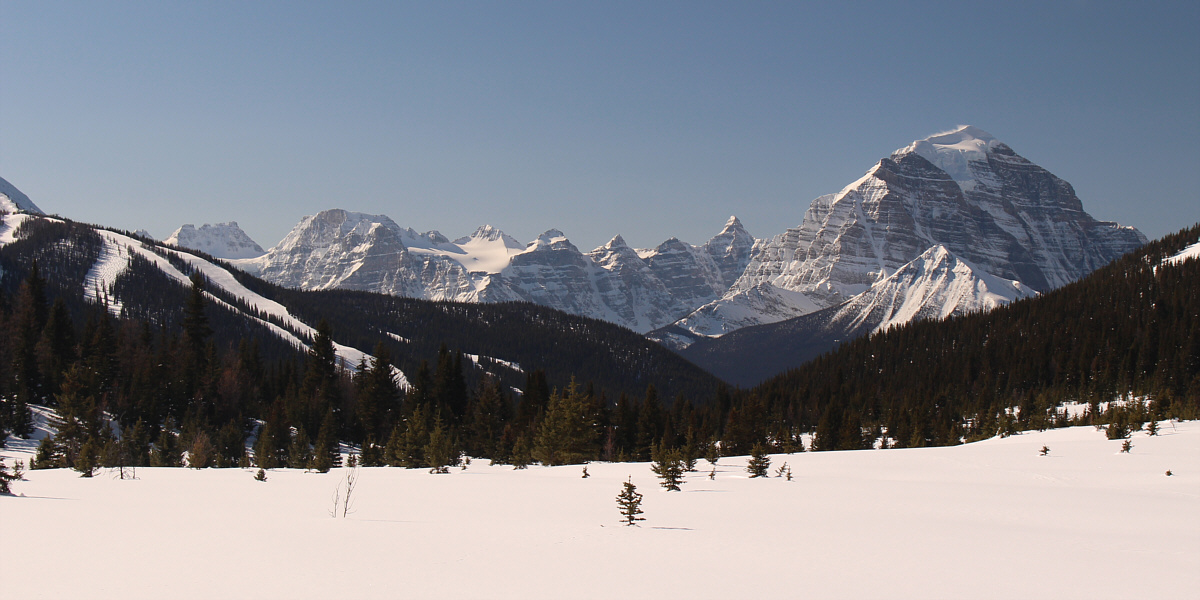 The view back down Corral Creek valley includes (L to R) Quadra Mountain, Mount Fay (with Mount Babel in front), Mount Little, Mount Bowlen, Tonsa Peak, Mount Perren, Mount Allen, and Mount Temple (with Little Temple in front).
The group enters Hidden Bowl with the high point of Richardson Ridge at far right.
Peter leads Andrea and Zosia deeper into Hidden Bowl.
Andrea can be seen climbing through the gap between the rocks while Peter is already on the ridge crest at right.
Sonny grinds his way up the final slope before the ridge crest.

Photo courtesy of Zosia Zgolak

The group boot-packs up the ridge on the north side of the high point.
The ridge is steeper than expected.
Surmounting the summit block is a bit trickier while carrying skis.
Sonny, Zosia, Andrea and Peter stand on the high point (2683 metres) of Richardson Ridge.
To the northwest is Mount Hector.
Pika Peak, unnamed, and Ptarmigan Peak sit to the northeast with Mount St. Bride visible on the distant horizon at right.
Much of the west side of Richardson Ridge is wind-blown in this view to the south. Lipalian Mountain is at centre above the ski runs of the resort.
The bowls below Whitehorn (right) are eerily quiet on this day.
The group retreats down the ridge on the north side of the high point.
Skiing out Hidden Bowl, Andrea and Zosia do their best to carve some turns in the crusty snow.
Total Distance: 19.7 kilometres
Round-Trip Time: 7 hours 8 minutes
Net Elevation Gain: 983 metres