BOU AVENUE
Summit Lake Ridge
---
On 12 December 2020, Zosia Zgolak and I skied up an unnamed ridge located between Cameron Lake and Summit Lake in Alberta's Waterton Lakes National Park (WLNP). For clarity, I have taken the liberty to name this objective Summit Lake Ridge. A ski route to Summit Lake is described in Chic Scott's guidebook, Ski Trails in the Canadian Rockies, and an extension to the ridge, though not explicitly stated, is implied to be possible. Having never skied in WLNP before, I had no clue what the skiing would be like here, and recent online reports of snow conditions on nearby Forum Ridge were generally unpromising. However, with only light winds in the weather forecast--a rarity in WLNP--I decided that it was worth the long drive to check first-hand the ski conditions at Summit Lake.

Starting from the winter gate at Little Prairie day use area, Zosia and I skied the easy but rather mundane remainder of Akamina Parkway for 2.7 kilometres to Cameron Lake where we picked up some snowshoe tracks at the Carthew-Alderson trailhead. We initially made good progress following the snowshoe tracks up the trail, but unfortunately, the previous snowshoers turned around after traveling only about 1.5 kilometres. We had to break our own trail from here, and although the snow cover was not too deep, it hid an icy layer which became dangerously slippery as we zigzagged higher up the increasingly steep slope. Even with ski crampons attached to our skis, we still had a few dicey moments traversing some shallow gullies cutting across the trail. Fortunately, we did not suffer any catastrophic slips, and we both breathed a sigh of relief when we reached easier-angled terrain above the switchbacks mentioned in Scott's route description.

At this point, Zosia and I were probably off-trail, but it was easy enough to navigate between all the wildfire-ravaged trees to reach Summit Lake. We took a short break there before heading west to climb up the easy slopes of Summit Lake Ridge. The high point is located a short distance beyond a weather station, and although there are enough openings to allow for some views, cloud cover disappointingly shrouded most of the surrounding mountains on this day. Somewhat surprisingly, another couple joined us on the high point only a few minutes after we arrived, and from our brief chat with them, we learned of some other options for skiing in the vicinity which might warrant a return trip in the future.

After spending only fifteen minutes on the high point, Zosia and I removed our climbing skins and bid the couple farewell as we skied back, more or less, the way we came. We enjoyed the best skiing of the day descending off the top of Summit Lake Ridge, and had we more time and sunnier weather, I might have considered yo-yoing this section. Upon regaining our up-track, we followed it briefly before opting to skip most of the switchbacks and take a more direct line down the slopes above Cameron Lake. The shallower snow pack here forced us to ski more carefully in order to avoid tripping over hidden hazards, and lower down, we had to pick our way through a bit more deadfall before we could regain the trail near the first switchback. We had no issues skiing the rest of the way back to Cameron Lake, but the final section to the winter gate along Akamina Parkway was exceedingly dull and tedious especially at the end of the day.
| | |
| --- | --- |
| | Zosia begins skiing from the gate along Akamina Parkway at Little Prairie day use area. |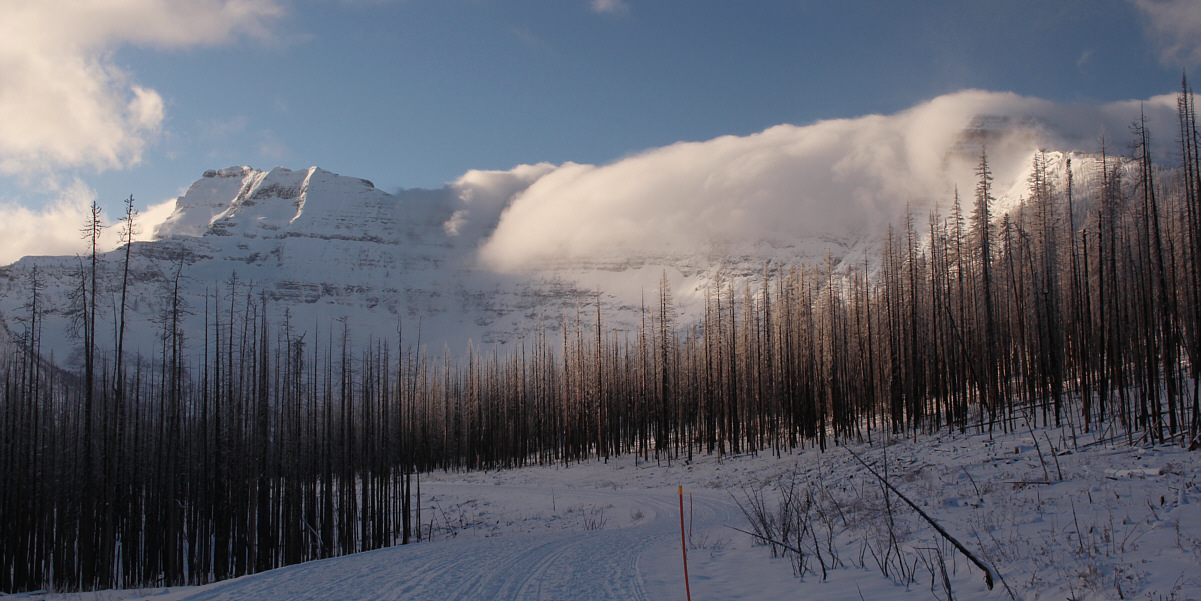 Clouds roll over Forum Peak at far right. At far left is Mount Custer in Montana's Glacier National Park.
| | |
| --- | --- |
| | Summit Lake Ridge comes into view as Zosia continues skiing along Akamina Parkway. |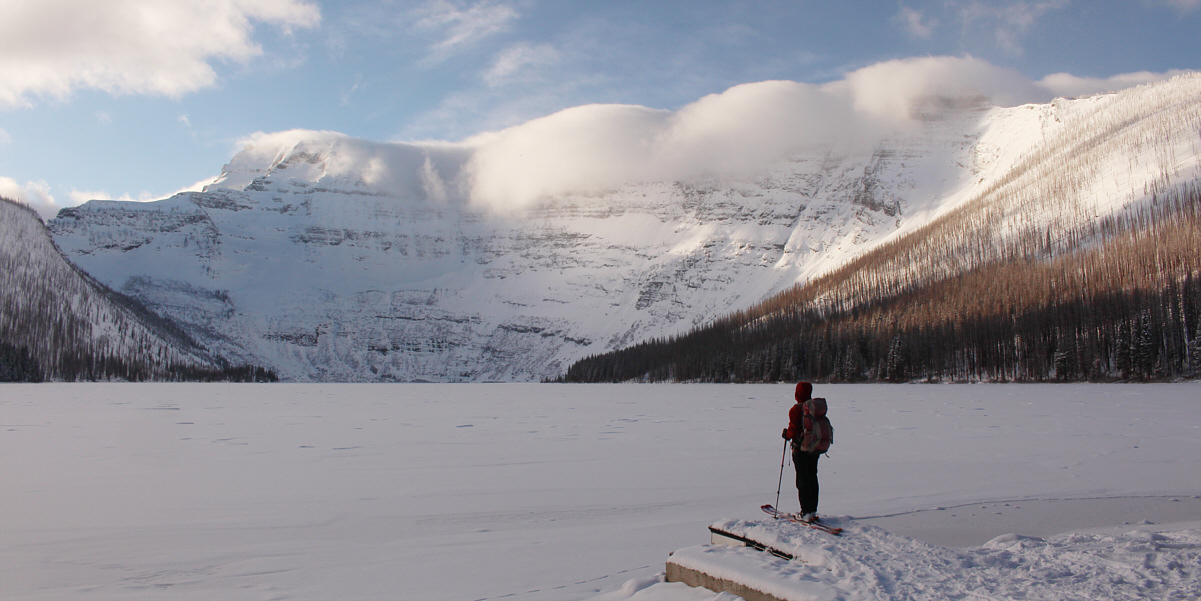 Zosia arrives at Cameron Lake.
Zosia follows Carthew-Alderson trail along the north shore of Cameron Lake with Summit Lake Ridge visible in the distance.
Some sections of the Carthew-Alderson trail cut across uncomfortably steep slopes. Skiing along the trail is complicated by an icy base under the thin snow cover.
Despite difficult ski conditions, Zosia continues to climb higher up the trail.
The terrain flattens considerably near Summit Lake. Summit Lake Ridge is barely visible through the trees at far right.
Zosia takes a break at Summit Lake.
The sun comes out briefly as Zosia climbs up Summit Lake Ridge.
A clearing along the ridge grants this view of Lake Wurdeman in Glacier National Park.
Zosia and Sonny stand on the high point of Summit Lake Ridge (2092 metres).
Zosia enjoys the best skiing of the day descending from the top of Summit Lake Ridge.
Sonny's smile says it all about the quality of skiing on the upper slopes of Summit Lake Ridge.

Photo courtesy of Zosia Zgolak

Sonny has some trouble skiing over a downed log.

Photo courtesy of Zosia Zgolak

The thin snow cover makes for some challenging skiing on the steep slopes above Cameron Lake.
Zosia expertly maneuvers between trees on her way down the slope.
The ski out along Akamina Parkway is easy but tedious. Visible at left is Mount Rowe.
Total Distance: 13.6 kilometres
Round-Trip Time: 6 hours
Net Elevation Gain: 442 metres