BOU AVENUE
Trail Hill
---
On 29 February 2020, Zosia Zgolak and I skied up Trail Hill which is located on the Alberta (AB) side of the provincial boundary in the headwaters of Crowsnest Creek. Even though it is essentially an outlier of the much larger Loop Ridge, Trail Hill is, for some odd reason, an officially-named summit, and as such, it piqued my curiosity especially since there is virtually nothing written about it online except for an obscure and hard-to-access report from the late great Rick Collier. Most topographic maps show a trail running up the forested north side of Trail Hill, but from studying Google Earth, I was intrigued to see semi-open slopes on the south side which might be suitable for skiing. Knowing that Corbin Road on the British Columbia (BC) side of the provincial boundary is plowed in winter, I thus conceived an approach from the west utilizing a logging road which runs over Tent Mountain Pass and past the south end of Trail Hill.

Turn south onto Corbin Road from Highway 3 about 12 kilometres east of Sparwood, BC or 23 kilometres west of Coleman, AB. Drive south for 16 kilometres to a junction with a side road (bridge, warning signs, and a locked gate here) heading east toward Tent Mountain Pass. Park on the shoulder of Corbin Road.

From Corbin Road, Zosia and I started skiing eastward along the side road for about 250 metres before turning left (north) at a junction. About one kilometre further, we kept right at a second junction. The myriad of logging roads and snowmobile tracks in the area can be confusing, and I was thankful to have a published track for the road in my phone to help guide us over Tent Mountain Pass. The road is perhaps a bit too mundane for AT ski gear, but we easily muddled along for another three kilometres until we reached a third road junction marked with a "Public Land Use Zone Boundary" sign. Turning left (west) here, we followed the road for about 300 metres before leaving it to turn north up what looked like semi-open slopes. Much to our chagrin, we picked up the same road again only 15 metres higher and realized that we had basically taken a short cut on a switchback!

About 100 metres further up from where we regained the road, Zosia and I climbed up a steeper right-hand fork and eventually wound up in a cut block to the west of a drainage separating Trail Hill from the southern end of Loop Ridge. Of course, we were on the wrong side of the drainage, and although it appeared that we could still connect to Trail Hill further north, I got impatient and wanted to make a beeline for the top. We descended slightly to cross the bushy drainage and then zigzagged up a steep but relatively straightforward slope. Snow coverage was a little thin near the top, but we still managed to ski all the way to the high point of Trail Hill. We snapped a few photographs here before dropping down to the shelter of some trees for a quick lunch break.

For our descent, Zosia and I skied down the semi-open south slopes of Trail Hill. Unfortunately, snow conditions were inconsistent here with a mix of fresh powder overlying crusty or icy sections. As a result, it was difficult to get into any sort of rhythm to make good turns, and we resorted to mostly "survival skiing" to get down the hill. In retrospect, there are likely better ski descent routes than the one we took, but admittedly, I am not particularly eager to return anytime soon for further exploration. Upon re-gaining our track along the road, we switched to touring mode (unlocked heels) and skied back the way we came. Other than herringboning some short uphill sections and fighting against a brisk headwind, we had few difficulties on our return to Corbin Road.
Zosia crosses a bridge beside Corbin Road at the start of the trip.
Zosia skis along a road going over Tent Mountain Pass.
Zosia gets her first glimpse of Trail Hill at distant right.
Sonny finds a curious sign along the approach to Trail Hill.

Photo courtesy of Zosia Zgolak

Zosia skis up a road on the wrong side of a drainage near Trail Hill.
After crossing over to the correct side of the drainage, Zosia climbs up a steep slope.
Both trees and snow thin out near the top of Trail Hill.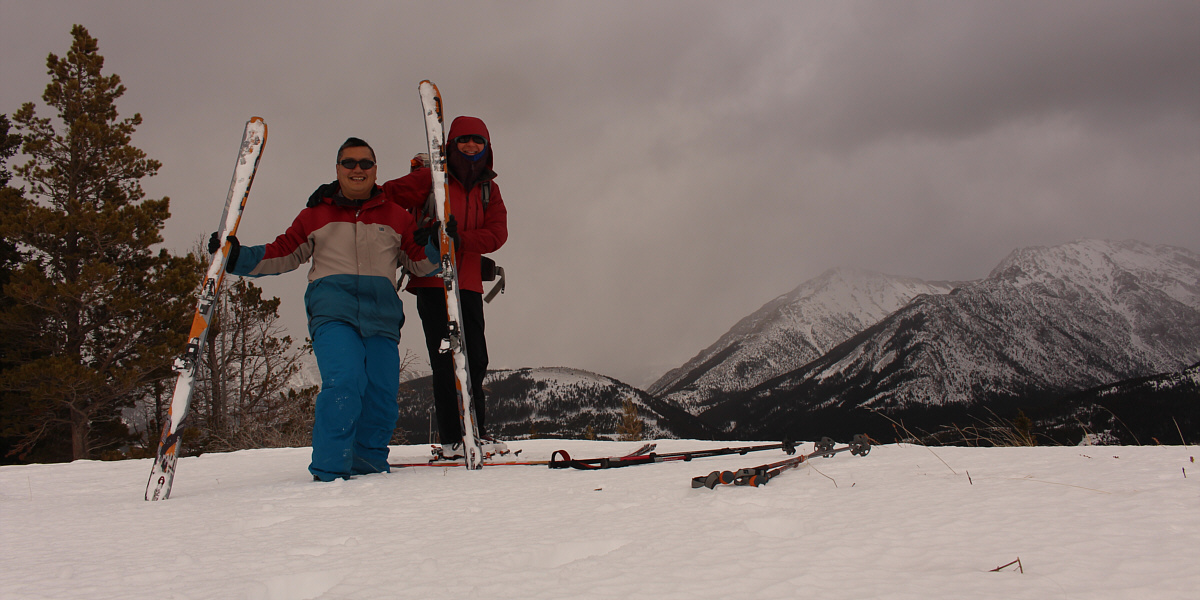 Sonny and Zosia stand on the high point of Trail Hill (1774 metres).
Tent Mountain is visible to the southeast.
Visible to the northeast are Island Ridge (left) and Sentry Mountain (right).
Zosia skis past a fallen tree while descending Trail Hill.
Sonny tries to make some turns in a glade.

Photo courtesy of Zosia Zgolak

There are some challenging sections to ski near the bottom of Trail Hill.
On the ski out, there are a few annoying uphill sections that are not long enough to warrant putting climbing skins back on.
After re-crossing Tent Mountain Pass, Zosia cruises downhill on her way back to the starting point.
Total Distance: 11.7 kilometres
Round-Trip Time: 5 hours
Net Elevation Gain: 367 metres