BOU AVENUE
Whiskey Hill
---
While perusing an online weather map, I spotted a front-range hill in Alberta's McLean Creek Off Highway Vehicle Public Land Use Zone (PLUZ) which has an unofficial name--Whiskey Mountain. I subsequently discovered an out-and-back route published on AllTrails.com which named the objective Whiskey Hill even though the accompanying map still labels it as Whiskey Mountain. Given its low elevation, Whiskey Hill is probably a more appropriate name, and I will refer to it as such going forward. Further research on GoogleEarth showed that the high point of Whiskey Hill is completely covered with trees and likely to be viewless. Although such objectives usually do not interest me, I felt that the surrounding landscape was intriguing enough to warrant a visit especially during shoulder-season when both hiking and skiing conditions are generally marginal at higher elevations. Feeling that the AllTrails.com route was too short and mundane, I devised a counter-clockwise loop route which would entail a longer approach via another ridge to the east of Whiskey Hill. From this other ridge, I also hoped to get a glimpse of a lake near the eastern boundary of the PLUZ. With Chinook weather conditions on 15 November 2020, I gave my loop route a try, and joining me were Rafal (Raff) Kazmierczak, Cole Warawa, Marta Wojnarowska and Zosia Zgolak.

From Highway 66, turn south onto McLean Creek Road 8.4 kilometres west of the junction with Highway 22 (Bragg Creek). Drive 1.4 kilometres to McLean Creek Camper Centre and turn left onto McLean Creek Trail (this road is closed annually from December 1 to April 30). Drive south along McLean Creek Trail for 9.2 kilometres and park at a turnoff to two separate gated gas well access roads. The left-hand road is the most direct route to the top of Whiskey Hill (2.6 kilometres one-way with 227 metres of elevation gain). The right-hand road leads to an exploration road which eventually runs eastward past the south end of Whiskey Hill.

From where we parked, Raff, Cole, Marta, Zosia and I began our hike along the right-hand road which quickly leads to a gas well site at a four-way junction. We veered right onto a rougher exploration road and followed this for a few kilometres as it winds around the southern flank of Whiskey Hill and eventually climbs steeply onto the south end of a parallel ridge to the east. Turning north, we followed a convenient dirt bike trail which undulates along the crest of this ridge. At one point, we passed a makeshift campsite marked by a sign which reads, "ON TOP OF CLOUD NINE". East of the campsite is a lake which is possibly known locally as Lazy Lake. Because of all the trees on the ridge, we were unfortunately never able to get a totally clear view of the lake. After cresting the highest point of the parallel ridge, we dropped down slightly before tackling our steepest climb of the day to get onto the northeast ridge of Whiskey Hill. A trio of dirt bikers rode up behind us here, and even they had some trouble getting up this very steep section of trail. Continuing westward, we left the dirt bike trail to avoid some unnecessary elevation loss and soon stumbled onto a cut line. We followed this cut line briefly but soon abandoned it to regain the dirt bike trail which leads directly to the high point of Whiskey Hill.

As expected, the high point of Whiskey Hill is devoid of views, but with all the mountains to the west socked in by clouds, we were quite content just to have the sun shining down on us while trees sheltered us from the Chinook winds. Some celebratory shots of whiskey also helped to improve our mood! When our party on the high point was done, we headed north along a signed road which soon intersects the same cut line that we briefly hiked on earlier. Turning left, we followed the cut line which led us quickly to yet another gas well site. The access road for this site is the aforementioned left-hand road from our starting point, and we easily descended it to complete our loop hike.

Whiskey Hill is never going to be a popular hiking objective, but I found my loop route to be surprisingly more pleasant than expected. I think our timing was impeccable with respect to hiking conditions as snow cover actually improves both the muddy trails and the limited views. Even the presence of a few dirt bikers was more amusing than irritating. Of course, nothing beats having great company and a few shots of whiskey!
| | |
| --- | --- |
| | The group arrives at the starting point in four separate cars. |
| | The group heads eastward along an exploration road. |
| | A clearing along the exploration road grants a view of Square Butte (right) to the south. |
| | Ahead is the south end of a long ridge which sits to the east of Whiskey Hill (not visible here). The group will climb onto the ridge via the visible road. |
| | Most of the ridge is forested, but a convenient dirt bike trail allows easy hiking along the crest. |
| | This weathered sign is located beside a makeshift campsite along the ridge. |
| | This is probably the best view of an unnamed lake to the east of the ridge. Online maps imply that the unofficial name, Lazy Lake, might be attributed to this body of water. |
| | Raff and Marta climb up an incredibly steep section of the dirt bike trail. |
| | An intrepid dirt biker comes up the steep trail. The long ridge that the group traversed can be seen in the background stretching away to far right. |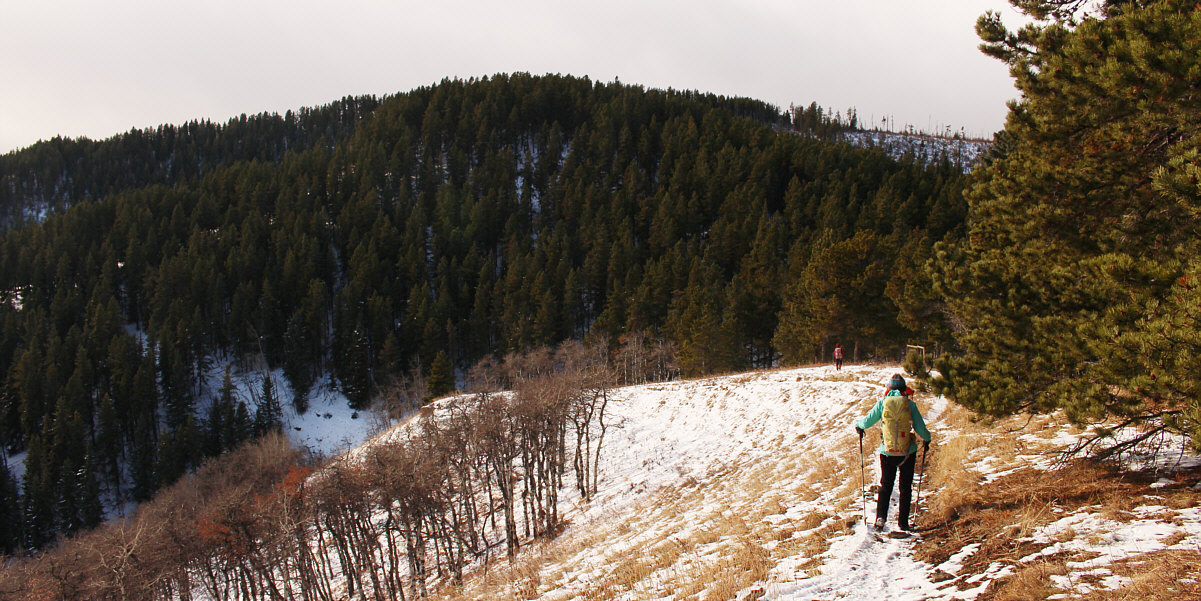 The dirt bike trail takes a big dip to the left before winding back to the right and climbing to the top of Whiskey Hill. To minimize some elevation loss, the group would take a short cut to far right.
Sonny and Raff wait as Cole helps Marta get through a barbed-wire fence after their short cut.

Photo courtesy of Zosia Zgolak

Cole, Raff, Sonny, Zosia and Marta reach the largely viewless high point of Whiskey Hill (1719 metres).
Zosia savours a freshly-opened mini-bottle of Crown Royal Canadian Whisky.
Sonny and Marta celebrate their successful ascent of Whiskey Hill and could not care less that there are no summit views!
A survey marker sits on the high point of Whiskey Hill.
West of the high point, the group passes a gas well site.
The gas well site access road grants an easy descent back to the starting point.
Total Distance: 12.0 kilometres
Round-Trip Time: 5 hours 14 minutes
Cumulative Elevation Gain: 608 metres