BOU AVENUE
Hurtle Peak
---
On 30 May 2021, Zosia Zgolak and I scrambled up an unnamed hill located just west of Turtle Mountain near Blairmore, Alberta. The hill looks innocuous enough on Google Maps satellite imagery, and I thought that its gentle northwest aspect would be fairly easy to hike up. Had I paid better attention though, I would have noticed that there is also a convenient ATV track which runs past the hill's south side with an additional spur trail that appears to go nearly to the top. However, I did not consider this alternate route since I was not expecting the northwest aspect to pose any problems. In fact, Zosia and I both thought that this trip would be so short that we made plans for a second hike elsewhere in the region.

From the main drag (20 Avenue) in Blairmore, head south across the railway tracks on 133 Street and turn right on 16 Avenue. Go straight at the intersection with 132 Street; 16 Avenue bends south and becomes Sartoris Road. An ATV trailhead (with a large pullout for parking) is located about 4.2 kilometres beyond this intersection.

Instead of starting at the ATV trailhead, Zosia and I parked our car about two kilometres short and began hiking up the northwest ridge of the unnamed hill. Initially, travel was easy, but as we gained elevation, the ridge became more crowded with young trees and toothpick deadfall. Travel became increasingly tedious and frustrating as we carefully maneuvered over endless fallen logs. Going over each log felt like a hurdle, and in combination with nearby Turtle Mountain, we came up with a whimsical name for our objective: Hurtle Peak. Once we were in the thick of the bushwhacking, there would be absolutely no reprieve until we reached the top where, much to our relief, we stumbled onto an actual trail. One end of this trail disappears into some thickets to the east of the high point while the other end drops down the south slopes. We took an extended break on top of Hurtle Peak before descending the trail to the south. Although we had no idea where this trail would lead us, anything was preferable to returning the way we came. As it turned out, the trail led us to an ATV track which we followed to a signed junction. Turning right (west), we descended the continuation of the ATV track all the way to its terminus at Sartoris Road, and from there, we easily walked back to our car to close the loop. Since this trip took longer than expected, we abandoned our plans for a second hike, and we went to Lundbreck instead to play some disc golf before heading home.
| | |
| --- | --- |
| | Zosia begins hiking from this spot along Sartoris Road. The top of Hurtle Peak is barely visible through the trees at centre. |
| | Ironstone Lookout is visible atop Willoughby Ridge at right as Zosia climbs an open slope. |
| | New trees begin to crowd the slope. |
| | Zosia steps over a few logs hidden in the trees. In the background is Bluff Mountain. |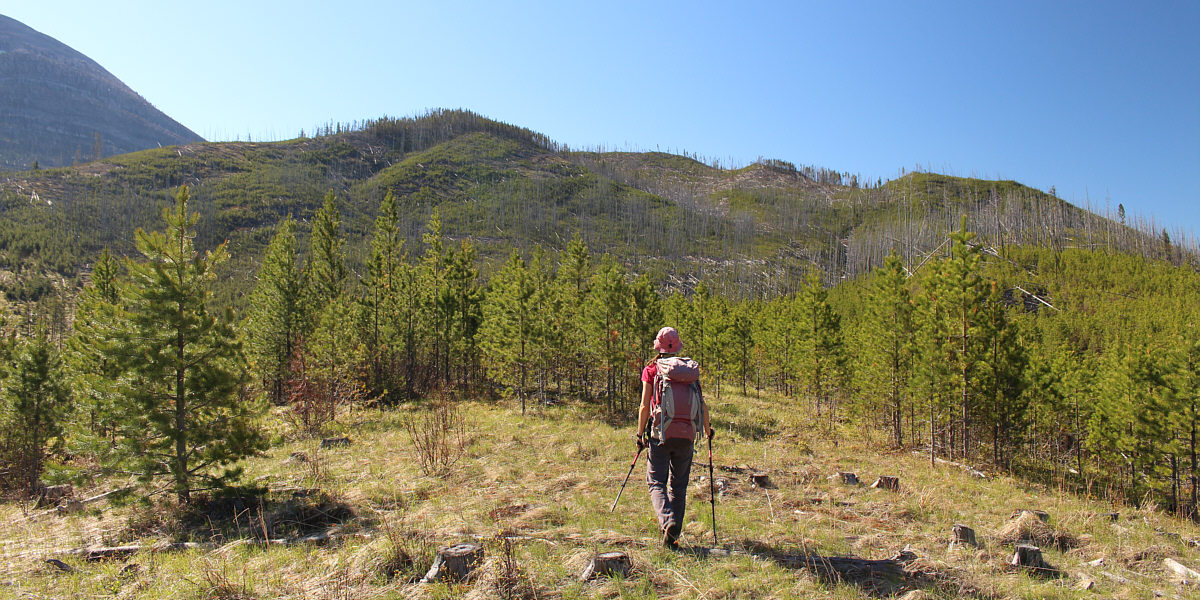 From this opening, the upper slopes of Hurtle Peak do not look very inviting.
The bushwhacking starts to become daunting.
This is not the type of scrambling Sonny envisioned doing here.

Photo courtesy of Zosia Zgolak

Somehow, Zosia is still smiling after several hours of extremely tedious bushwhacking.
The top of Hurtle Peak is in sight, but there are no easy paths to get there from here.
Sonny and Zosia stand atop Hurtle Peak (1796 metres).
Turtle Mountain fills the view to the east.
Visible to the south are Hillcrest Mountain, Hearts Peak, and the twin high points of Hastings Ridge.
This bench a short distance southwest of the high point grants unobstructed views of peaks along the Continental Divide.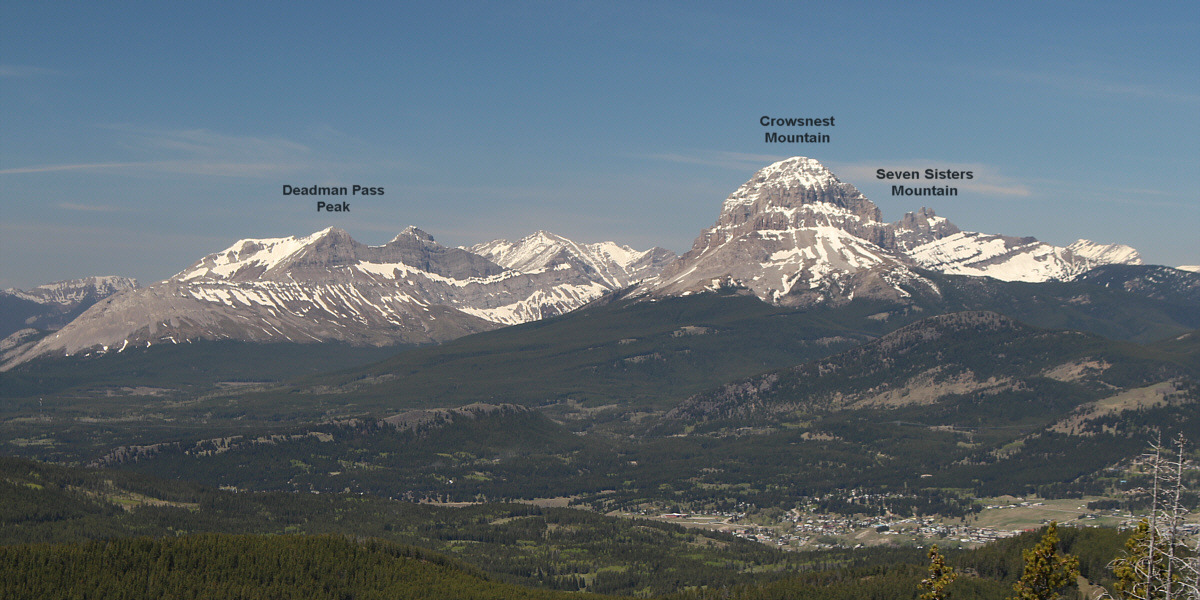 This is looking northwest from the open bench.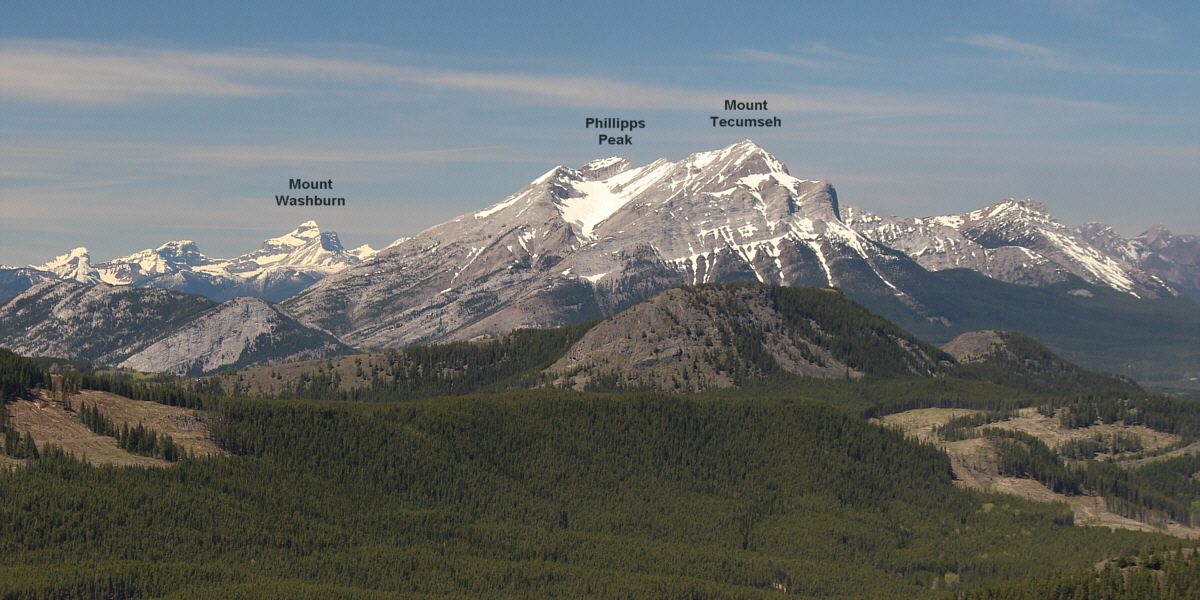 Though overshadowed by higher peaks in the background, Star Creek Hill in the foreground (right of centre) is a worthy hiking objective.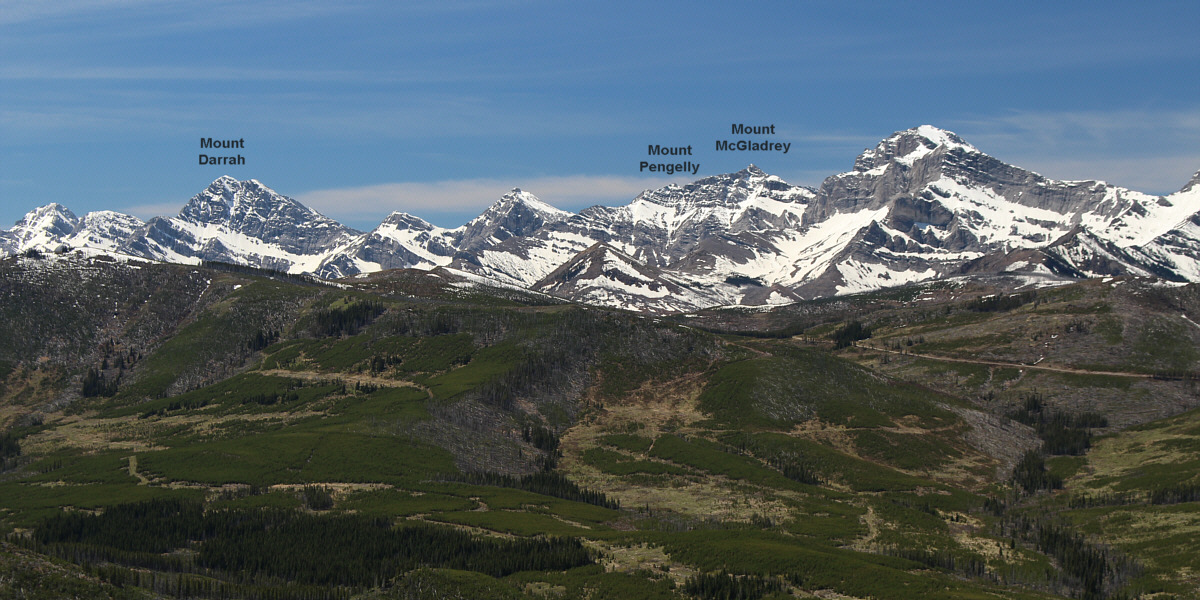 Many of the rugged peaks to the southwest are officially unnamed.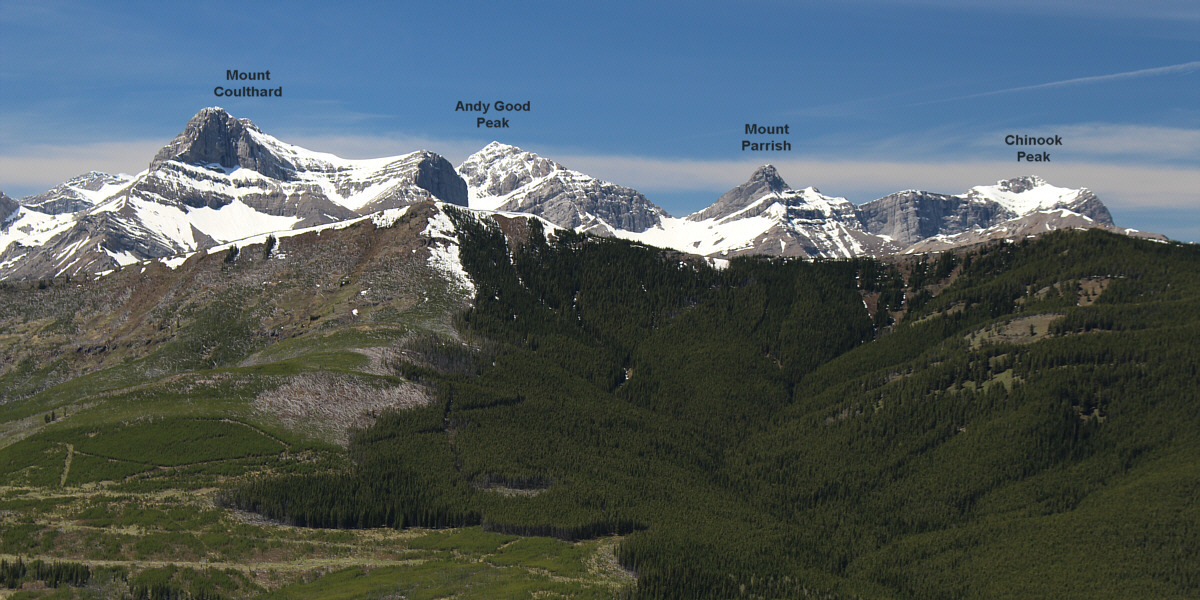 Some impressive peaks rise up behind Willoughby Ridge to the west.
Zosia descends an ATV trail on the south side of Hurtle Peak.

The ATV trail conveniently cuts through all the frustrating deadfall.

This mourning cloak butterfly is cleverly disguising itself as a plant leaf.

Lower down the trail, Sonny comes across a parked ATV.

Photo courtesy of Zosia Zgolak

Zosia arrives at the ATV trailhead along Sartoris Road.

Zosia walks back to her starting point along Sartoris Road with the top of Turtle Mountain peeking over the intervening ridge.
Sonny whips a long throw at the Lundbreck disc golf course.

Photo courtesy of Zosia Zgolak

Total Distance: 7.9 kilometres
Round-Trip Time: 5 hours 39 minutes
Net Elevation Gain: 363 metres