BOU AVENUE
Kings Peak
---
Kings Peak is hardly what I consider to be a sexy mountain, but because it is the high point of Utah (UT) and a relatively easy ascent to boot, it garners a great deal of attention from a lot of people. And I mean A LOT OF PEOPLE. After spending three days climbing Granite Peak, Montana's high point, I made plans for a two-day trip to ascend Kings Peak via the standard route along Henrys Fork (creek).

I spent a very hot day golfing in Lander, Wyoming (WY) on 1 August 2013 before heading south toward the UT/WY border. After stopping in the town of Mountain View, WY to stock up on food (there is an excellent supermarket here), I drove into UT along a well-maintained dirt road to the trailhead at Henrys Fork campground (picnic tables, pit toilet, no potable water and no fees). Upon my arrival, I was shocked to see the parking lot crammed full of cars with some even spilling out onto the access road and anywhere else that was flat and had no trees. The scene was reminiscent of some of the trailheads in Banff National Park on a busy weekend. Luckily, I found a parking spot only a few metres from the trailhead sign. Despite the abundance of vehicles and a fair amount of people coming and going throughout the evening, the campground was relatively quiet (ie. no yahoos playing loud crappy music). I made preparations for the following day and ate dinner before turning in for the night.
| | |
| --- | --- |
| | Big clouds hang over the gravel road to Henrys Fork campground. |
I got off to a respectable start on the morning of 2 August 2013 and was on my way up the trail before 6:30 AM. The trail rises gently along the west bank of Henrys Fork for the first eight kilometres before crossing over to the east bank on a good bridge. From there, the views begin to open up, and it is about another four kilometres of easy hiking to Dollar Lake which is where most people camp before making an assault on the summit. For much of the hike in, I followed three young guys who hailed from around Salt Lake City, UT. One of them had his sleeping bag secured to his backpack with duct tape! He stopped several times to re-secure his sleeping bag as it kept slipping off. I also learned firsthand that Kings Peak is immensely popular with trail runners who run up and down from the trailhead in a single day. Many of them carry nothing more than a water bottle in each hand. A couple of them passed me along the trail that morning, but I would see many more later in the day and also on my hike out. I later learned that one of the trail runners was trying to set some sort of record by running up to the summit of Kings Peak and back down to Henrys Fork campground three times in succession over a 24-hour period!

Dollar Lake is not readily visible from the main trail, but I knew that I had arrived upon seeing the plethora of tents pitched all over the place. At a fairly leisurely pace, it had taken me about four hours to reach Dollar Lake. Although I had originally planned on tagging the summit the next day, I figured that I had so much daylight left that I may as well go tag it now. I quickly set up camp, and after taking a break, I continued along the main trail which at this point begins to climb up to Gunsight Pass. Shortly after leaving camp, I overtook a couple of teenaged boys who looked a bit lost and maybe a little out of their element. One of them asked me where Gunsight Pass was, and when I pointed it out to him, he mentioned that he and his friend were part of a boy scout troop that had somehow left the two of them behind. That left me pondering a bit about their troop leader(s), but I simply reassured the two boys that if they stayed on the trail they would eventually reach the pass and hopefully rejoin their troop. As those words left my mouth, I noticed how ill-equipped the two of them were for hiking, and if I had been thinking more clearly, I would have suggested that they turn around and head back to their camp, presumably at Dollar Lake, to wait for their troop's return. They ended up turning around anyway after only a few more minutes of walking, and I was free to hike the rest of the way to Gunsight Pass with a clear conscience.

From Gunsight Pass, the normal route follows the trail down into Painter Basin before climbing back up to Anderson Pass. Most people opt for a shortcut that contours more or less around the east side of the unnamed ridge just southwest of Gunsight Pass. This saves some elevation loss and significant distance. Since I abhor any elevation loss, I decided to take the shortcut which entails a little bit of scrambling but is well-marked and easy to follow. Upon rounding the unnamed ridge, I got my first close-up view of Kings Peak which, from this angle, looks disappointingly like a big pile of scree. Furthermore, the entire area was teeming with people...lots and lots of people. High-pointers, trail runners, boy scout troops--all were present in abundance. A steady stream of figures were visible going up and down Kings Peak's north ridge not unlike the biblical Jacob's Ladder. Although the mountain looked really close, I still had to cross a large basin to reach Anderson Pass and the start of the north ridge. This took far longer than expected largely because the basin's terrain, which looks innocuous from a distance, is littered with ankle-twisting rocks of all shapes and sizes. Tedious, tiresome, and time-consuming would all aptly describe the hike across the basin. I made better progress once I regained the trail coming from Painter Basin. From Anderson Pass, the north ridge is mostly a Class 2 scramble over big boulders although a few Class 3 sections can be found by sticking closer to the ridge crest. Nearly five hours after leaving my camp at Dollar Lake, I finally stepped onto the highest point in UT.

After staying for nearly an hour at the top, I began retracing my steps back to camp. I was one of the last people to summit for the day, and by the time I got back down to Anderson Pass, the number of people in the basin had thinned out considerably. Some distance below Anderson Pass, I ran into the three young guys I had followed into Dollar Lake earlier that morning. They had procrastinated for quite awhile back at Dollar Lake before deciding to go after the summit, and now they were still a couple of hours from the top and possibly hard-pressed to make it there before sunset. Nevertheless, I wished them well and continued descending the trail. Getting back across the large basin was a little less painful on the return because I had picked out a better route that was less rocky. Fatigue, however, was now starting to slow me down. Worse, I had developed a huge blister on one of my toes and made the mistake of lancing it before getting back to camp. The affected foot became ultra-sensitive to the rigours of off-trail hiking, and I slowed down even more in an effort to minimize the pain. Despite these problems, I managed to hobble back to Gunsight Pass where I settled into a long but easy stumble back to camp. Just below Gunsight Pass, I encountered a trail runner, presumably the one who was trying to set a record. I watched him incredulously as he jogged past me still going strong.

The round trip to the summit from my camp at Dollar Lake had taken me a whopping ten hours. I was very thankful that I did not have to hike back to the trailhead that evening. I treated myself to some fried chicken for dinner before hitting the sack happy in the knowledge that most of the hard work for this trip was behind me.

| | |
| --- | --- |
| | Kings Peak (right of centre) comes into view along Henrys Fork trail. |
| | The scree ramp below Kings Peak is a more direct but less popular ascent route. Dollar Lake is hidden in the trees at left. |
| | There is a nice view of Kings Peak from Sonny's camp near Dollar Lake. |
| | Across Henrys Fork basin are Mount Powell (left) and Flat Top Mountain (far right). |
| | The double track heads toward Gunsight Pass. |
| | The shortcut route from Gunsight Pass climbs over the ridge ahead. Painter Basin is visible at far left. |
| | The shortcut entails a little scrambling. |
| | This is the first close-up view of Kings Peak with Anderson Pass on the right. |
| | Here is a comprehensive view of Henrys Fork basin from the top of the scree ramp near Anderson Pass. |
| | Some hikers descend from Kings Peak's north ridge in this view from Anderson Pass. |
| | More hikers descend the Class 2 terrain along Kings Peak's north ridge. |
| | Though entirely avoidable, this Class 3 section is fun to scramble up. |
| | The final summit block is in sight. |
| | Sonny stands on the 4121-metre summit of Kings Peak, highest point in UT. |
| | Mount Powell (left) and Flat Top Mountain (right) are both visible beyond the unnamed northwest outlier of Kings Peak. At far left on the horizon is Tokewanna Peak. |
| | Gilbert Peak is barely visible above an intervening ridge to the northeast. At bottom right is Painter Basin. |
| | To the southeast are Lake Atwood (centre) and Mount Emmons (right). |
| | South Kings Peak (right), which is less than 5 metres lower than Kings Peak, was once thought to be the highest point in UT. |
| | From the slopes of Kings Peak, Dollar Lake is barely visible in the trees at right. |
| | A pika "cheers" Sonny on along the trail near Gunsight Pass. |
| | The setting sun lights up an unnamed ridge near Dollar Lake. |
After a few light sprinkles of rain during the night, the morning of 3 August 2013 dawned bright and beautiful. I woke up at a leisurely hour and took my time to pack up camp before starting my hike out. Thankfully, my blister was little more than a dull ache, and I made it back to the trailhead in just slightly over three hours. From Henrys Fork campground, I drove to Salt Lake City and checked into a nice hotel for three nights in hopes of playing some more golf and licking my wounds.

Unlike my trip to Granite Peak where I hiked mostly in solitude, my trip to Kings Peak was a drastically different experience. With all the high-pointers, boy scout troops, trail runners, lost boys, families, little French bulldogs, Mormons (I never asked, but I bet there were a few), and double-leg amputees (okay, I only saw one), Kings Peak had a real carnival-like atmosphere. For a solo traveler like myself, it was fun to socialize with a wide variety of people on the trail, and despite the disparate backgrounds and abilities of all those that I met, I found reassurance in knowing that the enjoyment of climbing mountains is not exclusive to an elite few but is truly shared by many.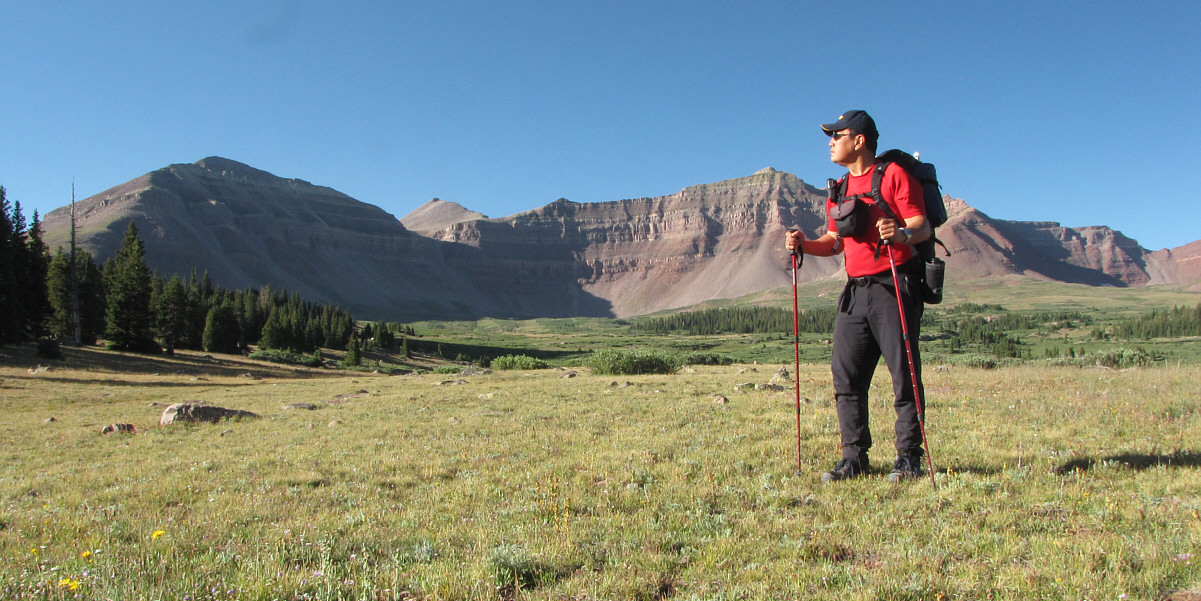 Sonny is packed up and ready to hike back to the trailhead.
Here is a last look at Kings Peak.
Total Distance: ~39.2 kilometres
Round-Trip Time: 29 hours 12 minutes
Net Elevation Gain: 1248 metres