BOU AVENUE
Mount Timpanogos
---
Despite being the second highest peak in Utah's Wasatch Range (the highest is Mount Nebo), Mount Timpanogos is arguably the most popular mountain near Salt Lake City. Affectionately referred to as "Timp" by locals, the mountain is easily ascended via good trails from two separate trailheads. Hoping to avoid the weekend crowds, I waited until Monday, 5 August 2013, before paying Timp a visit. I started my hike from the Aspen Grove trailhead ($6 USD or US National Park Pass required) and quickly made my way up a concrete path toward a picturesque waterfall. From the waterfall, the trail begins a relentless climb up a big headwall, and I spent the next 2.5 hours hiking up countless switchbacks before finally leveling out in the cirque above. Another 30 minutes of hiking brought me to Emerald Lake and a tidy-looking shelter. Heading west from the shelter, I continued to follow the obvious trail which traverses a lengthy scree slope before climbing steeply to the crest of Timp's northwest ridge. This is where the trail from the Aspen Grove trailhead converges with the trail from the Timpooneke trailhead (the Timpooneke trail is longer but starts at a higher elevation). The remainder of the climb up the northwest ridge is straightforward, and I topped out 5.75 hours after leaving my car. I spent over 50 minutes at the summit before retracing my steps back down the mountain. My descent was uneventful but long and maybe even a little boring. Perhaps that says it all about Timp.
| | |
| --- | --- |
| | A paved concrete trail attests to the popularity of this hike. |
| | The bulk of the climb is up this headwall. |
| | This is one of several cascades spilling down the headwall. |
| | Sonny hikes up the well-graded trail. |
| | The trail continues up the draw at left in front of Roberts Horn. |
| | This is the first view of the summit from the trail. |
| | Emerald Lake sits at the toe of the last glacier in Utah. The photo only shows lingering snow patches. The remaining glacial ice is supposedly buried under the talus. |
| | The trails from the two separate trailheads converge near the base of the cliffs at centre. |
| | The northwest ridge of Mount Timpanogos looks a bit daunting from this angle. |
| | The ridge crest grants a comprehensive view of Utah Lake. |
| | The trail climbs up this gully via some cleverly-built switchbacks which are not so obvious in the photo. Note the man near the top of the gully. |
| | The trail continues all the way to the summit. |
| | Sonny stands on the summit of Mount Timpanogos (3582 metres). |
| | Here is the bench mark found at the summit. |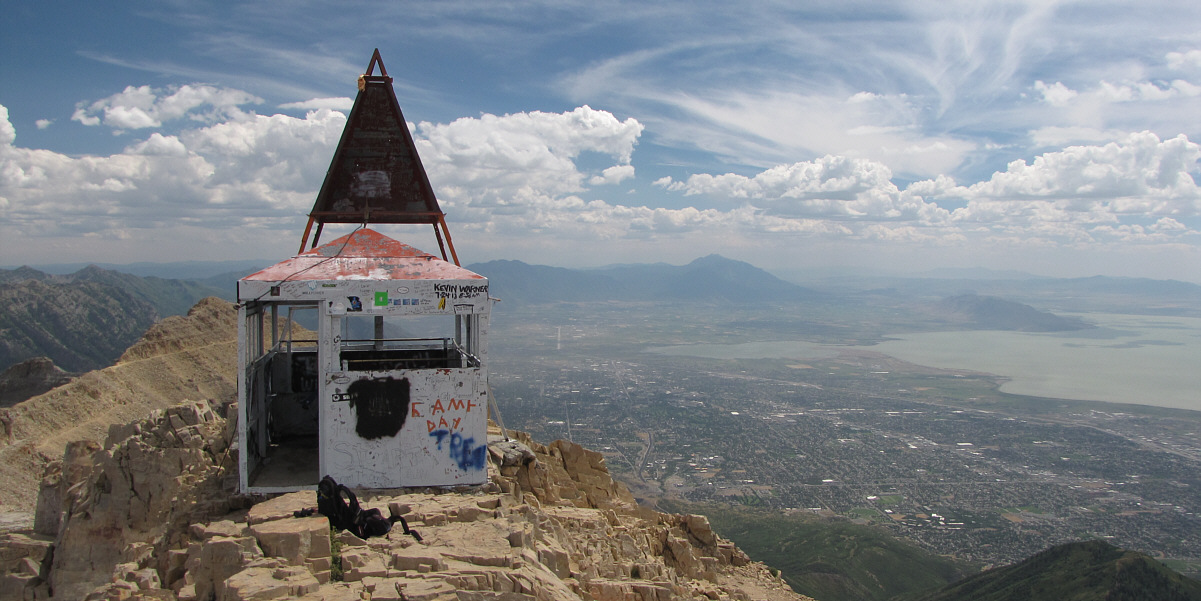 A metal hut adorns the summit of Mount Timpanogos. Mount Nebo is visible in the hazy distance at right.
Access trails are visible all along the northwest ridge.
Emerald Lake is about 400 metres below to the east. Roberts Horn is at left. The bigger body of water in the distance is the Deer Creek Reservoir.
This is the impressive southeast outlier of Mount Timpanogos.
A goat hides among the bushes not far from the crest of the northwest ridge.
Here is another look at the north face of Mount Timpanogos (right) with Roberts Horn at far left.
This is the picturesque waterfall near the base of the headwall.
Total Distance: ~20.7 kilometres
Round-Trip Time: 10 hours 46 minutes
Net Elevation Gain: 1522 metres