BOU AVENUE
Bryant Lake
---
Despite a miserable weather forecast for 11 September 2016, Zosia Zgolak and I still decided to head out for a hike in the Canyon Creek area of Alberta's Kananaskis Country. Our original plan of climbing up some of the surrounding ridges as described in Kananaskis Trail Guide by Gillean Daffern was quickly scuttled when we encountered increasing snowfall in the north fork of Upper Canyon Creek. Instead, we settled on a generally easy hike to Bryant Lake at the foot of Mount Bryant. On my previous visits to Bryant Lake, I had simply followed the access drainage all the way in, but on this day, we ended up taking a flagged shortcut route which climbs out of the creek bed and takes a much higher line above the trees. We speculated that this re-routing may have had something to do with the biblical floods of 2013, but we did not bother to verify if the access drainage was choked with deadfall. Besides, we were more preoccupied with the surprising amount of snow cover, and we could have easily missed the shortcut had we not followed the tracks of a group of backpackers who were on their way out. When we reached Bryant Lake, we took a few photographs before eating a snack under the cover of some trees. Our return trip was long but uneventful. Lousy weather notwithstanding, I still enjoyed the few hours I spent hiking and chatting with Zosia, and I can only hope that we will have more favourable conditions whenever we return to climb Daffern's ridges.

| | |
| --- | --- |
| | Zosia heads up the north fork of Upper Canyon Creek. |
| | Snow accumulations are even greater further upstream. |
| | Zosia arrives at Bryant Lake. |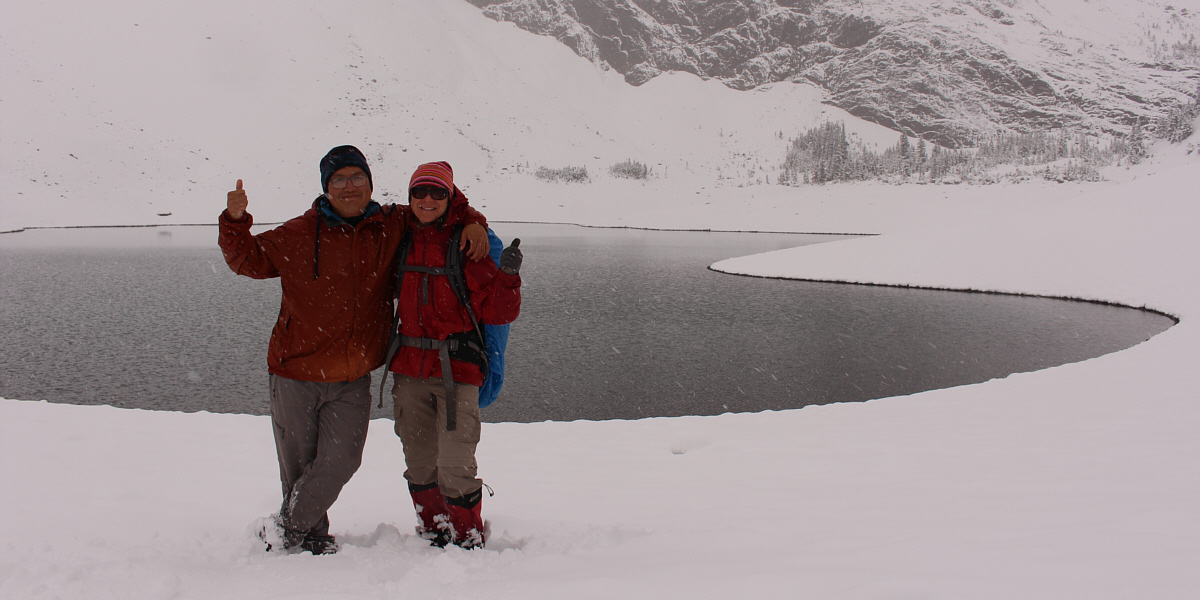 Sonny and Zosia show their approval of the weather!
Zosia hikes out along the bypass route.
Zosia points out some small fossils in the rock.
Total Distance: 15.2 kilometres
Round-Trip Time: 5 hours 44 minutes
Net Elevation Gain: 394 metres