BOU AVENUE
Gypsum Mine
---
Zosia Zgolak and I originally intended to ski up to the old Fortress ski area in Alberta's Kananaskis Country on 28 January 2017, but the problematic access convinced us to abandon our plans and go elsewhere. Scrambling for alternatives, we settled on a straightforward ski up to an old gypsum mine site on the northeastern flanks of Mount Invincible in nearby Peter Lougheed Provincial Park. This trip is described by Gillean Daffern in her Kananaskis Country Ski Trails guidebook (out of print). Starting from Peninsula day use area (closed in winter), we skied along the north end of Lower Kananaskis Lake before crossing frozen Smith-Dorrien Creek. The continuation of the road on the other side of the creek was not readily apparent, but we found it after a short climb up a bushy embankment. A few centimetres of fresh snow covered the road, and Zosia broke trail most of the way to the mine site. Surprisingly, the stretch of road shared with snowshoers or other skiers bound for Gypsum Ridge was devoid of people on this day, but we did spot a moose loping around here. Upon reaching the mine site, we stopped for a quick break before removing our climbing skins for the quick and uneventful ski back down the road. At the bottom, we put our skins on again to re-cross Smith-Dorrien Creek and ski the final stretch back to Peninsula day use area.

Sonny skis along the north end of Lower Kananaskis Lake.

Photo courtesy of Zosia Zgolak

Sonny cautiously crosses Smith-Dorrien Creek. The road continues beyond the trees at far right.

Photo courtesy of Zosia Zgolak

Tracks in the road show one or more felines possibly tracking a rabbit.
Zosia continues up the road along the section usually shared with snowshoers. Mount Warspite looms in the background.
The mine site is behind the trees at left and sits below the northeast ridge of Mount Invincible.
Zosia arrives at the gypsum mine site. The peak behind her is the northeastern outlier of Mount Indefatigable.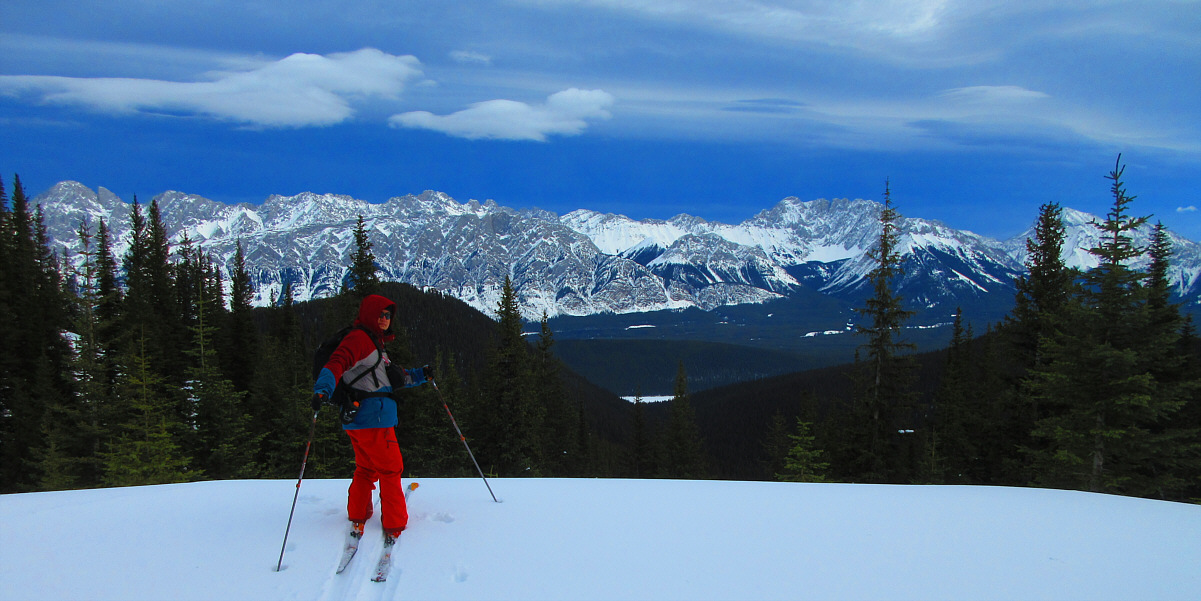 The Opal Range stretches across the eastern horizon in this view from the mine site.
Photo courtesy of Zosia Zgolak
Zosia pauses to enjoy the view of Mount Blane (left of centre) before skiing down the road.
Total Distance: 15.6 kilometres
Round-Trip Time: 5 hours 9 minutes
Net Elevation Gain: 456 metres