BOU AVENUE
Sweet Grass Hills: Mount Lebanon And Haystack Butte
---
After wrapping up our trip to Mount Royal in the East Butte complex of Montana's Sweet Grass Hills, Zosia Zgolak and I drove to a ranch about 640 metres north of the junction of Windy Ridge Road and Little Sage Road (see the trailhead directions for Mount Royal for general access to this area). We had hoped to obtain permission to access the private land west of the ranch in order to climb nearby Mount Lebanon the next day, but a gentleman who came out to greet us told us that we had to go ask Lance, the actual land-owner, who lived in another ranch about 5.1 kilometres east of the same aforementioned junction. When we arrived at the second ranch, we were greeted warmly by Lance and his wife, Helen, who seemed genuinely delighted to have visitors even though we were total strangers. After Zosia and I explained our intentions, they welcomed us into their home, and we all gathered around a large map on their kitchen table to discuss the best route for ascending Mount Lebanon without intruding on any of Lance's neighbours' properties. At one point, Helen even offered to cook us a meal, but having already eaten, Zosia and I respectfully declined. On top of granting us unrestricted access to their property near Mount Lebanon, Lance and Helen also generously allowed us to camp that night just outside their house. Zosia and I agreed that had we asked, they most likely would have given us a bed in the house and maybe even breakfast in the morning!

Zosia woke up early the next day (14 May 2017) to watch the sunrise and eat her usual breakfast while I tarried in my car trying to squeeze in some extra rest after a fitful night's sleep. When I finally got up, we hastily left a thank-you note for Lance and Helen and then drove back to the first ranch to gear up and start hiking. From the parking area near the ranch house, we went through a steel gate and followed a double track westward while keeping fairly close to the property fence line. After passing a slough and a marshy gully, we hopped over a fence corner and began ascending the north slopes of Mount Lebanon. There is nothing complicated about the ascent here, but the predominant black rubble can feel a bit tedious to climb at times. Much of the upper mountain is covered with trees, but the actual summit is not completely devoid of views. The trees actually provided good shelter from a brisk wind, and we took an extended break at the summit before commencing our descent. With Mount Lebanon completely surrounded by private land, we were careful about returning the way we came and essentially retraced our steps back to the ranch house.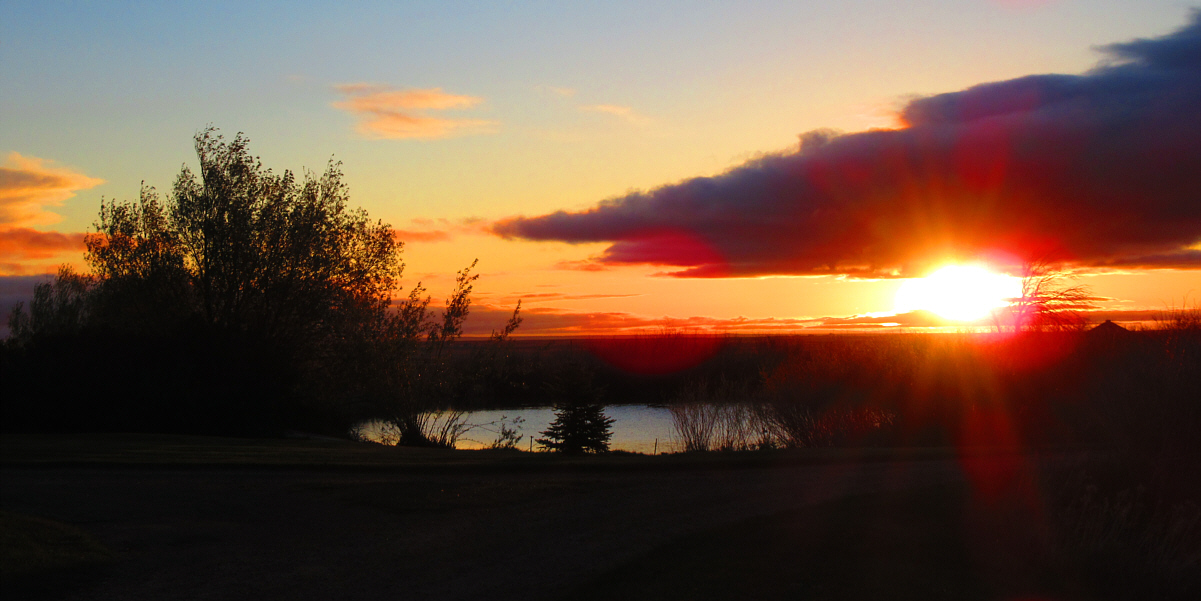 The sunrise is beautiful on this morning at the ranch belonging to Lance and Helen.
Photo courtesy of Zosia Zgolak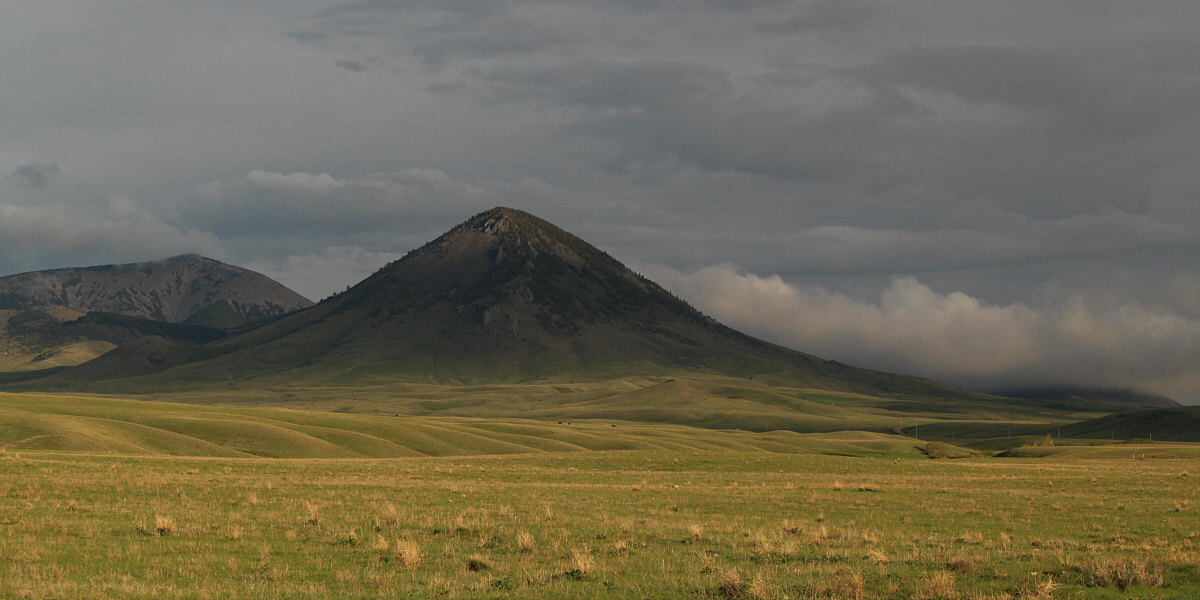 This is the east side of Mount Lebanon as viewed from Little Sage Road. At far left is Mount Brown.
Before starting the hike, Sonny gives one of the barn cats a big hug.

Photo courtesy of Zosia Zgolak

A couple of the dogs at the ranch show their affection for Zosia.

Photo courtesy of Zosia Zgolak

Even the ponies are very friendly at this ranch.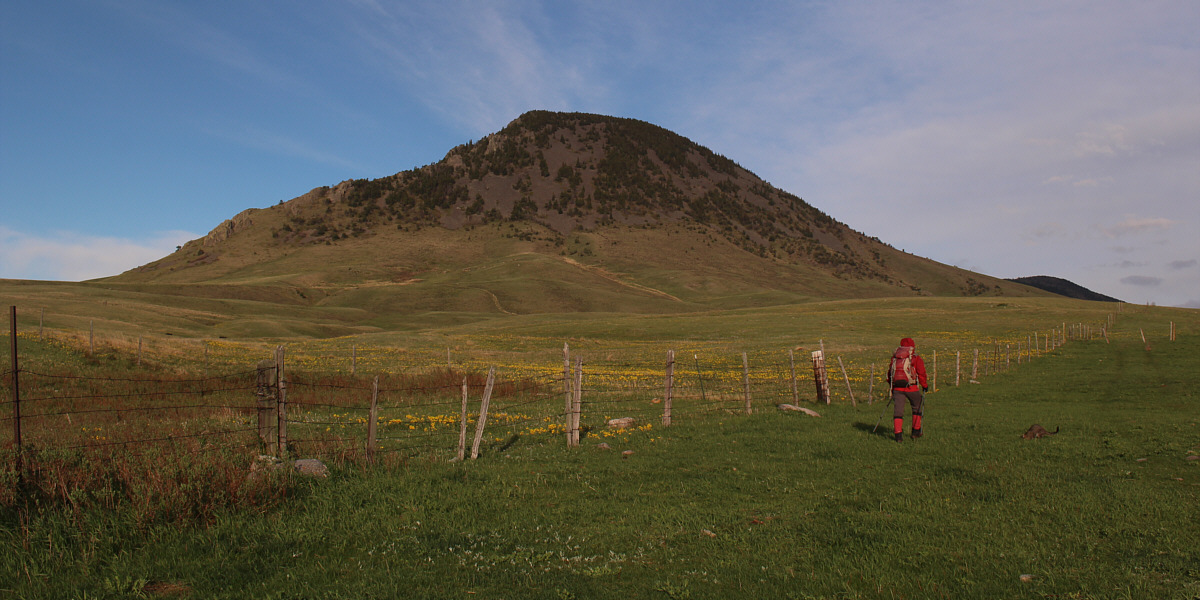 Zosia follows the fence line westward. She will eventually climb up the north slopes (right skyline) of Mount Lebanon.
The land just beyond the fence belongs to another member of Lance's family.
Zosia approaches the north slopes of Mount Lebanon.
Leafless trees appear to mock Zosia as she climbs up tedious rubble.
The rest of the East Butte complex is visible from the west end of Mount Lebanon's summit ridge. At centre is Mount Royal and to the right is Mount Brown.
Sonny and Zosia hang out on the summit of Mount Lebanon (1767 metres).
Zosia can be seen descending the big rubble slope at bottom left. Also visible is Lance's ranch (left centre) where Zosia's hike began.
Lower down, Zosia follows the fence line back to her original access point.
Here is a last look at Mount Lebanon and its northeast aspect.
Back at the ranch, a foal can be seen feeding from its mother.
Sonny pets yet another friendly pony.

Photo courtesy of Zosia Zgolak

Total Distance: 6.5 kilometres
Round-Trip Time: 4 hours 12 minutes
Net Elevation Gain: 527 metres
After completing our trip to Mount Lebanon, we drove north and turned onto Bears Den Road in hopes of visiting some celebrated hoodoos by the same name. Although we saw a few hoodoos near the roadside, our hike to Bears Den was prematurely shortened when we came upon a barbed wire fence cutting across our access route. Neither of us were in the mood to trespass private property again, and we simply returned to my car to enjoy some lunch in the sun.
Some wild clouds roll in as Zosia starts hiking toward Bears Den.
It is best to keep a safe distance from killer rabbits such as this one.

Photo courtesy of Zosia Zgolak

Zosia hikes past more hoodoos on her way back to the car.
On our drive out, we stopped about 870 metres east of the junction of Whitlash Road and Lothair Road to squeeze in a quick ascent of Haystack Butte. Knowing that we were on state land, we had no qualms about hopping the fence beside the road, and we made a beeline toward the west slopes. Although most of the ascent is merely a steep grind up scrubby vegetation and loose rubble, the summit ridge is surprisingly airy and actually requires some hands-on scrambling to surmount. After tagging the summit, we more or less returned the same way. The loose rubble worked well for our descent, and we were back at my car fairly quickly. Even the subsequent long drive back to Calgary felt quick as traffic was generally light on the highways and at the border crossing.

Having already climbed the high points of the three main buttes of Sweet Grass Hills last year, I had low expectations when I returned this time with Zosia to tag subsidiary summits such as Mount Royal, Mount Lebanon and Haystack Butte. However, this short trip turned out to be an extraordinary adventure, and I am now confident that there is still much to be explored and more secrets to discover in the Sweet Grass Hills. When do you want to go back, Zosia?

| | |
| --- | --- |
| | From a distance, Haystack Butte (left) and Gold Butte (right) almost appear to be the same size. |
| | This spot along Whitlash Road is the best access for Haystack Butte since it is all state land here. |
| | Zosia hops yet another barbed wire fence. |
| | Zosia approaches Haystack Butte from the southwest. |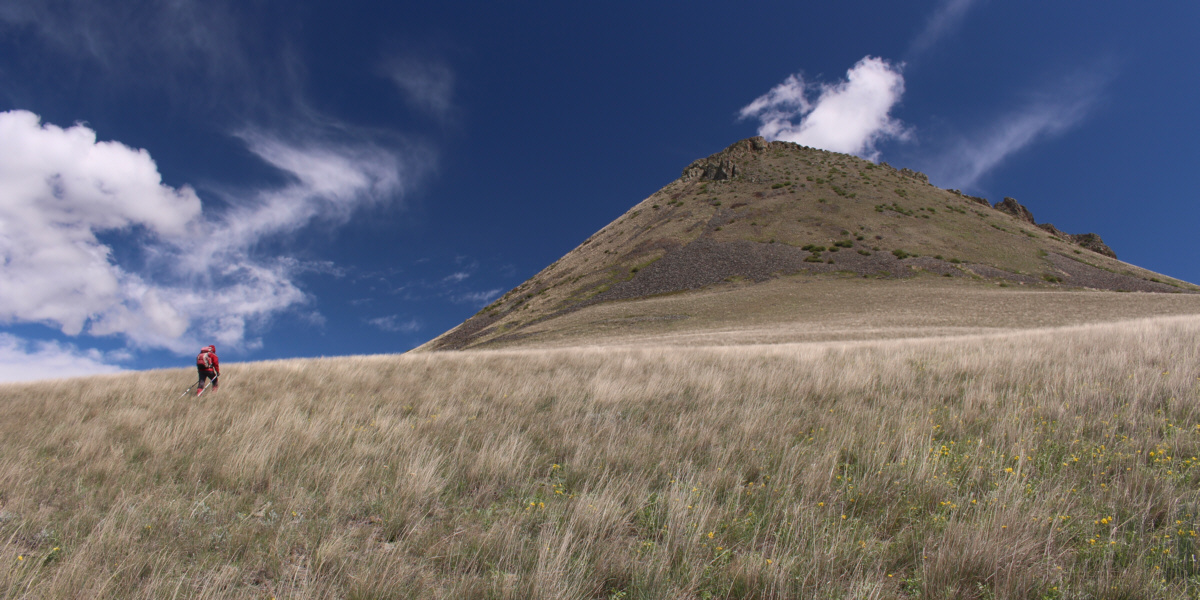 The tall grasses below Haystack Butte look vibrant in the afternoon sun.
There are lots of small cacti in the area.

Photo courtesy of Zosia Zgolak

Zosia starts to make her way up steep rubble.
This photo helps to illustrate the steepness of the slope.
Zosia comes up to the base of the summit ridge. In the distance is Grassy Butte.
Sonny's jacket matches the lichen on the rocks.

Photo courtesy of Zosia Zgolak

Sonny scrambles up onto the summit ridge.

Photo courtesy of Zosia Zgolak

Zosia carefully traverses the summit ridge.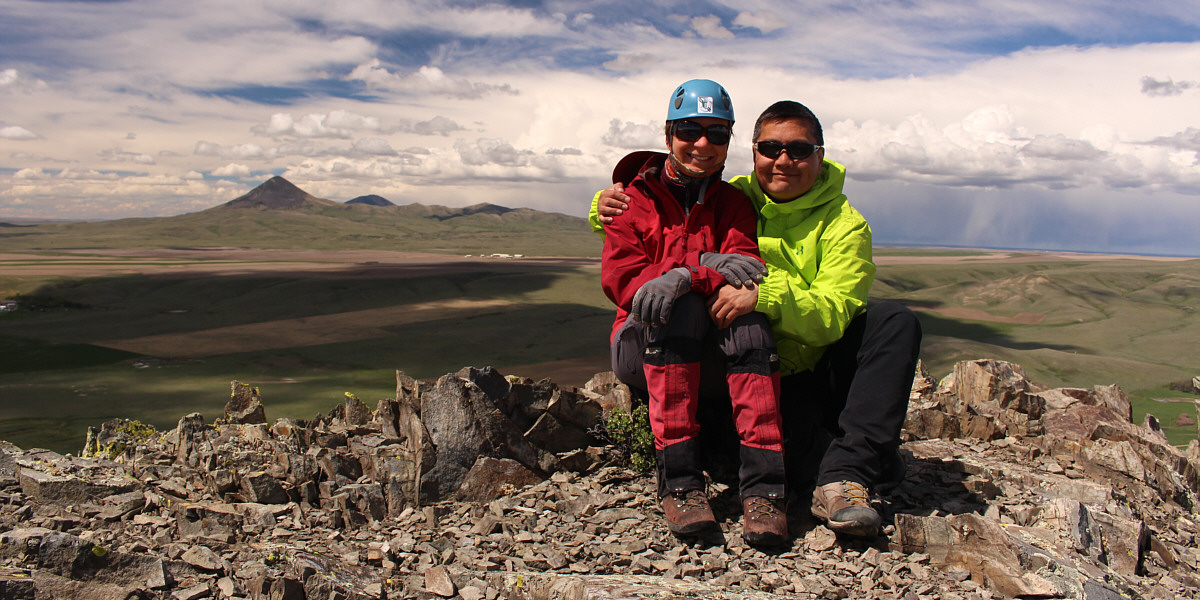 Zosia and Sonny sit on the summit of Haystack Butte (1446 metres)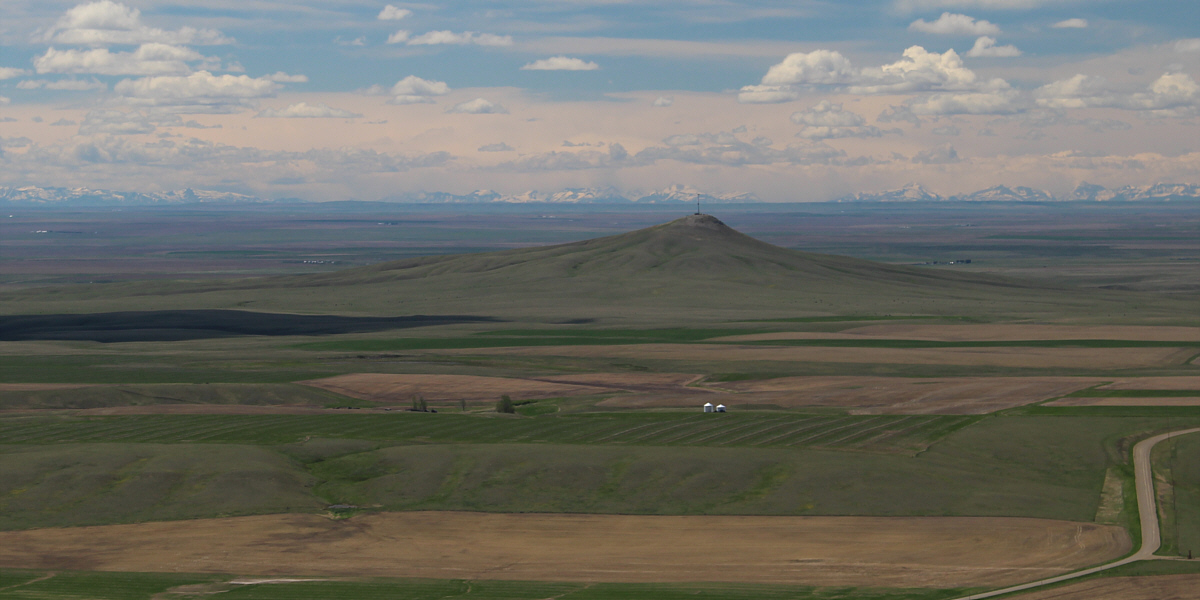 Here is a closer look at Grassy Butte to the west.
The top of West Butte (centre) is just visible beyond the north ridge of Gold Butte (left).
Mount Brown (far left) and Mount Royal (left of centre) are the only peaks of the East Butte complex that are visible to the northeast from the top of Haystack Butte.
Zosia down-climbs a tricky step just below the summit ridge.
Past all difficulties, Zosia quickly descends the west slopes of Haystack Butte.
Total Distance: 2.3 kilometres
Round-Trip Time: 1 hour 52 minutes
Net Elevation Gain: 253 metres