BOU AVENUE
Mount Crowe
---
Zosia Zgolak and I joined some friends for a ski ascent of Mount Crowe in British Columbia's Rossland Range Recreation Site on 31 December 2018. The trip was led by Michael Schoemaker and Wendy Kadar, and joining us were Andrew Chinnick, Eda Kadar, and Wendy's dog, Ruthie. Starting from a pullout on the north side of Highway 3B about 8 kilometres south of the western intersection with Highway 3 (or 16 kilometres north of Red Mountain Resort), we utilized Nordic ski trails--Crowe Road, Cookie's Road, Gordski Road, and Kim's Way--to climb over White Owl Pass and reach Mosquito Cabin which sits at the foot of Mount Crowe's western slopes. From there, we picked up Crowe Road again but only followed it for a short distance northward before zigzagging up a large cut block to intersect Cliff Road. We continued climbing up another cut block above Cliff Road and eventually entered forest to reach the crest of Mount Crowe's north ridge. We were surprised to find a cat track here, but we happily followed it most of the way to the summit.
The group gears up at the pullout beside the highway.
The group makes their way along Crowe Road near the start of the trip.
Mount Crowe is visible in the background as the group makes its way up Gordski Road.
The group climbs over White Owl Pass via Kim's Way.
Zosia arrives at Mosquito Cabin which is equipped with a wood stove. Not pictured, a sheltered wood pile and an outhouse are also nearby.
The group leaves the cabin and heads for the slopes in the distance.
Andrew and Zosia follow the tracks of the others who are further up the slope but mostly hidden by small trees.
The group continues climbing above Cliff Road.
Ruthie obediently follows behind Andrew as they head into the forest.
Here is a glimpse to the northeast of Mount Neptune from a break in the trees along Mount Crowe's north ridge.

Photo courtesy of Zosia Zgolak

During a lunch break on a cat track, Wendy organizes her gear, and Ruthie sniffs around for edible handouts while Sonny unenthusiastically eats a turkey salad sandwich.

Photo courtesy of Zosia Zgolak

After leaving the cat track, Michael heads up the final short distance to the summit which is somewhere to the left in the trees.

Photo courtesy of Zosia Zgolak
The summit of Mount Crowe is mostly covered with trees and is not well-defined, and we skied a bit further south just to make sure we had indeed tagged the highest point. We subsequently turned around and removed our skins before skiing back the way we came. In particular, the slopes above and below Cliff Road were a blast to ski, and while Andrew was content to relax and wait at Mosquito Cabin with Ruthie, the rest of us donned our skins and climbed back up for another run down.

Eda, Zosia and I joined Andrew and Ruthie at the cabin after this second run, but Michael and Wendy stopped at Cliff Road and climbed up once more for a third lap through the trees. We eventually all regrouped at the cabin before skiing together back to the trailhead after sunset. Despite some challenging skiing in fading light, we all made it down without a spill. It was a nice end to a great day of skiing, and for Zosia and me, it was a fabulous way to wrap up another fun-filled year together.
Gathered near the summit* of Mount Crowe (2147 metres) are (L to R) Zosia, Eda, Michael, Andrew, Wendy, Ruthie and Sonny.

*This is the gazetted summit of Mount Crowe. There is actually a slightly higher point a little further south of this spot.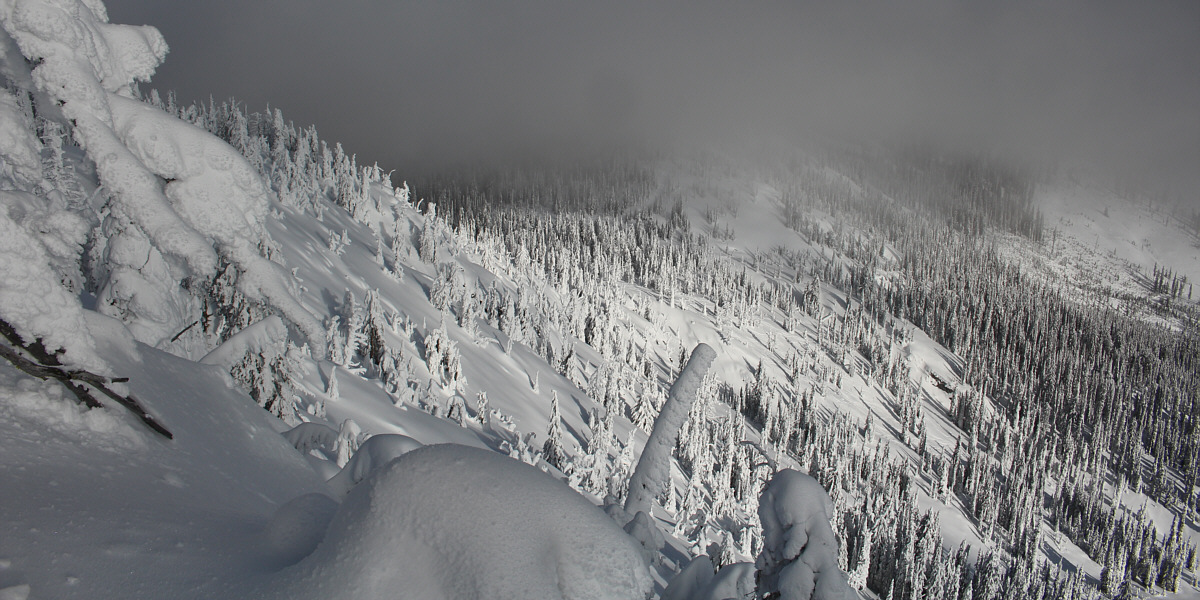 This is the connecting ridge to Mount Neptune as seen from near the summit of Mount Crowe.
Industrial smoke from the town of Trail, British Columbia is barely visible in the distance just right of centre.
Shortly after leaving the summit, Michael follows the rest of the group back down the way they came.
Eda has no problems with her brand new ski gear.
Zosia is all smiles after her first downhill run of the day.
Michael, Eda, Zosia and Wendy climb back up above Cliff Road for another downhill run.
Sonny pulls off his climbing skins.

Photo courtesy of Zosia Zgolak

Zosia looks for a good line through the trees.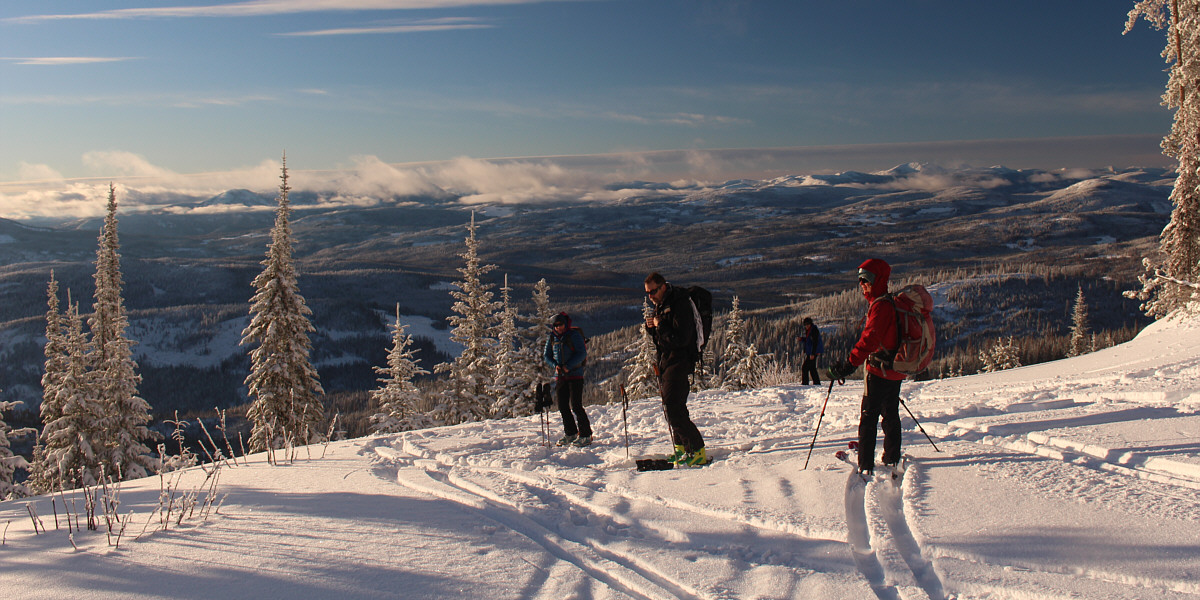 Back on Cliff Road, Wendy and Michael prepare to ascend for a third downhill run while Zosia admires the distant views. Behind them is a local who is skiing on light touring gear.
Zosia and Sonny wrap up another fun-filled year of adventures together.
Zosia skis down the cut block below Cliff Road.
Sonny enjoys skiing fresh powder in the sunshine.

Photo courtesy of Zosia Zgolak

Total Distance: ~10.5 kilometres
Round-Trip Time: 7 hours 26 minutes
Net Elevation Gain: 580 metres
Zosia and I would return here for a second ski ascent in 2021.