BOU AVENUE
Quartz Hill
---
In Chic Scott's guidebook, Ski Trails in the Canadian Rockies, Quartz Hill in Alberta's Banff National Park is mentioned briefly as a challenging extension to the ski ascent of Quartz Ridge. Zosia and I had previously skied up Quartz Ridge in 2016, but high avalanche danger that day precluded an attempt to climb Quartz Hill. Avalanche danger was rated as low across the board on 31 March 2019 when Zosia and I returned for another go at Quartz Hill. The climb up the ski-out to Sunshine Village was mundane as always, but once we left the resort near the top of Strawberry chairlift, we were once again enthralled with the sublime beauty of Sunshine Meadows. We had a convenient ski track to follow most of the way up Quartz Ridge, and this part of the ascent went without a hitch.
Sonny prepares to climb up Sunshine Village Ski Resort's ski out for the umpteenth time.

Photo courtesy of Zosia Zgolak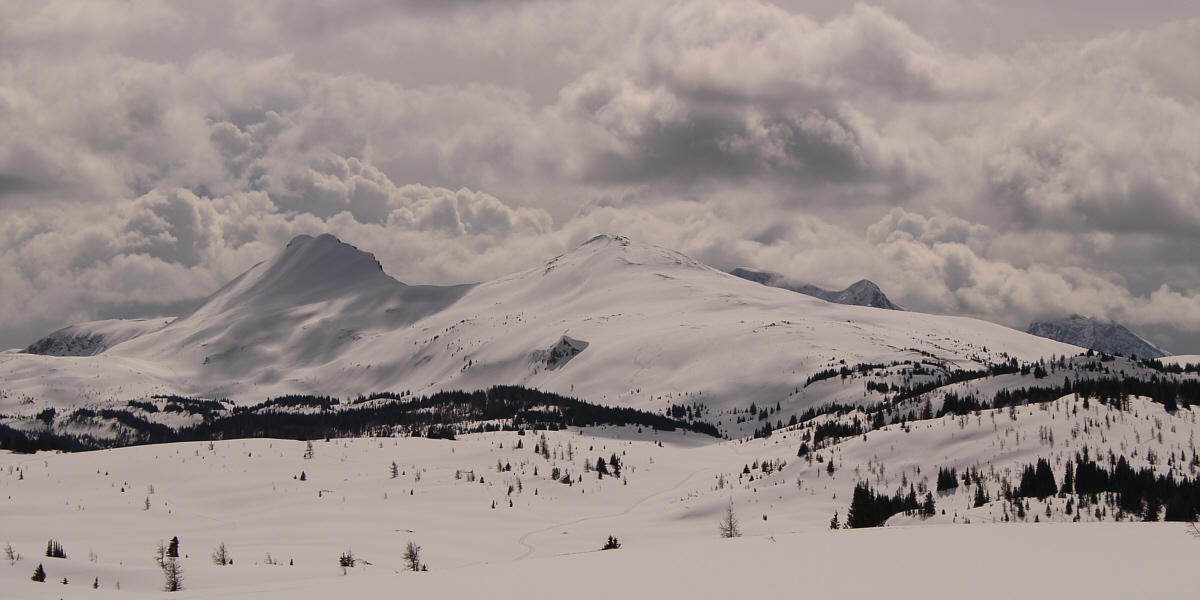 Quartz Hill (left) and Quartz Ridge (centre) look amazing as always from near the top of Strawberry chairlift.
Sonny follows an old track across Sunshine Meadows with Mount Bourgeau in the background at right.

Photo courtesy of Zosia Zgolak

There has been some recent skier activity on Quartz Hill and Quartz Ridge.
Zosia climbs up the broad northern aspect of Quartz Ridge.
Zosia reaches the summit of Quartz Ridge (2532 metres).
From the top of Quartz Ridge, we could see some old tracks going up Quartz Hill, and the steepness of the climb looked quite intimidating. Zosia decided to forego the attempt on Quartz Hill, but she was willing to wait for me in the shelter of some rocks just below the top of Quartz Ridge. I subsequently dropped down to a broad saddle and began climbing up the north ridge of Quartz Hill. The increasing steepness soon prompted me to drop my skis and resort to boot-packing. Initially, this worked out well as I followed the old tracks zigzagging up the steepest part of the ridge. Unfortunately, I began encountering deeper and more unconsolidated snow higher up, and I started to flounder quite badly. In hindsight, I should have kept my skis with me which would have alleviated much of my post-holing on the upper mountain. After a lot of effort and swearing, I eventually muddled my way up past a false summit, and much to my relief, the short hike to the true summit was relatively painless.
| | |
| --- | --- |
| | Zosia walks down the south side of Quartz Ridge but would soon stay put here to await Sonny's return from Quartz Hill. |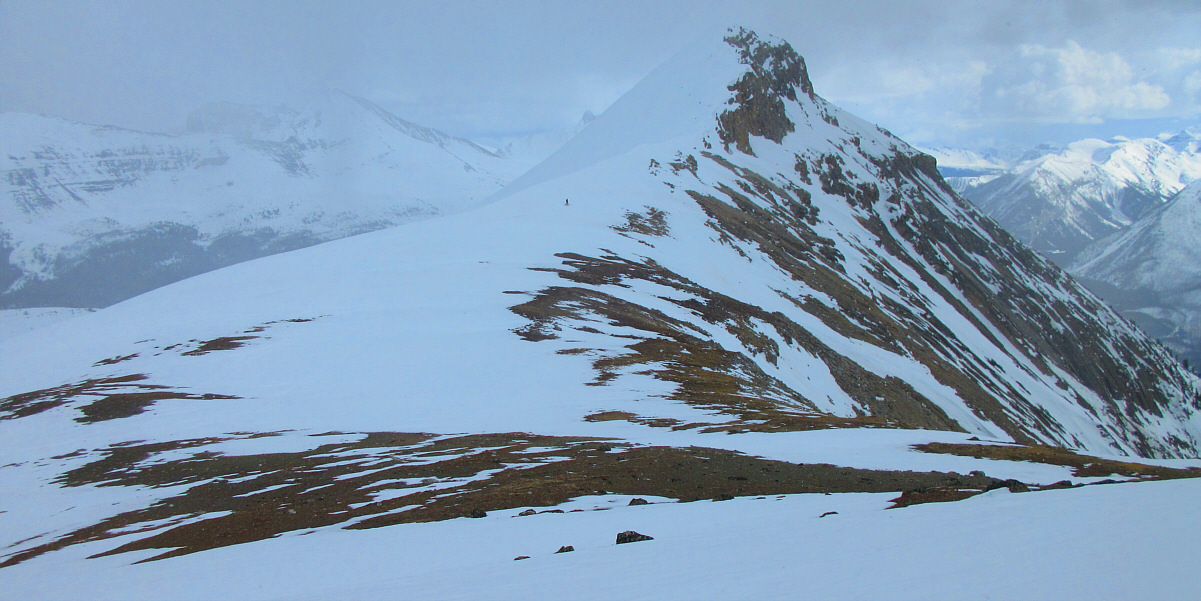 Sonny is well on his way to Quartz Hill.
Photo courtesy of Zosia Zgolak
Floundering in deep snow, Sonny moves excruciatingly slowly up the ridge.

Photo courtesy of Zosia Zgolak

The true summit is only a short distance beyond the false summit.
Sonny stands on the summit of Quartz Hill (2569 metres).
The view to the southeast includes Fatigue Mountain, Nasswald Peak, Golden Mountain and Citadel Peak.
Simpson River valley stretches out to the southwest.
The Monarch (right) remains the most prominent mountain to the west.
Mount Howard Douglas and Sunshine Landing are visible to the northeast.
The massive unnamed mountain to the east is considered an outlier of Fatigue Mountain (far right).
Once I took my requisite summit photos, I promptly retraced my steps back down the north ridge of Quartz Hill. Of course, descending was a lot easier than ascending, but I regretted not skiing some of the really nice powder on the ridge. After retrieving my skis, I skied across the saddle to reunite with Zosia, and together, we climbed back over the top of Quartz Ridge before skiing easily down to Sunshine Meadows. I am always a little annoyed with the slight uphill climb to get back to the ski resort, but all is usually forgiven (or forgotten) once I am cruising blissfully down the ski-out.

Quartz Hill was the end of a fun but hectic 9.5-day spring break road trip for Zosia and me which saw us drive over 3100 kilometres, visit 3 US states, ski or hike up 6 mountains, and camp out of my car for 7 out of 9 nights. For me, it felt really nice to sleep in the following morning before going back to work!
Sonny emerges from behind the false summit on Quartz Hill.

Photo courtesy of Zosia Zgolak

Here is a look at Quartz Ridge from the upper slopes of Quartz Hill.

Zosia climbs back to the top of Quartz Ridge.

Zosia enjoys a glorious run down the broad north side of Quartz Ridge.

Zosia descends the deserted ski out late in the day.

Total Distance: 22.2 kilometres
Round-Trip Time: 7 hours 47 minutes
Net Elevation Gain: 977 metres