BOU AVENUE
Rawson Lake
---
On 6 October 2019, Teresa Kosmala, Maria Szewczyk, Zosia Zgolak and I hiked to Rawson Lake in Alberta's Peter Lougheed Provincial Park. Due to recent snowfall, the well-trodden trail was fairly icy on this day, and cleats or winter soles were invaluable for hiking. Despite an abundance of snow at the lake, we had little difficulty following a beaten path along the east shore. Although we could see others ascending the steep route up Rawson Ridge, we were content on this day to just lounge in the warm sunshine at the south end of the lake. Once we were sufficiently rested, we returned the way we came without incident.
At the trailhead, Zosia, Teresa and Maria enjoy the views across Upper Kananaskis Lake.
Maria watches as Zosia helps Teresa put on some ice cleats.
This waterfall along Sarrail Creek is about one kilometre from the trailhead.
Sonny trudges along some snow-covered planks just before reaching Rawson Lake.

Photo courtesy of Zosia Zgolak

Mount Sarrail dominates the background at Rawson Lake.
A Steller's jay keeps an eye out for dropped crumbs of food.
Zosia, Teresa and Maria look up at Rawson Ridge which is out of view to the right.
The group carefully makes its way along the snow-covered east shore of Rawson Lake.
Maria, Zosia and Teresa take a break in the sunshine near the west end of the lake.
Teresa and Sonny do a tandem skating pose on a nearby frozen pond.

Photo courtesy of Zosia Zgolak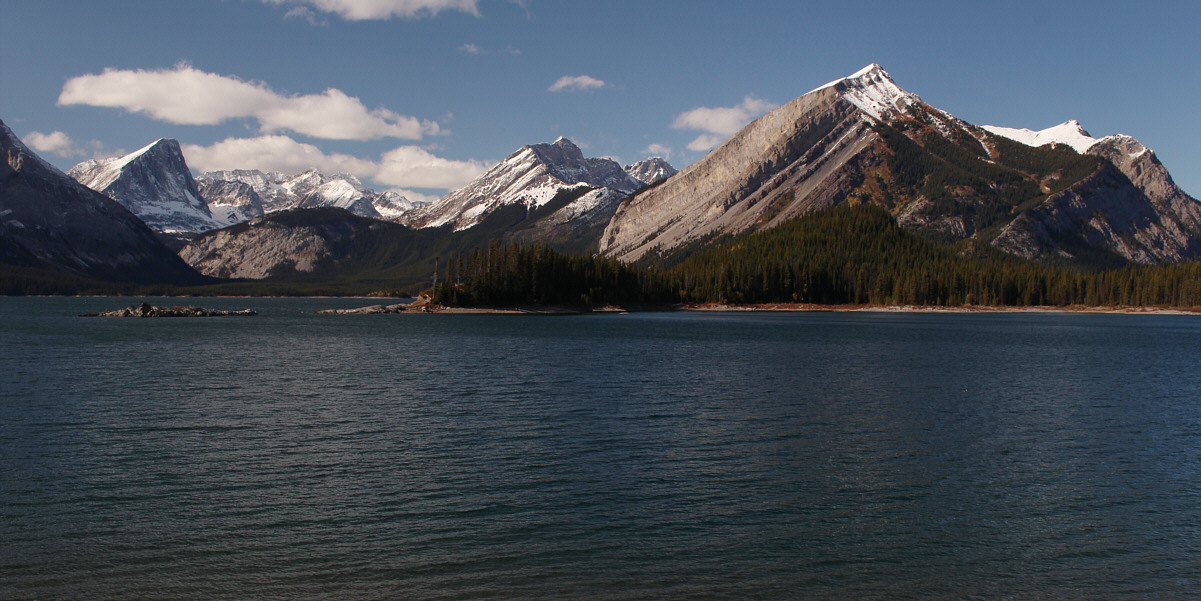 Here is another view across Upper Kananaskis Lake from near the trailhead. At right is Mount Indefatigable.
Total Distance: 9.1 kilometres
Round-Trip Time: 3 hours 48 minutes
Net Elevation Gain: 279 metres